Question: Trying to get 1080p XAVC footage from Sony PMW-F5 to work in Premiere Pro CS6 (Mac), but when I try to do anything with it, it crashes. Apparently I need a plug-in. Looked at Rovi Totalcode but it costs $350 and only for a PC.
Answer: Premiere Pro CS6 will not natively support XAVC, but Adobe Premiere Pro CC, the latest version of Adobe Premiere Pro, has added support for this new camera format. To import XAVC to Adobe Premiere Pro CS6 and its previous versions, you can download Rovi Totalcode, a Plug-in for Adobe Premiere Pro CS5/CS5.5/CS6 which has perfect support for Sony's 4K XAVC format. However, this third-party plug-in will cost you a lot of money. In addition, it only works on Windows but not Mac.
Don't worry, there are still some cost effective but simple ways for you to import XAVC to Adobe Premiere Pro. Jihosoft Video Converter, a cross-platform and professional video conversion application which supports to convert both 4K and 2K XAVC video to Adobe Premiere Pro CS5/CS5.5/CS6 importable formats such as AVI, WMV, MP4, MOV, MPG, MPEG, FLV, F4V, M4V, DV, VOB, ASF, 3GP, 3G2, etc on both Windows and Mac.
How to Convert Sony PMW-F55/F5 XAVC for Adobe Premiere Pro
1. Download and install Jihosoft Video Converter on your computer.
2. Click "Import" button on top-left menu to add XAVC videos to the program.
3. From "Profile" drop-down list, select Adobe Premiere Pro editable formats such as "MPEG-4 Movie (*.mp4)" as the output file format.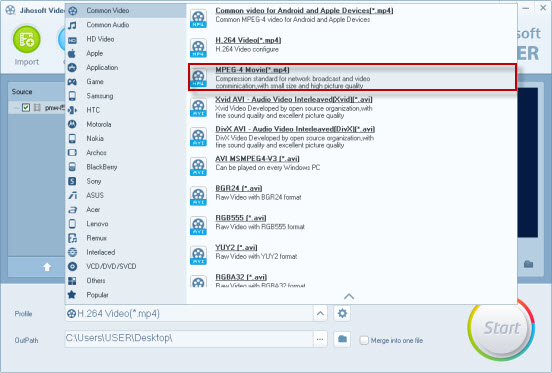 4. Hit right-bottom round "Start" button to convert Sony XAVC to Adobe Premiere Pro.
Step by Step to import Sony XAVC to Adobe Premiere Pro
Premiere Pro allows you to import a single video clip, multiple clips, or an entire folder of clips.
1. Start Adobe Premiere Pro on your computer.
2. Select File>Import from the main menu to open the import window
To import a single file: Locate and select the file, then click Open.
To import multiple files: Hold down the Control Key to select multiple files, and then click Open.
To import a folder of files: Locate and select the folder you want to import, and then click Folder.
Note: You can also import files by dragging them from Windows Explorer into the Premiere Pro Project Panel.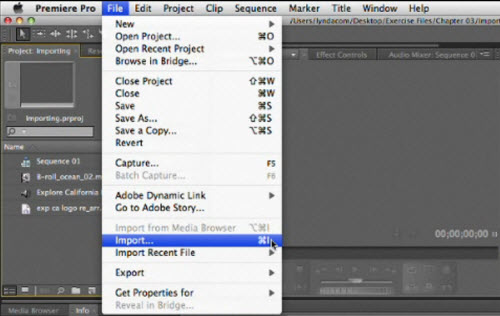 Related Articles
comments powered by

Disqus