How to Use Apple's New Move to iOS App
Alongside the launch of iPhone 6s/6s Plus and iOS 9, Apple introduced a free app to transfer data from Android to iPhone. That's Move to iOS, which can securely transfer all kinds of content including contacts, messages, camera photos and videos, web bookmarks, mail accounts, and calendar from your Android device to your new iPhone, iPad or iPod touch. It works on Android device running 4.0 or above, and will move data to devices running iOS 9 or higher.
How to Move Data from Android to iPhone 6S/6S Plus with Move to iOS
1.Set up your iPhone 6s as normal until you reach the screen titled "Apps & Data". Then select the "Move Data from Android" option.
2.Tap "Continue" on the screen of "Move from Android", and then wait for a ten-digit code to appear.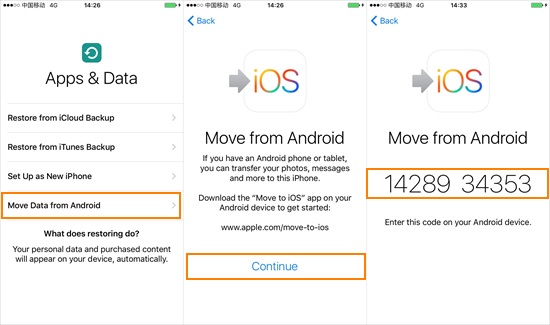 3.On your old Android phone, download the Move to iOS app from Google Play Store and install it.
4.Open the app and tap "Continue". Read the terms and conditions that appear and tap "Agree". Then tap "Next" in the top-right corner of the "Find Your Code" screen.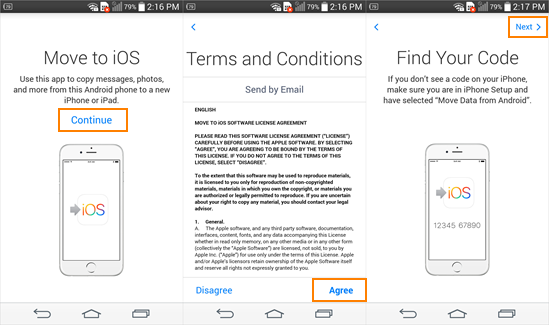 5.Now on your Android phone, enter the code from your iPhone 6s, and then the two device will be connected over a Wi-Fi Direct connection.
6.On your Android phone, select the content you'd like to transfer and tap "Next", the app will transfer the selected data over to the iPhone.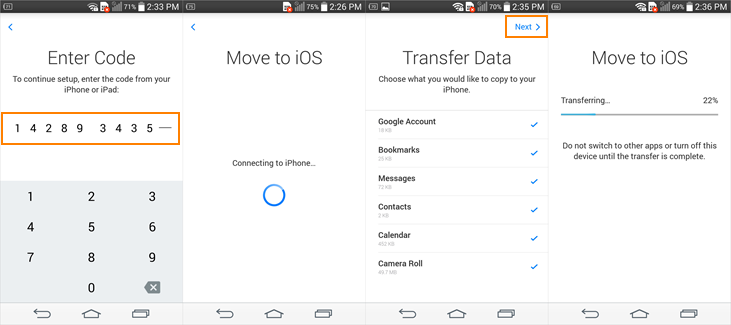 7.Leave both devices along until the transfer completed. After that, tap "Done" on your Android phone, then tap "Continue" on your iPhone and follow the onscreen steps to finish setting it up.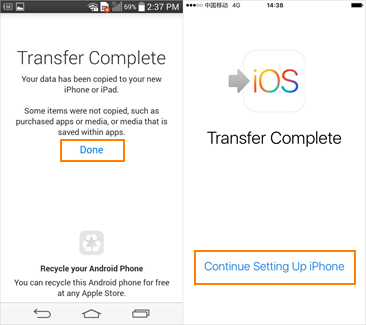 Is this the best way to switch to iPhone?
If you're new to the iPhone, Move to iOS app is a pretty solid way to transfer your content. However, if you've already finished setup, you'll have to erase your iPhone and start over. If you don't want to erase, don't worry, you can get help with Jihosoft Phone Transfer. With your Android and iPhone connected to the computer, this tool lets you transfer contacts, text messages, photos, videos, and music in one-click. Besides, it works well on Android 2.1 to 5.1 and iOS 5 to iOS 9. If you have issues moving your content with Move to iOS, try this Mobile Phone Transfer instead.
Related Articles