If you are a Samsung Galaxy phone user and switching to the new iPhone 6S or 6S Plus, the first thing you need to do is to transfer your old Samsung contacts to the new device. Manually typing contacts can be daunting. In this page, we'll show you three simple ways to move contacts from Samsung to iPhone.
Way 1: Transfer Contacts from Samsung Galaxy to iPhone in One Click
Jihosoft Phone Data Transfer provides a one-click solution to copy contacts from Galaxy S3/S4/S5 to iPhone 6S/6S Plus, including names, phone numbers, company, job title, email address, URL, etc.
1.Download, install and launch the Samsung to iPhone transfer tool on your computer.
2.Connect both your Samsung Galaxy and iPhone to the computer via USB cables. Make sure the Samsung listed as "Source" and iPhone as "Destination".
3.Mark the "Contacts" in the source phone panel and click on "Start Copy" to begin the transfer. Once the process is complete, click "OK".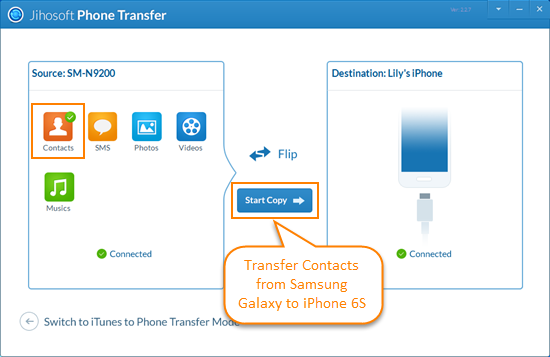 Way 2: Transfer Contacts from Galaxy to iPhone with Move to iOS App
If you're new to the iPhone and haven't set it up, you can use Move to iOS, a free Android app developed by Apple, to move contacts from Samsung to iPhone 6S/6S Plus.
1.While setting your new iPhone 6S, in the screen of "Apps & Data", choose "Move Data from Android". Tap "Continue" in the screen of "Move from Android" and wait for a ten-digit code to appear.
2.On your Samsung Galaxy phone, download and install the Move to iOS app from Google Play Store. Open it and tap "Continue" > "Agree".
3.Tap "Next" in the screen of "Find Your Code" and enter the code from your iPhone 6S. Then wait for the Transfer Data screen to appear.
4.On the Galaxy phone, select "Contacts" and other contents you'd like to transfer. Then tap "Next" and leave both devices along until the transfer completed.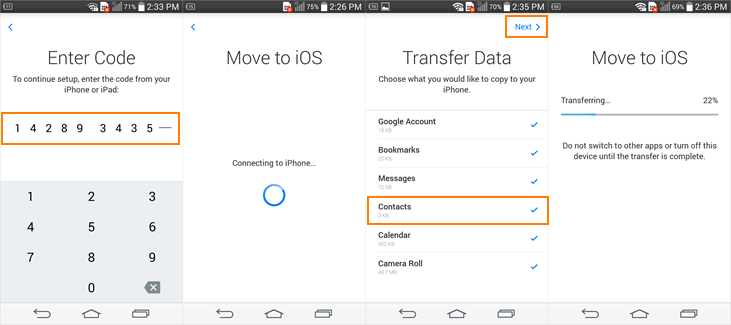 Way 3: Transfer Contacts from Samsung to iPhone via Google Account
If you've already finished setup your iPhone and don't want to erase it, you can sync your Samsung contacts to your Gmail account, and then import Google Contacts to your iPhone.
1.On your Samsung Galaxy phone, go to "Settings" and choose "Accounts", enter your Google account details and enable synchronization. Your phone contacts and Google Contacts should now synchronize.
2.On your new iPhone 6S/6S Plus, go to "Settings" > "Mail, Contacts, Calendar" and select "Add Account". From there, choose "Google".
3.Now sign in to the same Google account and make sure Contacts is enabled. You should find all of your Google contacts are in your iPhone.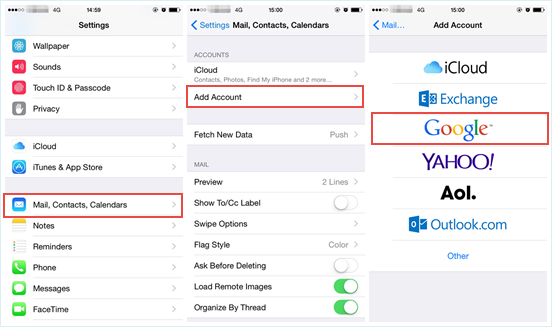 Related Articles
comments powered by

Disqus