Top 10 Best Adware Removal APK for Android in 2019
You had often come across the displaying of unwanted advertisements which are of no such use to you people. This is what we called the Adware. It is simply the process of displaying the ads on different applications and browsers, based on your previous visit activities on your phone or websites. For example, if you had viewed a product on any app or website for once without making a purchase, then that this kind of product will be advertised again and again with the help of different platforms in front of you as a reminder. One more thing is that please don't confuse between the Adware and Malware because they are two different things. Malware is the term used to in the reference of viruses, spams, trojan's etc. Whereas Adware is responsible for collecting the data of the user recent activity, and then using that data to advertise the products and services. To remove the Malware activities on your smartphone, an antivirus app package to remove viruses on Android must be installed.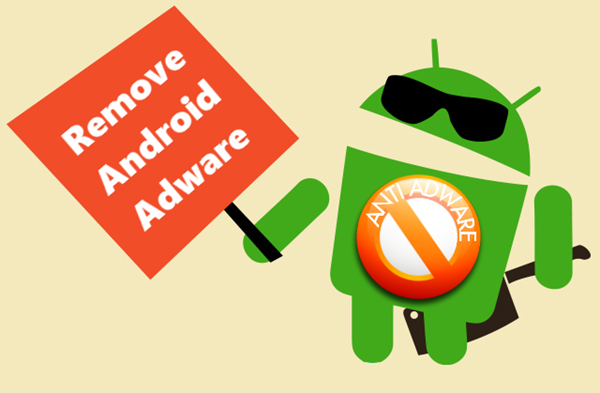 We had collected the data of the views of the users on this issue and we had concluded that the majority of the Android users are suffering from this problem. The Adware is responsible for creating such problems, and people' desire to get rid of Adware just the same as they hope to block porn contents on Android phone.
So, today in this article we will tell you about the top 10 Adware removal Android apps which you can use to overcome this problem. The best Adware remover apps for Android which we are going to list below are safe and secure to use and we too had used them. Some of them are brilliant, while some are offering fewer features. But one thing will remain common in all is that all these will help you to remove the Adware from your Android phone. So, just have a quick look and choose one of them as soon as possible:
This application is just magnificent when it comes to the security purpose as well as the removal of Adware from Android. Trusted by millions of users, this application is serving its quality features to their users from past many years and nowadays, and you can find almost every Android user using this application. You can download it for free in the Google Play Store. The highlight features of this application include CPU cooler, unwanted activity blocking, spam email blocking, Adware blocking, and virus scanning present in the PC etc.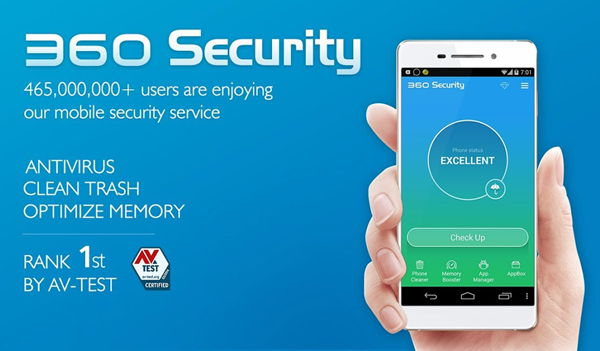 This Adware cleaner app for Android is also trusted by millions of users because a user can enjoy almost all features of security and privacy in one place. This application is available for free and just in case if you are not comfortable with the features provided in the free version, then you can switch to the paid version, which will open some more exciting features. This application provides all those features which 360 security provides, but the security is tighter and cannot be easily cracked by the hackers. So, spending some bucks as the subscription fees is not a bad decision at all.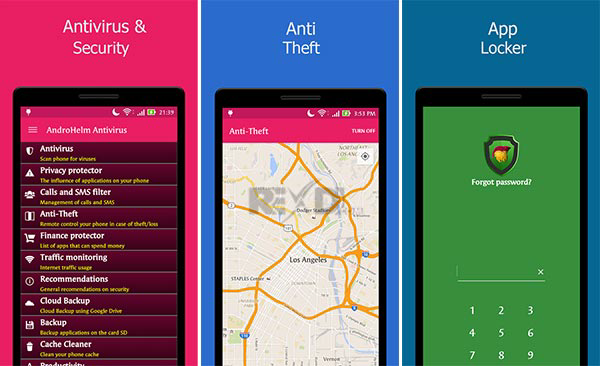 This software is also brilliant in this segment. People often use this software in their PC's and Android smartphones. The free version will provide little features as well as security too, but the paid version of this software is worth buying as it will prevent your phone from any kind of attack by the hackers. The paid version will require to pay almost 12USD as the subscription fees annually. But we recommend you to use the paid version as it will prove to be an asset for your Android phone and all your credential data will be prevented from the wrong people.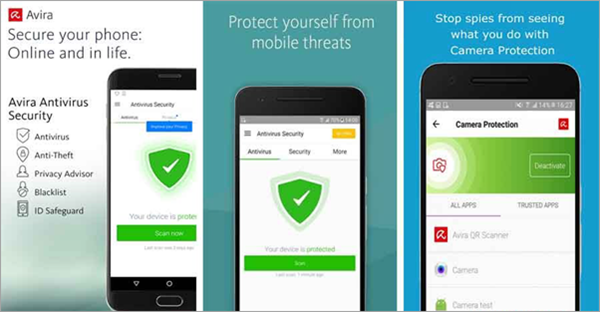 This application is the center of all the security features which are concerned to protect the user's privacy. The real-time scanning will protect you from the attack of the hackers. Apart from this feature, the anti-theft feature is also included in this application. And the plus point of this application is that it is available for free to all users. The overall reviews are also good and we too recommend you to use this application.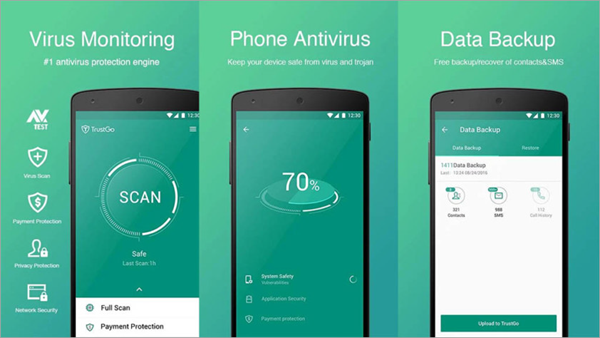 This antivirus software is quite brilliant for PC users. But the growing demand for the Android security application led the developers to develop an application which is also compatible with the mobiles. This application automatically clears the RAM when kills the applications which are running in the background. Fast charging option is also enabled and CPU cooler is also a part of the features of this application. All the security features are same as the above applications which are listed above and you can download it from the Play Store for free.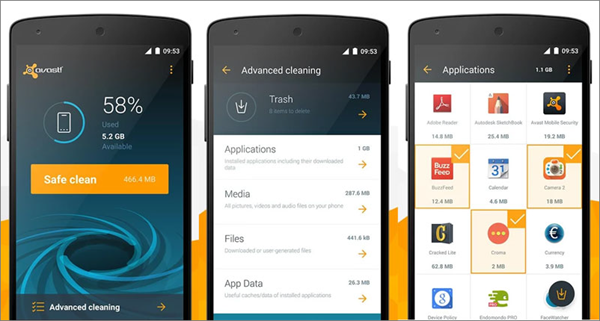 With an attracting user interface, this is another app which is very good in this segment. The features of this antivirus software include the anti-theft feature, payment protection, Secure Wi-Fi connections, suspicious activity blocking, app lock and many more to be listed, and this software requires to pay 15USD as the subscription for the lifetime access. So, you can invest some bucks on this application as it is having a little edge over the listed applications.
Tip: You can also hide and lock text messages on Android by using these message locker apps.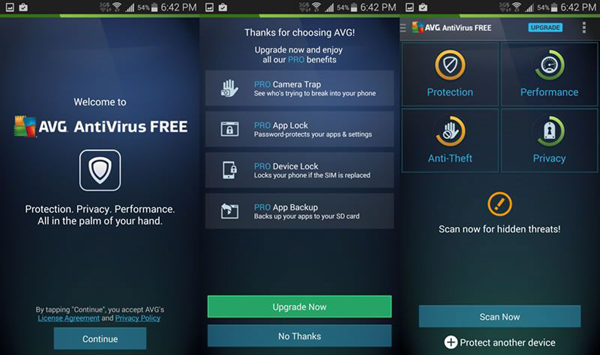 As the name of this application suggest that it will defend your phone from any type of virus and suspicious activities. It will act as the shield on your privacy and will not let anyone access your data without your permission. The key features include the real-time scanning, better user-interface, automatic RAM clearing, adware blocking, spam email blocking etc. The power-packed performance of this app attracts millions of users towards it and now this application is quite popular now. It is available for free and you can download it from Google Play Store.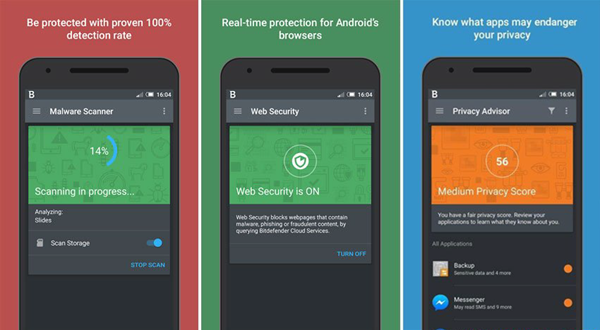 This Android Adware remover app also gives a very tough competition to the other apps and now it has become very popular among the users. Some bugs need to be fixed for a smooth functioning but overall performance is very good and it is a very good choice for the users. All the features are similar to the features offered by the above-mentioned Adware cleaner apps and the best part is that it is available for free on the Google Play Store.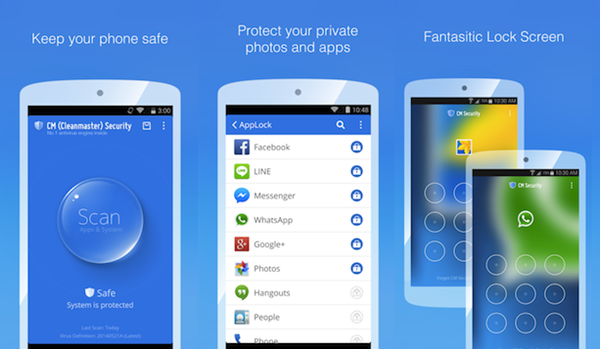 This Adware removal Android APK is available in many versions. It is all up to you that if you want to install the free version or a paid version. The features are also quite brilliant and you will explore all the hidden features like automatic blocking of unwanted activities, Adware blocking, threat protection, virus scanning, anti-theft feature etc. It also scans the external SD card whenever inserted in the Android phone. The overall battery performance will also get improved after the installation.
Tip: Here are the Best 8 Solutions to Make Android Phone Run Faster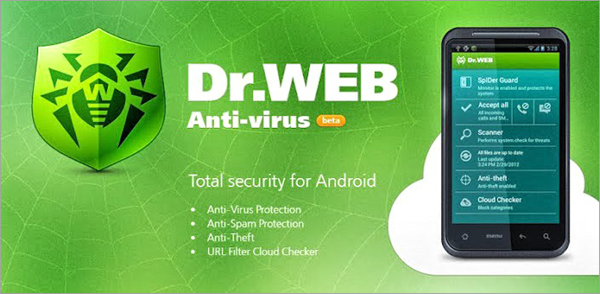 The name itself suggests the features which this application offers to their users. One of the best apps which are capable of protecting the user's privacy. The key features of this application include payment protection, virus-scan, anti-theft protection, user-friendly interface, timely scanning of the phone, Adware blocking etc. This application is available for free on the Google Play Store and you can also switch to the paid version by paying almost 10USD per annum.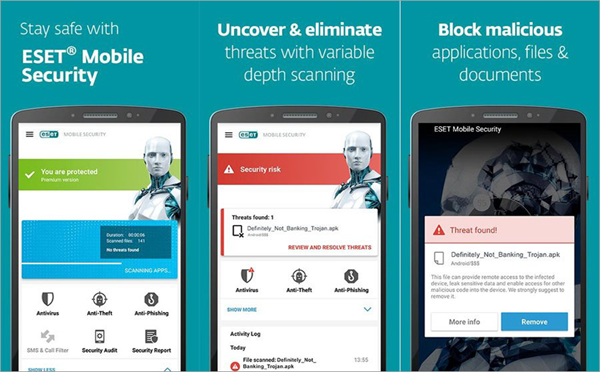 Bonus Tip:
Data loss on Android phone is so common that nowadays many software have been developed to meet users' need to recover deleted data from Android. Jihosoft Android Phone Recovery is one of them who can help you get back the deleted messages, contacts, call history, photos, videos and more from Android mobile without backup.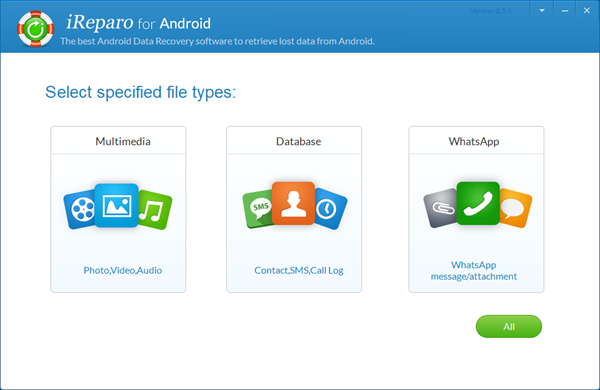 Conclusion
To conclude the things in one place, blocking the Adware is very important to get relief from the annoying ads. By blocking them, you can save a lot of data and can enhance the browsing experience on your phone or computer. Many other Adware cleaner apps are also available on the Play Store but these 10 apps to remove Adware on Android are the best ones and you can install and use them hassle-free. You can share your experience with these applications in the comment section below.
Related Articles