Hide Data in Photos with Free Steganography Tools
With the development of network, data transmission becomes quicker and more convenient. But the problem is how to ensure the data security during transmission? Recently, steganography has aroused people's wide concern. It is the art and science of hiding secret information within other seemingly harmless messages. In this article, we would like to share the 4 free image steganography tools to help you hide data in photos.
QuickStego
QuickStego is a free and simple-to-use encryption tool built specifically for helping users protect sensitive data from unauthorized viewing by hiding data in images. It works with the following file formats: BMP, JPG, and GIF, and lets you enter the text messages into a dedicated pane. Plus, you can important data from plain text files. The images with the hidden text can be saved to BMP file format.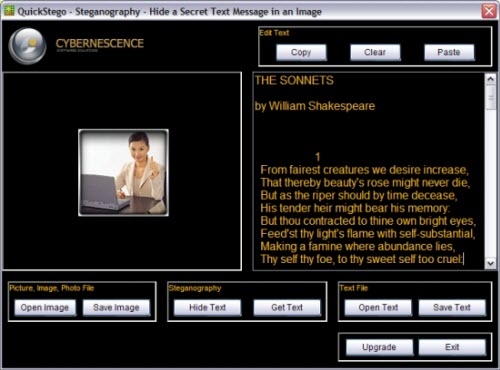 OurSecret
Our Secret is a free, simple but powerful application designed to help you hide text files or files such as video, audio, image and others that you want to share with a friend. The software comes with clean and intuitive user interface. Users can easily hide sensitive information within few simple clicks. And the revealing process is even simpler. Messages can be viewed within the program or saved as text documents.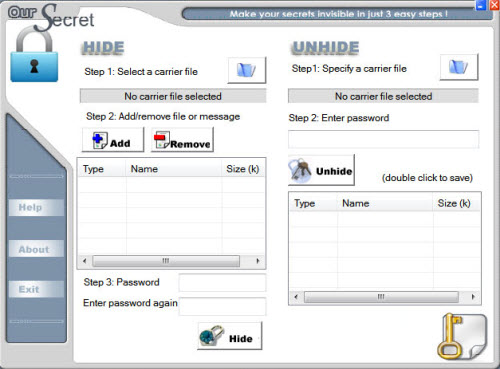 SteganPEG
SteganPEG is a free application to hide your personal, private, or sensitive files in any JPEG image without changing its quality and size. Also, the software allows you to encrypt data by setting up passwords, preview the picture in the primary panel, as well as insert multiple items to be hidden in the photos. The photo which embeds the sensitive data can be exported to JPG file format.
BMPSecrets
BMPSecrets is amazing tool which allows you to hide your information in an image file. It has rich functionality to store different files in different squares of one image. The method used in this program is much more powerful. You can replace up to 50-60% of picture with your information and the human eye will not be able to recognize differs.