How to Use Sampling Stamp Tool to Erase Unwanted objects in Photos?
Who doesn't love photography! From young to old, professional to leisure; photography is one of the most loved activities around the world nowadays. With the regular and improved addition of photography tools and software, now photography is more polished and easier like never before. Passionate photography lovers don't require high-end photography equipment and tools such used by industry professionals to click amazing shots by themselves. A combination of little internet knowledge and easy to use online available tools can be enough to help photography enthusiasts capture mind-blowing clicks effortlessly.
If you are photography admirer then you must be aware of the extremely beneficial usability of the Clone Stamp Tool in Photoshop! This tool do its magic by copying sampled pixels from one area and cloning those pixels onto another area. The most powerful is that it enables you to remain soft edges on details which makes it better than simple copying and pasting.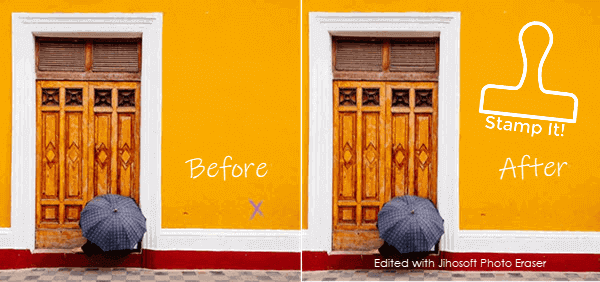 Well, while Photoshop is lauded by many due to its incredibly useful tools for editing images and removing unnecessary objects from photos, some find it to be clunky and not user-friendly. Even though the features of the Clone Stamp Tool are truly significant, users are still searching for a more convenient Photoshop Clone Stamp Tool alternative to edit and erase photos.
Which is Clone Stamp Tool Alternative
There are a lot of convenient post-processing tools available for making minor to major edits to your photos. Jihosoft Photo Eraser is one of these available premium tools similar to Photoshop. It is available for both Windows and Mac platforms. People may think there is no serious substitute for Photoshop Clone Stamp Tool, but the Sampling Stamp Tool inside the Jihosoft Photo Eraser can be a great substitution with its very own set of photo edit element.
The minimalistic and user-friendly user interface of Jihosoft Photo Eraser helps users easily access the full functions of this advanced software. All the tools, including the Sampling Stamp tool, clearly arranged on the left sidebar, offering easy access to the users. The central user panel has two buttons only, allowing users to import photos to the tool. Users can import a single photo or an entire album with respect to their choice.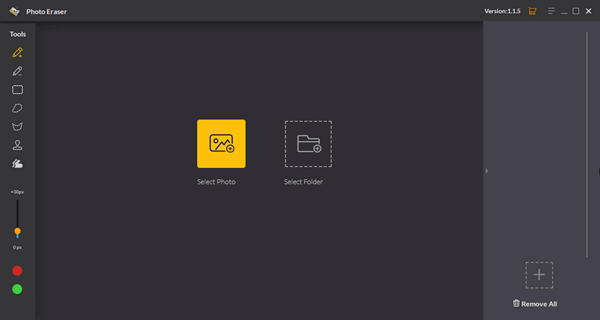 What is Sampling Stamp Tool?
Users need to define two factors before using such type of tools, the target area, and the source area. The target area is the spot in your photo where you desire to replace the pixels, whereas the source area is the spot where you want to take the pixels as replacements for the target area. Then the Sampling Stamp Tool is such a tool that lets you copy from one area (source area) of a image to another (target source). This can be used to cover up blemishes (by copying from another part of good skin), remove power lines from the sky (by copying parts of the sky over them) and etc.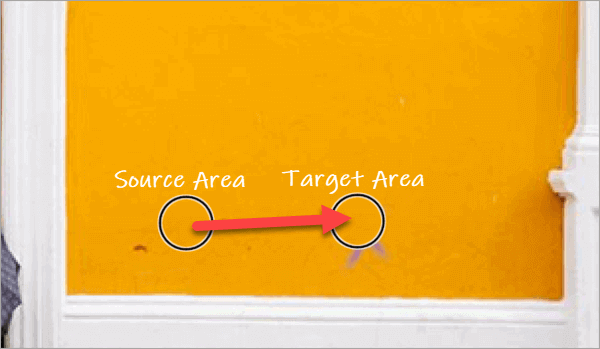 Getting started with this tool is super easy. Here they only have to select the source area with the Sampling Stamp Tool, the specialized algorithm of Jihosoft Photo Eraser is smart enough to edit the wanted in a smart and powerful way to offer extraordinary results with just a few clicks.
Is it going to be easy to work on? What are the unique features here? Removing objects from photos with Sampling Stamp Tool is never been so simple and convenient. For more details move further how it works with this Sampling Stamp Tool tutorial guide presented at the following part. Also, this program even provide another tool named Brush Tool to erase unwanted objects from photos with a click.
How to Use Sampling Stamp Tool to Erase Unwanted Object
Step 1. Start with Importing Your Image
To remove objects with Sampling Stamp Tool, start the application and simply import the image/images which you want to edit, into the application. Once your photo has been imported, it will be displayed in the central panel for editing.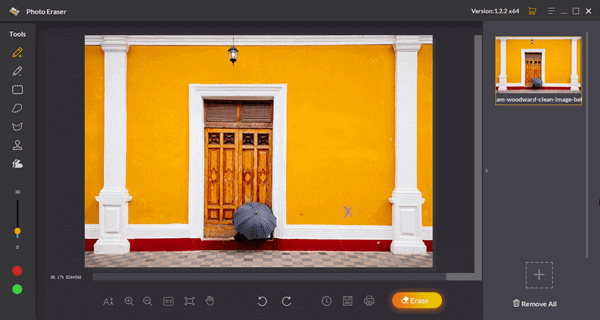 Step 2. Select the Source Area
Choose the Sampling Stamp Tool which is located on the left toolbar. Once on the Sampling Stamp Tool, you an set your brush options, for example, brush size, hardness and opacity can all be adjusted to meet your needs. Please make sure you have an appropriate brush size for the job.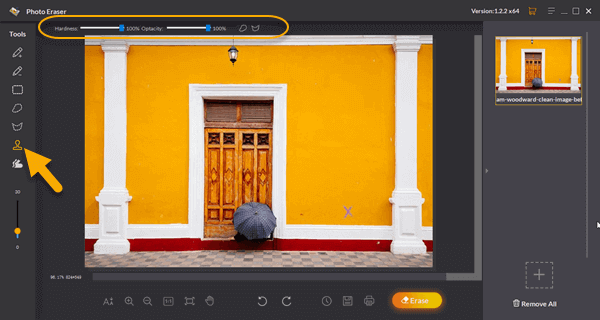 Tip: If you need to copy an exact area, then you have to leave the opacity and hardness at their default settings, which is 100 percent. But for retouching a person's face or skin, adjusting the opacity to about 20 percent or lower will be better to blend the skin to an even tone. Even though you will need to copy it more times, the result will be smoother.
After adjusting the brush options, now you have to select an area to copy from. To do that, just hover the mouse cursor over the area you want to copy and Alt-Click to select the source part.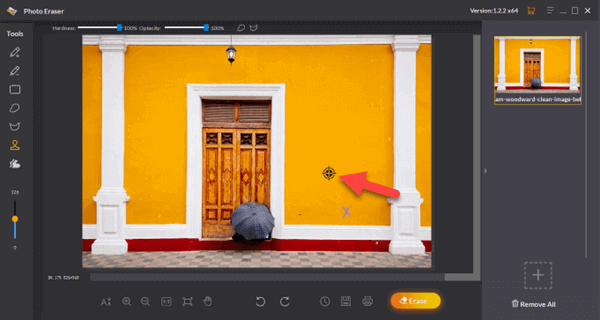 Step 3. Erase the Unwanted Object
Now, click and paint over the are you want to erase. As you paint, a cross will appear on the source part while a corresponding circle appears where you are painting. With a little patience, you will get the best results in removing the unwanted objects with the Sampling Stamp Tool.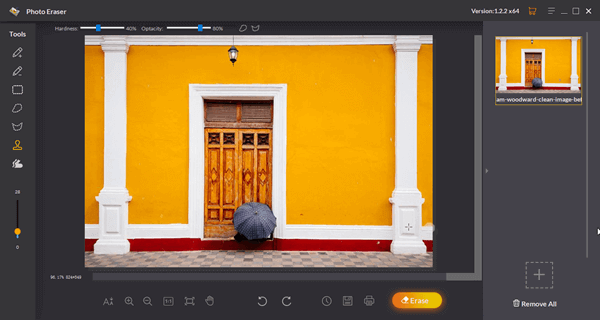 Please remember that this tool can be implemented to not only remove unwanted objects, but also for unwanted watermarks and logos that often cover important details of the original photo.
Whereas eliminating them manually can take a huge sum of time and expertise, sampling stamp tool available here could be the easiest tool to clean the unwanted objects from your photos effortlessly. It is an affordable and non-technical knowledge required tool which can work magic for users with just few clicks.
Affordable, Easy & a True Masterpiece
Whether you want to repair a damaged old photo, or strip out the annoying skin blemishes in your picture, Jihosoft Photo Eraser can be the best solution available. It's really super easy and even non-technical users can use it without much of an effort.