12 Free Movie And TV Apps for Legal Streaming in 2019
Gone were the days when everyone would wait for a new show or movie to come on TV. The whole family and area would together spend time and enjoy entertainment. When streaming and online services started, no one showed much interest as it was a new platform. But now, as time progressed, there are multiple online services where you can stream a lot of entertainment anytime you wish.
There are fantastic video streaming services like Netflix, Hulu, and Amazon Prime Video who have taken the bandwagon ahead for online video streaming apps. The only thing that has changed is the fact that these are paid services. People don't like spending much, and hence, the audience is lesser than that for free entertainment.
Hence to make it easier for those who want free entertainment, I have made a list of best free legal streaming apps both on Apple and Android devices where you can enjoy unlimited streaming of entertainment content.
12 Free Movie and TV Apps For 2019
Crackle is a free streaming service owned by Sony. They have an amazing collection of TV Shows and movies which you can watch for free. You don't need to sign up for watching videos on Crackle. This is also an ad-free service, and only some videos will contain ads. You can stream videos with high-quality video and sound. You will also need a fast internet connection to get an uninterrupted experience.
Why use Crackle?
They have an amazing collection of movies and TV series
They also have Subtitles
You don't need to sign-up or subscribe
You can find it on both iOS & Android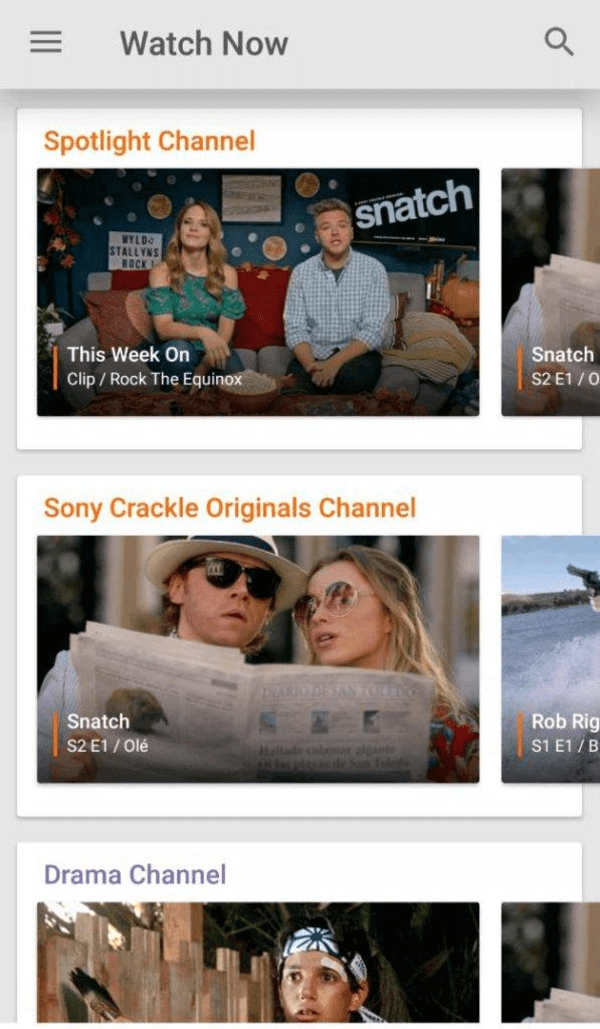 Our next entry is Tubi TV. This video streaming app has amazing content that is categorized into different genres. The search option works amazingly well. Their dark theme is cool to view. There are subtitles for all videos; you can forward or rewind the track by 15 seconds. You can also lock the video in landscape mode. There are no buffering issues. The only negative area is that ads will appear every 15 to 20 minutes.
Why use TubiTV?
There's a Dark theme
Subtitles are available
They also have high-quality videos
It is available for both iOS & Android
Popcornflix is another streaming service that shows movies and TV shows for free. The interface is simple. You can check new arrivals or the most popular section too. Just like Netflix, it offers original series and movies, which makes Popcornflix a good Netflix alternative. This free app may not be available in all countries, but don't worry, as you can use a VPN address to access Popcornflix.
Why use Popcornflix?
Huge collection of movies and TV shows.
No need to sign-up or subscribe
Available for both iOS & Android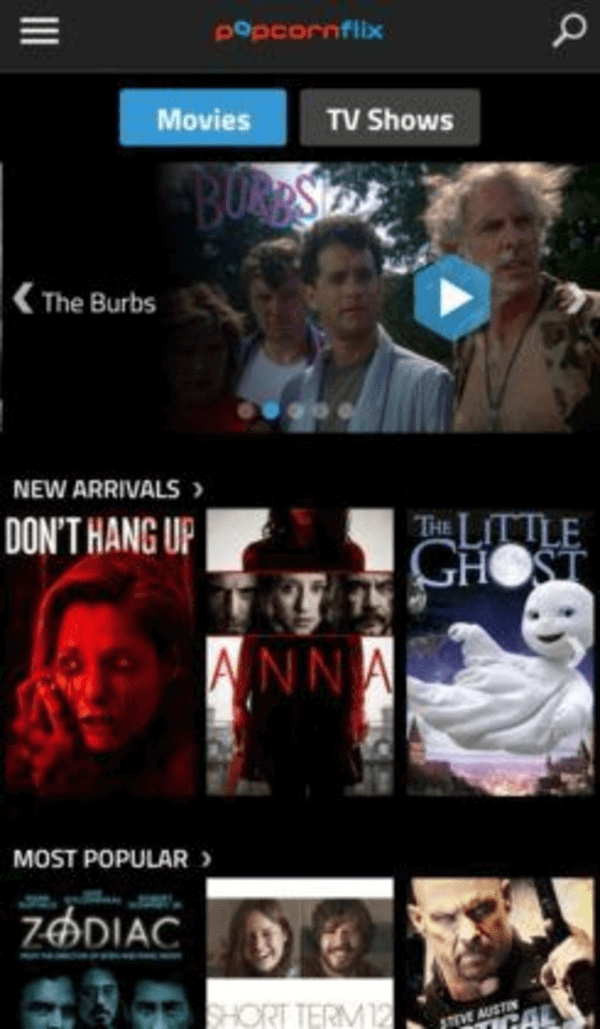 Our fourth entry is Viewster. Here you can watch movies, TV shows, documentaries, news, cartoons, and funny clips too. Their anime and fandom content is well known and very huge, making it very popular. You can comment on any video just like YouTube and even add a reaction similar to Facebook's react faces. You can also change streaming quality, audio, and subtitles. You can also share content with others online.
Why use Viewster?
Amazing for Anime lovers.
Stream in different quality options
Present in both iOS & Android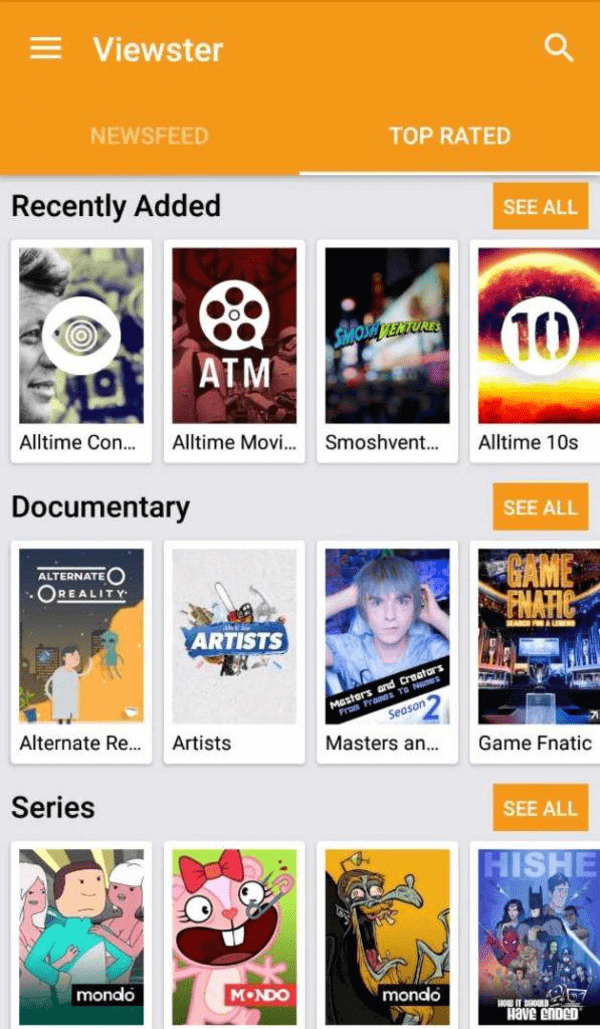 Our fifth entry is the Internet Archive. This doesn't have any application on iOS or Android, but they boast of a vast free collection that can get featured on this list of free movie apps. You can watch on your smartphone or install a third-party application to watch content from the Internet Archive. There are many apps on the Play Store that stream free content from the website.
Why use the Internet Archive?
Amazing classic content
You can download content in different formats
Too many iOS and Android apps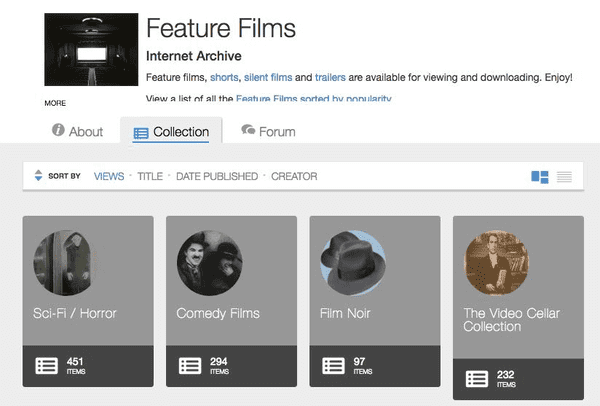 Snagfilms is gold for people that love documentaries and classic movies. They also host videos on Drama, Kids, Family, World History, Wildlife, Environment, etc. They specialize in rare classic films. Snagfilms has a dark theme and offers trailers for each video. You can download movies and watch them offline. The only setback is that the subtitles option is missing.
Why use Snagfilms?
They offer good previews
You can Download and watch offline
Present in iOS & Android
Also Read: MyP2P Alternatives & Similar Sites –MyP2P is a free live sports streaming site that allows you to watch your favorite high-quality sports events.You can check Top Best MyP2P Alternatives, Watch live sports events anywhere on any phone.
Hotstar is one of the most popular streaming apps in India. You can watch free Bollywood movies online. They have the largest collection of Hindi movies and daily TV Shows. You can stream videos on the app for free without signing up. You can also enjoy the content provided by TV channels in India. They also offer a decent collection of videos in English too. If you want to check all content, you will need to subscribe to the premium account.
Why use Hotstar?
You can stream in 720p, 360p, 120p quality.
You can check news and sports
Present in Android & iOS
Yidio is another streaming app that provides good content. There are paid and free options for Yidio. To make it easier, they have made sections like "Free Movies" and "Free TV shows." Popular shows like Rick and Morty, Grey's Anatomy, Two and a Half Men, or The Flash are on this app. The only downside is their limited collection of free videos.
Why use Yidio?
Free streaming from legal sources
They have a Picture-in-Picture mode
Present in both iOS & Android
Next we have Pluto TV. This is your regular television with many live channels. There are separate sections created along with an extensive collection of videos. You don't need to sign up to watch live channels. Their plus point is the fast streaming speed and instant switching between channels without any buffering issue. They have a variety of videos like travel, food, music, lifestyle, animals, sci-fi, etc.
Why use Pluto TV?
They have a Clean interface
Videos load quickly & in high quality
Present in iOS & Android
When Kodi was launched, it had become the favorite app among masses that liked to stream videos for free. While they are completely a legal app, few add-ons are available that stream pirated content. Hence you must clearly check out the 100% legal add-ons such as USTV. With this, you automatically make sure that you can stream TV shows, films, sports, documentaries, etc. without risking anything.
If you still are skeptical and not sure, please check out these Kodi add-ons for streaming videos on your Android and iPhones. You can also check Kodi repositories as well to download popular add-ons.
Why use Kodi?
Kodi is a versatile app offering much more than videos
It is very easy to use
They have more than thousands of add-ons present
11. Jio Cinema, Airtel Xtreme
If you happen to be a citizen of India and also residing in it then we are happy to tell you about many options where you can stream free movie apps. With the increasing competition in this heavily competitive market, we feel that every major telecom operators are providing free content streaming and Live TV apps with their free and paid plans. Two popular services are Reliance Jio's Jio Cinema and Bharti Airtel's Airtel Xtreme.
There's a free live TV streaming option where you can watch paid TV channels. The content is available in high-definition, and you can watch it in multiple Indian languages.
Why use Jio or Airtel movies app?
You can get free content completely in HD
There are many premiers of new content
How can we miss YouTube? Our final entry happens to be the popular choice for free streaming apps. Youtube boasts of the most extensive collection of videos, no matter what the category is. When you talk about streaming movies and TV shows, there are hundreds of YouTube channels that stream full-length videos for free. You might not be able to find legal sources always.
Hence it's best to check the legality of those sources on YouTube because even if you don't happen to download any illegal videos, streaming copyrighted content is considered to be illegal.
Why YouTube?
YouTube has a vast collection of videos
The fast streaming speed at different video qualities.
Tips: If you're struggling to download videos from YouTube , Instagram, then Jihosoft 4K Video Downloader is the ideal solution.
With this software available for Windows and MacOS, users can easily download any videos, playlists, whole channels, and even subtitles from Youtube. All the videos are saved in high quality – HD 1080p, HD 720p, 4K, and 8K.You can also download 3D and 360° videos.
Final Thoughts
What we think about these free streaming videos is that whether free or paid, they all are doing a fantastic job. Our list has streaming apps that are available for both iOS and Android. But whether it will work for you will purely depend on the country you are located in. So some or all the apps will work on the Play Store or App Store. If they don't work, you can always download the.APK files to install streaming apps for movies and TV shows. Although this is a risky option as installing from third-party sources might lead to you downloading unwanted or harmful apps.
So here's our list of free and legal streaming apps that you can utilize for viewing content online. If you feel we missed out on any streaming service, kindly comment and let us know so we can update it the next time we make a post.