Top 5 Best WiFi Analyzer Tools for Windows 10/8/7 in 2019
Nowadays a lot of users are suffering from slow internet connection due to weak WiFi signal strength in a small area. It is surely unpleasant to wait for hours in order to load a video or even a webpage. As a matter of fact, this issue is more often than not caused due to imperfect installation of routers. In other words, your router may not be placed at the right spot that could provide best distribution of WiFi signals. Instead of rushing to purchase a new router, you should try the following 5 best WiFi analyzers for Windows to detect the problem first.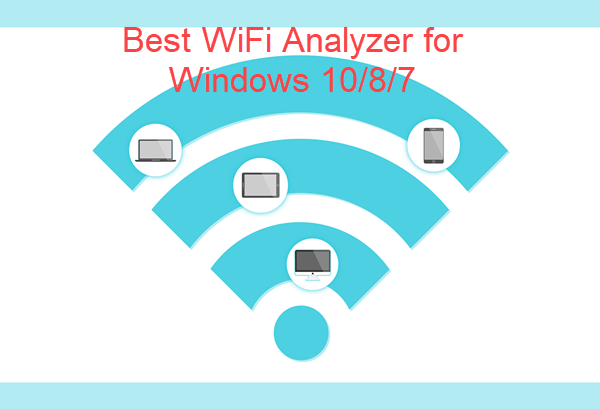 Why We Need WiFi Analyzer Tools
To avoid the problem of uneven distribution of WiFi signals, we have to develop a detailed survey report which indicates the performance of the WiFi networks in your area. This survey has to be done while installing the WiFi router at your home. Some definite ratings are already mentioned on the WiFi router about the range of area and the frequency, but they are not reliable enough because WiFi signals get weakened due the presence of some obstacles and objects like walls and doors.
That's why a WiFi audit is a must to do so as to ensure the signal quality, frequency of channels and downloading speed never get lower down. Only after doing the analyzation of WiFi signal strengths, you will be able to detect the spots in the house where the signal is weak and where the signals are strong.
After you determine these parameters, you will be able to select the spot in your house where WiFi router can be installed so as to ensure the strong and quality WiFi signal strength in every corner of the house.
Warm tip: Besides analyzing WiFi signal, some of the following tools can also help you defend against hacker who could invade your computer through the vulnerabilities of your WiFi. In case the issue has happened to you and caused data loss, don't hesitate to use Jihosoft File Recovery to retrieve your precious data.
Now, in order to do the analyzation of WiFi signals, WiFi analyzer Windows apps are quite convenient for applying. We will list top 5 WiFi analyzer tools for Windows which you can use with an ease. All these tools have very good reviews and ratings among the users and you can also use these Windows tools to execute this task.
Top 1. WiFi Analyzer – Best WiFi Analyzer for Beginners
This tool is available on official Microsoft store and you can download it by using the link provided. This tool is just awesome for the beginners and the features which this tool offers are also magnificent. The simplicity of this tool is what makes this an ideal choice for the beginners. This tool is compatible with Windows 10 version and windows smartphone with Windows 10 version. There are significant number of features which are available on this tool.
As like the other tools mentioned above, you can check the signal quality, internet speed, bandwidth, range, ratings, WiFi encryption used and much more information using this tool. You can check the downloading speed of that WiFi network by using the speed meter available there. You can also get to know that how much users are connected to that single WiFi network.
For beginners, WiFi analyzer is a very good choice when it comes to choose best WiFi Analyzer tool.
Top 2. NetSpot – Best Paid WiFi Analyzer
NetSpot is mostly used by the users from all around the world to create the heatmaps of WiFi signals. You will be provided with a complete guide to use this tool which is quite helpful and beneficial for the beginners who are using these types of tools for the first time. NetSpotWiFi tool have optimized and advanced tools which you can use to accomplish your task.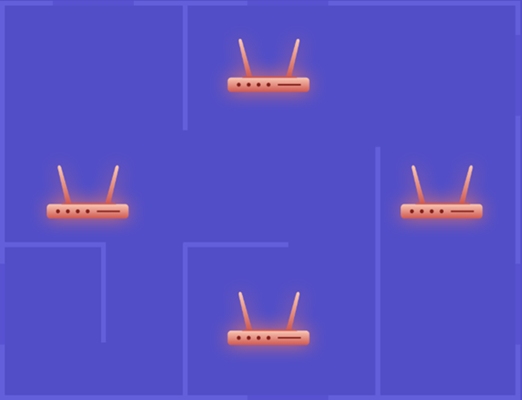 You can search for all available WiFi networks within the range of your area along with the signal strength. The WiFi scanning mode will help you to determine the signal strength. NetSpot is an absolute beauty in the WiFi analyzer tool segment.
NetSpotWiFi Windows tool can be used on both Windows and MacOS. Windows with versions Windows 7/8/10 and macOS with version of 10.10 and later are compatible NetspotWiFi tool analyzer. This tool has a rating of over 4.5 from 5. This simply shows the popularity of this tool in doing WiFi quality signal analyzation. NetSpot could be the best WiFi analyzer for anyone if it were free.
Top 3. InSSider – Best WiFi Analyzer for Pro Users
This is another brilliant WiFi analyzer tool for Windows which is known for its excellence, and it is compatible with Windows 7/8/10. This tool is not very suitable for beginners because of the presence of advanced and optimized tools which is used by professional only. This tool is also very expensive to purchase and the user-interface is also not so appealing.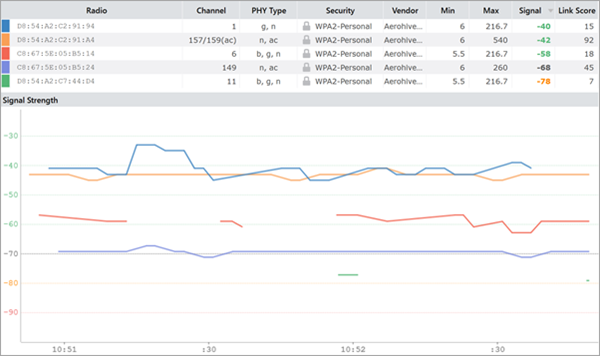 But one thing is for sure and that is the accuracy and reliability of this WiFi analyzer tool. You will surely have some accurate results in the reports which you can consider while installing the WiFi router in your home or office.
It will also search for the WiFi network channel of up to a maximum of 3GHz. This is the major limitation of this WiFi analyzer tool because many WiFi network channels with 5GHz frequency cannot be detected by this tool. So, if you are able to use these professional features, then InSSider is the best option available in this list.
Top 4. Vistumbler – Best WiFi Analyzer with Location Track
This is another brilliant tool which is capable of providing all the features necessary to analyze the quality of WiFi signal in a particular area. Unfortunately, this tool doesn't have much popularity among the users but it can surely deliver some constant quality results which not only accurate but relevant too. The graphic-user interface is quite simple. After you run the features, you will be provided with the list of all the available WiFi networks of more than 4GHz frequency. It will take some time to run all these features to create the quality reports, but you have to patient to get the accurate reports. The rest of the features are outdated like determination of WiFi encryption used, network type, ratings etc.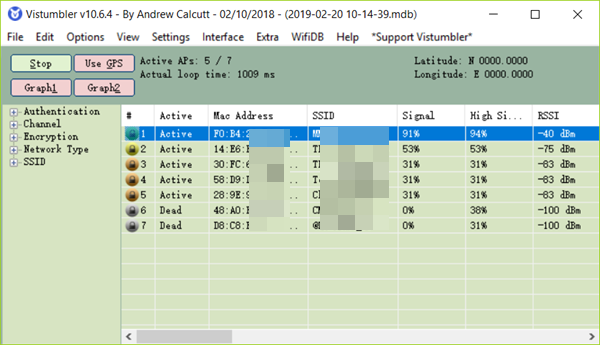 The highlighting feature of Vistumbler tool is that you will be able to detect or track the exact location of the WiFi network. Vistumbler uses the Google maps to provide the exact location of the WiFi network channel whenever it detects it. That's why it has proved to be very efficient tool when it comes to get the detailed WiFi survey reports before the installation of WiFi router inside your home or office.
Top 5. Wireshark – Best Open Source WiFi Analyzer
This is the last WiFi analyzer tool available in this list and trust us, it is competing with other WiFi analyzer tools very strongly. Wireshark is an open-source WiFi analyzer tool which means that it is available to all users for free. This tool is compatible with almost all types of operating systems. Windows, Linux, OS X and many other OS are compatible with this tool.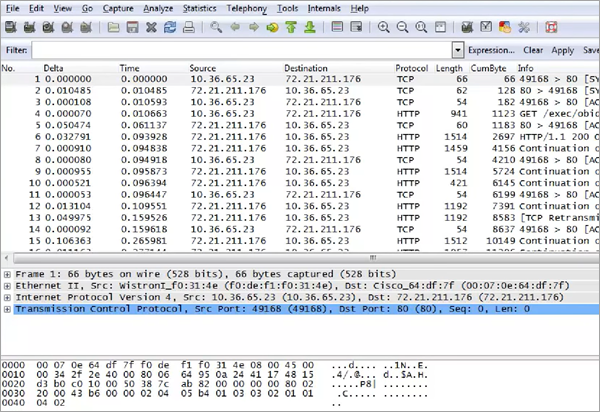 Wireshark has a pretty ordinary user-interface which is very lite but useful and the features which this tool offers are also brilliant. But this tool is not suitable for beginners because it has some advanced features which can be used by professionals only. But if you have used the above-mentioned tools and didn't satisfied with their results, then you can use Wireshark because it will surely deliver some comprehensive results. Anyone having some basic knowledge of WiFi network channels and tools can use the basic features of this tool.
Conclusion
WiFi is used very frequently by worldwide people on daily basis and if the router is installed on the right place inside the home, then you can make use of WiFi network to the fullest. These tools which we mentioned will surely help you to get this task done. Our top pics from the above list are NetSpot and WiFi analyzer because they are much easier to use and operate. In case if you like the functioning of some other tool, then please let us know in the comments section.
Related Articles