Covert HEIC to JPG with Few Clicks



An User-Friendly Free HEIC Converter

1.Convert HEIC to JPG
2.Easy to use
3.Fast converting speed
4.Support Windows 10/8/7/Vista/2000/XP
5.100% safe and free
Why Convert HEIC to JPG
Apple's latest iOS 11 acquiescently save photos as HEIC file, but the new image format is only compatible with iOS 11 and macOS High Sierra. Therefore, it's necessary to convert HEIC photos to JPG when you view them in windows or iDevices with older iOS.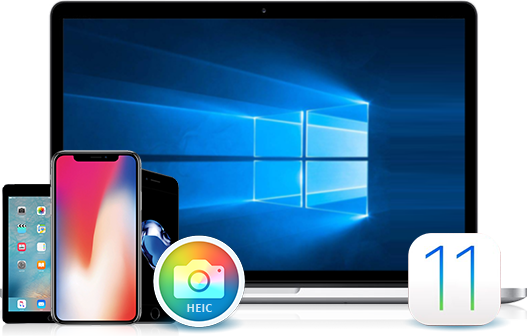 Learn about HEIC

Full Name: High Efficiency Image File Format
Extension: .heif/.heic
MIME: image/heif, image/heic, image/heif-sequence, image/heic-sequence
Advantage: It realizes users' dream to compress image space under the same quality.
Disadvantage: Only iOS 11 and macOS High Sierra are supported. Photos can not be checked in older iOS or Windows.
JPG's Detailed Information

Full Name: Joint Photographic Experts Group JFIF format
Extension: .jpg/.jpeg/.jpe/.jif/.jfif/.jfi
MIME: image/jpeg
Advantage: Fully compatible with all versions of iOS, Mac and Windows.
Disadvantage: JPG photos take up larger space than HEIC.