How to Recover Data after Factory Reset on Android
What is Android Factory Reset?
Android Factory Reset is a built-in feature that wipe all device settings, app data, user information and data from an Android device, so as to return the phone to its original state. Most of the Android glitches can be fixed by performing a factory reset, such as Android freezing, and low working efficiency.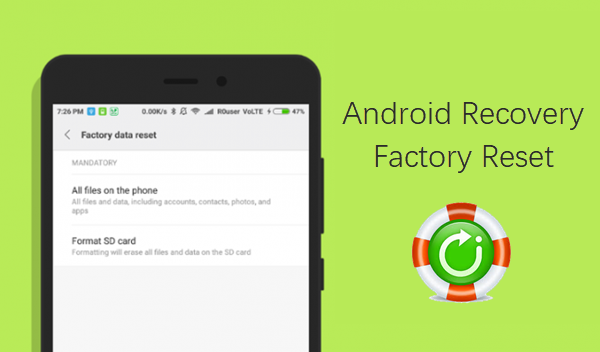 What Does A Factory Reset Do on Android?
As we mentioned above, Factory Reset can often fix many chronic performance issues of Android. So when you should give your Android phone a factory reset? Well, the Factory Reset function often happens under these 5 main conditions:
Keep your personal data private and safe before selling the phone.
Improve the phone's performance when it becomes very slow and lag.
Reset the pattern lock code and password.
Fix the phone as it keeps freezing after system update.
Troubleshoot the Wi-Fi hotspot setup problem.
But the Factory Reset feature should be used with caution, and don't do it just out of curiosity. Why? Because performing factory reset will erase all the data off your Android phone internal storage, and return the phone to the default factory settings. That means all your contacts, messages, call logs, images, videos, audios, documents, and other files stored in the phone will be deleted completely. Sometimes people may accidentally hit the Factory Reset button without backing up those important Android files beforehand, and that's the reason why you can find so many this kind of questions online: "Is there anyway to recover pictures after a factory reset?"
Part 1.How to Recover Data after Factory Reset on Android without Backup?
No one can predict when the data loss will happen, let alone preparing a full backup of the phone data in advance. Then how can you recover data after factory reset Android without backup? Don't panic. You are not at the end of the road. There is still a way to recover data after factory reset. A third-party data recovery tool will do help: Jihosoft Android Data Recovery. By using it, you can recover photos, contacts, messages, call history, videos, documents, WhatsApp, Viber and more data after factory reset on Android.
Perform Data Recovery Android after Factory Reset Step-by-Step
Download and install this Android recovery software on your Windows or Mac computer, and then run the program.
Connect your Android phone or tablet to computer, and enable USB debugging on your phone. Once the program successfully identifies your device, click "Start" to search for lost files.
After scanning, all the deleted files will be listed in categories. Preview and select them to recover lost data from Android after factory reset.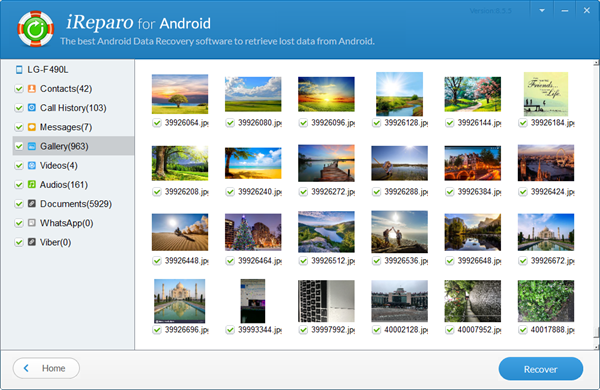 Helpful Tips & Suggestions
In order to avoid unexpected data loss, please regularly backup important files on Android device to your computer or external storage by using Android Phone Manager, Google Drive and etc.
Immediately stop using the Android phone or tablet if any data loss happens. Any new data written into Android will overwrite the lost data and it unrecoverable.
Part 2. How to Recover Android after Factory Reset with Backup?
Factory Reset function can only wipe the data from Android internal storage, and it won't erase the files or app data saved in external storage card. Therefore, if you have previously backed up Android data to a cloud server, or to SD card for safe keeping, you can follow the two options below to recover phone data from backup after factory reset.
Option 1. Recover Files From Android Local Backup
Some Android phones from LG, Huawei, Xiaomi and others, provide a built-in backup feature which lets users backup phone data to the phone internal storage or SD card. If you are a holder of one of these Android phones, you can restore deleted or lost data directly from Android local backup.
Tip: Factory Reset will erase all the data saved in phone internal memory, including the backup file. Therefore, it would be nice to backup phone data to SD card instead of internal storage.
Here we take LG phone for example, and show you how to easily restore Android data from local backup file after factory reset.
Step 1. Go to phone Settings -> LG Backup -> Backup & restore -> File restore & management.
Step 2. Select a backup file to restore from, and wait for the restoration to complete.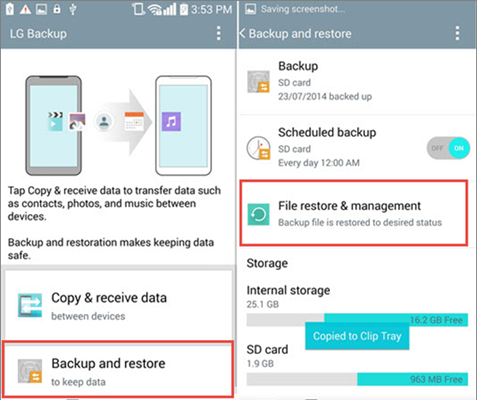 Option 2. Restore Android Data From Google
After you have backed up your phone data to your Google account, you can restore apps, app data, system settings and Wi-Fi passwords from the backup whenever you lose Android files accidentally or even restore lost Android data to a new phone.
Tip: We highly recommend you to use Google Drive app to backup Android. As the following picture shows, with Google Drive you are able to backup and restore more Android data, such as contacts, photos & videos, and calendar events.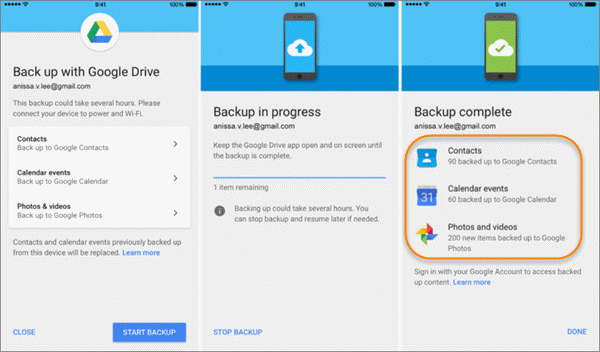 In order to recover deleted Android phone data from Google backup, you should:
Step 1. On your Android, login to the Google account that you have used to sync your Android files.
Step 2. After the backup files are displayed on the interface, choose one you'd like to restore from.
Step 3. In the next interface, select the data you want to restore on Android, and hit "Done".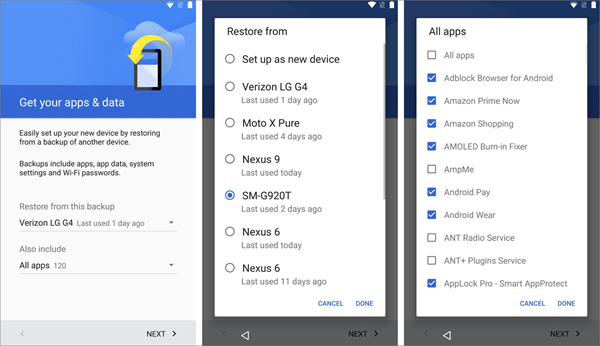 Related Articles