How to Download 8K YouTube Videos(60FPS UHD)
How to download 8K videos from YouTube? 8K is the highest resolution currently supported by YouTube. Its pixels are 7680×4320, which is four times that of 4K (3840 x 2160) and 16 times that of 1080P (1960×1080), so the picture quality is clearer and more realistic. Since the first 8K video Ghost Town was released, more and more 8K videos ( such as Peru 8K HDR 60FPS, PATAGONIA 8K, Bulgaria 8K HDR 60P (FUHD), etc) have sprung up on YouTube.
However, watching 8K videos online can be painful for most people. To view this type of video, a stable and fast internet connection is required. If the network is poor, the video will usually be buffered, which will greatly affect the viewing experience. Therefore, it is best to download 8K YouTube videos to watch offline. Don't know how to do it? Here is a tool that will make it easy for you.
The Best 8K YouTube Video Downloader
To download 8K YouTube videos, you need a YouTube video downloader that supports 8K resolution to ensure that the video quality will not be destroyed after downloading. Jihosoft 4K Video Downloader is such a tool that you can use. Its function is far more than what you know from its name. In addition to downloading 4K videos, it also allows you to download 8K FUHD, 60FPS, 360° VR, and 3D videos from YouTube and other sites. The best part is that it can also be used as a video converter to help you convert YouTube videos to MP3, M4A, MP4, MOV, AVI, and other formats. Without further ado, the following are the simple steps to use it:
Step 1. First, download the 8K YouTube video downloader on your PC or Mac with the button below, and then follow the on-screen instructions to install it on your computer. (It has been detected by authoritative tools and does not carry any viruses or plug-ins)
Step 2. Go to YouTube, search for the 8K video you want to download, and then right-click its cover or play it to copy its link address to the clipboard.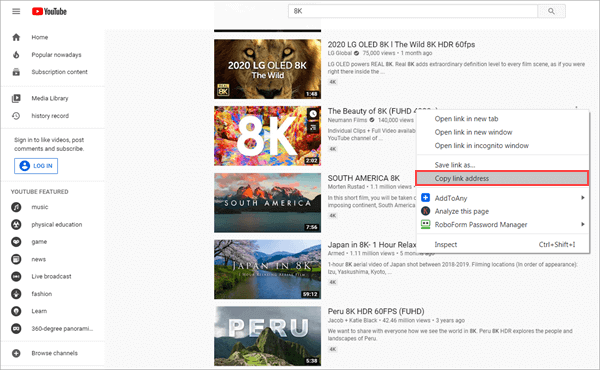 Step 3. Run the 4K & 8K Video Downloader, then find the "Paste URL(s)" button on the main interface and click on it to insert the video URL into the program for parsing.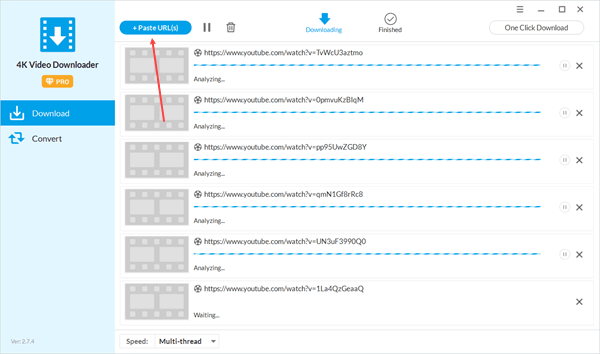 Step 4. After parsing, a window will appear on the screen to remind you to select the video resolution (such as 4320P, 2160P, 1440P, 1080P, etc) and whether to download subtitles, cover art, or convert the video to MP3. At this time, please check the 8K resolution and then click the "Download" button at the bottom.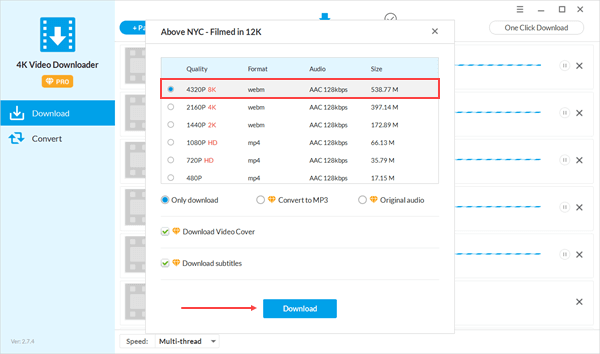 Step 5. The program will automatically start downloading 8K videos from YouTube. During the process, please ensure your internet is well connected. Once the 8K video is downloaded, it will be saved to the "Finished" page and your local "Videos" folder, you can play it directly or convert it to whatever format you like.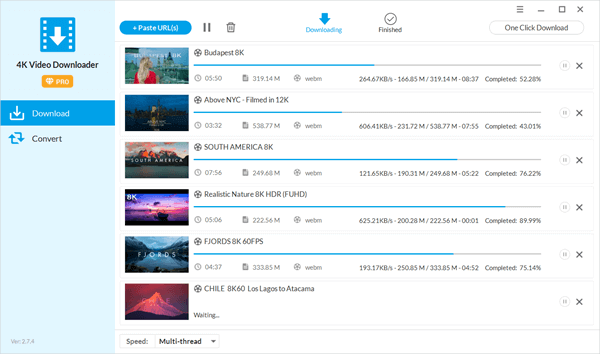 The above are the five steps to download 8K 60fps YouTube videos. By reaching this line, I believe you have fully mastered the essentials. After downloading 8K videos from YouTube, you may cannot wait to watch it, but one thing to note is that if your player is not compatible you may encounter playback errors. Here we recommend that you use the VLC player, it has a good configuration and strong compatibility, which can give you a smooth viewing experience.