How to Download Facebook Videos on PC/Android/iPhone for Free
Although Facebook is not a dedicated video sharing platform, there are still some interesting videos on the platform that are worth watching and collecting. However, just like many other video sites, it's hard to find a suitable way to download videos on their site. If you are those who do not know how to save a Facebook video, then you can read this article to find a solution, whether you are using an Android smartphone, Windows PC, macOS, iPhone, or even a browser.
Method 1. Using Jihosoft 4K Video Downloader (PC/Mac)
If you want to download FB videos to your computer, the best way is to use Jihosoft 4K Video Downloader. This is a free but powerful video downloader that can download videos from multiple websites, such as YouTube, Facebook, Twitter, Instagram, Dailymotion, and more. What makes this software special is that it supports downloading auto-generated subtitles, original audio, and video covers. Moreover, the program allows you to convert videos to MP3, MP4, MOV, MKV, AVI, and other formats, which is extremely practical
The process of saving Facebook videos using Jihosoft FB Video Downloader is similar to downloading videos from YouTube and other sites. All you need to do is follow the steps below:
Step 1: After downloading and installing Jihosoft Facebook video downloader on your PC/Mac, you will see a pop-up window that requires a registration code to activate the program, enter the 20-digit code you have if you bought it, or click on Buy Now to get the registration code, and you will also have the option to start a trial period by closing the window.
Step 2: After completing the previous step, you will get the main interface of the program in which you will see "+Paste URL" button, click on it and paste the URL of the video you want to download from Facebook, and the program will start analyzing the video.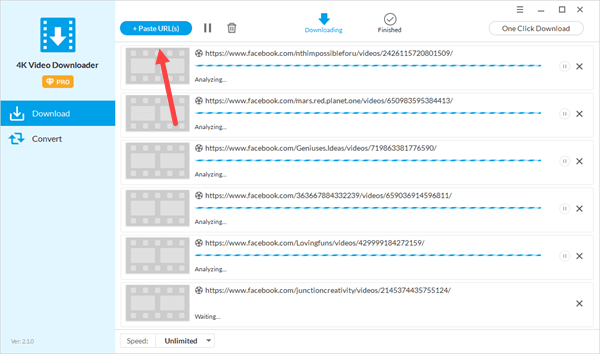 Step 3: Now, you will get the options that are available for your video. You can choose to download only the video, convert the video to MP3, download subtitles, etc., by checking the option. After you confirm, click the Download button.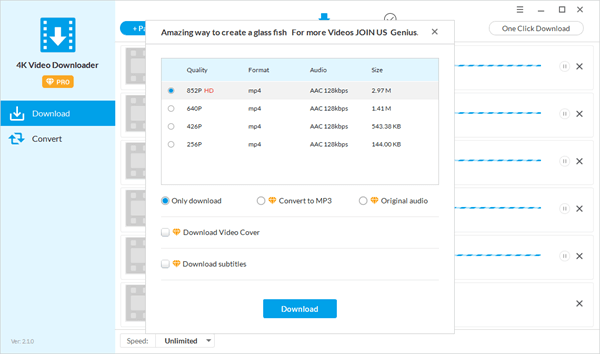 Step 4: The FB video downloader will start downloading your Facebook videos. During the process, you have the ability to adjust the download speed by using the button in the left-bottom area. Once completed, you will find the video in the "Finished' channel.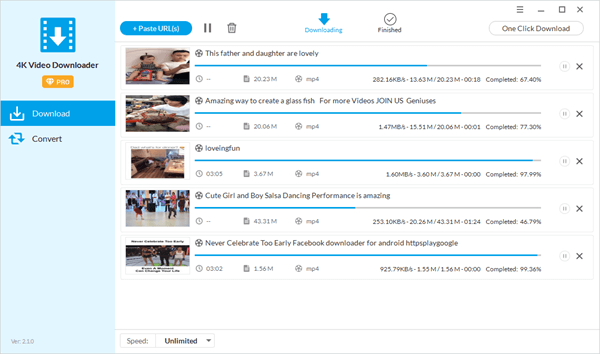 Note: If you want to change the format of the Facebook video you have downloaded, just click the Convert button on the right and select the format you want, the software will then do the job for you!
The second method is especially for people who don't like to install third-party applications on their computers. Getfvid is one of the best Facebook video downloaders that allows users to download videos by just visiting the site and without installing any software. The process of downloading videos from Facebook using Getfvid is quite easy, as all you have to do is:
Step 1: Copy the link of the Facebook video you want to download.
Step 2. Head into the Getfvid website and paste the link in the blank box.
Step 3: Once you have clicked on Download, you will get different options including Download Facebook video in HD Quality, Download FB Video in Normal quality, and the option to convert video to MP3 format and download it as an audio file.
Step 4: Select the proper quality and format from the available options, and click Download. The downloading process will start within a moment.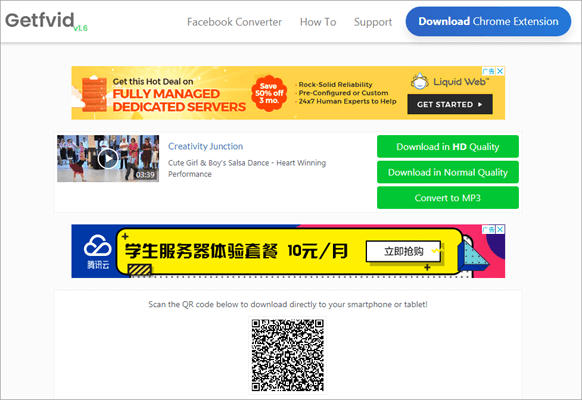 Method 3. Using Video Downloader for Facebook (Android)
Things are much simpler for Android users because there are many apps in the Google Play store that can be used to save Facebook videos. Among them, Video Downloader for Facebook is considered to be one of the best FB video downloaders on Android, with more than one million downloads and more than 4 stars.
The best thing about this application is that it's really simple, and it offers you the ability to browse Facebook videos directly through your account in its screen, along with viewing your news feed by using a built-in browser that will help you select the video you want to download easily. Here is how to download Facebook videos on Android:
Step 1: After downloading and installing the application, click on Browse Facebook, and you will get a page in which you can log in with your Facebook account credentials, so you can view your own and your friends' content.
Step 2: Play the video you want to download while browsing Facebook through the App.
Step 3: Once you click on the video you want to download, you will get a pop-up window asks you about what you want to do with that video, click Download and you will get it in your local phone storage.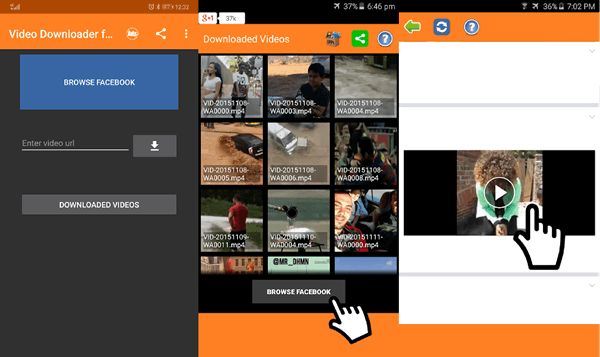 Method 4. Download Facebook Videos on iPhone
Surely, we haven't forgotten those who use iPhone devices, and here is the best option they can get to save Facebook videos. MyMedia is a special file manager, as it doesn't only perform as a file manager, but it also allows to download FB videos on iPhone once installed through its built-in browser. The steps of using MyMedia is very simple, and they are:
Step 1: Download and install MyMedia File Manager on your iPhone from the store.
Step 2: Open the Facebook app and find the video you want to download.
Step 3: Click on Share, and then tap Copy Link.
Step 4: Now, and by using MyMedia, open the built-in browser and visit Savefrom.net and follow the steps to download your video.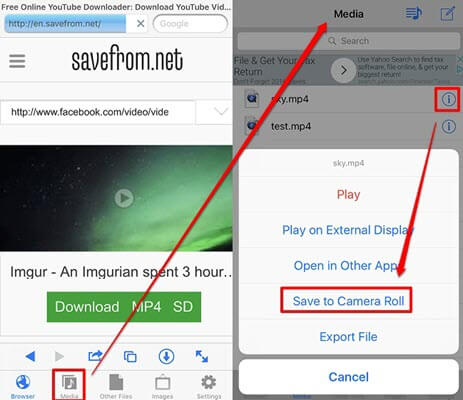 And finally, after downloading the Facebook video you want, you will be able to view and play it using MyMedia File Manager through the Media tab of it with the ability to rename your videos to make them special.
Method 5. Download Facebook Videos via Chrome
This method is rarely known because the whole process is very cumbersome. But the advantage is that you don't need any software, extensions, or online Facebook video download sites. The following is the specific steps to save Facebook videos with Chrome browser:
Step 1: Go the post of the video you want to download, play it, and right-click on it.
Step 2: Click "Copy Video URL at current time".
Step 3: Paste the URL in your Chrome browser, and change "www" with "m" like "https://m.facebook.com/…/videos/123/".
Step 4: Tap Enter on your keyboard and play the video.
Step 5: Open the Developer Console in your browser by taping "Alt + J" for Windows or "Alt + CMD + J" for macOS.
Step 6: Inspect the video element using the arrow icon at the top left of the console.
Step 7: Click on the video and you will get a box on the console.
Step 8: Copy the video URL, paste it in another tap in your browser and click Enter.
Step 9: Now, and after opening the video in a new tap, right-click on it and tap "Save Video As".
Step 10: Now select the location in which you want to download your video, name it and click Save.
After a while, you will get your Facebook video saved in the desired location so you can play it on your PC or Mac. While some of you may find this approach a bit difficult and require some knowledge, I can think of it as one of the best ways, and once you use it multiple times, you get used to it. Besides, by using this method, you can also save videos from Instagram.
Conclusion
Now, and in your hands, you have the 5 best methods to download videos from Facebook whether by downloading videos online through your browser, or by downloading and installing a third-party software in your smartphone, PC or Mac.
Choosing the method that fits your requirements from the above is a simple process as I have tried to select a method for every situation and OS so you can find your perfect method easily.
And finally, the best thing about all these methods is that they all are free or at least offer a free trial period so you can benefit from them as long as you need them.