How to Download 360 Degree VR Videos from YouTube in 2020
Innovations in the world of photography reached their peak with the development of 360-degree videos. If you are looking to make better use of your creativity, you need access to more tech, and that's what 360-degree videos can help you do.
Part 1. What is a 360-Degree Video?
Known as immersive videos or spherical videos, 360 videos aim to give you an overarching view instead of the traditional linear view. 360-degree videos consist of a view in all directions at the same point in time. They can be shot using omnidirectional cameras, or by arranging multiple cameras. When these videos are played on a normal flat display, you, as a viewer, will be able to navigate through the video just like a panorama.
You will be in charge of controlling the viewing direction. 360° videos can also be projected on spherical screens giving viewers a glimpse of the entire view.
Part 2. How Does it Work?
Photographers like to use a special rig of multiple cameras when shooting immersive videos. There are also dedicated cameras available on the market that have multiple camera lenses integrated into the device.
This collection of lenses is responsible for filming overlapping angles at the same time. The separate footage collected by each of the lenses is then put together via a process called video stitching. The raw footage is stitched into a spherical video piece.
Post-processing includes adjusting the color and contrast of the shots in such a way that they are consistent with each other. Some cameras are able to do this calibration on their own, but there are many specialized software, which allow the photographer to be in charge of the post-processing.
Part 3. Get Access to the 360-Degree Videos You Want
Want to experience what it's all about? If you want to get ready access to 360-degree videos, then YouTube will help you out. For the virtual reality experience, you will have to use Google Cardboard along with the YouTube mobile app.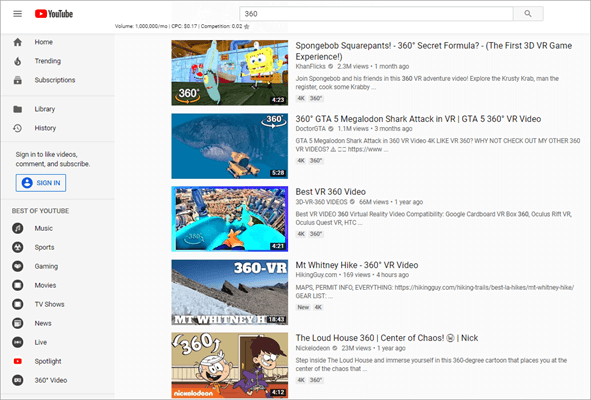 You need to assemble the Google Cardboard and set it up before you can look for 360-degree videos on YouTube. Once the setup is complete, you should open the app for YouTube. Now, you need to search for an immersive video.
You have the option of visiting the YouTube Virtual Reality house channel directly by entering the keyword, "Virtual Reality" as this will give you a variety of options to choose from.
Step 1 – Select the VR video that you want to watch and press the play button in order to start the playback.
Step 2 – Now, you have to tap the Cardboard icon so that your screen splits into two smaller screens. Insert the phone into the Google Cardboard and then explore the video from different angles.
Step 3 – You can also view the videos without the Cardboard, but the experience will not nearly be as exciting.
Part 4. Download 360 Degree Videos from YouTube
Streaming 360 VR videos online is cool, but it requires a stable network environment. So, at some point, you may want to download them for offline watching anytime. While the prospect of 360-degree video download sounds daunting, the task really is not that difficult when you use a software like the Jihososft 4K Video Downloader: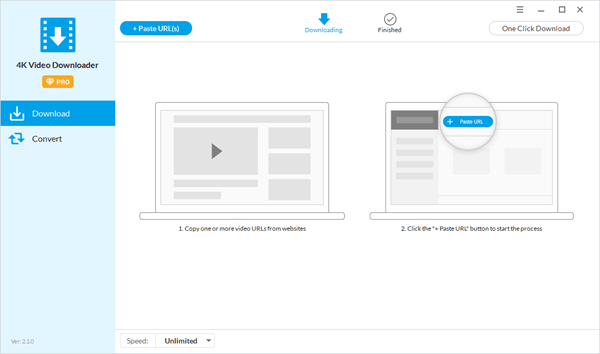 – Save videos from any site
What makes this software unique is that it allows you to download videos from several platforms like YouTube, Facebook, Twitter, Instagram, and more. With this software, you will be able to download the entire YouTube channel and playlist.
– Freely choose what you want
You will have the flexibility of choosing the resolution of the downloaded video from a range of options like 8K, 4K, 1080P, 720P, and more. The YouTube videos that you download with this software will be able to retain their original audio and subtitles, making it easy for you to explore 360-degree videos.
The software will also let you convert video into MP3, MP4, MOV, AVI, and other common formats.
– Watch your favorite videos anytime, anywhere
Once you download the 360-degree videos, you can watch them even when you are offline. The Jihososft 4K Video Downloader tackles all downloads as smoothly as possible. If you want to download the entire VR 360-degree videos watchlist, then you can do so at a go using this software. You will have the entire playlist in your possession with just a few clicks.
– Do the job quickly
If you do not want to select different download preferences for each video, then you can use the one-click download mode. You will be able to set your preferences so that the system can use the same settings for all future downloads. This will make it much easier for you to download YouTube videos.
Part 5. How to Get Started with Jihososft 4K Video Downloader
If you want to download YouTube 360° videos with the help of the Jihososft 4K Video Downloader, the steps to follow are fairly simple. You will be able to use it successfully even if you are not very familiar with the technology.
Step 1. At first, you will have to get your hands on the 360 degrees VR video downloader. You can get it from the official website of Jihososft, or CNET, Software Informer, ZDnet, Soft321, etc. If you have never tried out this software before, you can sign up for the free trial which is available for both Windows and Mac users.
Step 2. Install the Jihosoft 4K Video Downloader on your computer following all the instructions. Run it once to ensure that it is working properly.
Step 3. Open YouTube in a browser tab, and search for the 360-degree video that you want to download. Copy the URL of the video so that you can directly paste it in the software.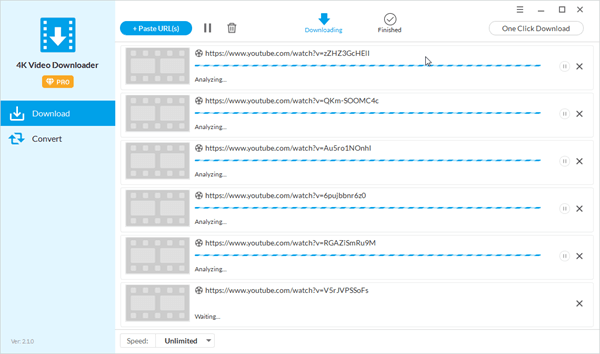 Step 4. Now you have to select the video quality of the downloaded video. If you want to retain the original video quality, you can choose to do so. However, if you want to make any changes to the video quality, then you should do it before you start the downloading process.
Step 5. Once you have finalized all the settings, it is time for you to download the video. It should not take a very long time, but that will depend on the size of the video. After the 360° video has finished downloading, it will be available for offline viewing.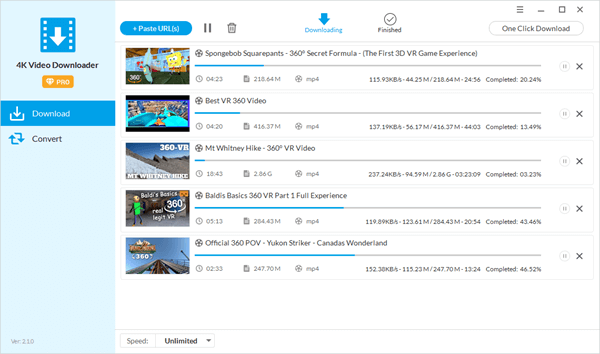 One of the advantages of having this software is that you will be able to edit and convert the video even after it has been downloaded. The software comes with a built-in free video converter that will allow you to convert any downloaded video into the desired format.
The Jihosoft 4K Video Downloader offers a variety of video editing tools. You will be able to cut and crop videos without any hassle. Moreover, you will be able to enhance the quality of the videos by using multiple filters.
The software will let you subscribe to your favorite YouTube VR 360-degree video channels, so you can download all recent uploads.
Part 6. The Best 360-degree Video Player You Can Use
You should have a great 360-degree video player on your computer so you can enjoy the downloaded 360° videos. Wondering which one you should go for?
You can try out the 5KPlayer which has 360 video support. It does not matter where your 360-degree videos have been saved from. This player will be able to handle them without a snag.
Your 360-degree videos from YouTube will run smoothly on this player. All you have to do is click and drag your mouse over the video to observe even the tiniest details of the video from all angles. This software supports the playing of 360-degree videos from every direction in different formats like 2D and 3D.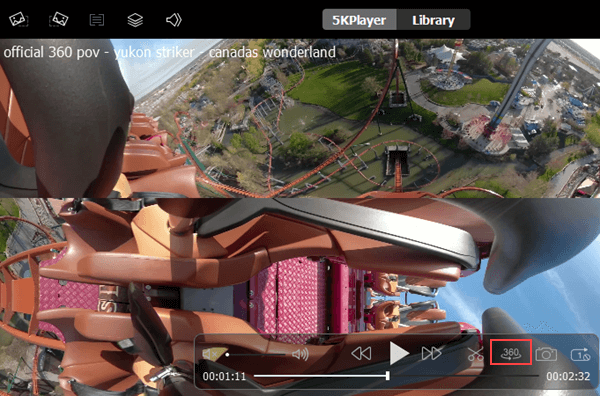 The video player also supports 180° playback from top to bottom and 180° playback side by side. What makes 5K so great is its high compatibility factor.
VLC 360, developed with the help of Giroptic, also happens to be one of the best 360-degree video players available. It allows the playback of 360-degree videos, and even 360-degree photos and panoramas. You can control it with your mouse and keyboard.
Final Thoughts
360-degree videos are rather futuristic, and very engaging, which explains its popularity. Since 360-degree videos are immersive in nature, they allow users to get a realistic view of the subject and its surroundings. They are able to look beyond the single frame and enjoy every small detail of the picture. 360-degree videos encourage users to explore, increasing their retention of the picture and creating a more lasting impact.
VR has made its way into the mainstream media, and the audience for 360-degree videos is growing by leaps and bounds. Since users are able to view 360-degree videos on mobile devices easily, even without a VR headset, they find it entertaining. VR is slowly trickling into different industries and might become a professional requirement very soon.