8 Best Free Twitter Video Downloaders to Save Twitter Videos in 2020
Twitter is an extraordinary platform, and you can easily spend hours on it talking with people, sharing ideas and sending all kinds of messages, images, or videos. The cool thing with Twitter is that aside from the word limit, there aren't other major limitations. So yes, you can add all kinds of GIFs, images, and even short videos if you want. The problem is that getting those short videos is a bit of a chore. It's important to save a Twitter video sometimes. Yet without the right ideas, you don't really know how to achieve that. And we are here to help you learn how to save videos from Twitter easily.
Most of the time, the best way to achieve that is to use a great Twitter video downloader. These tools are available online, and most of them are software pieces you install. There are online video grabbers, but ideally, you want to use a software that you already installed and which you know it works really well to avoid any sign of hassle or challenges that can and might arise at times. This is why here you can find a list with some of the best tools you can use to download Twitter videos quickly.
Jihosoft 4K Video Downloader is an amazing Twitter video downloader, and it does a perfect job at offering all the tools you need in a very creative and professional manner. It allows you to download videos from YouTube, Facebook, Twitter, Instagram, and anywhere online. The best part is that you can even download multiple videos at the same time. If you always wanted to know how to download videos from Twitter, this is the right tool for you.
The 4K Video Downloader gives you immediate access to all kinds of video resolutions, so you can easily find and use the right resolution in no time. You can convert YouTube videos to MP3 quickly, and you can easily grab content from Twitter fast. They did an excellent job at automatically detecting Twitter video content. They retain the video quality too, so when you save Twitter videos, you can easily enjoy the ultimate experience and just adapt and enjoy as you see fit. It works great, and it adapts and implements some creative aspects all the time.
Using Jihosoft 4K Video Downloader, you can also save multiple videos with the One-Click Download mode. It totally works, and it delivers the ultimate user experience that you will enjoy no matter the situation. All you have to do is to check it out and give it a try. Then the payoff will be second to none.
How to download Twitter videos with 4K Video Downloader?
Step 1. The first thing you need to do is to download the 4K Video Downloader from its official website and install it on your computer. You can then enter the free trial or purchase the software, based on how many videos you want to download.
Step 2. Now you will need to enter the interface and press the PASTE URL button. Here you need to add the link to your desired Twitter video. Make sure that you add the video link correctly. 4K Video Downloader allows you to add multiple links at the same time if you want, so try to keep that in mind.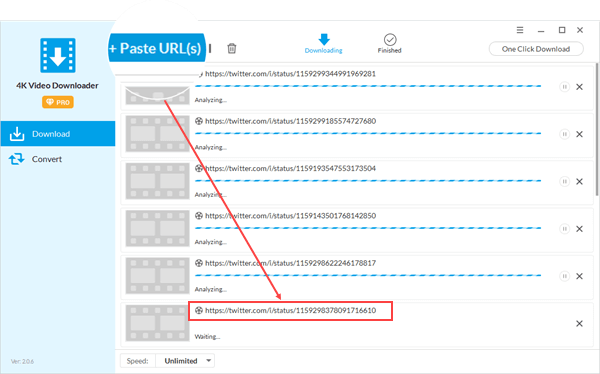 Step 3. The software will automatically parse all links, and if it's all good and they can be downloaded you will receive a Download prompt. The only thing you need to do at this point is to press the Download button and wait until the process is finished. Make sure that you pick the right download location based on your needs.
Step 4. And that's all you have to do in order to use this Twitter video downloader. All you have to do is to give it a try and see for yourself how fast and reliable Jihosoft 4K Video Downloader really is. It's one of the fastest and most reliable tools you can enjoy using right away.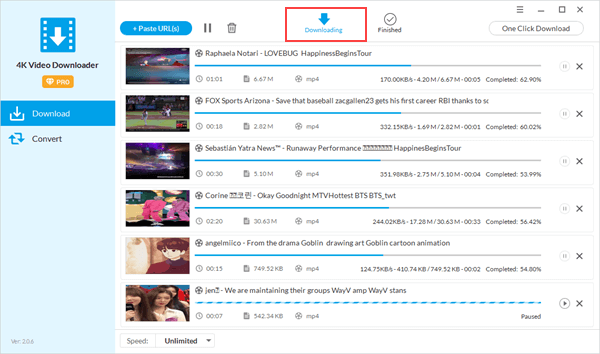 TWSaver is very interesting because it's an online-based tool. It helps save Twitter videos quickly as long as you share the Twitter video link. The process is quick and convenient, and the tool does a very good job at offering you all the features you need as fast as possible. The attention to detail is staggering, and TWSaver does an amazing job all the time as you try to adapt and adjust the way it works in a professional manner. The app does have an extension, but it works seamlessly if you just use the online Twitter video downloader. Sure, it lacks very complex features or batch downloads, but it's an incredible experience, and that's what you need. TWSaver is a great tool and a fast one as well if you need quick video downloads. Just remember it's not overly complex and it can have its own bugs and faults.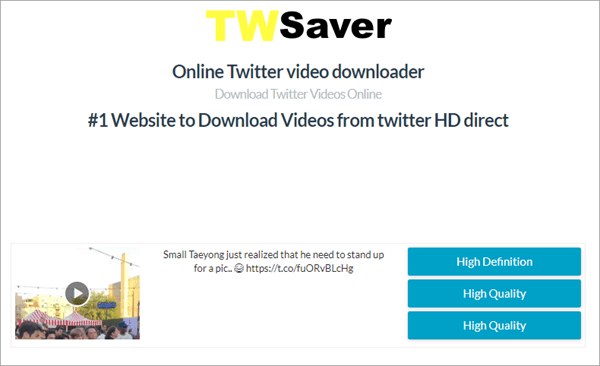 With this Twitter video download tool, you still get to have the best way to learn how to save videos from Twitter. Make sure that you share the right Twitter video link and if you do that this app will save the video locally for you. The interface is very simple, and you can download a Twitter video at a time. That can be a downside, but it's OK if you just want to save a single video. That being said, the online tool does have its fair share of hiccups, so you can use it but keep in mind any challenges that might arise.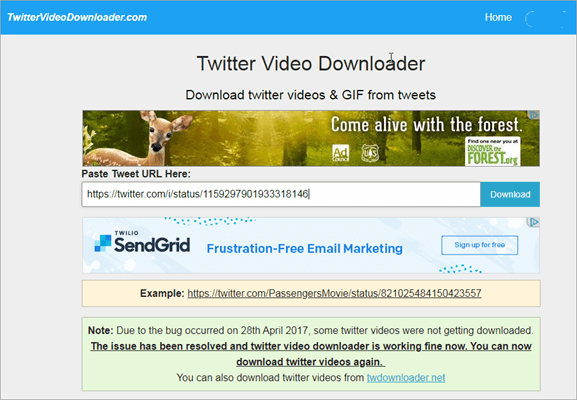 What you will notice about SaveTweetVid is that not only can you use it online, but at the same time it also has its own addon that you can download and use too. It's not a full video download software, it's more of a browser add-on, but it still works. It will convert and download Twitter videos to MP3, MP4, and even GIF files. It's an amazing experience and it totally brings in front of some creative aspects that you do not want to miss at all.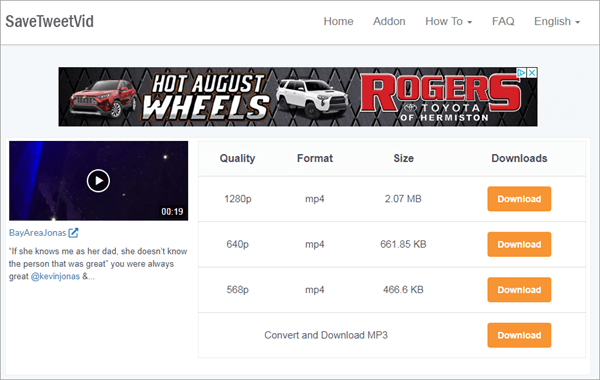 With this simple Twitter video downloader, you get all the tools and features you need in a single package. The app does an amazing job at offering quick support, and they even explain how to use it on the website. You basically paste the Twitter link and download it. It's very similar to all the other online video downloaders presented here. It's a convenient solution and one that has the potential to take things to that next level in a masterful and unique manner. You will appreciate the tremendous results and quality offered here, despite having a rather simple tool to assist.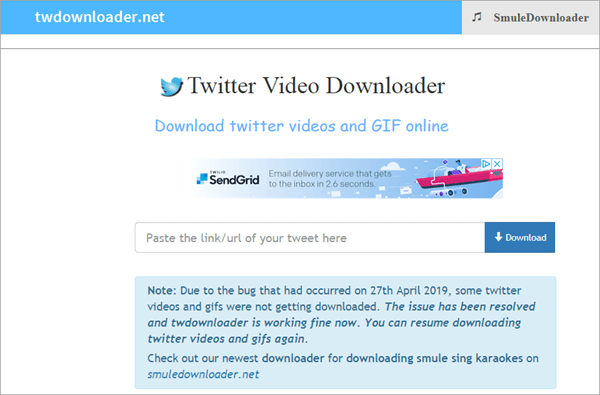 With this Twitter Video Downloader app, you always get the ultimate experience. And the cool thing about this mobile app is that you just share the link to the desired video and then you are good to go. It works seamlessly, it's a visually interesting tool, and it also lets you choose what resolution you want to use. That really helps a lot because you get more control and the results themselves are better because of it. The twitter video download tool actually has a dedicated video player, so you can view the video you downloaded after the download process finishes. This is a nice touch as a lot of tools like this lack such features.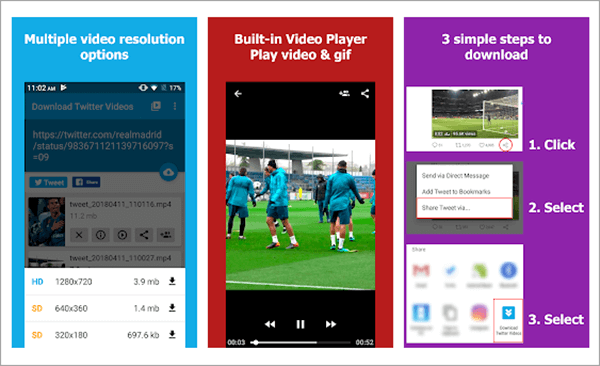 While using GetMyTweet, you always have immediate access to Twitter videos since you can download them fast and easy. It totally works, and it will deliver all the value and experience you need without any hassle. This tweet video downloader works great. It's fully adaptable to your own requirements and the quality of this process really pays off big time. It might take a bit to get used to the experience and results, but with the right approach, you can enjoy it. They have a sample URL so you can test this tool, and overall it's just a stellar, rewarding experience you do not want to miss in this situation.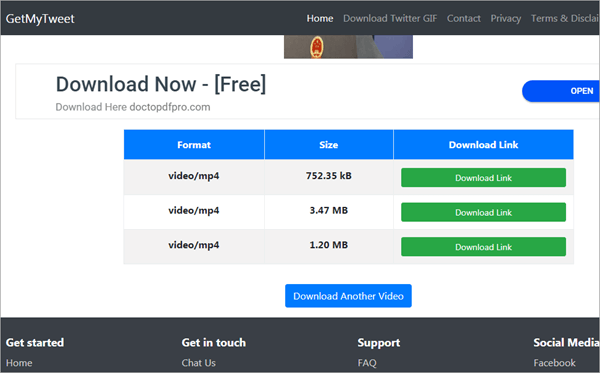 Getfvid is a very simple online video downloader. It works really well, you just paste your Tweet's URL, and they download the video. The seamless interface and high-quality experience are what really pushes the boundaries and make this work in a fun manner. With Getfvid, you can also save Facebook videos, and always get a tremendous quality and astonishing results. As long as you use this app, you can download the video you want in no time. It's online-based, so not the most reliability, but it can do its job for a single Twitter video download.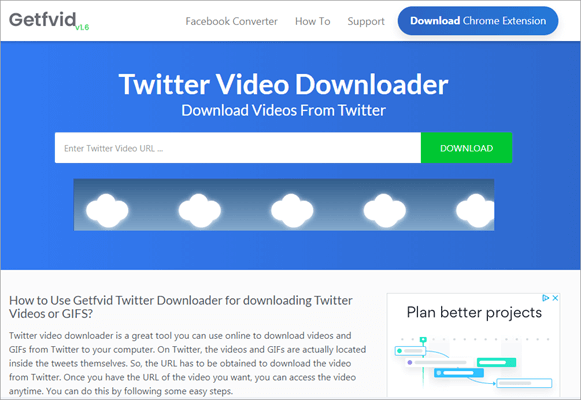 There are a plethora of Twitter video downloaders. You just have to find the right one to suit your needs. Most of the time online tools will do just fine, but if you want more reliability and features, it's a good idea to opt for Jihosoft 4K Video Downloader. You get a lot more stability, batch downloads, and other great stuff that will make the experience even better. Just consider giving this a shot, and you will enjoy things quite a bit!