10 Best FB Video Downloaders to Download Videos from Facebook
Facebook is our commonly used online social networking platform. Here we can send messages, like and comment on posts, share pictures, watch videos and live streaming, etc. However, despite its versatility, it does not allow us to download favorite videos directly from the platform, which is very annoying. Fortunately, there are some online websites provide such services.
To help users easily download Facebook videos, developers have developed some online Facebook video downloaders and desktop software. In this article, we will bring you the ten most popular FB video downloaders in 2020. They work basically the same. All you need to do is copy and paste the video link. Read on to learn more.
Jihosoft 4K Video Downloader is not an online video downloader, but works better than most of them. With it, you can not only save Facebook videos, but also download videos from YouTube, Twitter, Instagram, Dailymotion, Vimeo, Metacafe and other sites. The best part of this program is that it supports multiple resolutions, including 720p, 1080p, 1440p, 2160p, etc., that is, the downloaded video will not have any quality loss. Moreover, it allows you to download video covers and subtitles, as well as convert videos to MP3 audio, which is amazing! Here are the simple steps to use it:
Step 1. Download and install the 4K video downloader from this website, then run it.
Step 2. Find the Facebook video you want to download, then right-click on it and select Show Video URL. After that, copy the displayed video URL.
Step 3. Paste the copied video URL into the program and wait it to analyze the link. After a few seconds, a box will pop up, set your preferences here, then click Download. The Facebook video will begin downloading.
downloading.png
Step 4. When finished, the video will be automatically saved to the "Finished" section, you can click the button to play it directly.

Getfvid is one of the best free online Facebook video downloaders in our list. With it, you can easily download and convert Facebook videos to MP4 or MP3 files. It is perfect for use on computers, tablets and mobile devices. The usage of this website is free and does not require any software or registration. All you need to do is visit the site and enter the FB video URL in the text box provided, then click the "Download" button to download the video in a suitable format.
You can also add the Getfvid (Facebook Video Downloader) extension to your browser. This way, whenever you see a video you want to download on Facebook, there will be a "Download" (HD or SD) button. Just click on it and you can download the video directly.
Getfvid also has a private video downloader, which lets you download private videos from Facebook easily. Normally, only those who are able to see the video's code can download it. Using this tool allows you to capture the video, and it still allows it to remain private. Of course, you should still always value the copyrights of the videos you are downloading.
Getfvid respects your privacy and does not store videos that you download. It does not keep copies of downloaded videos either. All of the videos are hosted on Facebook's servers. The track of the download history is not kept either, which makes it a safe and trustworthy platform.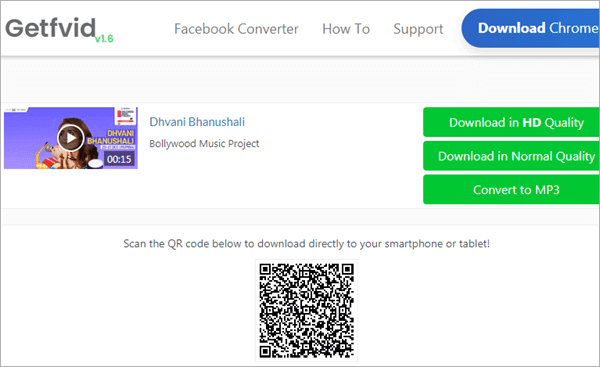 FBDown is another great platform to save Facebook videos. After downloading, videos will be saved in the Downloads folder depending on whether you are an Android or Apple user. You can also press CTRL+J in your Browser to view the download history. It supports about five languages and the ones going to be added soon to the site are Arabic, Chinese, Japanese and Turkish. Here is how to use FBDOWN:
Step 1. Right-click the FB video you want to download to copy its link address.
Step 2. Go to the FBDOWN website and paste the URL into the blank box.
Step 3. Tap Download and choose to download the video in normal quality or in HD quality.
Step 4. Right-click again on the video and click to Save video as…
Note: If any error is received, check if the video is public or private. You can also download the extension for Chrome if you notice any difficulties in using the downloader.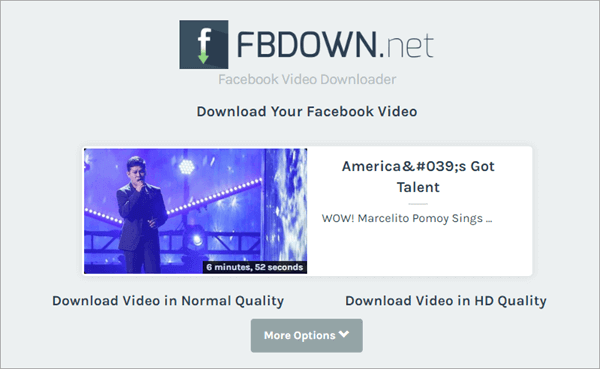 SaveAs is a free online facebook video downloader. It helps you download videos from Facebook and convert them to different formats. This tool works on any device, whether it be Windows, macOS, iOS, Linux, or Android, and is 100% safe & secure. What's more, SaveAs is completely free and has no download restrictions. Here are the specific steps to use it:
Step 1. Copy the video URL from Facebook
Step 2. Open the SaveAs website and paste the URL in the required box.
Step 3. Choose the quality you want the video to be saved in, click to download.

BitDownloader is truly the best online FB video downloader in the market. Using this downloader, you can go through the whole process effortlessly. Your videos will get downloaded in the best quality possible, and you will not face any issues with the speed while downloading. This is a one-minute process, you only need to enter the video link and the rest will be processed. It is completely free and secure to use. No additional downloads are required to use this downloader. Follow these steps to get started with BitDownloader:
Step 1. First you need to copy the video link. For that, you need to find the video you want to download. Then right-click on it and choose the 'show video URL' option.
Step 2. Copy the link and paste it to the search field.
Step 3. Click the Download button to start the process.
Step 4. All the available links are displayed on the screen. You need to choose among the save/download option as the final step.

Savefrom.net is the most widely used online video downloader. This one provides a fantastic service that will help you download videos at the fastest speed possible and completely free of charge. You don't have to install any other software or find services to download Facebook videos online. It can meet all your needs in video downloading. Follow these steps to learn how to use it:
Step 1. First you need to copy and paste the targeted URL to the field on the top of the page.
Step 2. Then click the button on the right to start parsing the video link.
Step 3. Next select to download video in browser, and choose the video quality.
Step 4. Click download to save the facebook video to your phone or computer.

FBvideo Saver is a reliable online video downloader for Facebook. It launched in May 2018 and has been a popular choice for downloaders since its release. If you are searching for a hassle-free way to download videos from Facebook, you don't have to look anymore! With this downloader, you will be able to download FB videos in the fastest and easiest way. Here is how to use it:
Step 1. Start from copying the Facebook video URL.
Step 2. Paste the link into the search box at the top of the page and hit the Download button.
Step 3. The Facebook video downloader will convert Facebook video URL into the download link
Step 4. Click the download link to save the video to your device.

KeepVid.Pro is a famous online video downloader that allows you to download videos from more than 1,000 video sharing sites (such as Facebook, YouTube, Vimeo, BBC, LiveLeak, etc.). Its interface is simple and clear, without annoying ads, so you don't have to worry about your phone or computer being infected with a virus. In addition, it has separate channels for each website. To download Facebook videos, simply go to the Facebook video downloader channel and follow the straightforward steps below:
Step 1. Find a video that you want to download, then copy its link.
Step 2. Paste the video's link in the download box at the top of this page.
Step 3. Now tap on the "Download" button
Step 4. Next, a list of all the available video resolutions and formats will be shown. Find the one that you need, right-click on the "Download" button next to it, and select the Save/Download option to start downloading the video to your computer or phone.

Hassle free, isn't it? The best thing about KeepVid.Pro is that it does not cost a dime! It does not even require you to register for an account or download any software. Cherry on top, you get to download the videos in HD, SD, and many other available resolutions. There is no limit to the number of downloads and the speed is impressive.
The site name defines what it does. Getfbstuff is an excellent online Facebook video downloader specifically designed to help users download videos from Facebook. It works on any device, whether it's Android, iPhone, Mac, Windows or Linux. The best part of this site is that it is completely free and unlimited, so you can use it with confidence. In addition to Facebook, it also supports downloading Vimeo videos. The following is how to use it:
Step 1. Copy the link to the Facebook video.
Step 2. Paste the video link in the text box, and click on the Download button.
Step 3. The FB video downloader will detect the link and display the available download links, you can choose any quality you want for the download.

Facebook only allows users to watch videos on their own platform. FBKeeper is specially created for users who need to download Facebook videos to mobile phones or computers for offline viewing. It can directly convert FB videos to MP4 files and download them in HD (high definition) or SD (standard definition) quality. Its utility makes it one of the best Facebook video downloaders in our list. Here is how to use Fbkeeper:
Step 1. Copy the link of the Facebook video that you wish to download.
Step 2. Enter the video link into the box at the top of this page, and click the Download button.
Step 3. Then FBKeeper will show all available download options for this video. You can decide to download the video in SD or HD and click to make the magic happen.

The Bottom Line
Gone are the days when you could only watch videos while connected to the Internet. Now you can use one of the best free online Facebook video downloaders to download and watch videos without interruption due to slow network or buffering. In fact, downloading videos through these applications will also get rid of the annoying ads that are popular during the video is being played. You can start using them to download your favorite videos from anywhere and watch them later in offline mode!