10 Most Popular Online YouTube Video Downloaders in 2019
None of us did not face the huge number of problems that happen when you try to download a video that you liked from YouTube in high quality to watch it later offline without having to consume many Megabytes every time you want to watch it.
Although there are many tools and Apps that say you can download any video from the internet with no troubles, you may find it hard to find a free online YouTube video downloader that has no Ads and doesn't require payment so you can use it.
Top 10 Free Online YouTube Downloaders in 2019
In today's article, I'm going to solve this problem for you, and that's by showing you the ten best free online video downloaders in 2019, and they can help you downloading your favourite videos whenever you want and from any channel.
The best thing about these online YouTube video downloaders is that they will allow you to download any video with the quality you prefer so you don't waste your phone storage if you want, and don't have an unwatchable video due to the poor quality if you want too.
1. Y2Mate
The first online video downloader in our today's list is Y2mate, a popular application that offers you two methods to download YouTube videos.
The first method is by copying and pasting the YouTube video link manually so the application grabs the video for you and allows you to select the resolution you want, and the second option is by downloading any video by adding "pp" after the word "YouTube" in the link, and you will be instantly redirected to the download page.
Both options do not require any registration process nor payment, and I consider this tool as the easiest one for the folks.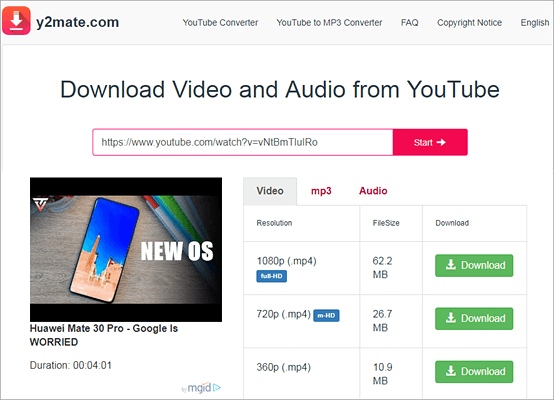 2. Online Video Converter
Online Video Converter is a professional tool that allows you to download and convert YouTube videos at the same time.
The best thing about the online video downloader is that it doesn't take much time to provide the format you want for your favorite videos, whether it's MP4, AVI, MKV, FLV, MOV or WEBM.
This tool is a browser-based downloader meaning that you don't have to download or install any kind of software, and it also offers you the ability to download only the audio found in the videos by selecting an Audio format like MP3, AAC, OGG, M4A or any other format from the available formats on this site.
Also, Online Video Converter doesn't only allow you to download from YouTube, as you can use it to download videos from Facebook, Instagram, VK, Vimeo, 9gag, TED and more, and all for free.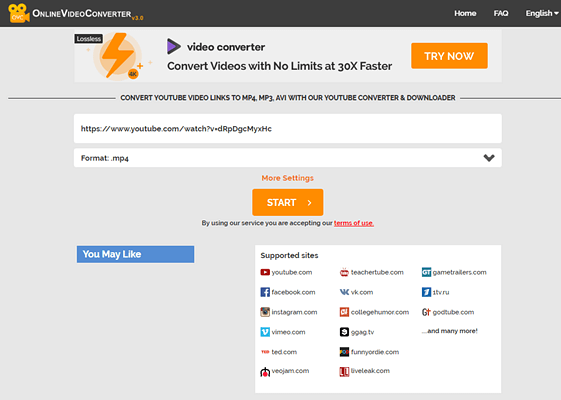 3. Savefrom
Another web-browser based service that allows you to download any video from the internet by just copying and pasting the link in the white box it has.
Savefrom allows you to download videos from YouTube, Vimeo, Facebook, Instagram, Twitter, VK, Dailymotion and more. Along with the ability to download audios from websites like Soundcloud.
The online YouTube video downloader offers you many different ways to download videos, the first is by copying and pasting the link in the blank box, the second is by adding "sfrom.net" or "savefrom.net" before the video URL, the third is by replacing "YouTube.com" by "ssyoutube.com", and the last one is by downloading the browser addon which is only available for Google Chrome to download your favourite videos with one click.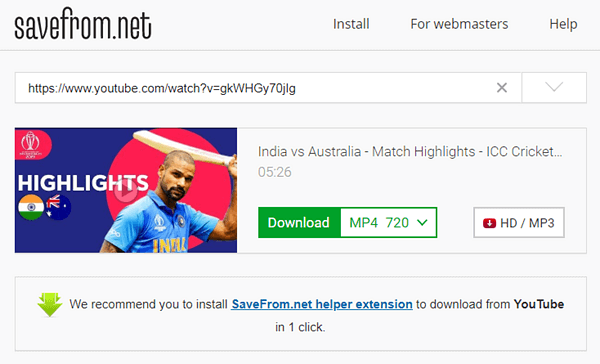 4. SaveClipBro
SaveClipBro is a web-based YouTube video downloading service with a simple interface and support for a wide range of websites including YouTube, Dailymotion, Vimeo, Vine, Facebook, Instagram, Freesound, and more.
You can use the free online video downloader to download whether a video or audio from any supported website by selecting the suitable format for your file from a list of available formats including AAC, WMA, WAV, MP3, MP4, AVI, WMV and more.
The method of using SaveClipBro is so easy, all you have to do is to put the link of the video or audio in the blank box, click Start, and you will get many options including formats options and resolution options and with no time consumed during the process of converting your video.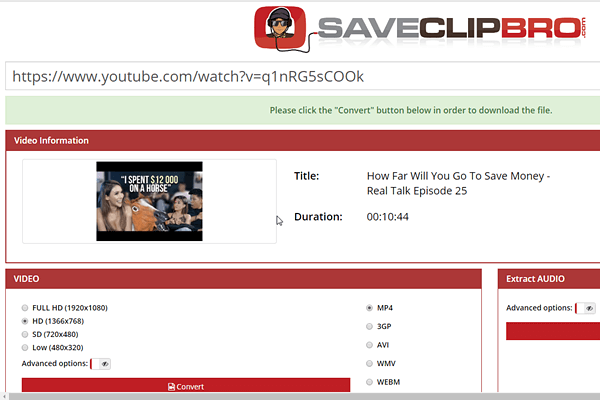 5. KeepVid.Pro
Keepvid or what's known now as iTubeGo is a simple online video downloader that allows you not only to download from YouTube but also you can download videos from Facebook, Lynda, Dailymotion, VEVO, Vimeo and even Netflix along with many other websites.
The process of downloading any video online is so simple, just paste the link of your video and you will get many options to download including different resolutions and formats like MP4, WEBM and more, and it's the only website that offers you to download videos with no sound.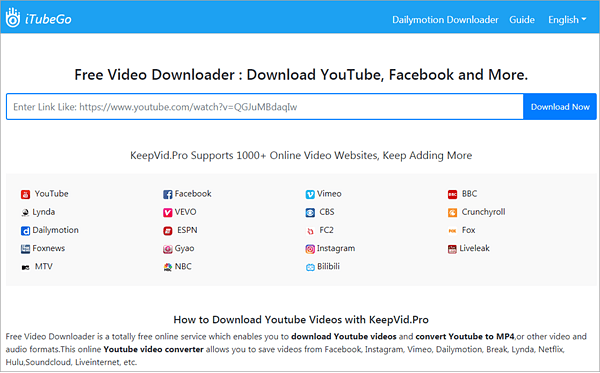 6. Video Grabber
As the name refers, Video Grabber allows you to grab any online video and download it within seconds, just paste your link, click download, and you will get your video ready to be downloaded.
Also, you can use Video Grabber to convert videos to many different formats, and it does also offer you a desktop client to use it if you don't like the website.
The online YouTube downloader supports more than 10,000 websites, and it can be used to convert YouTube videos to MP3 format, along with allowing you to batch download videos.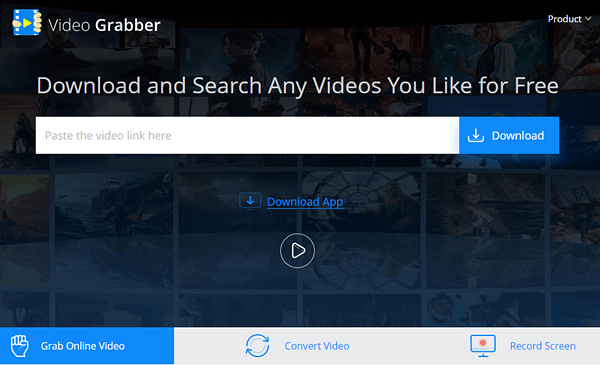 7. Apowersoft Online Video Downloader
ApowerSoft is both a web-based free online video downloader and an application that's available for Windows, Android, and iOS for those who don't like online or web-based services.
You can easily use the site by pasting the link in the blank box, and you will get many options to download your videos including many different formats like MP4, 3GP, FLV, WMV and more along with the ability to select the best resolution for you.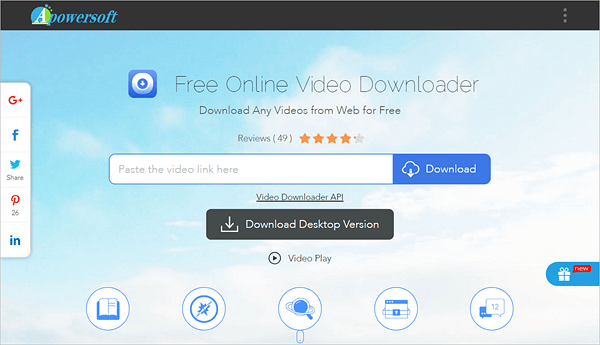 8. CatchVideo.net
Before you put your link, you can select the required resolution, and instantly start downloading your video. That's what CatchVideo offers to you, as it only requires putting your link in the blank box and you are done.
Also, it offers you different formats for video including MP4 and WEBM, and you can download your video as an audio to make your special ringtone by clicking on Convert so you can download your file in MP3, OGG, FLAC, and ACC formats.
Also Read: 12 Best YouTube Video Downloaders for PC.
There are also many tools that Catch Video offers including a tool to download Facebook Videos on Android, and other tools for mixing videos and audios on PC, and that's all for free.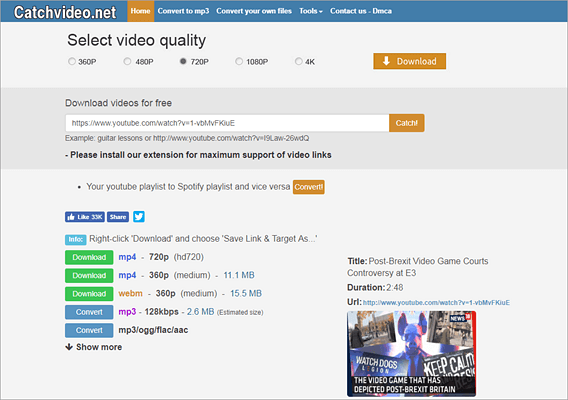 9. Vidpaw
VidPaw is an Android application that allows you to download videos from YouTube, Facebook, Instagram, Twitter, Vimeo, VEVO and more on your phone, and it also allows you to download your favourite music files via SoundCloud and others for free.
Also, there is an online audio downloader that allows you to download the audio of a video by putting its link in a blank box and click convert to get it in MP3 and listen to it whenever you want.
But what if you do want to download your video without downloading and installing an application?
You can easily do that by heading into the online video downloader page of VidPaw, and you will just need to paste your link and click on Download to get your video offline.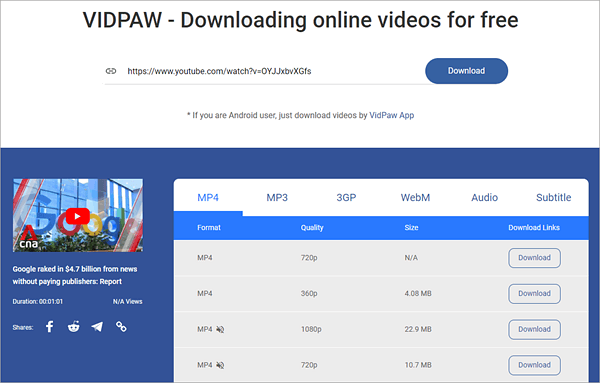 10. YouTubeMP4.to
If you only need to download your YouTube videos in MP4 format, this simple and easy-to-use website will be suitable for you.
YouTubeMP4 is simply one of the most accessible online video downloaders to download YouTube videos for free and without having to download or install any software. Just paste your link and click on Convert to get your video ready for download with no Ads or required payment.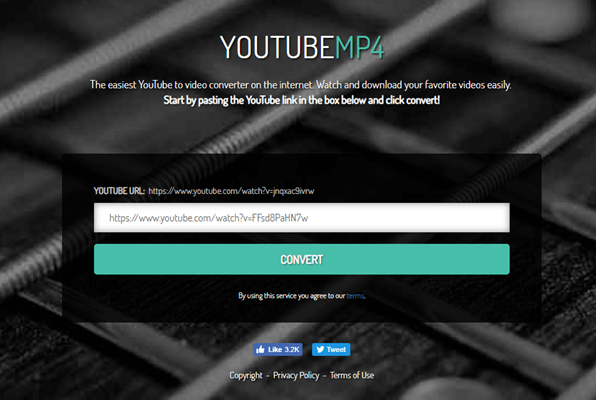 Conclusion
Above mentioned were ten of the best free online YouTube video downloaders in 2019, never look for any other tool, as these are the best of all with no Ads or payment required, and by just pasting your video's link to be able to download it for free.
Tip: Need to edit YouTube videos? Here are 10 of the best video editors for YouTube in 2019.
With these online YouTube video downloaders, you will be able to watch your favourite videos offline, create your ringtones by yourself by extracting the audio from any video and save it, and keep all your favourite videos with you offline.
Don't hesitate following Jihosoft to learn more about tools, Apps, tips, and tricks to make your technology life easier.