How to download Dailymotion videos on Different Platforms
If you love watching videos on the Internet, then you know how difficult it is to cope when you are in a place that does not have a working Internet connection.
Dailymotion is an extremely popular video-sharing technology platform where users can enjoy different kinds of videos without having to switch platforms. Dailymotion is available worldwide in over 20 languages. It offers local content based on the geographical location of the user.
With Dailymotion, you will be able to discover new music, watch the news, and enjoy sports. There are amazing creators on the platform, and you will have a gala time exploring the different categories.
You must have often wondered how to download Dailymotion videos on your device so you can rewatch your favorite videos whenever and wherever you want. Your search for an excellent Dailymotion video downloader has come to an end because we have prepared a guide for you that will allow you to download videos from Dailymotion without any hassle. Whether you want to store the videos on your phone or your PC, we have provided you with effective solutions.
Do not worry; you will be able to avail of these options even if you are not adept at technology.
Part 1. How to Download Dailymotion Videos on PC/Mac
If you want to save videos from Dailymotion on your PC or Mac, you can use the Jihosoft 4K Video Downloader. You will find that the software is user-friendly, and it will not be long before you are able to save Dailymotion videos on your computer without thinking about it twice.
This program is undoubtedly one of the best video downloaders on the market at the moment. Not only will you be able to download videos from Dailymotion, but you will also be able to save videos from YouTube with the help of this software. You will be able to download playlists from Dailymotion with just one click.
One of the primary advantages of this software is that you will have to make no compromises when it comes to the quality of the videos because it can support video resolutions ranging from 8K to 1080P and 720P. You can download the videos with their original audios and subtitles so that you can follow them easily. If you want to experiment with the downloaded videos, then Jihosoft 4k Video Downloader will allow you to convert them into any format you like, such as MP3, MP4, MOV, etc.
In order to work with this software, you can follow these steps:
Step 1. Download the Dailymotion video downloader from the official website of Jihosoft or by clicking the download buttons given in this article, then follow the prompts to install the software on your computer and launch it.
Step 2. Find the video you want to download from the Dailymotion website and copy its link address, then paste it in the program. If you like, you can paste multiple URLs at once.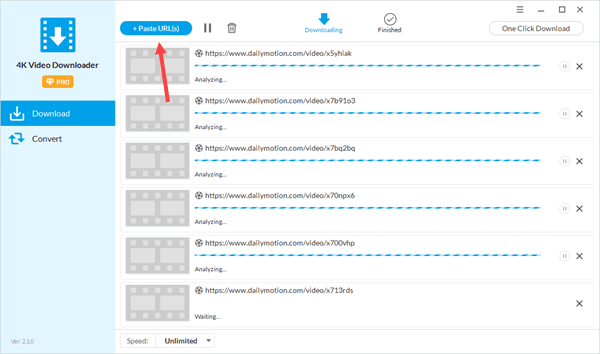 Step 3. After that, the software will automatically parse these links. If the parsing is successful, a dialog box will pop up. Here you have many options, such as downloading only the video, downloading the original audio, converting the video to MP3 format, downloading subtitles, video covers, and more. Check what you need, and tap the Download button.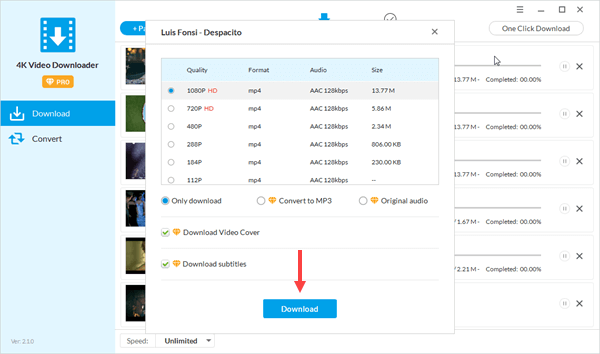 Step 4. Jihosoft 4K Video Downloader will start to download the Dailymotion video for you. The time it takes will depend on the size of your video. After the video download is complete, you can play it directly by clicking the button on the right.
Part 2. How to Save Dailymotion Videos on Android
If you want to download Dailymotion videos for your Android device, then you can use the iTubeGo toolset offered by Keepvid, which will provide you with a downloader that will solve all your problems. The Dailymotion Video Downloader is very easy to use, and you can manage it easily from your phone's browser. There are no complicated navigations which will take up your time, and make the process unnecessarily long. The steps that you need to follow are as follows:
Step 1. Open the Dailymotion video that you love and want to download.
Step 2. Copy the URL of the video.
Step 3. Open the Dailymotion Downloader from your phone's browser.
Step 4. Now you have to paste the video link in the search box of Keepvid.pro so that the video can be located.
Step 5. The last step is to click the button "Download Now" so that your Dailymotion video can be converted into an MP4 file which can be accessed offline.

When using Keepvid.pro, make sure that you follow all the given terms and conditions:
One of the reasons why this online Dailymotion video downloader is so popular is that it is a completely free online service. Moreover, it will allow you to save videos from other platforms like Facebook, Instagram, and Netflix. iTubeGO Downloader will not charge you a single penny, and you will not even have to tolerate ads in return.
If you are concerned about the security of your actions, you do not have to be. You can rely on keepvid.pro to protect your personal information. Moreover, the videos that you download with the help of this tool will not have any viruses that can disrupt the working of your device. You can download as many videos as you want without any external limitations. This tool is compatible with all browsers.
Part 3. How to Download Dailymotion Videos on iPhone
If you are looking for a reliable net application that will allow you to download videos from Dailymotion on your iPhone, then you have found what you were looking for. The Savefrom.net application will allow you to store all your favorite Dailymotion videos so you can watch them offline. It is useful and efficient, and you will never have to spend another boring minute.
As one of the largest and most popular video-sharing websites in the world, Dailymotion has millions of fans. If you are one of them, then you can use this tool to download any video you want from the huge collection of videos that the platform has to offer. You can save funny clips, movie trailers, sports clips, music videos, and what not! In order to download videos from Dailymotion online with the help of SaveFrom.net, you have to follow these steps:
Step 1. Open the Dailymotion video that you want to download so that you can copy the URL of the video directly.
Step 2. Now visit SaveFrom.net from your browser and open their main page to proceed with the download.
Step 3. You will find a search bar on the page where you have to enter the URL of the video to be downloaded. You can paste the URL directly.
Step 4. Now you have to click the "Download" button so that the website can initiate the process.
Step 5. You will get the option to choose your preferred format for the downloaded video. Give it some time, and you will find the video in your phone storage.

The Online Video Downloader by SaveFrom.Net performs well, and you will not face any glitches that will prevent you from downloading Dailymotion videos smoothly. The best part is that the service is completely free of charge, and there are no hidden costs involved. The downloading speed is also impressive, and you will not be kept waiting for a long time.
Part 4. How to Download Videos from the Dailymotion App
While third-party applications and tools provide legitimate methods to save Dailymotion videos on your devices, you may not always want to use external platforms. You may not be willing to invest in the full version of a software after the trial is over, or you may just want to avail the advantages of the official Dailymotion app when you are watching videos to complete the experience.
You will be happy to know that the Dailymotion app comes with its own set of offline preferences. Now you can watch videos on the app when you are not connected to the Internet. You can customize the feature under your Account Settings. You will be able to choose your target storage option so as to optimize space and change your download preferences. All your offline videos will be arranged in a list that you can manage.
You can use this feature on both iOS (requires minimum iOS 9) and Android devices. They will allow you to download and sync videos so you can watch them later when you are offline. If you want to save a particular video, follow these steps:
Step 1. Click on the three dots located under the player so as to open the video menu.
Step 2. Select the "Watch Offline" option for that particular video.

You must have an official account with Dailymotion in order to use this feature. If you do not already have an account, you can choose to create a free account.
You can access all the offline videos from your Library whenever you want. There are no limitations on the number of times you can watch a video. However, the videos are stored for a maximum of 30 days after which they are automatically deleted.
Conclusion:
Now that you know how to save Dailymotion videos, you will never have to regret the absence of the Internet. As long as the device of your choice has enough storage to keep all your loved videos, you will face no issues. Download videos from Dailymotion on your computers and smartphones with the help of the high-quality Dailymotion video downloaders mentioned above!