How to Download Music Videos from YouTube for free
Music videos usually integrate songs with short films, which are more visual and attractive than ordinary video or audio. Among YouTube's numerous video categories (funny, entertainment, movies, technology, news, sports, fashion, technology, science, games …), music videos are the most-watched type of content.
However, watching music videos online is very challenging since most of them have a resolution of up to 4K UHD. If the network is poor and you cannot tolerate the low resolution, then the MV will often be buffered, which is very annoying. This is why most people prefer to download music videos to a computer or mobile phone for offline viewing. If you also have this need but don't know how to download MV from YouTube, here is a simple guide for you.
Attention here: Downloading music videos from YouTube is restricted and downloading copyrighted MVs is absolutely prohibited! Please follow the rules and obtain the permission of the creator before downloading music content. We only provide tutorials to download non-copyrighted MVs and are not responsible for any infringement.
The Best YouTube Music Video Downloader
Compatible with Windows 10, 8, 7, XP, Vista and Mac operating systems, supporting 100+ popular websites, 4K Video Downloader is an excellent download manager developed by Jihosoft. With this powerful tool, you can easily download videos and music from YouTube, Vimeo, Dailymotion, SoundCloud, and other trending websites. The best thing about using this program is that you don't have to worry about the video quality being reduced, because Jihosoft 4K Video Downloader supports all resolutions covered by Youtube, including 720p, 1080p, 1440p, 2160p, etc. In other words, all downloaded videos can maintain their original quality.
Furthermore, the free video downloader also provides many other but practical functions, such as downloading subtitles, covers, etc. It also allows you to convert music videos to MP3, which is very convenient if you just want to listen to audio. And its most unique feature is the one-click download mode. When you need to download multiple music videos, it can help you avoid repeated settings and save a lot of time. In the next part, we will teach you how to use it to download music videos from YouTube in five steps:
Step 1. The first step is to download and install the latest version of software on your PC or Mac. You can get the download file by clicking the button in this article or from its official website. It does not carry any bundled plug-ins or malicious viruses and is 100% secure.
Step 2. After installation, run the YouTube music video downloadoer and you will see a clean and straightforward interface with a prominent "+Paste URL(s)" button. At this time, you need to go to YouTube, search for the music video you want to download, then copy the link address and paste it into the program.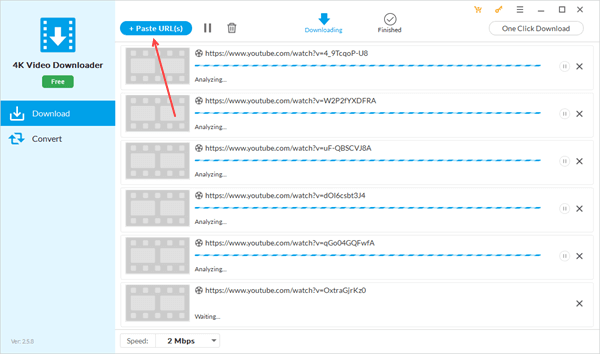 Step 3. At that time, the downloader will automatically resolve the link. If all goes well, a pop-up box will appear reminds you to choose the video resolution and so on. After checking the desired one, click the 'Download' button and the video will start downloading. (Note: If you need to download multiple music videos, it is recommended that you enable the one-click download mode in advance and set your preferences. At that point, there will be no pop-up box after the link is resolved, and all videos will be downloaded directly according to your settings by default.)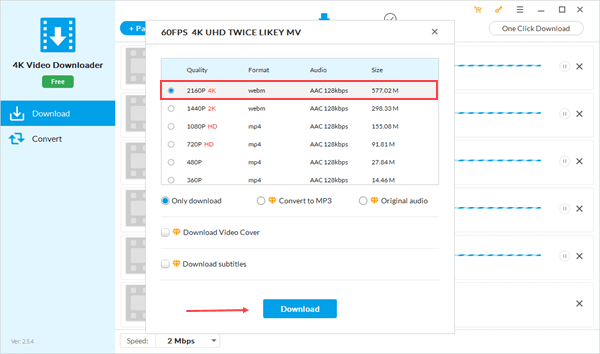 Step 4. When the video is downloading, you can clearly see the green progress bar. The speed of the video download depends on the Internet speed and the size of the video. You can also adjust it with the speed button at the bottom left.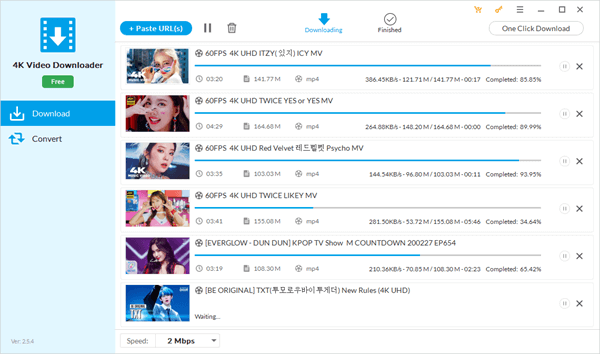 Step 5. After the video is downloaded, it will be automatically saved to the "Finished" page, you can enjoy it smoothly by clicking the button next to it. Alternatively, you can open the folder to rename the video, transfer/share it to your Android, iPhone, iTunes, Google Drive, or elsewhere.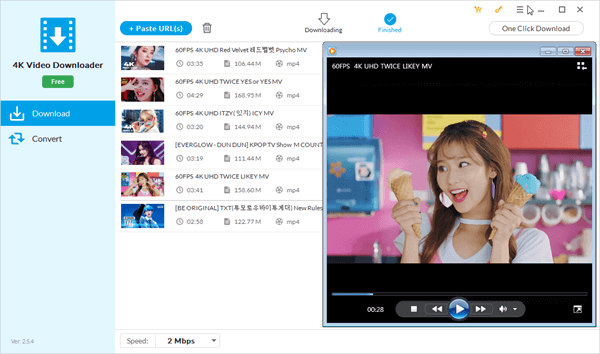 In addition to downloading videos, you can also download a whole YouTube playlist or channel with Jihosoft 4K Video Downloader. If you create a list of your favorite music videos, you only need a link to download them all.
The Most Popular YouTube Music Channels
As the world's largest video hosting platform, YouTube covers all types of music videos, such as performances, lyrics, narratives and more. By following related YouTube channels, you can quickly find hot MVs to download. If there are new music videos online, you can also get notified the first time so you will not miss any brilliant content. Without further ado, here are the 10 most popular YouTube channels in the music industry you should follow:
Big Hit Labels – 33.8M subscribers
SMTOWN – 21.6M subscribers
Ultra Music – 21.7M subscribers
Vevo – 19.2M subscribers
1theK (원더케이) – 18.8M subscribers
Jypentertainment – 14.9M subscribers
Stone Music Entertainment – 8.03M subscribers
YG ENTERTAINMENT – 5.11M subscribers
MAMAMOO – 2.96M subscribers
Red Velvet – 2.35M subscribers
The Bottom Line
After reaching this line, you have learned how to download Music videos from YouTube and got a full list of the most-liked YouTube music channels in 2020. Now it's time to download Jihosoft 4K Video Downloader on your computer and find the MV you are interested in to get started.