How to Download YouTube Videos to iPhone (2 Methods)
YouTube is an amazing platform for creating and sharing content online. And it's a very exciting platform, too, since it has all sorts of amazing features and ideas for you to explore. It's a good option for those that want to access high-quality content online and enjoy the experience more than ever before. Plus, hundreds of videos are uploaded to YouTube every minute, so you will have no problem finding the type of content you want.
Why Save YouTube Videos to Your iPhone?
The problem is that you always need to have the internet active when you are watching YouTube. Otherwise, you can't see those videos. So it can make a lot of sense to save YouTube videos to the iPhone, for example. It works super nice, and it will make it a lot easier than ever before for you to access the results you want, and generate the exposure and experience you want without any sign of issues.
An iPhone is maybe one of the best video consumption tools out there. You get all kinds of features and amazing ideas, but at the same time, there's a lot of attention to detail and an incredible experience no matter the situation. Once you start using this adequately, nothing will stand in your way, and the outcome can push the boundaries all the time. You do need to give it a try and check it out yourself, but if you tackle it correctly, nothing is impossible, and you will like the process quite a bit.
YouTube's Restrictions on Video Downloads
YouTube does a very good job at hosting all kinds of videos. But if you want to download videos, you can't actually do that on your own. The reality is that they have a Premium service where you pay for not having ads or dealing with any hassle. So it makes a lot of sense to check the YouTube videos with that service, yet if you don't want to pay, you will be forced to deal with ads. Thankfully, you need to learn how to download YouTube videos on iPhone, and the results themselves can be extremely interesting and fun at the same time. There's definitely a huge challenge to be had here, but as long as you avoid any rush and commit to it, you will be just fine.
Two Ways to Download YouTube Videos to iPhone
Figuring out how to find a good YouTube video downloader for iPhone can be very tricky and a bit challenging. Here in this article, you will have two options to choose from.
The first approach in a situation like this is to use a dependable tool, which has all the features you need and which also helps download the content you want very fast. Jihosoft 4K Video Downloader is such an app, and you can use it to figure out how to download YouTube videos on iPhone fast and with great ease. It has the potential to work really well, and if you do it right, then it will totally be worth it in the end.
Jihosoft 4K Video Downloader does an excellent job when it comes to helping you download YouTube videos to iPhone. The idea with this app is straightforward, you have great video download features, and you can save a video, the playlists, and even an entire channel if you want.
Moreover, Jihosoft 4K Video Downloader does a stellar job when it comes to saving just about any video quality you want. It can save the lowest quality, or it can keep the highest quality. And that's great, because you are always in control and you will find some fantastic results and a very good outcome no matter what. Jihosoft 4K Video Downloader helps save YouTube videos to iPhone, but it also converts YouTube videos to the most popular video formats. That does come in handy, because most of the time you will want to use certain video playback solutions, and they won't always work the way you would expect. So it's a great idea to use this properly, as it removes most of the hassle.
The program also allows you to subscribe to YouTube channels within it, so there's no need to visit the channel even. And when you download the YouTube videos, you will also get the subtitles, sounds, and covers. It's a great, complete package, and the true way you should see a YouTube video downloader for iPhone work. That's definitely interesting and exciting, and you should totally give it a try and check it out for yourself as much as possible.
How can you use Jihosoft 4K Video Downloader:
Step 1. Download the 4K YouTube video downloader and install it on your computer. You can use the free version, or you can register the Pro version for additional features like maximum download speed, converting files, unlimited downloads, one-click download, and so on.
Step 2. Press the Paste URLs button and then insert the YouTube video link into the app. Jihosoft 4K Video Downloader can do batch downloads, so you can add more than a link if you want, it's all up to you.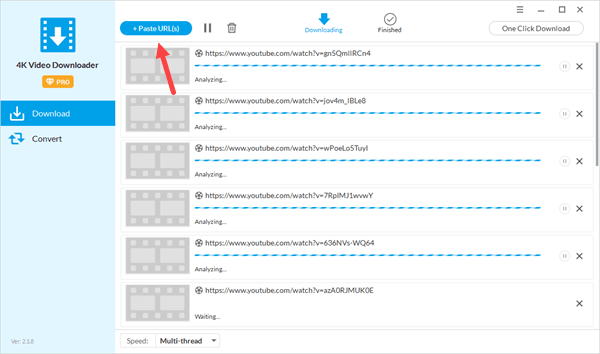 Step 3. After doing that, a popup appears, and here you can choose the video resolution and the output format. You can choose to download the video, convert it, keep the audio, download subtitles, covers, and so on. You can also select the video quality here, as well.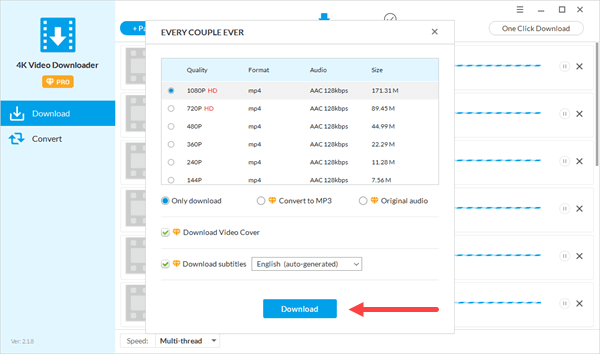 Step 4. Press the Download button, and then you will see that your file or all the files will be downloaded just as you requested. Everything will be processed quickly, and you can access the content very fast.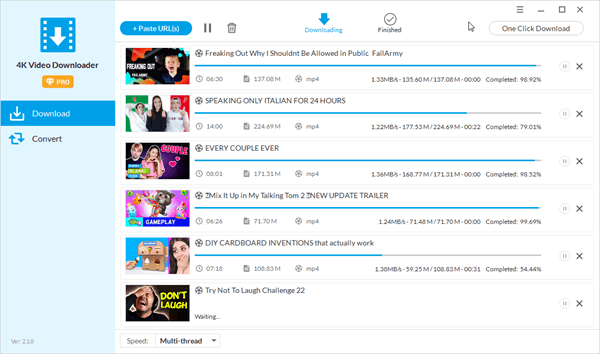 Step 5. Once the download is complete, every video will be marked as Finished, and you will find it in the output folder. Then you can transfer the downloaded video to your iPhone via iTunes.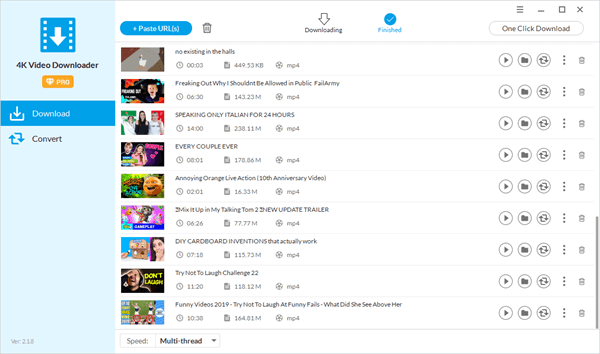 What makes Jihosoft 4K Video Downloader great when it comes to downloading YouTube videos is that it's very fast and efficient. Being able to save multiple files at the same time it astonishing, it really saves a lot of time, and you will find it pretty exciting to begin with. Simply put, if you are passionate about YouTube videos, this is one of the best ways to achieve such a goal. The app is simple, convenient, and you have both free and paid features for you to enjoy. Aside from downloading YouTube videos, it can also be used to save Facebook videos and more.
KeepVid.Pro is an online video downloader designed to help you save YouTube videos to iPhone fast and easy. The process is super convenient, and you don't need to install any software, which sounds amazing at first. But there are some caveats. The main issue with a situation like this is that you don't always get access to the type of features you want. Not being able to save more than a single file at the same time can be quite the chore, and it will not be a great experience if you need to save tons of files to begin with.
It's nice to see that this online video downloader does support hundreds of different online video sites. That makes it really convenient and professional, and for the most part, it's a great idea. While there's a dedicated download tool that they send you to, unfortunately, that one just has a free trial. So you won't be able to use it indefinitely. That on its own becomes a problem, because whenever stuff like this happens, you need to have more control over the experience and the process itself. If you do it right, nothing can stand in your way, so just take your time with it and try to implement it adequately.
How to use KeepVid.Pro:
Step 1. Get the YouTube link that you want to download and then paste it in the KeepVid.Pro window.
Step 2. Press the Download Now button and then wait for the download process to finish.
Step 3. You will have the resulting file saved to your iPhone without a problem.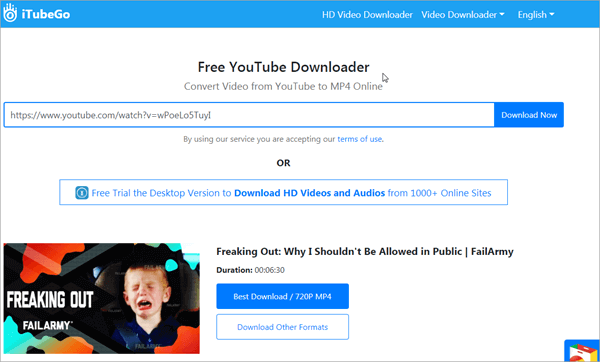 At first, the idea of using KeepVid.Pro sounds great, as you have access to all the files and features you may need. But you have to realize that this does come with limitations too. As long as you have enough patience, you will be just fine. Remember that KeepVid.Pro only downloads a single file at once, so you will have to avoid any rush and take your time with it. But if you do it wisely, nothing is impossible, and the results will be great.
Conclusion
Figuring out how to download YouTube videos on iPhone can be a bit challenging. But these tools are great, and they will give you the convenience and support that you may need all the time. It's not going to be easy to achieve those results you want. But you can save YouTube video to iPhone with these functions, and that's what really matters the most. All you have to do is to test it out, give it a try, and results will always be among some of the best. Both YouTube video downloaders for iPhone are great for you, but all you need is to check them out and give it a try, then the payoff can be amazing!