How to Download YouTube Videos to iPhone/iPad Camera Roll
YouTube is an amazing platform where you can explore various types of videos such as funny, music, sports, etc. If you come across a favorite video, you may want to download it to your phone in case it gets deleted or disappears. However, this may be a bit tricky for you due to YouTube's restrictions on video downloads. To help you easily download YouTube videos to your iPhone or iPad, we have made five solutions for you.
Method 1. Use Jihosoft 4K Video Downloader
The first approach is a little complicated, but very practical. If one day you find that most applications and online websites have stopped working, then the 4K YouTube Video Downloader will be your only savior. This is a desktop software for Windows and Mac operating systems, very secure and stable, with all the features you need.
With it, you can quickly download YouTube videos to your computer and then sync them to iPhone/iPad using iTunes or other tools. It allows batch downloads, so you can download multiple videos at once, which is very time saving. Most importantly, it supports 1080P FHD and 4K UHD resolutions, that's, all videos can maintain their original quality after downloading. And when you download the YouTube videos, you will also get the subtitles, sounds, and covers.
In addition to YouTube, it also supports downloading videos from Twitter, Facebook, Instagram, Vimeo, Dailymotion, Twitch, BiliBili, Naver TV, and other websites. As for how it works, you may check the following steps:
Step 1. Download the 4K YouTube video downloader and install it on your computer. You can use the free version, or you can register for the Pro version for additional features like maximum download speed, unlimited downloads, one-click download, and so on.
Step 2. Press the "+Paste URL(s)" button and then insert the YouTube video link into the program. The YouTube video downloader can do batch downloads, so you can add more than a link if you want, it's all up to you.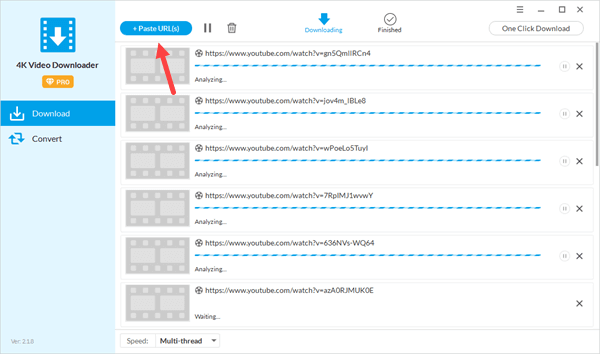 Step 3. After that, a pop-up window will appear where you can select the video resolution and other preferences, such as downloading subtitles, cover art, converting to MP3, etc. After confirming, press the Download button.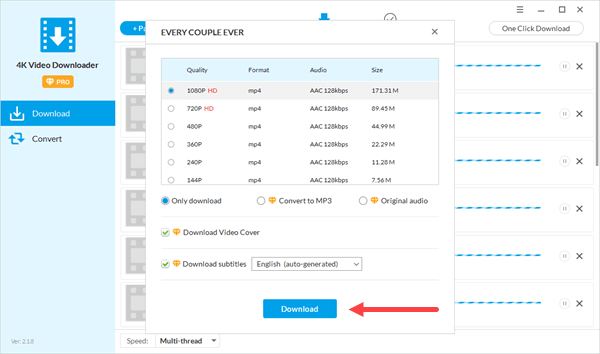 Step 4. Then you will see all videos begin to download automatically. You can clearly see the progress bar. If necessary, you can adjust the speed by clicking the button in the lower left corner.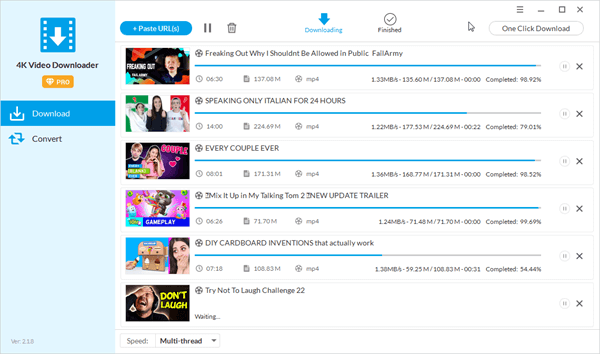 Step 5. Once the download is complete, every video will be marked as Finished, and you will find it in the output folder. Then you can transfer the downloaded video to your iPhone via iTunes.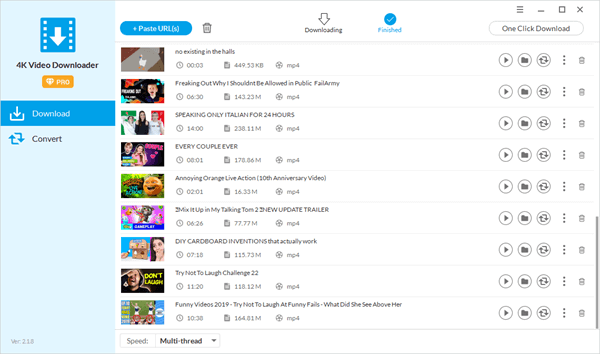 Method 2. Use KeepVid.Pro
The second way to save YouTube videos to iPhone is to use KeepVid.Pro. It is a popular online YouTube video downloader, which is more convenient than the first method, because there is no need to install any software or registration, the disadvantage is that it is extremely unstable and can only download one video at the same time. Not being able to save more than a single file at the same time can be quite the chore, and it will not be a great experience if you need to save tons of files to begin with. Moreover, due to the operating system, you cannot directly browse the website to download YouTube videos to iPhone/iPad. Here are the specific steps:
Step 1. Download the Documents by Readdle application from your App Store, then install and on your iPhone or iPad.
Step 2. Run the Documents by Readdle app and open the web browser by clicking the compass icon in the lower right corner of the screen.
Step 3. Visit the official website of KeepVid.Pro through the browser, then paste the YouTube link you want to download into the box provided by the website and click the Download Now button.
Step 4. After loading, you'll see a thumbnail of the video, long press the download link displayed to save the YouTube video to your iPhone/iPad without a problem.

At first, the idea of using KeepVid.Pro sounds great, as you have access to all the files and features you may need. But you have to realize that this does come with limitations too. As long as you have enough patience, you will be just fine. Remember that KeepVid.Pro only downloads a single file at once, so you will have to avoid any rush and take your time with it. But if you do it wisely, nothing is impossible, and the results will be great. There's definitely a huge challenge to be had here, but as long as you avoid any rush and commit to it, you will be just fine.
Method 3. Use a Shortcut
If your system is iOS 12 or later, you can use the Shortcuts app to save YouTube videos to iPhone Camera Roll directly. Using this application you can automate tasks on iPhone, create shortcuts/workflows to hook into YouTube's own API, convert footage to MP4 files, so you can extract videos directly from the source. The biggest benefit of this method is that you don't need to jailbreak or use a third-party blockable tool, which means that this way may be effective in the long run.
Step 1. Upgrade your iPhone or iPad system to iOS 12 if you haven't.
Step 2. Download the Shortcuts app from your App Store and install it on your phone.
Step 3. Click this link on your iPhone/iPad, then tap "Get ShortCut" to add the Download YouTube shortcut to the ShortCuts app.
Step 4. Go to YouTube, find the video you're ready to download and tap the Share button to access the share sheet. Then tap More > ShortCuts > Download YouTube.
Step 5. Wait for the Shortcut app to get the video link, then select "Save to photo album" to save the video to your Camera Roll.

Method 4. Record Your Screen
This is by far the easiest method to download YouTube videos on iPhone. Earlier iOS devices do not have the ability to record screens and can only be done by jailbreaking or installing third-party applications. However, all of this has changed with the release of iOS 11. Starting with iOS 11, Apple added a built-in screen recorder that lets you record the screen of your iPhone or iPad and everything that might be playing, including YouTube videos. This built-in application provides a great choice for traditional methods of recording screen video, and the whole process is very simple. But there is also a disadvantage that the quality of the video cannot be guaranteed. In case you need, here is a simple guide:
Step 1. Go to Settings > Control Center > Customize Controls, then tap the green "+" button next to Screen Recording to add the feature to feature to Control Center.
Step 2. Open YouTube, find your favorite video. Swipe up from the bottom edge of any screen to open the control center, click the "Record" button, turn on the "Microphone", play the video, click to start recording.
Step 3. After recording, click the red status bar at the top of the screen, and then click Stop. The YouTube video will be automatically saved and stored in your Camera Roll.

Method 5. Get YouTube Premium
Getting YouTube Premium is the only way to download YouTube videos safely and legally. Of course, this method is not acceptable to everyone because it costs $ 11.99 per month. The advantage is that once you subscribe to YouTube Premium, you can see a download button under each video, and you can save the video with just one click and watch it offline anytime, anywhere. The only problem here is that the video is saved in the YouTube app and not in the Photos app.
If you have never signed up for YouTube Premium before, you can get a 30-day free trial period. If you watch YouTube videos often and there is not enough data, it is worth buying the premium version for your convenience. Also, this is an official method, so you will not violate any of its terms. If you don't want to pay, you can use the Jihosoft 4K Video Downloader on your desktop and then transfer files to your iPhone via a USB cable or wirelessly.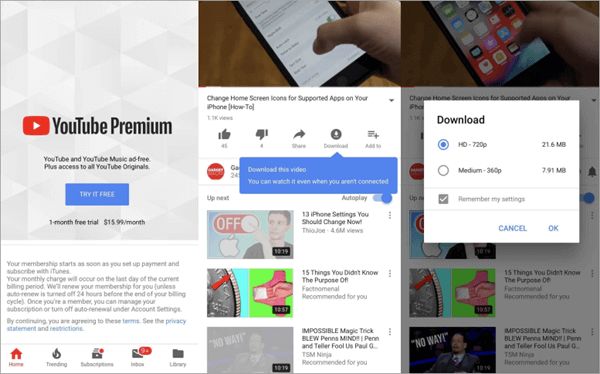 Conclusion
Figuring out how to download YouTube videos on iPhone can be a bit challenging. But these tools are great, and they will give you the convenience and support that you may need all the time. It's not going to be easy to achieve those results you want. But you can save YouTube video to iPhone with these functions, and that's what really matters the most. All you have to do is to test it out, give it a try, and results will always be among some of the best. Both YouTube video downloaders for iPhone are great for you, but all you need is to check them out and give it a try, then the payoff can be amazing!