How to Download 4K Videos from YouTube for free
What is 4K?
4K refers to a resolution of 3840 x 2160 or 4096 x 2160 pixels, where 3840 and 4096 represent the number of pixels in the horizontal direction and 2160 represents the number of pixels in the vertical direction. 4K resolution is almost twice that of 1080P (1920×1080 pixels) and can provide clearer, more realistic image quality. Under the 4K display, you can clearly see people's facial wrinkles, eyelashes and hair, which is amazing!
As the world's largest video sharing platform, YouTube is the first website that supports 4K resolution. You can find a large number of 4K videos on this website. However, watching 4K videos online requires a very stable and fast network connection, otherwise the video will often be buffered, which will greatly affect the viewing experience. So in most cases, we do not recommend you to watch 4K videos online but download them to your computer for offline viewing.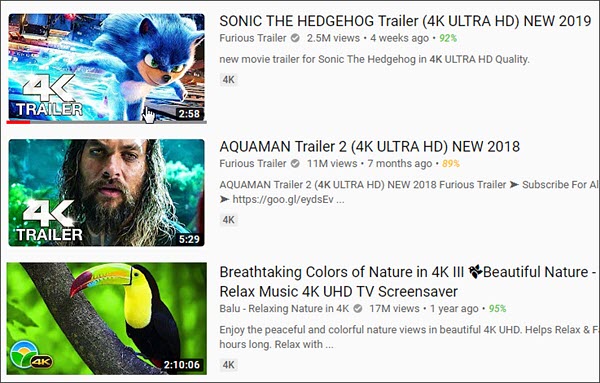 Don't know how to download 4K YouTube videos? Fret not! To meet you needs, we have selected three of the best YouTube video downloaders that supports 4K resolutions to share with you. Whether you use a PC or a Mac, you can find a suitable solution.
Part 1. How to Download 4K Videos on PC
If you have a computer with a Windows 10/8/7/XP operating system, you can utilize Jihosoft 4K Video Downloader to download 4K videos from YouTube. This is a powerful video download software. What makes it significant is that it supports various resolutions, like 8K, 4K, 2K, 1080P, 720p, etc. So you don't have to worry about quality loss. With it, you can also save videos from other sites like Facebook, Twitter, Instagram, etc. The following are the specific steps to use it:
Step 1. Download and install the 4K YouTube video downloader, then run it on your computer. Go to the YouTube website, copy the link to the 4k video, and tap the "+Paste URL" button in the upper left corner of the program.
Step 2. The YouTube 4k video downloader will begin analyzing the video URL. After a few minutes, a pop-up window will appear where you can customize to download only the video, convert to mp3, download subtitles, and more. After confirming, click the Download button.
Step 3. The program will start automatically downloading the video. As for the time required depends on the size of the video, you can set the download speed in the bottom right corner. Once the download is complete, click "Play" or "Open Folder" to watch the downloaded video.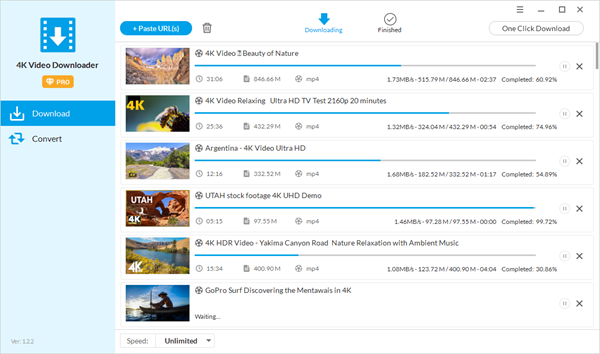 Part 2. How to Download 4K Videos on Mac
For Mac users, there are also some practical ways to download 4K videos from YouTube. Here, we recommend you use the MacX YouTube Downloader, which is very powerful and can save 4K Ultra HD videos to Mac computers with high quality. Here is how to use it:
Step 1. Download and install the MacX YouTube Downloader on your Mac, then run it. In the main interface, find and click the "+Add URL" button, then a window will pop up.
Step 2. Next, visit the YouTube site and copy the link of the 4K video that you want to download, then paste the URL in the box of the program. After that, click the "Analyze" button to start parsing.
Step 3. After the analysis is successful, set your download preferences, then the Ultra HD video Downloader will start downloading 4K videos to Mac. Once done, you can watch 4K videos directly in the program.

Part 3. How to Download 4K Videos Online
If you don't want to install any software on your computer, here are some great online 4K video downloaders, such as BitDownloader, which can help you download 4K videos from YouTube with simple steps:
Step 1. Copy the 4K video URL from YouTube website.
Step 2. Visit the official site of BitDownloader, enter the video link in the box of the main page, then click Download.
Step 3. Next, wait for the online video downloader to generate the download link. After that, select the 2160P video resolution and click Download. Once finished, you can enjoy 4K videos offline and smoothly.

What is the Best 4K Video Player?
Now that you have learned how to download 4K videos from YouTube to your computer, you may need a suitable 4K UHD video player to play them. If you haven't found one yet, please give the 5K player a try. It is one of the best 4K & 8K UHD video players in the market. This powerful 4K video player is available in both PC and Mac versions, so you can watch 4K movies and videos smoothly on both platforms.
Key Features of 5K Player:
It enables users to play 4K 2160p videos across different screens
It supports all popular media file formats, like FLAC, APE, MP3,AAC, etc
It is fully compatible with any video/audio codec on Windows 10/Mac
It can be used to download videos directly from Vimeo, Dailymotion, YouTube, etc.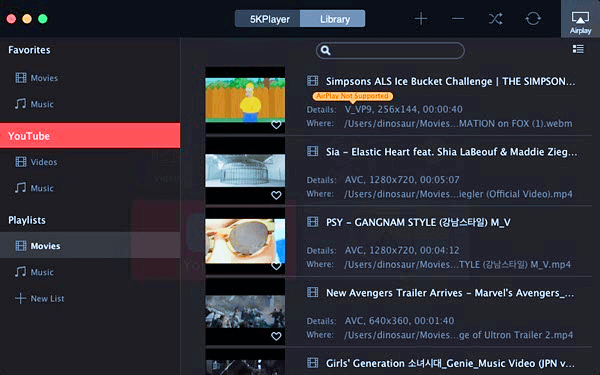 The Bottom Line
After reading this article, I believe that you have mastered the method of downloading 4K YouTube videos, whether it is on Windows PC and Mac, or online. Finally, we also mentioned a dedicated player for playing 4K video on the computer, so you don't have to worry about compatibility issues. If you feel that this article is helpful to you, please share it with your friends and family. If you want to learn more about video download tutorials, please click on the related article below.