How to Download Twitter Videos to iPhone/iPad Camera Roll
Do you own an iPhone or iPad? Looking to download videos from Twitter but don't know how to go about it? Thanks to Apple's strict copyright rules, it's impossible finding an app on the App Store that lets you convert and download Twitter videos. What if I told you there's not just one but many ways to save Twitter videos for offline watching?
Through this guide, we will show you four unique methods that allow users to download twitter videos on iPhone/iPad. And as a bonus, none of these alternatives need you to jailbreak your iPhone.
For those of you who are still unaware, Twitter does not permit users to download the videos uploaded by others.
If you don't know what Twitter in 2019, it is time you come out of your shell. Let's begin with a brief introduction of the platform that has taken over the world with a bang.
Briefly Introduction to Twitter
Twitter initially, was simply an SMS-based communications platform. It was after a lot of brainstorming sessions that the team decided to take a different approach. It is now a web platform that connects people and allows them to express themselves in front of a massive audience.
Since it was initially meant to be an SMS-based platform, the mobile carriers imposed a 140-character word limit. It aligned with twitter's brand–spreading information people can easily skim through.
Twitter allows you to share information in the form of text, images, and videos. Granted, that information may not always be serious, but sometimes it is.
No matter what the content includes, Twitter features multiple security measures and discourages sharing its information on different platforms. We respect that, but there are some videos you cannot stop yourself from sharing. Sure, you can retweet them, but there is nothing that lets you download Twitter videos to iPhone.
Primary Reasons to Save Twitter Videos to iPhone
The video feature has taken Twitter by storm, and more importantly, 93% of these videos are viewed on mobiles. Generic clips to advertising videos uploaded by major brands, Twitter has them all. What if you're somewhere with almost no network and wish to watch that adorable cat video again? Or what if you want to share the video on your Facebook account?
Watching and sharing videos on Twitter is a breeze, but saving them to your Apple device is impossible. This forces Twitterati to use third-party applications to download their favorite clips. Watching videos online requires a stable network environment and a lot of megabytes. Suppose the connection dwindles, you will find yourself in front of your nemesis–buffering. This greatly affects the viewing experience.
Downloading twitter videos to iPhone is a great way to enjoy them at any time and place of your convenience. Also, it gives you the freedom to share the video on various social media platforms.
4 Methods to Download Twitter Videos on iPhone/iPad
In the next section, we have enlisted four methods using which you can save twitter videos in a few simple steps. Again, you don't need to jailbreak your iPhone using any of these methods. This can greatly reduce the risk of your phone.
A powerful tool designed to help those who want to download videos and music from online websites, Jihosoft 4K Video Downloader can not only download videos from YouTube, but also save videos from Twitter, Instagram, Facebook, Vimeo, Dailymotion, Reddit, and other sites. The best thing about this program is that it can download multiple videos at once and maintain their original quality, regardless of the resolution of 1080P, 2K, 4K, or 8K UHD.
Jihosoft 4K Video Downloader also has a video conversion function that enables users to convert video to MP3, MP4, MOV, MKV, and AVI formats. This comes in handy, especially when you need to extract the audio from the video or the video format is not compatible with the media player.
Note: The process of downloading videos from Twitter, YouTube, Facebook, Instagram or any other platform is similar, but may be slightly different when copying the video link. Now let's take a look at how to download Twitter videos with Jihosoft 4K Video Downloader:
Step 1: Copy and paste the URL
Download and install the Twitter video downloader on your computer, then open it and locate the "+Paste URL(s)" button. Now go to twitter and copy the link of the Twitter video you wish to download. Go back to Jihosoft 4K Video Downloader and paste the link into the program.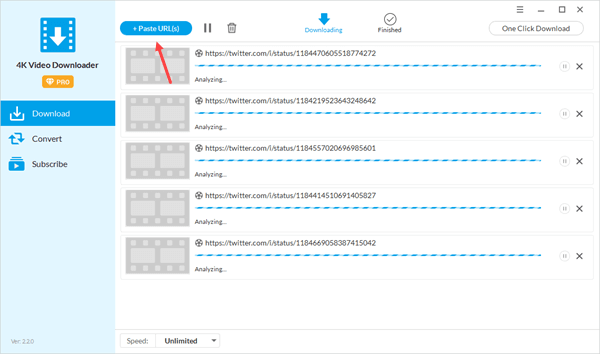 Step 2: Set the output format
Once the link is successfully parsed, a pop-up screen with multiple resolutions will be displayed – select video quality and format from the available options. You can choose to download subtitles, original audio, video cover, or convert the video to MP3.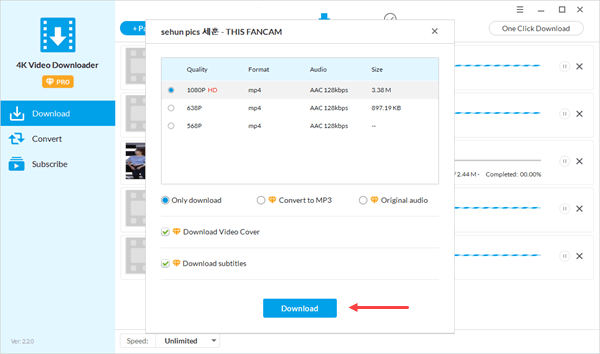 Step 3: Download videos from Twitter
After confirmation, click the "Download" button, the video will begin to download. The download time may vary depending on the length of the video. After the download is complete, you can play the video on your computer or transfer the video to your iPhone via iTunes.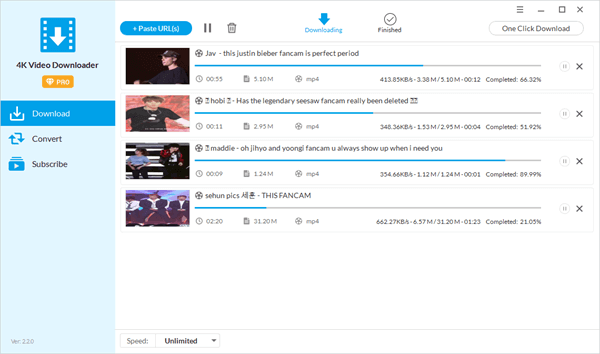 Method 2. MyMedia
For iPhone owners, downloading twitter videos is a task that seems next to impossible. To save twitter videos, this method involves using the popular file manager – MyMedia. Using MyMedia, you can save and download your favorite videos to your iPhone or iPad. Here, we will use an online tool called Twitter Video Downloader. For this method to work, iOS 9 or later is a must.
Step 1: To begin, download the MyMedia app from the App Store. As mentioned earlier, your iOS version must be 9 or above.
Step 2: Go to Twitter and open the tweet with the embedded video. Tap the Share button and select the "Share Tweet via" button. In some cases, you can click the small downward arrow in the top right corner of the tweet. In the iOS share sheet that appears, select Copy Link to Tweet.
Step 3: With the browser tab open, launch the MyMedia application on your iOS device. Using the MyMedia app's built-in browser, go to twittervideodownloader.com. In the text field, paste the link you just copied.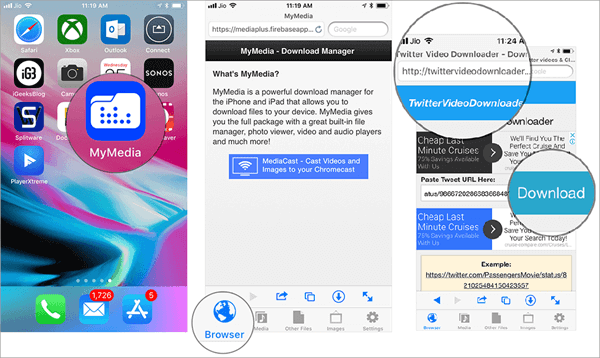 Step 4: After selecting the Download button, a pop-up menu will appear. Select from the three file sizes depending on the storage you have available. We recommend selecting the smallest size possible to manage storage efficiently.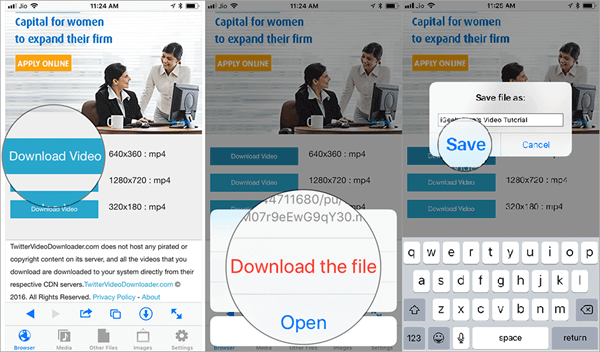 Step 5: In the pop-up menu that appears, enter the name of the video and click on the Save button. Click on the Back icon at the top right corner of the app. Now open the media tab and find the video. Tap and hold the file and select Save to Camera Roll.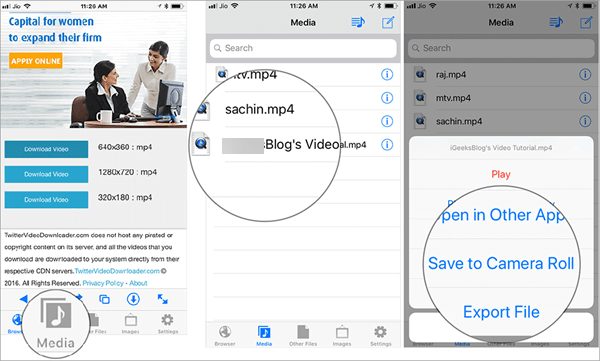 Method 3. Documents by Readdle
Documents by Readdle is an application widely used to read PDFs and add annotations to documents. It is also used to sync docs to the cloud and as a file manager. There is one additional application of this exemplary app – download twitter videos to iPhone. Don't take our word for it. Just follow these steps, and you'll find out for yourself.
Step 1: Like in the previous methods, copy the link to the twitter video. Go to the Documents app and click on the compass icon at the bottom right corner of the screen. This opens a web browser within the application.
Step 2: Go to the twdown.net website, paste the copied link into the required box. Press Download.
Step 3: Once you press download, the site autogenerates three buttons with the available video qualities. Click on any button based on your preference.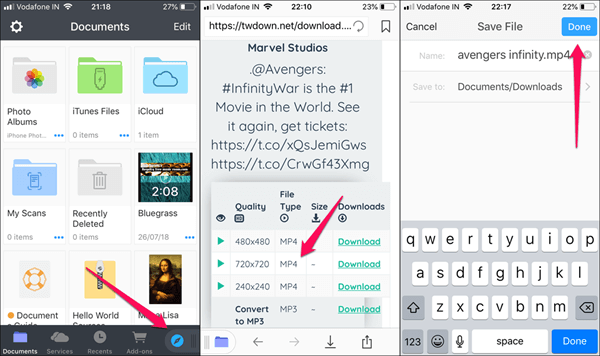 Method 4. Shortcuts
iPhone users are aware of the complicated workaround to save twitter videos to their camera rolls. InstaSave Shortcuts is an application focused on downloading Instagram content (images, videos, and so on). This final method is more of a hack as it allows users to download twitter videos on iPhone using the Shortcuts app.
Step 1: Download the Twitter Video Downloader V2.6 Shortcut on your phone.
Step 2: Launch twitter and head over to the tweet in which the video is embedded. Click on the small Share icon. Choose Share Tweet via and select Shortcuts in the sheet.
Step 3: Once you select the Twitter Video Downloader shortcut, wait for some time and select the file size from the menu. Choose your ideal file size, and that's all.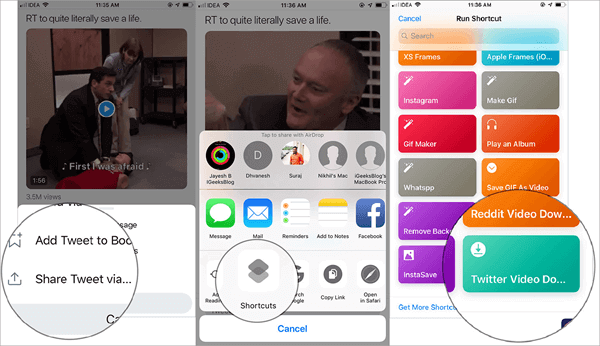 The Bottom Line
All the methods work adequately to download twitter videos on iPhone, iPad, and other iOS devices. If you have resources, then we suggest the Jihosoft 4K Video Downloader for its powerful feature and sophisticated interface. If not, the remaining alternatives are free to use and require no additional software download.