How to Download Videos from Reddit with Audio
Did you find a favorite video on Reddit and want to download it to your device for saving? This article will make it easy! In this post, you will learn five different ways to download videos from Reddit. But before we get into the subject, please take a moment to learn about Reddit ( Ignore this part if you are a senior Redditor ).
What is Reddit?
America's fifth most adored website may seem complex at first, but with time it transforms into a powerful marketing tool. Reddit is not a single website per se, it consists of a million dedicated "subreddits". In generic terms, it is an online community where users vote on content spread across disparate micro-sites.
Users mainly flood this platform for two reasons:
To find relevant information on various topics
For entertainment.
The most popular posts move onto the top and the remaining fall to the bottom. With more than 4.5 million visits daily, the information can get overwhelming. Subreddits prevent users from being overwhelmed by the plethora of posts on Reddit.
Reddit Terminology
To find the best videos on Reddit, you must know how to navigate through the website effortlessly. Reddit comes with its own set of rules (written and unwritten) and its lingo. Some of the common terms you will come across are:
Subreddit: A community of like-minded users on Reddit. These Redditors come together to discuss a variety of topics. By variety, we mean anything. From political affairs to unicorns, things escalate quickly on Reddit.
Redditor: A Redditor is an active user on Reddit.
Reddiquette: Reddit users follow a strict protocol variable to both the website and its users.
FrontPage: If you use Facebook or Instagram, you will understand what a FrontPage does with no problem. A FrontPage on Reddit is nothing but the newsfeed you find on other social media platforms. With millions of Subreddits, it is not simple to navigate through. It includes the most browsed, "upvoted" content on Reddit for the time being.
Upvote/Downvote: Like the Instagram hearts and Facebook likes Reddit sports an Upvote/Downvote system. Through their votes, Redditors can push a post up the list (upvote) or post it down. The arrows on the left side of a thread allow you to vote for the content to go up or down the FrontPage.
Karma: Upvotes – Downvotes = Karma. Karma is the total number of upvotes minus downvotes.
Cakeday: The day a Redditor started their journey.
About Reddit Video
Videos are the tenth most popular subreddit on the website. It boasts just under 6M subscribers and drives in 1.29% of the traffic.
If you look at the graph, you will notice that over the years this subreddit displays constant trends. As the trend shows, Redditors upload thousands of video links daily. Reddit is a great place to get insights on what is trending in videos through its videos (r/videos).
Reddit.tv: It is a feature that lets users sort through all the video content. It includes r/videos and other subreddits with the most video uploads.
Reddit has everything. The only thing missing is the ability to download Reddit videos with audio. Not many people know how to download videos from Reddit, so we have provided step-by-step instructions with every downloader.
5 Easy Ways to Download Reddit Videos
Redditors swarm the subreddits with millions of videos and audios. For privacy concerns, the website has no download feature. If you are in search of the best Reddit video downloader, these are the five best options compiled for you.
Considered to be the best video downloader on our list, Jihosoft 4K video downloader can not only download videos from Reddit, but also save videos from Facebook, YouTube, Instagram, Dailymotion, Vimeo, Metacafe, Veoh, and other video sharing sites. Aside from downloading videos, it also works great on downloading playlists, channels, subtitles, audio, and covers. After downloading, it offers the option of converting the video to MP3, MP4, MOV, MKV, AVI, so that you can play the video on your device properly. Following the steps are given below to download videos from Reddit with sound using Jihosoft 4K Downloader:
Step 1: Find the video you wish to download from the millions of videos uploaded daily by Redditors. Once you open the concerned post and find the video, copy the link to the video.
Step 2: Download and install Jihosoft 4K Video Downloader on your computer, and run it. Then enter the copied link into the program by taping the "+Paste URL(s)" button in the main interface.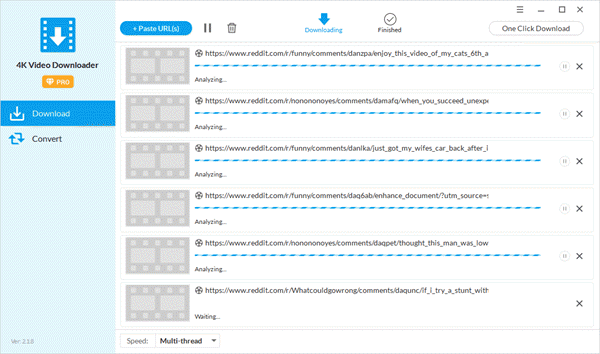 Step 3: After pasting, a window will pop up where you can choose which file format ( 1080P HD, 1440P 2K, 2160P 4K, MP3, etc) to download and whether to download subtitles and covers. After confirming, press the Download button to begin the process.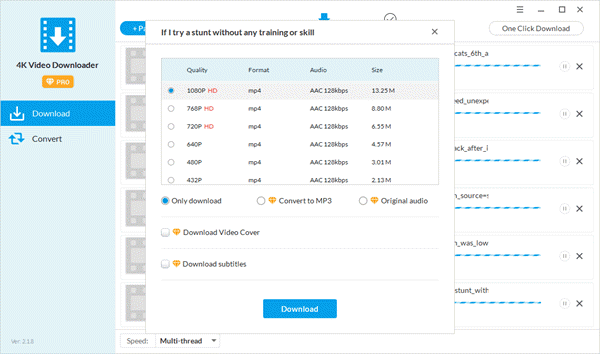 Step 4: Wait for the video to finish downloading. Once complete, you will be able to enjoy the video at any time without an active internet connection.
Redv is a free online Reddit video downloader that helps you download videos from Reddit directly to your device. It downloads any video hosted on v.redd.it without blocking space on your device. It allows you to save and download Reddit videos on-the-go. Here are the steps to use Redv video downloader:
Step 1: Open Reddit and scroll to the post containing the video of interest. Copy its link onto your clipboard.
Step 2: Go to the Redv website, and paste the value into the input box and press enter or hit download.
Step 3: In the popup box, click on the video quality. Click OK and wait for the download to finish.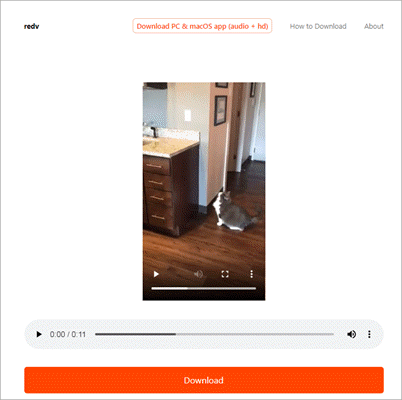 RipSave is a compact website that allows visitors to download Reddit videos with sound. It supports multiple file formats and downloads the videos in the highest definition available. It currently lets you download videos from eight different websites, including Reddit and keeps working on adding new features.
RipSave is an adequate platform for Redditors wanting to download videos hassle-free. It has a user-friendly interface that lets visitors convert and download videos on the fly. Use these easy steps and access your favorite Reddit videos without interruptions.
Step 1: Find the post on Reddit and open the video.
Step 2: Now that you are on the same page as the video, click on the link and copy it to your clipboard.
Step 3: Go to the RipSave website and paste the copied link in the download box.
Step 4: Select the video quality and hit the download button to start downloading.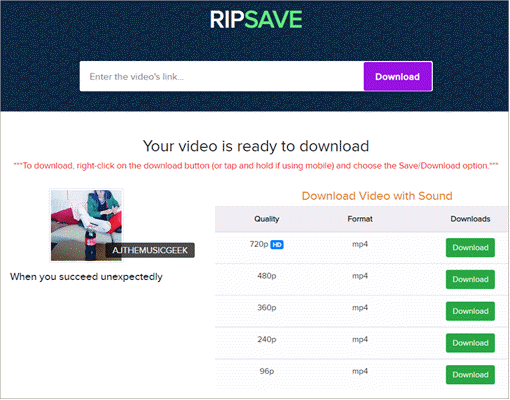 Viddit.red claims to be a one-stop tool to download Reddit videos. The software is operated by Reddit fanatics and is a popular online video downloader. Viddit.red lets you easily download videos from most platforms using three steps:
Step 1: Find the video post you wish to download and open it.
Step 2: Right click to copy the link. Paste the same link into the search box.
Step 3: After entering the link, click on the download button.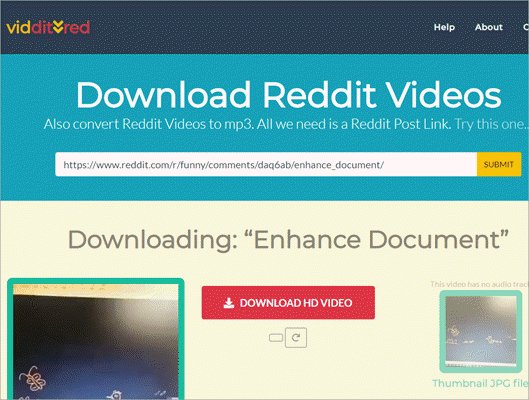 Lew.la is a collection of web tools that offer multiple software options to visitors. It lets users download Reddit videos with audio as an MP4 file. Follow the given steps and download any video you want from Reddit with the Reddit video downloader:
Step 1: Find the video post on Reddit and open it.
Step 2: Copy the link and paste it to the Lewla Video Downloader's box.
Step 3: Select the video quality of your choice and hit download. Wait for the download to finish.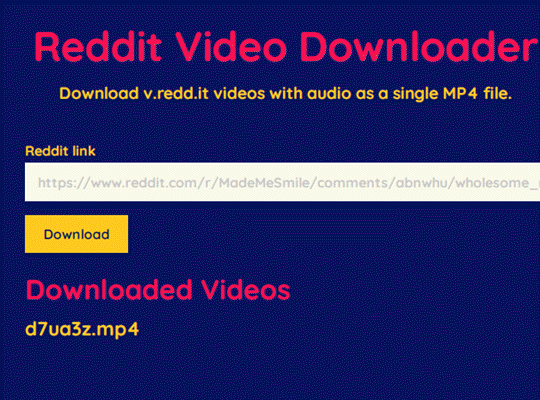 The Bottom Line
There are multiple sites available across the internet, some better than others. These five Reddit video downloaders let you download Reddit videos with sound. If space is not an issue and you can afford a paid software to download online videos, then the Jihosoft 4K Video Downloader is a good choice. If you want a free and easy-to-use software, simply use any of the free online tools.