5 Methods to Download TikTok Videos on Android/iPhone/PC/Mac
Developed by ByteDance, formerly known as Musical.ly, TikTok is one of the world's largest live streaming and video sharing platforms. The application allows users to create short music and lip-sync videos from 3 to 15 seconds and short loop videos from 3 to 60 seconds. In a very creative way, it allows teenagers to fully display their talents, while using artificial intelligence technology to analyze user interests and preferences through user interaction with content, and show personalized feeds for each user.
Like other social media platforms, users can like, comment, and share favorite videos on TikTok. However, the difference is that users cannot download videos directly from the application unless it is watermarked, which is very inconvenient. To help those who want to download Tik Tok videos without watermark, we made this tutorial. Keep reading to check the full guide.
Tips: In addition to TikTok, you may also want to download videos from YouTube, Facebook, Twitter, Instagram, and other platforms. Jihosoft 4K Video Downloader can get all your needs to be covered! Download and try it now!
Method 1. Use TikTok Built-in Feature (Android/iPhone)
Well, this method is well known, in case someone doesn't know it, we decided to propose it here. TikTok is available for Android and iOS. After you download and install the program on your phone, simply open the application and find the desired video via the tags or search box function to download it.
The process is very simple. After the video is opened, click the "Share" button on the right side of the video and select "Save Video". After that, the video will be downloaded immediately. As soon as the download is complete, the video will be automatically saved to the phone gallery. Admittedly, this method is simple, but there is a disadvantage, that is, the downloaded video will include a watermark if you don't mind, then this method is suitable for you. If you want to download TikTok videos without a watermark, you can refer to other solutions.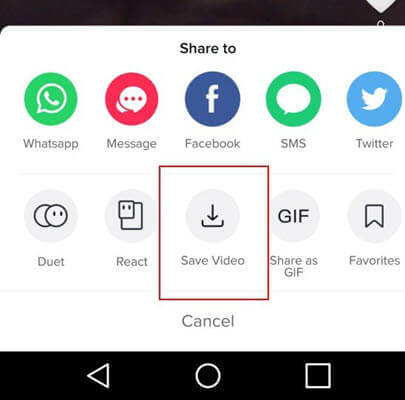 Method 2. Use Video Downloader for TikTok (Android)
As its name implies, Video Downloader for TikTok is an app dedicated to TikTok video download. Also known as TikMate Downloader, the application is available for Android and can be downloaded directly from the Google Play Store. It's safe and fast, no registration required as well. With simple steps, you can download TikTok videos without watermark on your Android phone and share it with friends. In addition, it has a built-in video player for playing downloaded short videos offline. Here are the brief steps to use it:
Step 1. Download and install the TikTok video downloader on your Android phone.
Step 2. Launch the TikTok application and click "Copy Link" in the video you are interested in.
Step 3. Open the tik tok Downloader, the video will be downloaded automatically.

Note: Although this product is the most prominent of many, we cannot guarantee that it will always work. If this app suddenly doesn't work, you can try other apps. There are many similar products in the market, and most of them have the same functions and operation steps.
Method 3. Use Siri ShortCuts (iPhone/iPad)
Unlike Android, due to operating system limitations, there are not many applications available for downloading TikTok videos on iOS devices. However, iPhone/iPad users can simply use a shortcut to download videos from Musical.ly and save them to Camera Roll. The following are the simple steps:
Step 1. Open this link in Safari and download the TikTok Downloader shortcut to your phone.
Step 2. Run the Musically app, find the video that you'd like to download, then tap Share > More > Shortcuts, and select TikTok Downloader, the app will automatically load the video.
Step 3. Select "Save Video" from the pop-up box and wait for the video to download. Once finished, the video will be auto-saved to the Camera Roll(without a watermark).

Method 4. Use Online TikTok Downloader (Android/iPhone/PC/Mac)
This method is versatile and convenient, as there is no need to install any software or applications, and no registration is required. Whether you are using Android, iPhone, PC, or MAC, you can download videos from TikTok using the online TikTok downloader. Since there are tons of online web tools that provide this service, we have selected the best one as an explanation. Next, we will take ssstiktok as an example and show you how it works:
Step 1. Copy the video link of the video you wish to download from Musical.ly.
Step 2. Go the official website of ssstiktok, and insert the link into the blank box, then tap the download button.
Step 3. After analyzing the video link, the video cover will be shown on the site, along with two options, you can directly choose to download without watermark.
Step 4. Then you will then be taken to a new page, and the video shown will also have no watermark. At this point, you just need to right-click the video and select "Save Video As …"

Note: For iPhone or iPad users, it's suggested to install the "Documents by Readle" app from the AppStore, and then go the ssstiktok website through the Documents app's built-in browser to download videos from TikTok.
Method 5. Use 5KPlayer (PC/Mac)
Despite TikTok does not have a web version, you can visit its official website on your computer to watch trending videos from around the world. If you find a favorite video and want to save it to your computer, here is a way to help you, and that is to use a TikTok video downloader for PC or Mac. 5KPlayer is a versatile software that can be used both as a player and for downloading videos from YouTube, Vimeo, Dailymotion, TikTok, and other websites. Next, we will introduce you how to use this software to download video from TikTok without the watermark:
Step 1. Download and Install the 5KPlayer on your computer, then run it.
Step 2. Visit TikTok's official website, tap Watch to browse all hot videos here. Select the one that you like, right-click on the video and copy its link address.
Step 3. Paste the copied URL into the required box, click the "Download" button, and the video will begin to parse and download.

The Bottom Line
By this line, you have learned five ways to save TikTok videos. Among them, the simplest, most practical, and most effortless is to use the online TikTok downloader, because this method works on any device. However, it also has drawbacks. Some online sites may be full of ads and unstable. So, when you download TikTok videos online, be careful, and don't click on those malicious links at will. Also, it's best to get authorization before downloading someone else's video. Btw, if you have a better way, please leave a comment below; If you find this article informative, please share it with your friends.