Jihosoft Mobile Privacy Eraser User Guide
Jihosoft Mobile Privacy Eraser is a professional data erasing software built for mobile devices. Software has provided 3 erase plans for you to choose, in case of different situations.
Plan 1: Use "Erase All Data" to wipe all data in your phone irretrievable.
Plan 2: Use "Erase Deleted Data" to erase the data you've deleted before.
Plan 3: Use "Erase Existing Data" to clean the data storing in your phone.
In this tuition, you will learn how to use this software to wipe out the data permanently:
1
Open Software & Connect Phone
Open this software and it will ask you to connect your mobile device to computer with USB cable. If your phone can't be recognized, you can click "Connected Device Can't Be Recognized" to get more help.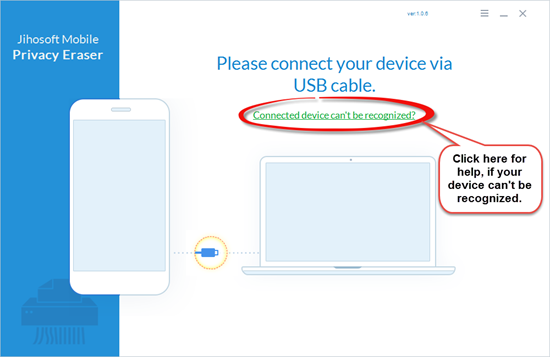 After you plug-in, please follow the instruction to turn on your phone's USB debugging option. If you have trouble with the USB debugging option, please check "How To Enable USB Debugging on Your Android Device" to get more help.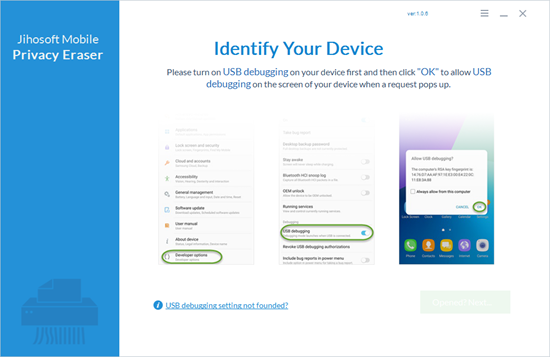 2
Select Erasing Plan
Select what kind of erase plan to help you with. We provide 3 different erase plans to fulfill your different requests.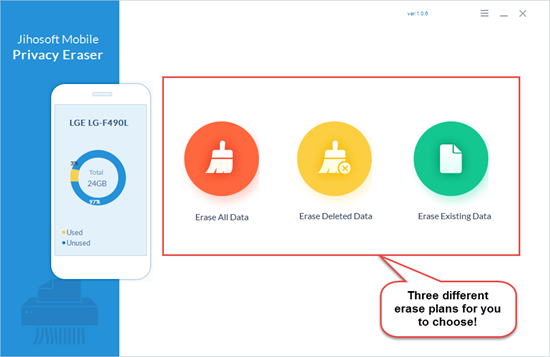 3
Scan And Select Data You Want To Erase
After you decide which plan you want to use, then the software will start scanning your device automatically, please be patient.
After scanning, data will be classified and listed out according to data types. You can select the data types you want to erase easily.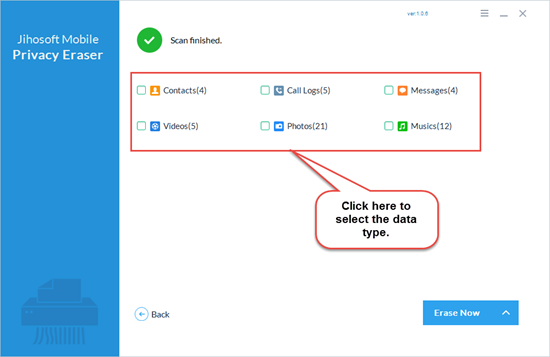 Notice: For "Erase Existing Data" plan, you can preview your data before erase them by selecting data type.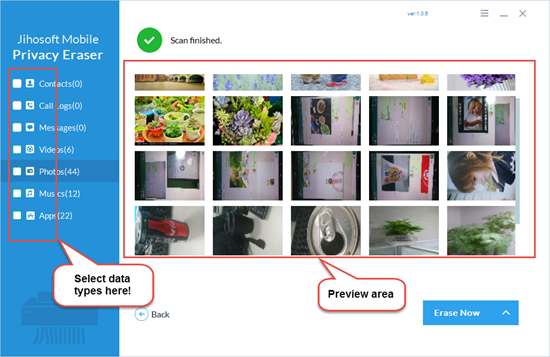 4
Choose The Data Erasing Algorithm You Want To Use
We have prepared 5 erasing algorithms for you to choose, and we made a rank about this 5 algorithms from low to high. The higher level algorithm makes your data less likely to be recovered.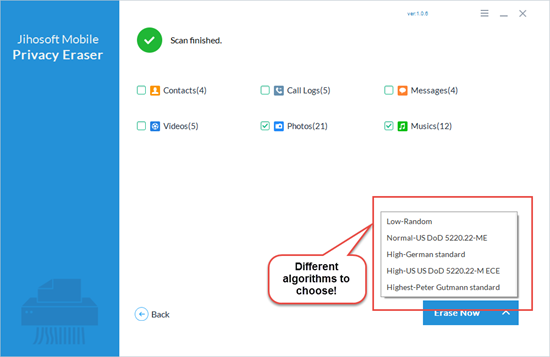 5
Confirm Erasing
Follow the notice, type "Erase" then click "confirm" to erase your data.