How to Transfer SMS Messages from iPhone to Android Phone
Are you making a switch from an iPhone to Android phone like the hottest Samsung Galaxy S7/S7 Edge, HTC One M10/M9, or LG G5? If you are, one problem that bothered you was getting your text messages from the old iPhone to the new Android. Moving SMS from iPhone to Android isn't nearly as easy as it should be. However, there are solutions. In this article, we'll show you two easy ways to transfer SMS from iPhone to Android. Read on and learn how.
Part 1: App Solution – Phone Copier
Need to copy SMS from iPhone to Android? Then Phone Copier is the application you are looking for. With this App, you can back up your iPhone messages and upload the backup to the cloud storage. And perform the SMS migration by downloading the backup on your Android phone.
1.Download and run the app on both phones. (iPhone version has the name "MOBILedit")
2.Create an Internal Storage account and backup your iPhone messages to the cloud storage.
3.On your Android, click "Download – Restore from cloud storage" to start iPhone SMS to Android copying.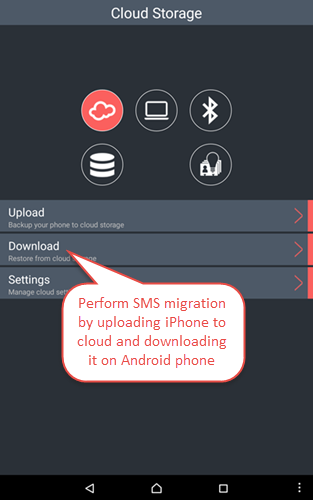 Part 2: Desktop Solution – Jihosoft Phone Transfer
Another easy way to transfer messages from iPhone to Android is utilizing a desktop software – Jihosoft Phone Transfer. This tool helps you transfer iPhone SMS to Android via USB cables within simple clicks. With it, you can migrate SMS from iPhone 3GS, 4, 4S, 5, 5S to any Android phone, such as Samsung Galaxy S6/S6 Edge/S7/S7 Edge/Note 6/Note 7, HTC One M7/M8/M9/10, LG G3/G4/G5, Sony Xperia Z/Z2/Z3/Z4/Z5, and more.
1.Download, install and run this iPhone SMS to Android Transfer tool on your PC.
2.Connect both your iPhone and Android phone to the computer via USB cable. (Make sure iPhone listed as "Source" and Android as "Destination".)
3.Select "SMS" in the source phone panel, then tap on "Start Copy" to start copying iPhone SMS to Android phone.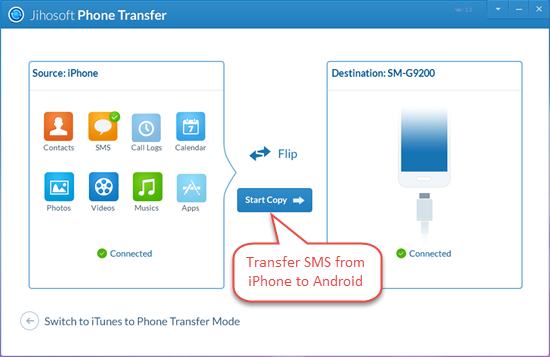 You should now have all of your iPhone SMS messages on your Android device now. Also, with this iPhone to Android Transfer tool installed, transferring contacts from iPhone to Android, music from iPhone to Android etc. are all supported.