Easy Guide to Transfer Files from Old Phone to OnePlus 2/3/X
With the new OnePlus One in hand, you may be surprised at its low price, high-end performance, brilliant fingerprint sensor and high resolution as well. However, in order to get it work first, you have to transfer data from your old Nexus 4/5, HTC One, OnePlus One, iPhone 4/4s/5, Samsung Galaxy S2/S3, etc to OnePlus 2/3/X as soon as possible. This article will show you how to do this.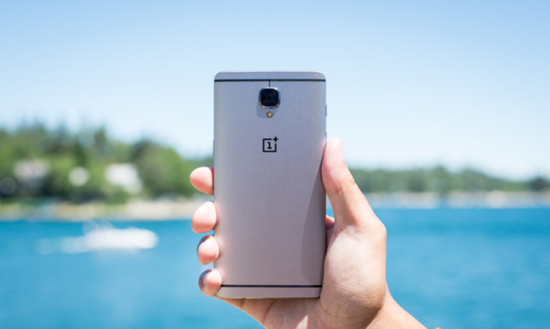 Transfer Data from Old Phone to New OnePlus with Software
One of the effective and professional software is Jihosoft Phone Transfer. And the overview of this program is as below:
1. Transfer contacts, photos, videos, text messages, call logs, calendars, and more from iPhone or Android phone to OnePlus.
2. Support multiple devices, including OnePlus One/2/3/X, iPhone 4, iPhone 4S, iPhone 5, LG G2/G3, Xperia Z3/Z3 Compact, Samsung Galaxy S3/S4, Motorola X/G/E, Nexus 4/5,One M7/M8, etc.
Download Jihosoft Phone Transfer and launch it on your computer.
1. Open up this software and select "Phone to Phone" mode to continue.
2. Connect your iPhone or android phone and OnePlus to PC.
3. After detection, select the data that you want to transfer and click "Start Copy" to start the transfer process.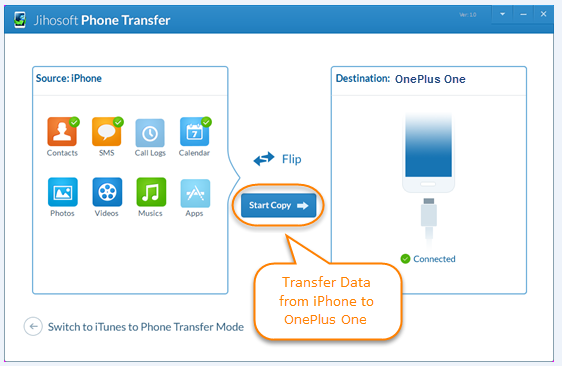 Transfer Data from Android to OnePlus 2/3/X via Wifi
With WiFi File Transfer for Phone, you are allowed to directly transfer unlimited files and folders from android phone to OnePlus without using computer as a middleware. And there is no need to log in for file transfer.
Note: This app is only appropriate for transferring data from android to android, which means that both of the mobile phones shall be android phones and shall be connected to the same WiFi network.
1. Download WiFi File Transfer for Phone on both of your old android phone and OnePlus from app store, then connect the two phones to the same Wi-Fi network.
2. Start this app in "Share Mode" and respectively select your old android phone and new OnePlus as "Share Files/Folders " and "Get Files/Folders".
3. After that, choose the data that you would like to share and tap on "Share".
Note: The old android phone will automatically generate a 6-digit PIN code which you are required to enter in OnePlus.