How to Transfer Data from Motorola to Samsung Galaxy S7/S6
Imaging that you have been using Motorola Moto G/Z/X for years and planned to switch from old Motorola to Samsung Galaxy S7, S7 Edge, S6, S6 Edge, etc for a new experience. However, after the excitement of getting your new device, you may find it cranky to transfer data from Motorola to Samsung.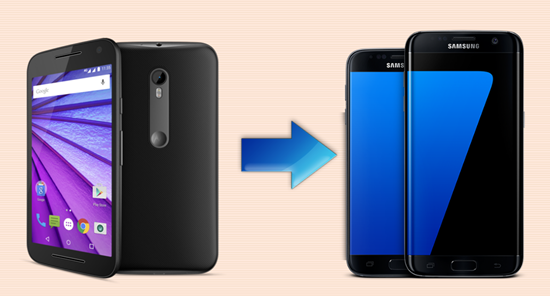 A good many of data needs to be transferred, like the contacts, text messages, call log, camera roll photos, videos, music, etc. Manually copy and paste is the most direct approach while it's a huge amount of work and it is impossible to move database files, let's say, the contacts, SMS, and call log through this method. Thus it is better to find some third-party tools to assist you effectively.
1. Transfer Photos, Videos, Contacts, SMS, etc from Motorola to Samsung with Jihosoft Phone Transfer
Jihosoft Phone Transfer can be used to transfer almost all kinds of data such as contacts, sms messages, whatsApp messages, call history, photos, videos and more from one phone to another in one click.
Supported devices:
Motorola: Moto G, Moto Z, Moto X, Moto E, Moto G2, Moto G LTE, Moto Maxx, Droid Turbo, Droid Ultra, Droid Mini, RAZR D3, RAZR D1, RAZR V, Electrify M, Droid RAZR HD, etc.
Samsung: Galaxy S7, Galaxy S7 Edge, Galaxy S6, Galaxy S6 Edge, Galaxy S5, Galaxy S5 mini, Galaxy S4, Galaxy Note 5, Galaxy Note 4, Galaxy Note 3, Galaxy Note 2, Galaxy Note Edge, etc.
Steps to Move Data from Motorola to Samsung Galaxy:
Download this software from the official website of Jihosoft, install and launch it on your computer, then click "Phone to Phone".
Connect both of your Motorola and Samsung to pc, once detected, both your phone will be listed as the destination and the source device separately.
Select the data that you want to transfer, then click "Start Copy".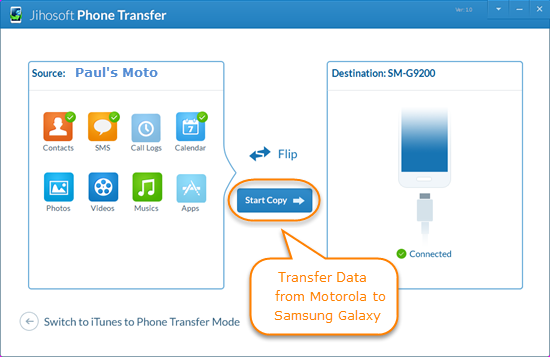 2. Sync Motorola Data to Samsung Using Samsung Smart Switch
Samsung Smart Switch allows you to to transfer data and apps from old android phone to the new Galaxy device, such as contacts, music, photos, calendar, text messages, device settings, etc.
Download and install Samsung Smart Switch app on both of your phone, once the installation is completed, you are required to select "Android Device" as shown below, then click "Start".
Select Motorola and Samsung respectively as "Sending Device" and "Receiving Device", then tap "Connect". After connection, you can select contacts, messages, photos and other data that you want to transfer to Samsung.