3 Methods to Transfer & Backup Android Photos/Videos to PC
Many people now use their Android smartphones or tablets as a replacement of digital cameras to take great photos and keep up with memories. These photos collectively over time take up a lot of room. Besides, there is a number of things can cause you to lose your precious photos and videos unexpectedly, for example, phone gets lost or stolen, SD card is damaged or formatted, etc. Getting photos and videos off your phone and onto your computer can effectively free up space and avoid data loss. In this guide, we'd like to go over how to transfer photos & videos from Android to computer for backup.
Method 1: Phone Transfer-Transfer Android Photos and Videos to Computer
This process is fairly simple with Jihosoft Phone Transfer, Not only transfer photos and videos, this program also enables you easily transfer SMS/Text Messages from Android to PC.
1.Download and install this software on your PC. Connect you Android to the computer via USB cable.
2.Click "Backup Your Phone" and let the program detect the Android device, then select Photos and Videos from the listed data types.
3.Click on "Start Copy" and select the backup folder, then all your Android photos and videos will be quickly transferred to the computer.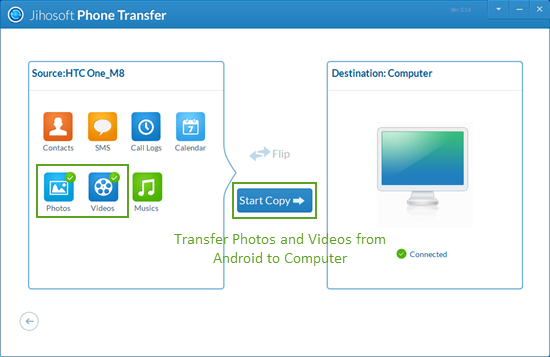 Important Note:
All hot Android models is well compatible to Jihosoft Phone Transfer, like Samsung Galaxy S5/S6/S6 Edge/S7/S7 Edge, Note 3/4/5, HTC One A9/M9/M8, LG G4/G3/G2, Google Nexus 6P/5X, Sony Xperia Z4/Z3/Z2, Motorola Moto X/E/G, Huawei Mate S, etc.
Method 2: Transfer Photos from Android to PC using Dropbox
Dropbox is an online storage system which will automatically sync photos and videos between Android and PC.
1.Respectively download and install Dropbox on your android phone and pc, after installation, you are required to log in with existing account or create a new one.
Note: Make sure that your android phone and computer are running on the same account so as to sync files between them.
2. Select the photos and videos to upload, then wait until the uploading has been finished.
3. Once uploaded, you'll have access to preview and transfer the photos and videos from your phone to pc via the dropbox on computer.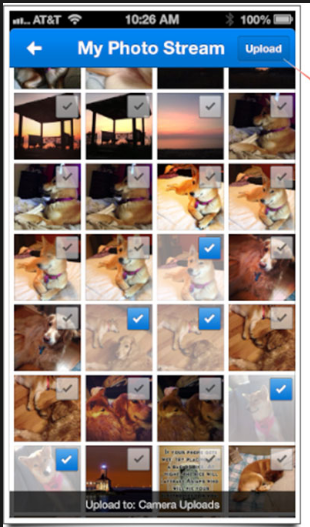 Method 3: Using USB Cable to Transfer Photos from Android to Computer
One of the features of the Android operating system is its unfettered access to the file system. You can simply plug your Android phone into computer and drag photos and videos to any folder for safe keeping.
1.Connect your Android to a Windows PC using a USB cable.
2.A Windows AutoPlay dialog will present you with options for managing the device as soon as it's connected.
3.Select "Import pictures and videos" to transfer all photos and videos on your Android phone to PC.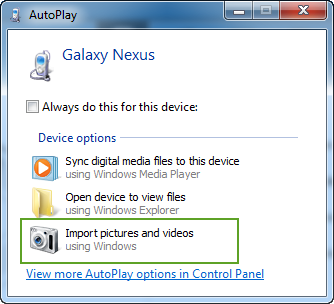 Note: If you're using a Mac, transferring photos and videos to Mac requires Google's free Android File Transfer app. Once you install the app, it will automatically open whenever you attach an Android device and let you transfer files.