How to Transfer Photos & Videos from iPhone/iPad to Computer
"Uh, I used up all the memory in my iPhone 6 plus while taking pictures of our honeymoon and need to save these pictures to my computer. However, I have no idea on how to do that. Somebody help?" – From Robert.
The iOS cameras get better in every new generation and they're the most popular smartphone cameras on Flickr. Owing to its convenience and perfect performance, more and more people are willing to take high-resolution photos or videos with their iPhone 6, 6s, se, iPad Pro, or iPad Mini 4 instead of cameras. However, as the resolution of photos or videos become higher, they will relevantly take up larger space of your iDevice. It means that you'll need more storage space to save these high-resolution photos or videos.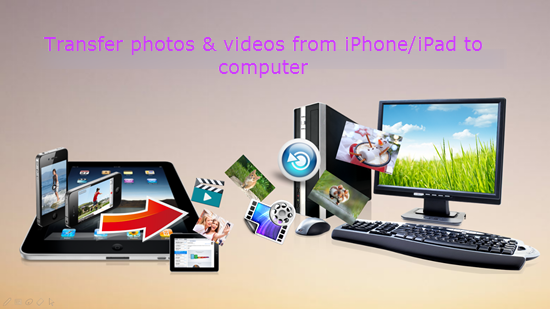 Don't worry, there is no need to delete your old photos or videos, you can easily free up tons of valuable storage space for your iPhone/iPad by transferring these photos or videos to computer with Jihosoft Phone Data Transfer software. It is capable of transferring and copying photos & videos from iPhone 6/6s (Plus)/SE/iPad Pro/Mini 4 to computer to free the phone memory in a few clicks. The specific functions of Jihosoft Mobile Phone Transfer are as follow:
1. Transfer more data like music, contacts, messages, calendar from iPhone or iPad to computer for safe backup;
2. Restore photos, videos, music, contacts, SMS, calendar from backup to the same iPhone/iPad or a new device (even an Android);
3. Transfer contacts, SMS, photos, videos, music and more from iPhone to iPhone, iPhone to Android, Android to iPhone, Android to Android.
Steps to transfer photos & videos from iPhone/iPad to computer
Step 1: Download and install Jihosoft Phone Transfer software on your PC, click "Backup Your Phone" then connect your iPhone/iPad to computer via USB cable.
Step 2: After connection, select "Photos" and "Videos", click on "Start copy", then choose the location to save your photos and videos.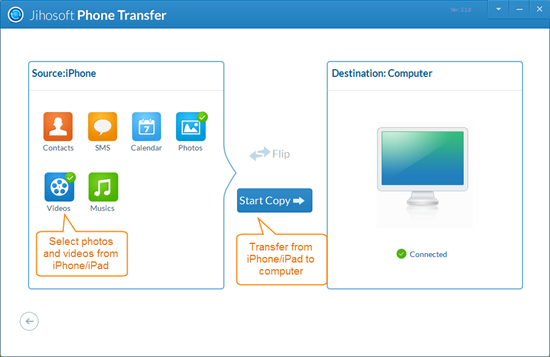 Note:
1. Also, you can easily transfer photos and videos from your iPhone or iPad to PC by getting them connected with cable, wait for a popup and select the "Import pictures and videos" option, your pictures and videos will be saved in the folder of "My Picture".
2. If you want to transfer photos & videos from your iPhone or iPad to Mac, iPhoto is a nice choice. Just connect your iPhone to Mac, launch iPhoto and pick up the photos you want to transfer. Then click "Import".