How to Transfer Data from Samsung/HTC/iPhone, etc to Huawei
Upgrading to a new Huawei from an old android phone or iPhone is an inevitable calamity that always results in the loss of contacts or other data stored on the old phone. To avoid data loss, there will be a necessity to transfer data from your old iPhone 5/5C/5S, Samsung, Huawei, HTC, LG, Xiaomi, Oppo to Huawei P9/P9 Plus, especially contacts. Normally, one of the most common transferring methods is to backup your files with a backup application, such as SIM card or iCloud and copy these data to your new phone.
Transfer Contacts from Samsung, HTC, LG to Huawei
Transfer Contacts via SIM Card
Things You Need: An android phone with SIM card (including Samsung, Huawei, HTC, LG, Xiaomi, Oppo, etc), one Huawei phone.
•Open the "Contact" app from the home screen
•Select the "Options" to display the contact menu
•Click the drop-down menu in the upper-right corner to choose "Manage contacts" then select "Export to SIM card"
•Selectively choose contacts to save to SIM card
•Last step: Remove the SIM card and insert it to Huawei.
Tip: This method applies to android to Huawei transfer only.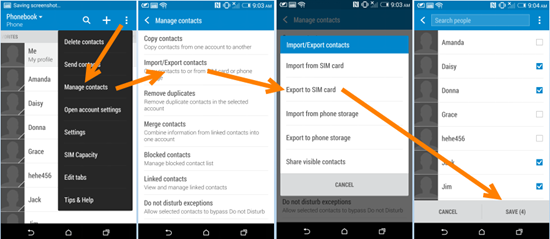 Transfer Contacts from iPhone to Huawei
It is very tricky to transfer contacts directly from your iPhone 5/5C/5S to the new Huawei P9/P9 Plus, thus transferring with a backup application can be much easier.
Things You Need: An iPhone 5/5C/5S and Huawei phone
Transfer Contacts via iCloud
•Go to "Setting" on your iPhone and tap on "iCloud"
•Scroll down, click on "Backup"
•Turn on iCloud backup
•Log in your iCloud account on computer
•Click on contacts and all of the contacts that you have backed up will be displayed
•Selectively choose the contacts you want or click on "select all"
•Click on "Export vCard" to export contacts to a VCF file.
•Connect your Huawei to pc with usb cable and copy the VIC file to your phone.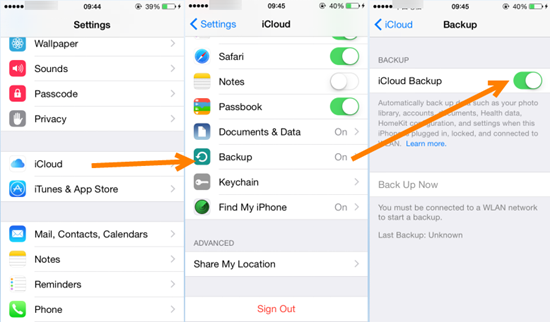 Transfer Musics, Photos, Videos, SMS and more data from Other Phone to Huawei
Normally, a cell phone data switcher such as Jihosoft Phone Transfer can help you migrate contacts, text messages, notes, photos, videos, and more from an old phone to a new phone conveniently. And the whole transferring process will be completed only in one click.
Things You Need: An android phone or iPhone, a Huawei phone, USB cable, computer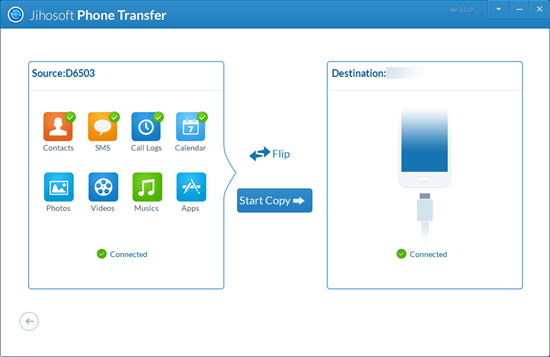 Related Topic: how to download music on huawei
As with other smartphones, it supplies multimedia functions, such as MP3 music player and allows you to save audio files. This can be down by downloading musics from computer to your phone with USB cable.
Connect the computer and Huawei by data thread with USB, open the "Settings" on your phone and select "USB mode" from the subsequent menu then "Activate". Now waiting until it is successful connected. Open up the "computer" on the desktop and drag the music folder from pc to your Huawei phone.
Tip: Huawei recognizes only music files of MP3 format, so you'd better convert formats with a format converter in advance if you have downloaded files of other formats.