How to Transfer WhatsApp Messages between Android and iPhone
Have you already got a brand new phone and excited to enjoy its new features? And have you signed in to your WhatsApp account with your new phone? If you make a big change from Android to iPhone or vice versa, you will find that your old WhatsApp conversations won't transfer across automatically.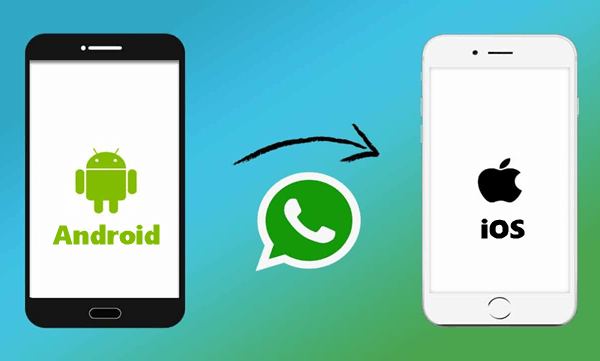 The company behind WhatsApp knows that people do change phones frequently and so they have made it easier for WhatsApp users to transfer WhatsApp data from Android to Android by using Google Drive, and from iPhone to iPhone by using iCloud, but it is still a big headache to transfer WhatsApp messages between Android and iPhone.
So how can you take all your precious WhatsApp chats with you whatever device you have? Then let's see the below 4 methods about how to transfer WhatsApp data to new phone in the easiest and fastest way.
Method 1. One-Click WhatsApp Transfer Software
Here is Jihosoft WhatsMate, an all-in-one WhatsApp Manager toolkit that allows direct WhatsApp transfer between devices on your computer. It can help you transfer WhatsApp messages from iPhone to Android, and from Android to iPhone. All these just happen in one click.
Moreover, WhatsApp contacts, call history and all kinds of multimedia files (pictures, videos, voice messages, and attachments) inside every chat conversation can also be transferred with this WhatsApp transfer tool.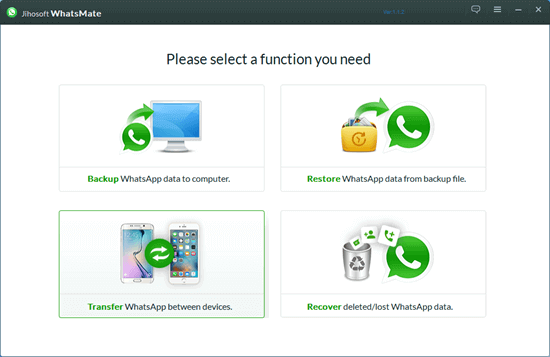 The following steps will tell you how to transfer WhatsApp from Android to iPhone and vice versa:
Step 1. Download and launch this WhatsApp Transfer Software on your computer through the Download buttons given above. When the program interface appears, select the "Transfer WhatsApp" function.
Step 2. Then follow the on-screen instructions to connect both your phones, say Android and iPhone. Remember to turn on USB debugging before connecting your Android phone to the computer, and install the latest iTunes on your PC so as to make your iPhone identified successfully by the software.And not to disconnect your phones during the transfer progress, otherwise data loss accident may occur.
Step 3. Once your phones are recognized by the program successfully, the program will set the Android phone as the source device by default in order to let you move WhatsApp data from Android to iOS. If you want to transfer WhatsApp messages from iPhone to Android, you should hit the "Flip" button to set the iPhone as the source phone and the Android as the destination phone.
Step 4. Under the source phone in the left side, you are able to choose Chat history, Contacts and Calls to transfer. After that, simply hit the "Transfer" button and the program will start the transfer process automatically. When it finishes, all your old WhatsApp messages and media will be merged into the existing WhatsApp history on your new phone.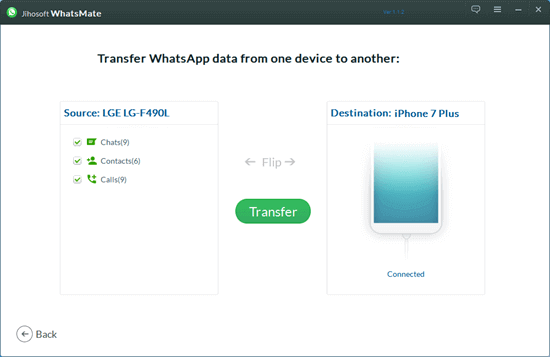 Frequently Asked Questions about WhatsMate:
Q: Is it safe to use this WhatsApp Manager?
A: It is absolutely safe to use Jihosoft WhatsMate. Because all your WhatsApp data will only be saved or processed on your computer.
Q: What's the difference between the Trial and the Pro version?
A: The free trial version can help you backup your WhatsApp data to computer without charge. The Pro version enables you to restore WhatsApp from backup, recover deleted WhatsApp data, and transfer WhatsApp to new phone. Both versions enable you to print out Android/iPhone WhatsApp messages and photos as how they are shown on your phone.
Q: Will the existing WhatsApp data on my new phone be affected after restore or transfer?
A: Never. You can restore any backup file saved on your computer to your new phone or move WhatsApp to your new phone with WhatsMate, and the WhatsApp data on your old phone will merge the data on your new phone. So, the existing WhatsApp data on your new device will never be replaced or overwritten.
Q: How long will it take to backup/restore/recover/transfer WhatsApp?
A: It depends on how much WhatsApp data you need to process. It can be a few minutes to more than one hour.
Q: Do I have to download this tool on smartphone?
A: No. It's a computer based program, and you just simply download it on your computer and there is no need to download any third party apps on your smartphone.
Method 2. Transfer WhatsApp Chats from Android to iPhone by Email
If you only wish to view and read your old WhatsApp chat history on the new phone, this must be the simplest way to transfer WhatsApp chats from iPhone to Android and vice versa. With this method, you don't need to have a computer or use any third-party WhatsApp transfer software. What you need to have is an email address, and then follow the steps below to move your WhatsApp chat history to new phone.
Step 1. On your old phone, go to "Settings" >"Chat settings", and then tap "Email chat" from the showing list.
Step 2. Then choose the WhatsApp chats that you want to transfer to the new phone. After that, you will see a pop up saying "Attaching Media will generate a larger email message". Then hit either the "Without Media" or the "Attach Media" option according to your needs.
Step 3. Enter your email address at the addressee and then send your WhatsApp chat history in .txt format by clicking the "Send" button.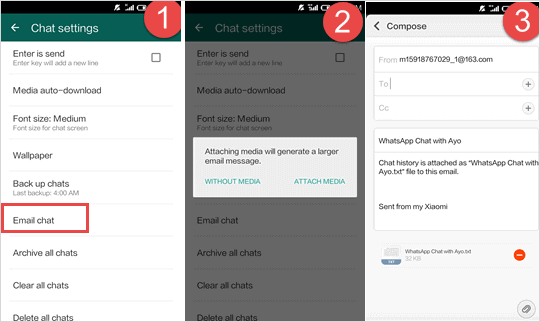 Step 4. Log in your mail box on your new device, download the WhatsApp messages on your new phone so that you can read and view the chats whenever you want.
Hints:
It is not suitable for massive transfer of WhatsApp data, since it is a very troublesome thing to email messages from contacts one by one.
Regrettably, those WhatsApp messages and media can't be restored back to your WhatsApp Messenger, because they can only be read on your new phone. If you want your old WhatsApp history seamlessly merge with the history on the new phone, you should try Method 1.
Method 3. Transfer WhatsApp with Android WhatsApp to iPhone Migrator
Here is the program called Restore Social App, a dedicated tool to transfer WhatsApp messages from any device to any device. Moreover, it also supports transferring LINE, Kik, Viber and WeChat as well. Below are the steps to transfer WhatsApp with it:
Step 1. Launch this software on your computer, then connect both your Android and iPhone to the computer. After that, go to "Restore Social App" > "WhatsApp" > "Transfer WhatsApp messages" on the main screen of the migrator.
Step 2. After the migrator recognizes both your phones, you can click on the "Transfer" button to transfer WhatsApp chats from Android to iPhone.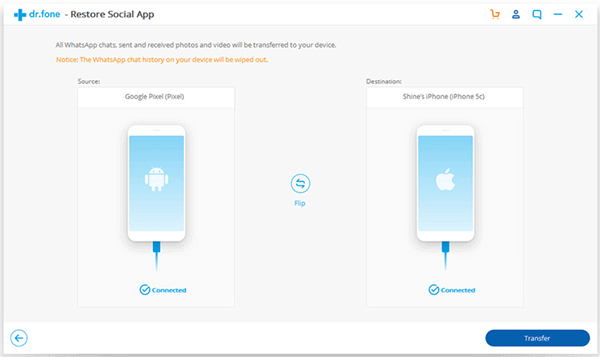 Step 3. Now wait until the transfer completes, and you can then view Android WhatsApp messages on your iPhone. If there is a large amount of WhatsApp data detected on your Android, it will take some time to complete the process.
Hints:
If you have any WhatsApp data on your new iPhone, it is recommended to back them up before the transfer, because this program will wipe out all the existing WhatsApp chat history on your destination device.
Method 4. Transfer WhatsApp Messages from iPhone to Android
The above three methods all can be used to transfer WhatsApp from Android to iPhone, or from iPhone to Android. But the last method we are going to talk about can only be used for transferring WhatsApp messages from iPhone to Android.
Furthermore, this method involves two different tools, and the process seems a little complex, so please follow the instructions below carefully.
Step 1. On your computer, use iTunes to create a complete backup of your iPhone, and please remember to disable Backup Encryption in iTunes.
Step 2. Download and run iPhone Backup Browser on your computer and then use it to load your iTunes backup files.
Step 3. Select the backup file that includes the WhatsApp data you need. Then find the folder named net.whatsapp.WhatsApp. Under this folder, the file named ChatStorage.sqlite stores all the WhatsApp messages, while the Library/Media section stores all the WhatsApp media data. Just choose which kind of files you want to transfer, and then hit the "extract selected files" button.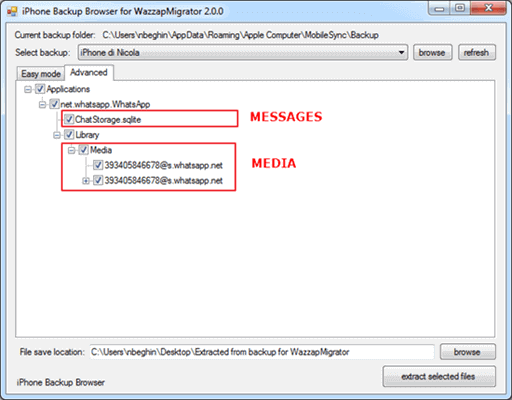 Note: The free version of iPhone Backup Browser only allows you to pull texts from iPhone backup. If you want to extract media, you should purchase the full version at $2.99.
Step 4. After that, move the extracted files from your computer to your Android's internal memory.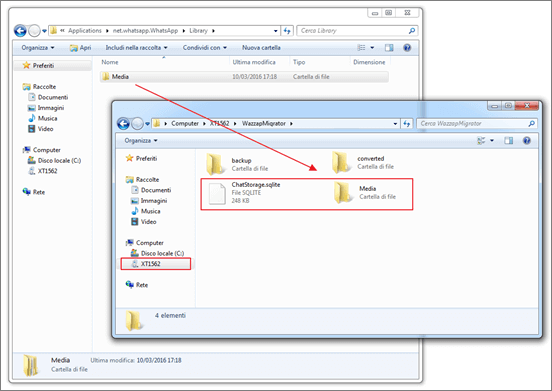 Step 5. Download and open WazzapMigrator on your Android phone. After it automatically detects the text and media files copied from your computer previously, you can browse them on your Android device. Then, tap on the "Play" button to let the app create a local WhatsApp backup of those files.
Step 7. Finally, install and run WhatsApp on your Android phone. When it prompts you that you can restore from local back, just simply confirm and let it restore the backup created in the previous step.
Conclusion:
Now you have known these four different methods on how to transfer Whats App history between Android and iPhone. You can choose the one that best suits your needs and move your WhatsApp messages to your new phone effortlessly. Or have you tried any other methods? Did you manage to move your WhatsApp chats to a new phone smoothly? Let us know in the comments.