How to Recover Deleted WhatsApp Messages from Android Devices
More and more Android users tend to use WhatsApp as their chat tool, as WhatsApp Messenger lets you send unlimited messages to contact anywhere. However, you may once have deleted a WhatsApp message accidentally and regretted it right away. And what's worse, some of Android users recently encountered a weird problem that WhatsApp messages went disappeared without deleting. Is it possible to get deleted WhatsApp messages back?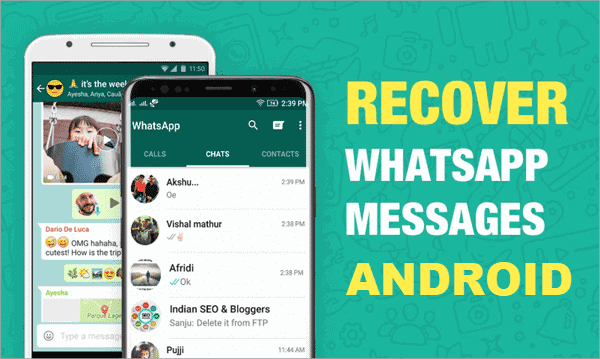 Worry not, we're here to help. We especially write this article to share with you 4 simple ways to restore deleted WhatsApp chat history on Android devices, including Samsung, Huawei, HTC, LG, Sony, Motorola and more Android phones and tablets.
Before we start, do keep in mind that it is not recommended to operate your Android phone or update anything once you find out that your important WhatsApp data was deleted/lost. Otherwise, what you deleted by mistake will be overwritten and can not be recovered back any longer.
Method 1: Restore WhatsApp Chat History on Android from Google Drive Backup
Before trying out this method, it should be noted that you can only restore WhatsApp chats on Android if you have turned on the backup option in the first place on WhatsApp. It means that if you had never created a backup of your WhatsApp chats, then you won't be able to retrieve any WhatsApp data that you accidentally delete.
To enable WhatsApp chat backup, open WhatsApp, and go to Settings > go to Chats > tap on Chat backup. Over here, you can set up the frequency of your chat backup between never, daily, weekly or monthly, or you can even do a manual backup as well. Additionally, you'll have to select the Google account where you'd want the backup to be stored if you use an Android smartphone. After that, your WhatsApp automatically backs up chat history every day at 4 am system time. Its WhatsApp backup folder can be stored for up to 7 days.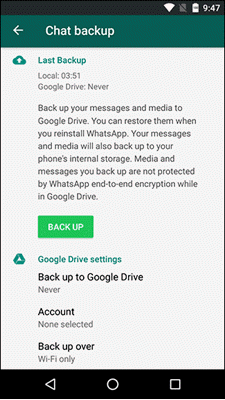 Now it is surprisingly simple for you to restore Android WhatsApp chat history that less than seven days old by uninstalling and reinstalling WhatsApp.
Step 1. Backup your current WhatsApp chat history as what we stated before. Any new messages sent/received after a backup, and deleted before the next backup, cannot be restored.
Step 2. Uninstall WhatsApp by navigating to Settings > Applications > WhatsApp > Uninstall, and then reboot Android device.
Step 3. Reinstall WhatsApp. Open WhatsApp and continue to the next screen step by step. Then verify your phone number.
Step 4. Hit the "Restore" button when prompted, and this will help you restore WhatsApp messages from Google Drive backup automatically.

Note: This method also can help you restore WhatsApp backup on new phone so long as you login the same Google account on that new phone. In addition, one thing you should know is that this method will let you restore from the most recent WhatsApp backup from Google Drive. This means that you will lose some messages that have arrived after the time of your last backup. Hence, we suggest you perform the restoration only if recovering the deleted WhatsApp messages that are important enough to risk potentially losing some other messages.
Method 2. Recover WhatsApp Messages from Android's Local Backup
Another way to recover deleted WhatsApp messages is to recover them from local backups stored on your Android phone, if you didn't connect a Google Drive account to WhatsApp.
Step 1. Go to your phone's File Manager app. Now find WhatsApp's database folder by going to the WhatsApp folder > Databases. This folder stores all the local WhatsApp backup files. If they aren't there, perhaps they were lost due to some reasons.

Step 2. Go to chat files that saved with names like "msgstore-YYYY-MM-DD.1.db.crypt" where "YYYY-MM-DD" is the year, month and date respectively.
Step 3. Rename "msgstore.db.crypt", adding "OLD" or something similar to the file name so as to prevent the file from overwriting.
Step 4. Find a backup file that you want to restore WhatsApp from, and rename it "msgstore.db.crypt".
Step 5. Here's the most significant part: open Google Drive on your Android phone, tap the hamburger icon (the three vertical lines) > Backups, and then delete the WhatsApp backup there. This will force your WhatsApp to restore from the local backup on your phone when you install WhatsApp in the next step.
Step 6. Back to your Android device, then uninstall and reinstall WhatsApp in the same way as the above method. You will get a prompt to restore chats from a local backup because you don't have any chat backup on Google Drive. Tap on "Restore" and you will get your deleted WhatsApp messages back.
Note: If you fail to find a WhatsApp backup copy on Google Drive or your phone memory, it could be for one of the below reasons:
You are using a different Google account, not the one you originally used to backup your WhatsApp data;
You have verified a phone number which wasn't previously used in WhatsApp;
The memory card is corrupted, has errors, or the file with the WhatsApp messages fails to open);
There are no message backup copies on a memory card. If this is the case, see the following recovery method which uses Android WhatsApp Recovery software or Jihosoft WhatsMate program.
Method 3: Recover Deleted WhatsApp Messages on Android without Backup
One of the most convenient and reliable ways to retrieve deleted WhatsApp messages on Android devices is using the Jihosoft Android Data Recovery program. With this Android Phone Recovery, you are able to choose certain files you want to recover. If you only want to retrieve WhatsApp messages, you can just select this item. Besides, the most impressive function of this tool is that it allows you to directly restore deleted WhatsApp messages without any backup.
It has a free trial version for its users to try before purchase. Though the pro version is chargeable, the license code is for a lifetime.
Step 1. Download and install the free trail version of Jihosoft Android Data Recovery.
Step 2. Connect Android device to computer with USB cable, and then set up Android device to enable USB debugging.
Step 3. Run Android Data Recovery program, and select WhatsApp in the program interface.

Step 4. After the program automatically detects your Android device, simply click "Start" to scan WhatsApp messages.
Step 5. After the scan completes, choose "WhatsApp Messages" to preview and tap "Recover" to restore deleted WhatsApp chat history.

Method 4. Find Deleted WhatsApp Messages and Media Files Back
The methods above are mainly for WhatsApp message recovery, then how to recover deleted WhatsApp images and other WhatsApp media files? For WhatsApp, the media files include images, videos and audios, and you can recover all of these media files with Jihosoft WhatsMate, which is an all-in-one WhatsApp Manager tool.
This WhatsApp recovery software is an alternative utility that is not only able to recover WhatsApp conversations, but also can restore WhatsApp backup without uninstalling WhatsApp Messenger on your phone. Besides, it can be used to transfer WhatsApp data between Android and iPhone. The free trial version of this program even helps users backup WhatsApp to PC without charge.
All in all, it is best suited for recovering WhatsApp messages, photos, videos and voice messages. With this Android WhatsApp recovery tool, you can recover older WhatsApp messages without losing the current chats. Here is how to recover deleted WhatsApp messages and images on Android with Jihosoft WhatsMate:
Step 1. Launch the program on your computer, and then choose the "Recover WhatsApp" mode.

Step 2. Then connect your phone to the computer and let the program scan WhatsApp data on your Android phone.
Step 3. The scan process will take you some time to finish. After that, you can preview and read the deleted WhatsApp messages found in the scan result one by one. Then choose which conversation to restore on your computer by clicking the "Recover" button.

Within few seconds, you can get back your Android deleted WhatsApp data, and even can print out these WhatsApp messages easily with the recovered HTML, and DOCX files.
Note: This program is also compatible with iOS devices, so no matter you use Samsung, HTC, LG or iPhone, you can download this Android WhatsApp recovery software and operate the recovery.
Conclusion
So, these are the 4 methods which you can use in several situations where you have accidentally deleted your WhatsApp chats and want to recover deleted WhatsApp messages from Android. Either way, you need to follow the steps carefully in order to restore WhatsApp messages.