OnePlus Data Recovery: Recover Files, Messages, Photos on OnePlus 7 Pro
Many-a-times it happens that we reset our phone to factory settings in order to improve its performance or to clear unwanted junk files and applications. Sometimes, we forget that it will also delete all those photos, videos and other files that were stored in our phone memory or storage card. Therefore, we forget to back up these files and end up losing all those photos and data that are stored on the phone.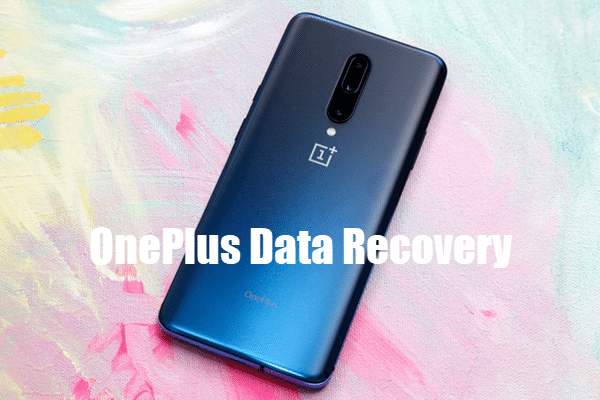 However, there is no need to worry now. To recover lost photos and data from Android devices is no longer a myth as there are several applications and methods that can help us recover deleted files from various Android phones, for example, OnePlus, Samsung, HTC, Sony, etc. Today we are discussing some of the easiest ways to recover files from your OnePlus smartphones. As the latest models of the company OnePlus, OnePlus 7/7 Pro is getting famous due to its amazing camera quality and other excellent features. Therefore, the owners of this smartphone will undoubtedly like to preserve the precious photos, selfies, and sceneries that were captured by the phone's brilliant front and back cameras.
If you have accidentally deleted or lost photos, messages or any other data due to virus attack, damage due to water, factory data reset or any other reason, here are some of the tips and steps that will guide you how to recover data from OnePlus 7/7 Pro and other OnePlus devices like OnePlus 6/6T and OnePlus 5/5T.
Method 1: Use Google Backup
If you are a proud owner of OnePlus phone and backup your files through your Google account on a regular basis, then it would actually be easy for you to recover your lost photos. The best part of using the OnePlus Android phone is that it automatically stores all your data through your personal Google account. However, for that, you need to ensure that you have applied those settings on your device.
Therefore, if you have enabled the automatic backup feature on your OnePlus smartphone, then you can smoothly recover the lost photos. Here are a few easy steps that will prove to be your go-to solution whenever you want to know how to recover deleted photos from OnePlus 7/7Pro:
Step 1: Go to the 'Settings' page and look out for the choice of 'Backup and Restore'. Once you find that option, select it by tapping with the help of your fingertip.
Step 2: Now, click on the 'Restore files' option. After that, you will be guided to enter your Google credentials. Remember to use the same Google ID and password that you had used while setting the backup for your OnePlus 7 mobile phone.
Step 3: Find the data or photos that you are willing to restore and select them all at once. Now, select the 'Restore' option again and let Google restore the lost photos.
Step 4: After the process gets completed, a pop-up message will be displayed on your screen to tell that the restoration process has been completed. Now, you just need to restart your device and you will be able to see the deleted photos once again on your device.
Method 2: Use the OnePlus Switch App
OnePlus has provided a unique app called OnePlus Switch App in their Android phones that not only enables you to recover the lost photos of your device but also helps you retrieve deleted messages on OnePlus.
However, for that, you need to create a backup of the data first in order to recover any lost files later. Follow these steps to create a OnePlus backup and to recover the lost OnePlus files from the backup:
Step 1: Download the OnePlus Switch App by using the link above.
Step 2: After you launch the app, you will be able to see the 'backup and restore' option right at the bottom of your screen. Tap on it and you will get to see two options viz. 'New Backup' and 'Restore Backup'.
Step 3: After that, you will have to tap on the new backup option since you will have to backup the data first. Now, select all the data types and files that you wish to create a backup for. Messages, videos, call logs, photos, applications and even system data can be backed up using this process.
Step 4: Now, tap on the option 'Backup Now' and let the device complete the process. Once the process gets completed, you will find a backup folder in the internal drive of your OnePlus 7 phone.
Step 5: Do not forget to copy this folder on your computer's hard disk especially when you are restoring the factory settings on your phone. Once you have lost the data or photos or performed a factory reset, you can retrieve all the lost data from this folder on your computer.
Step 6: Simply, connect your One Plus device with your laptop or computer and copy the folder to the exact location where you had duplicated it i.e. on the internal memory of your device.
Step 7: After that, open the OnePlus Switch app again. Tap on the option called 'Restore Backup' and press your fingertips on the option 'Restore Backup' and select all the photos and other data files that you wish to recover.

Note: This method will also restore the applications that were wiped out during the factory reset. However, the user data from these applications might not get saved in this process.
Method 3: Use OnePlus Data Recovery Software
One of the reliable and most trusted methods to recover photos from OnePlus 7/7 Pro or any other mobile phones is by using recovery software like Jihosoft Android Data Recovery for OnePlus. No matter what kind of data you want to retrieve, this excellent OnePlus Data Recovery software will help you get the deleted data back with ease.
Software Features:
Recover deleted photos, videos, audios, contacts, SMS messages, call log, WhatsApp and Viber attachments from OnePlus.
Restore data on OnePlus that lost due to various situations, such as deletion, formatting, etc.
Powerful preview function to view all the scanned files before recovery.
Support multiple Android phones and tablets, for example, Samsung Galaxy S10 and Huawei P30 Pro, running Android OS from Android 4.1 to Android 9.0.
Here's a step by step process that will guide you to retrieve deleted messages, photos and other files from OnePlus phone:
Step 1: Install the software and launch it on your computer.
Step 2: Connect your phone to the computer and enable the debugging mode.
Step 3: Once the software identifies your phone, you can either scan all the data on the phone or select a certain file type to scan for.

Step 4: After the software scans your device for all the lost files and data, it will present to you a list of folders and files. Select the files that you wish to recover and tap on the 'Recover' button to recover all of them at once.

Note: Sometimes the software takes time and it may not find certain deleted files. It is mainly because those deleted files have already been overwritten. Therefore, it is recommended that you should stop using your phone anymore after data loss happens.
Conclusion
These are some simple methods and steps that will help you recover files from OnePlus 7/7 Pro and other Android phones and tablets with or without backup. Please feel free to connect with us with more information and details.