How to Recover Deleted Snapchat Pictures and Memories on Android
Social media has played an important in the past decade in our daily lives. Socially we are much more active these days and today we have various social media platforms to express ourselves to a wide amount of audience. And among all the social media apps, Snapchat is getting more and more popular among the new generation rapidly.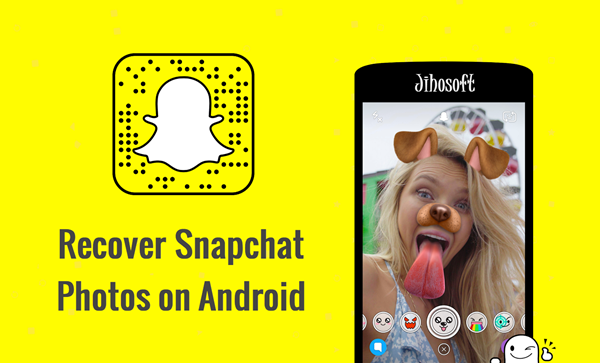 Snapchat, as many seasoned snappers already know, is a very popular app that allows you to upload and share quick photos and videos with friends. You can add text and filters to the photos/videos you captured, and send them to anyone you want. This is the main feature provided by Snapchat. If you want to share some funny images and videos or showing your unique talent via videos, Snapchat will surely give you an awesome experience. Moreover, with some Snapchat saver apps, you can even save other people's Snapchats secretly.
Tip: Here are the best 5 Snapchat like face filter apps for Android for you to have more fun with tons of filters.
Every app has some disadvantages that make them irritative, so this Snapchat also comes with some "self-destruct" features, for example, Snapchat itself will not working on Android. However, among all these features, the most unbearable one for some users is that, unlike its competitor Instagram, Snapchat users can only set a 1-10 seconds limit, and recipients can view the photos or videos during the time limit. Once the times gets over, the item you've sent automatically get deleted by Snapchat, which is very annoying at times.
At times, you might feel of saving and recovering your deleted Snapchat memories on your Android phone, and as you know, every problem has a solution. So in this article, we will discuss about 3 reliable ways to recover all the deleted Snapchat photos on Android without any hassle at all.
Method 1. Recover Snapchat Photos on Android from Cache Files
One of the best features about Android smartphones is that they keep a fixed size cache memory for every app that you install on your device and this helps you out a lot.
The Android system saves an extension of all the files present on your device. Although the cache files are already present in the internal storage, it never really shows up in the main folder to avoid any duplication of files. So, even if you accidentally delete your Snapchat photos, you can try to find them in your cache file folder by the following steps:
Step 1. Open the File manager on Android device, and you'll see a folder named Android. Then open it and next, open the Data folder when you find it.
Step 2. In that folder, you will see a list of all applications installed on your device. Then find a folder named com.snapchat.android. In that folder, you'll locate the Cache folder which is your next destination.
Step 3. Now in the Cache folder, you'll surely find all your deleted photos in the received_image_snaps folder. You just have to access them and open these files to recover all your Snapchat photos back into your Android device.

Method 2. Recover Snapchat Photos on Android from Cloud
If you are unable to retrieve deleted Snapchat photos back to Android through the Android cache folder, then you can try to find them through cloud storage backup. As most of the Android devices have the auto sync feature, and if your phone is one of them and you have enabled this feature on your device, then your Android device will automatically create a backup of all your photos on the cloud.
Google Drive is one of the best Cloud storage options for Android users to backup and restore WhatsApp as well as Snapchat. Hence, it's very easy to recover Android Snapchat pictures from the Drive. In this way, you will be able to access all of these photos even if they get deleted from the Snapchat application. To retrieve all your Snapchat photos from the Google Drive, follow these steps to recover Snapchat photos on Android without computer:
Step 1. Firstly you need to sign in to your Google account using the valid credentials.
Step 2. Open the Drive and tap on the recent backup folder, or open the Photos from the Drive itself. It will display all your photos that were present during the last backup and will also contain all the photos that you had uploaded on your Snapchat account.
Step 3. Select all the photos you want to recover, and then choose the restore option to recover the Snapchat pictures to your Android device. This will compulsorily download all your deleted photos on your phone. After that, you are able to view and use the photos via your smartphone's gallery.

Method 3. Recover Snapchat Photos using Snapchat Photo Recovery Tool for Android
As the name suggests, this Jihosoft Android Data Recovery software allows you to recover all types of lost data from your Android device easily without any complexity whatsoever. Besides deleted photos, this program also can be used to recover lost contacts, SMS messages, call history, videos and other files from Android phone including Samsung Galaxy, Huawei, LG, HTC, Sony and etc.
This software needs to be installed on your PC, so that you don't need to install any third party app on your phone, which may generate new data on your phone and overwrite the deleted photos. And then, you should connect your Android device to the computer via a USB cable, and then this Data Recovery software will do the rest and eases your job.
So here are the steps you have to follow to recover all your deleted Snapchat photos via Jihosoft Android Data Recovery software:
Step 1. Download and install the software. Then connect your Android device using a USB cable to your Windows PC or Mac computer.
Step 2. Now launch the software on your PC, and wait for it to recognize your Android smartphone.
Step 3. Then choose the file types that you need to recover, and after that, let the program scans for the files on your Android device.

Step 4. Now you'll get the preview of all your lost data including files, videos, Snapchat photos and texts, and others in the scan result.
Step 5. Just tap on the deleted Snapchat photo you want to recover back and confirm the restoration process by clicking on the "Recover" button.

Step 6. After the recovery finishes, all the lost photos get restored back automatically. And the lost data will be exported in CSV, and HTML formats to a computer for reference or printing.
Isn't the recovery process with Jihosoft Android Data recovery that simple? Just a few simple steps and all your lost Snapchat photos instantly get recovered.
Conclusion
To sum up the whole story, Snapchat does have a major disadvantage, but nevertheless, it can be resolved using the above three methods. First, try the first and the most simple method for Snapchat photo recovery for Android, if you do not find the images back by that way, follow the second simple step.
At last, if both the first two methods fail, then use the third method which will 100% work to recover back deleted Snapchat memories from your Android smartphone without backup. Use all of the methods wisely and safely to recover back your deleted Snapchat photos without any hassle.