In computing, the recycle bin is temporary storage for files that have been deleted in a file manager by the user, but not yet permanently erased from the file system. Typically, a recycle bin is presented as a special file directory to the user, allowing the user to browse deleted files, undelete those that were deleted by mistake, or deleted them permanently.
When you empty the Recycle Bin or delete a file inside it, Windows won't be able to recover the files, you can consider them permanently deleted. To recover permanently deleted files, you will need the use of a third-party software.
Jihosoft File Recovery is such a powerful Recycle Bin Deleted Files Recovery application. It will perform a full scan of your computer hard drive C to find and list all files including documents, photos, music, video, music, zip, etc deleted or emptied from your recycle bin for selective recovering.
Note: If you want to recover files deleted from trash Mac, you can download Jihosoft File Recovery for Mac.
How to Recover Files Deleted or Emptied from Recycle Bin
Step one: Install and run Jihosoft File Recovery.
Download and start the recovery program on your computer to recover deleted files from recycle bin.
Step two: Specify partition to scan and recover.
Select and check "Drive C" from "Disk 1" region in the left panel to scan for lost files.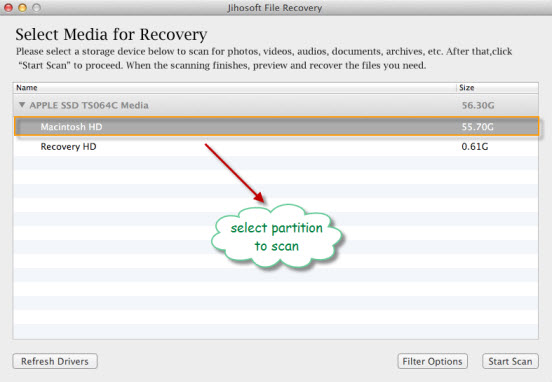 Step three: Select normal scan mode.
Select "Normal" scan mode to scan for files deleted and emptied from recycle bin. When selected, hit right-bottom "Scan" button to begin the file scanning process.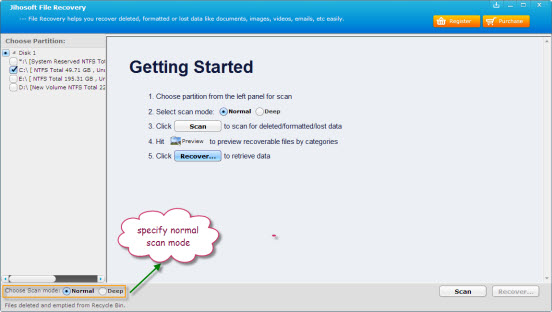 Step four: Preview scan results.
When the scan is done, all the recoverable files will be listed in the left panel by folders. Click "Recycle Bin" folder to view all the files under this folder by file name, size, type, modified time, created time and detailed contents in the right panel.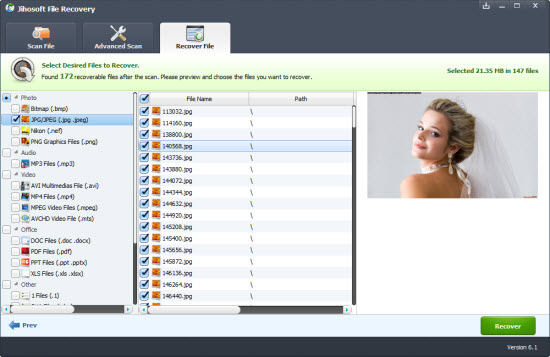 Step five: Recover Recycle Bin Deleted Files.
Check the files you want to recover and hit right-bottom "Recover" button to begin the recycle bin deleted file recovering process.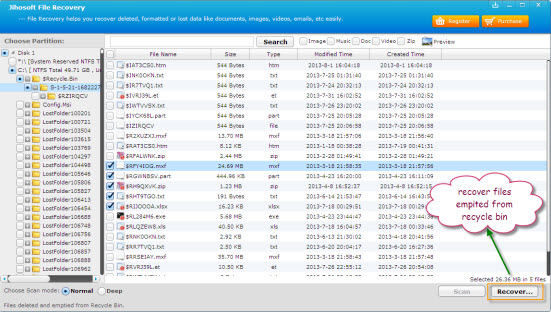 Video Guide about how to recover files deleted or emptied from Recycle Bin
Related Articles
comments powered by

Disqus