6 Methods to Fix Ethernet Doesn't Have a Valid IP Configuration
Network has already become one of the necessities in our life and work today. What if, however, your internet connection breaks down and won't get connected no matter how many times you click the mouse? Most people would use the default Windows Network Diagnostics tool in Windows 11/10/7. Unfortunately, the tool often fails to fix the issue and return a warning "Ethernet doesn't have a valid IP configuration". What is that and how to fix it? Keep reading to check the further description and a total of 6 possible solutions.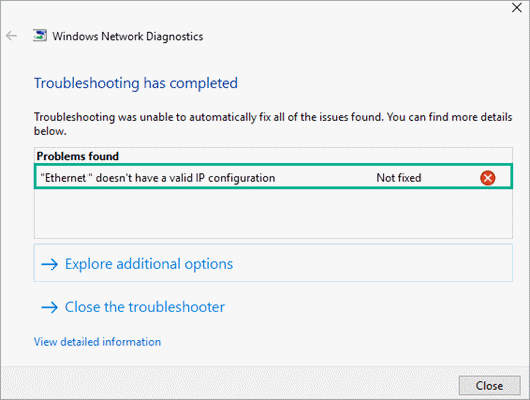 Why Ethernet Doesn't Have a Valid IP Configuration?
"Ethernet doesn't have a valid IP configuration" is a major and common issue among the users all over the world. As we already mentioned, there are a variety of reasons for this instability of ethernet connection. The first one and the most common reason responsible for this issue is the fault present in the Router. You need to check your router for possible causes, which will be described in Fix 3 below. Another common reason for the issue is the error in the NIC (Network Interface Card) which is present in PC. And the last possible reason behind this issue is the incorrect assigned IP address to the PC, and you need to change IP address or set it to automatic.
It is not possible to name all the possible reasons here, but don't worry about it. We will discuss the root cause of every reason in details and also, we will suggest you the best possible fix to resolve the issue.
Pro tips: Data loss is another common concern of many people. In case it happens to you, don't hesitate to try Jihosoft File Recovery to get back your lost photos, videos or documents as soon as possible.
Fix 1: Restart the PC with Fast Startup Disabled
Always keep in your mind that every time you face computer issues, just reboot your PC and you will see that in the majority of the cases, the issue gets resolved in first attempt. Unlike other minor issues, however, the normal reboot won't work for this issue. You need to disable the Fast Startup option before rebooting.
As the name of this process itself suggest, this process simply helps the PC to start in very less time. Fast startup is a process which is developed to load the system settings from main memory to the cache memory. Although this process doesn't create troubles, sometimes you can disable it to get rid of the issue which you are facing. To fix the issue of Ethernet, you need to disable it. The following steps are based on Windows 10. For Windows 7 or earlier OS, the Power Option can be found on Control Panel > Hardware and Sound.
Step 1. Navigate the cursor to the Start menu and right-click on it.
Step 2. Find and click Power Options tab.
Step 3. Scroll down on the right pane, then click Additional power settings.

Step 4. On the new window, click Choose what the power buttons do on the left pane.

Step 5. Click Change settings that are currently unavailable.

Step 6. Scroll down, then untick Turn on fast startup (recommended) to disable it.

Step 7. Save changes and reboot your computer to see if the issue has been resolved or not.
Fix 2: By Checking the NIC (Network Adaptor Settings)
The router which is used to establish internet connection is fully responsible to assign the IP address to the PC automatically. If the IP address is not assigned correctly, then you have to change the default settings of Network connections again to automatic. You have to follow some easy steps to do the same:
Step 1. Press Windows key + R to open Run dialogue.
Step 2. Type ncpa.cpl in the box and hit Enter.

Step 3. In the Network Connections window, right-click your network adapter (usually the connected one), then choose Properties.

Step 4. In the Properties window, select Internet protocol version 4 TCP/IPv4, then click the Properties button below.
Step 5. On the new window, make sure to tick Obtain an IP Address Automatically and Obtain DNS Server Address Automatically.
Step 6. Click OK to apply the changes.
Reboot your PC and connect your PC to the ethernet again to see if this issue is resolved or not. The majority of the users will surely get positive results after applying this fix.
Fix 3: Reboot the Router and Check the Ethernet Cable
If the above method doesn't work for you, then you need to check the hardware parts involved with the ethernet connection. You need to restart the router or modem. You can easily do this task by switching off the power supply and then after, turning it on later.
Along with the modem or router, you need to check the Ethernet cable in case it is faulty. Though not common, some users did find the ethernet cable to be the accused one. There may be cuts or other issues in the wire which need to be fixed.
Fix 4: By Resetting Network Settings in Your PC
There is a probability that some of the enabled or disabled options which are of no such use for you are creating the troubles in the Ethernet connection, so you have to reset the Network settings of your PC.
Step 1. Click the Start menu, type CMD, then right-click on Command Prompt and choose Run as administrator.

Step 2. In the command prompt window, enter the following commands one by one and hit Enter after each line:

ipconfig /flushdns
ipconfig /renew
nbtstat –R
nbtstat -RR
netsh int ip reset c:/resetlog.txt
netsh winsock reset

Step 3. Restart your PC to enable all the settings.
Step 4. Navigate to the Network Connections window as described in Fix 2, then right-click on the Ethernet hardware and choose Disable, and Enable it after a few seconds.
Fix 5: Check the Connection of Cables and Other Equipment
There are also some users who haven't had connected the wires and routers with their PC in a right-manner. You have to check all the connections thoroughly so that there is no margin of error left with it. You have to connect wires tightly and strongly because a loose connection may give birth to this issue which is pretty annoying for the users to fix it. Moreover, you will also have to ensure that all the other external hardware parts which have been attached to your PC don't use internet till this issue gets resolved.
Fix 6: Contact the Internet Service Provider (ISP) to Resolve the Issue
If you are not able to resolve this issue at your personal level, then you need to contact the Internet Service Provider of your local area to consult about this issue. He/she can help you regarding this issue in the best possible manner because this is their daily work and a lot of users facing this issue.
Conclusion
We hope that you will give a positive node to our today's article. Ethernet is used by millions of users over the world and these are some really very common issues which need to be fixed as quickly as possible. If you were also facing similar internet issue, for example, wondering "why is my internet so low", then please let us know your experience with these fixes in the comments section below.