5 Best Free Photo Viewer Apps for Windows 10 PC in 2021
Though people are more willing to take photos with their mobile phones today, viewing pictures on a PC is still a common need. Unfortunately, it is quite difficult to find an ideal option among the outdated or complicated photo viewers as everyone knows it is hard to make a profit in this industry. For viewing and reliving the past beautiful memory, the in-built Windows Photo Viewer has been our favorite for this purpose since the time we first held a mouse. However, Windows Photo Viewer is missing in Windows 10.
In the guide below, we will cover the top 5 photo viewer apps for Windows 10. They may become good alternatives to the Windows Photo Viewer app. Some of the programs listed below are not only image viewers, but also pictures managers. Moreover, all of them from the list can be used for editing pictures.
1. Microsoft Photos
People who are not used to Windows 10 may find that Windows Photo Viewer is replaced by a new photo viewer and editor. Microsoft Photos allows users to preview the pictures in their computer and connected removable disks. The app has simple user interface. You can also use the slideshow feature to automatically play the pictures. Comparing with Windows Photo Viewer, the new photo viewer app is less easy to use but greatly upgraded in terms of picture management.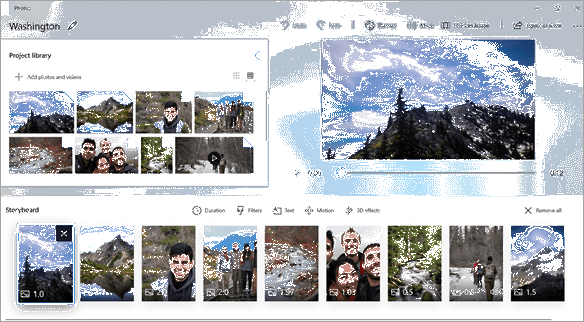 You can even use some special effects with Microsoft Photos, such as adding 3D butterflies or lasers, whichever suits your tastes better. Microsoft Photos also specializes in being a more stylish photo viewer than many of the other selections, which is something that many people appreciate. Microsoft Photos is a free photo viewer for Windows 10, which is the best part.
This program might seem relatively simplistic in the eyes of people who work with some of the most high-end photos editing software, but at the same time, Microsoft Photos is a program that gets the job done quickly and efficiently. And sometimes, that's all you really need.
Bonus tips: In case you mistakenly deleted important images with a photo viewer for Windows 10, don't hesitate to use Jihosoft Photo Recovery Software to get them back as soon as possible.
2. Apowersoft Photo Viewer
Apowersoft Photo Viewer is no doubt one of the best photo viewers for Windows 10. With straightforward navigation, this app is actually much more than a Windows picture viewer. You can simply drag your photo to a program Window to open it. This image viewer also provides some basic editing options –add effects and text, resize an image, rotate it, delete unwanted parts, and many more. After you are done editing your pictures, you can upload them to a cloud or share to your social accounts. With this photo editor, you can easily take a screenshot in a Windows PC. There is also a thumbnail gallery at the bottom part of the program window which is very helpful when you work with multiple photos. You can also sort your pictures by adding them to the favorites folder. If you want to view a large image, use the full screen mode.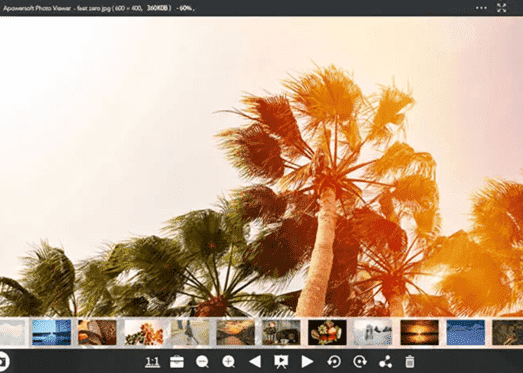 The photo viewer is available for multiple platforms. The program interface is rather simple. The app provides acquiring images from scanner, printing selected images and sending them by email. This image viewer is available free of charge for personal use.
When we talk about free photo viewers for Windows 10, 123 Photo Viewer should not be left behind. If you are not heavy users, then you will be going to love it. The program is for the basic users, who want to experience something extraordinary. The photo viewer can open almost any popular image formats, including but not limited to JPEG, DDS, PSD, WEBP, TGA, etc.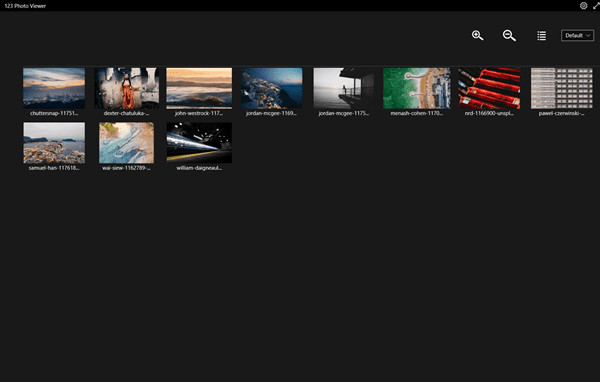 Single click magnifying is one of the best features of this free photo viewer. The software has fast magnification time. It supports batch operation for fulfilling various purposes. Moreover, the software offers convenience for switching between previous and next images. Definitely, it is an interesting lightweight photo viewer that does more than default version of Microsoft, with a very efficient thumbnail solution, fast magnificent experience and includes format conversion, renaming and size change features. Only available for Windows 10 version, this program allows users to view and manage their photos at the same time. It is bound with an image editor so users can do some quick fixes to their images like red eye removal, cropping etc. However, you may need extra solutions to open and view RAW images taken by Nikon/Canon DSLR cameras.
Movavi Photo Manager is a convenient image viewer which can offer many more functions other than viewing photos. Movavi Photo Manager will help you manage your entire photo collection, including images in RAW, JPEG, PNG, and many other formats. Movavi Photo Manager will be an essential tool for anyone who values their time as much as their photo collection. Your images will be sorted automatically by date and GPS coordinates. You can add tags to your image files so you can easily navigate around your photo library.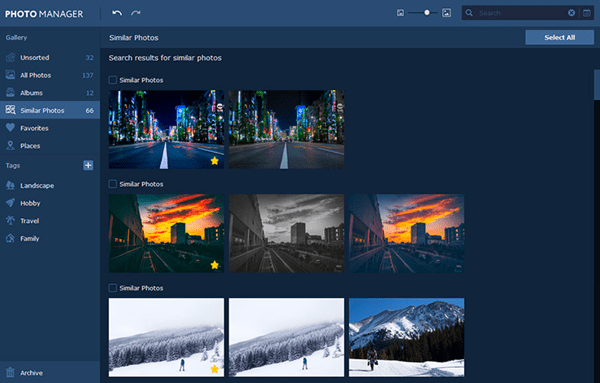 The program automatically selects visually similar images. You can edit them together, add them to an album, or choose the best and delete the rest. Moreover, it provides you with an option to view photos in many popular image formats using Movavi's fast and reliable picture organizer. Reviews the automatically created photo albums sorted by country. Filter images in these albums by city. The photo viewer is available for both Windows and Mac OS to make sure that navigating thousands of pictures is easy.
Google Photos is one of the best online services for people who love taking lots of pictures and videos. It combines cloud-based storage with its AI-based organization of images and clips. After taking thousands of vacation photos with your smartphone, you can choose to sync or upload the memories to Google Photos, then start the further work of organizing the pictures in a computer with a browser. This is a great app that most people use anyway, but its secondary functionality means that having another gallery app is essentially redundant. If you use Google Photos, you might as well use it as your gallery app too. You can download the mobile app from Google Play for free if it is not in-built in your phone.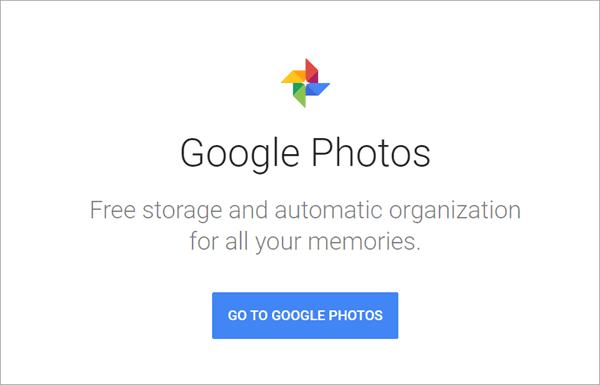 The only downside is that the images and videos will be compressed in Google's high-quality settings. You get themes, fingerprints authentication, and you can even hide albums you don't want. Google Photos is a standout new option in a gallery apps scene that doesn't see a lot of new apps anymore. The design of the app is solid and it's not difficult to use. Best of all is, it plays GIFs.
Final Thought
Some of the best photo viewer apps are listed here for Windows 10, each of which has its own selling point. With these programs, you can do a bunch of things to manage and enrich your images. These apps have the ability to win you after you try them once. You can choose any photo viewer from the list as all are free to use. Though these gallery apps can help you keep and organize your images perfectly, they cannot prevent you from photo loss on your device. Don't forget to try the photo recovery software mentioned in this article.