Best 10 Free Firewall for Windows 11/10 (2022)
Everyday thousands of people are suffering from threatening of viruses and hackers, which could cause privacy leaking or property loss. Antivirus software and external firewall software are the best solutions for common users to keep their devices and data protected from online threats. The best part of such software is that they could come entirely free and protect your computer silently. Let us take a look on the list of top firewall software in 2022 for Windows 11/10/8/7 which will keep your computer virus and malware free.
Bonus tips: In case you accidentally lost important data, like pictures, videos or documents, don't hesitate to use one of the best file recovery software to get them back as soon as possible.
Best 10 Free Firewall of 2022
GlassWire is one of the most prominent firewall software from the protection of online security problems. It renders high-quality protection to the operating system from incoming and outgoing online attacks. It starts working immediately after installation on the PC. Also, it works very efficiently without showing any other or harmful effects. The best part of this firewall software is that it works internet-connected Windows PC. It blocks all the harmful components entering the PC instantly.
Features of GlassWire:
It gives the complete details about the data usage and incoming and outgoing files.
It optimizes the system regularly for the selection of the viruses, malware, and trojans.
It sends notifications about network related changes and specifications.
It checks the WiFi connection of the PC and confirms any security warning.
It gives alerts if any unauthorized device gets connected to the WiFi of your network.
It tracks the data usage and pushes notification about it.
You can check the data usage of all the applications and software present on the PC.
It is featured with Visual Network Monitoring for the identification of network activities with the help of a bar and chart.
It also offers the service of WiFi Evil Twin Detection, which plays a vital role in the protection from cyber attacks.
It enables the user to put the PC in Lock Down Mode.
It represents the data with Mini Graph, which is active all the time. So, you need not launch the software frequently to check the system and its functionality.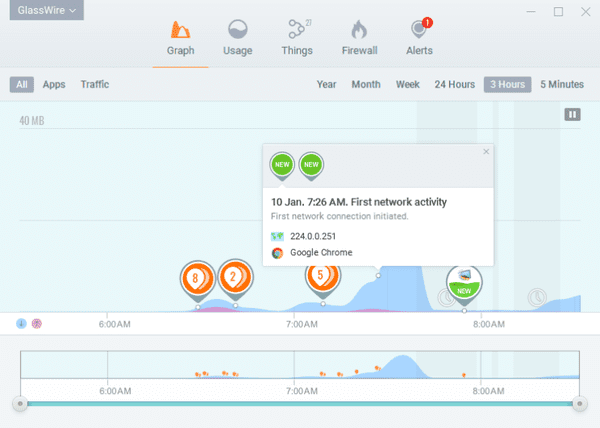 ZoneAlarm is a must-have application for all the versions of Windows PC to protect it from the invasion of viruses, identity theft, malware, phishing attacks, ransomware, spyware and other such things. It is the oldest software for the protection of the PC which is working correctly and efficiently. It offers many features that are required to keep the PC healthy and to work without any hassle.
Features of ZoneAlarm:
This firewall software is specialized with an antivirus program that works for blocking the path of cyber attacks.
It has a simple and interactive interface that can be easily customized as per the preference of the user.
It not only protects the system but also optimizes and renders protection to every application and software of the system.
It protects from the network related issues by scanning the inbound and outbound connections of the PC.
It is free and lightweight software poultry used for blocking the unauthorized and unwanted traffic being connected to the network.
It also assists the victims of cyber attacks and helps them to sort the problem.
It is featured with online backup, public network protection, wireless network protection, and real-time security updates.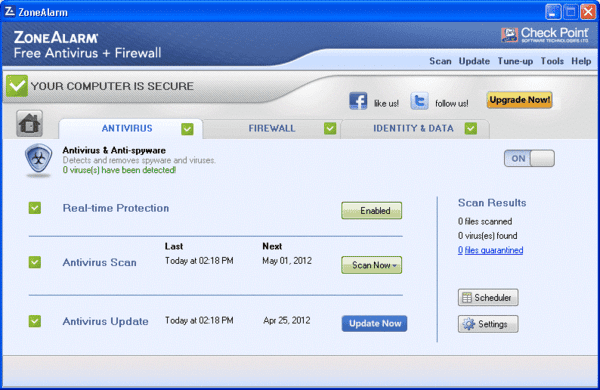 TinyWall is another versatile firewall software for the users of Windows 10 PC. It provides all the security options for the protection from problems causing online. It protects the system from all threat of hackers and infectious programs and safeguards all the precious data and information on the PC. Moreover, it also serves the network system and provides information about all the connected devices to the network.
Features of TinyWall:
It has an hassle-free interface without any pop-ups and ads.
You can easily modify and personalize its settings for the protection from cyber attacks.
It scans the inbound and outbound connections and renders essential security.
It offers WiFi protection and real-time alerts about any invasion.
It is effortless to operate and use.
It is an ideal software both for professional and newbie.
It is featured with instant firewall configuration and protection of the host files.
It also offers customizable options for controlling LAN.
It consists of both blacklist and whitelist for blocking and adding harmful and safe websites, respectively.
It is a very lightweight software and takes only 1 MB of space of the hard drive.
There are hotkeys available for the usage of this software. It is beneficial in easy and quick access to its services and options.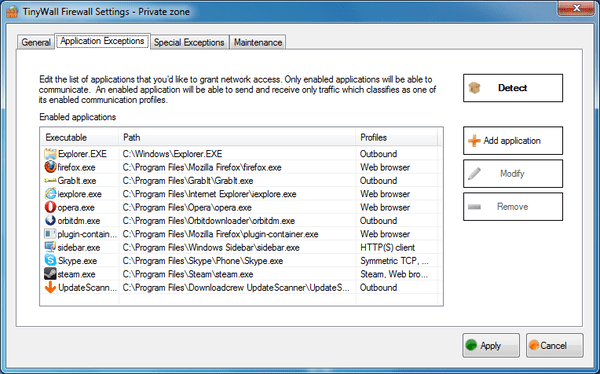 Comodo Firewall is a must-have application for the protection from online threats. It gives a strong physic barrier to block the entrance of harmful components like viruses, malware, spyware, etc. It is a well-structured firewall software that helps the user to add up programs for blocking the dangerous website and renders protection from cyber attacks. It is a very easy to use program which can be easily installed on any version of Windows PC and works efficiently for all types of network related issues.
Features of Comodo Firewall:
It allows and blocks an application to connect with the internet.
It is helpful in the management of the network's visibility to other devices.
It renders customizable options to manage and set up network connections.
It is featured with an Ad blocker and custom DNS servers.
It is capable of blocking any program entering and leaving the network.
It is compatible with Windows 10, 8 and 7.
It consists of secure sandboxing options.
It pushes notifications taking all the suspicious files and programs.
It optimizes and scans the system regularly for security checking.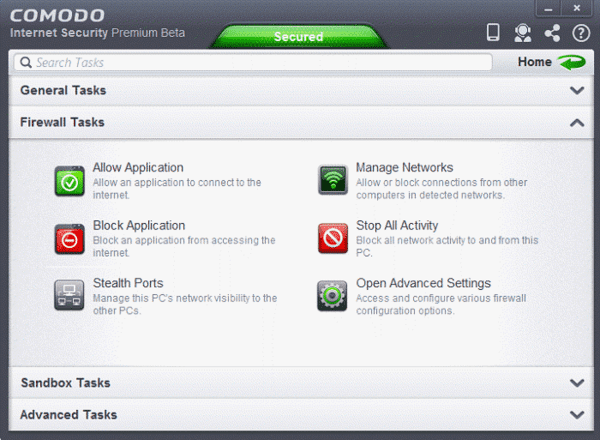 You can't miss the name of NetDefender while talking about the free and useful firewall software. It consists of multiple features and is helpful in the maintenance of the basic security demands of Windows PC. Its features are simple to use and are very efficient to protect the lifeline of the device. Moreover, it has a simple and intuitive interface that make it convenient to be used.
Features of NetDefender:
It is perfectly designed to be used by beginners.
It has a simple and interactive interface.
It is a hassle free software without any inclusion of pop-ups and ads.
You can easily customize the connection and disconnection of the apps with the network.
It enables the user to block the FTP connections, protocols, and devices connected to the system's network.
It renders customizable options to manage the IP address.
It provides security against spoofing ARP and other connection manipulation.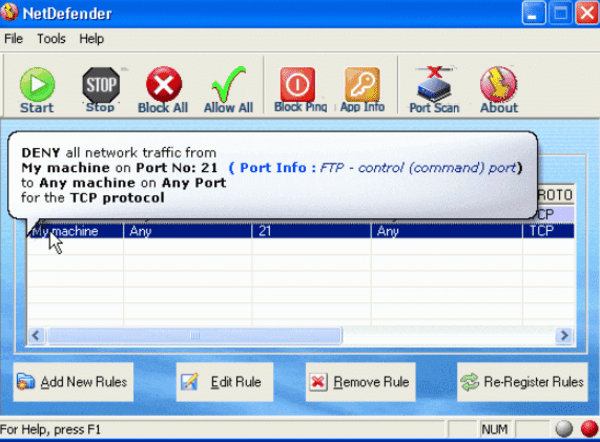 OpenDNS is another Windows 10 firewall software with numerous features available to be used for advanced protection of the PC. It seizes the intruders which make social media sites as the source. It is highly effective for excellent and full-scale protection against the cyber-attacks. All its advanced features make it a reliable software and is currently used by more than 90 million users from all over the globe.
Features of OpenDNS:
It has a simple, interactive and user-friendly interface.
It is featured with non-intrusive security services and filtration options.
It optimizes the illegal and non-trusted content and blocks them.
It is a flexible software with several advanced controlling options.
It helps change the workability of the router to handle the traffic.
It has incredible network security settings that can be easily managed and maintained.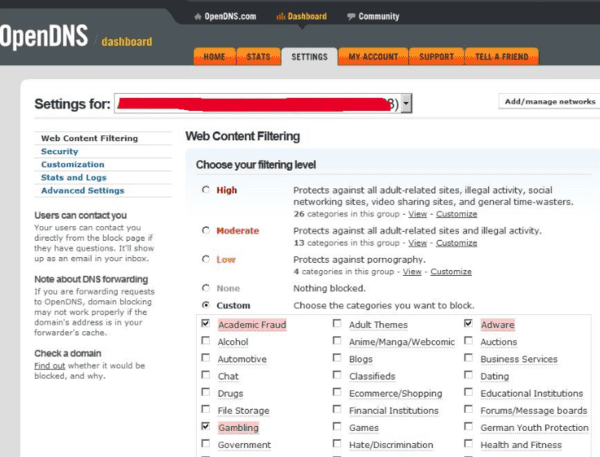 If you are looking for a highly advanced and top-level firewall security system, then go for PeerBlock for your Windows PC. It is capable of protecting the PC from all kinds of inbound and outbound attacks and online threats. It is well-designed and embedded with high-level programs and blocks all the dangerous and non-trusted elements instantly based upon the intruding activities. You can use this software for the protection from spyware, ransomware, ads, etc.
Features of PeerBlock:
It is useful and lightweight software.
It serves the network from unwanted traffic from other IP addresses.
It can easily installed and set up on a Windows PC.
This software checks the incoming and outgoing files correctly and blocks the damaged and dangerous files immediately.
It allows its, users, to make their block list.
It enables the user to view and clear logs and history to make the computer run smoothly.
It is effortless to use and perfect for non-technical people.
It protects and secured the Windows PC and personal information from all kinds of virtual danger.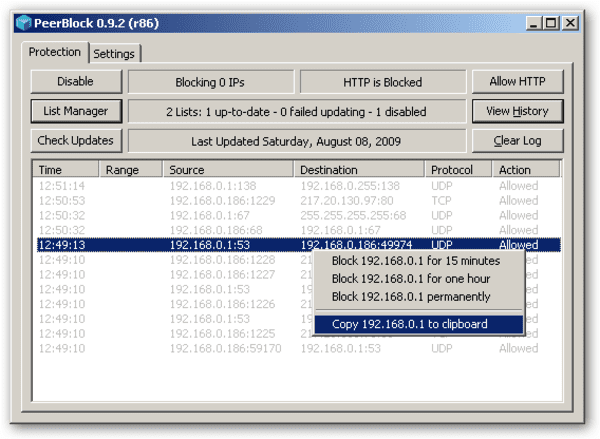 Outpost Firewall Pro is a powerful firewall software which is helpful in the maintenance of the PC performance. It renders multiple-layered security and secured the device from online attacks. It is highly popular among users because of its capability to protect the equipment. Moreover, it does not affect the other functionality and system of the PC.
Features of Outpost Firewall PC:
It has a simple and intuitive interface with the system and app guard.
It is a multilingual software with a file/ folder locker.
It is featured with program activity tracker and customizable security layers.
It gives security to wired and wireless networks against eavesdropping.
It puts restrictions on every incoming file and app downloaded from unknown sources.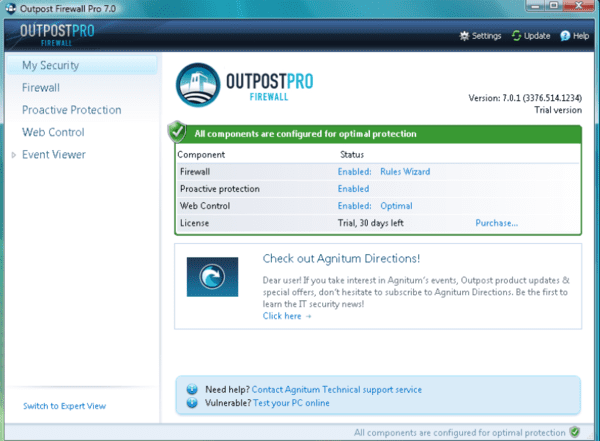 Evorim Free Firewall is a simple and straightforward firewall tool that one can use for protecting the Windows PC from online danger and threats. It is a prevalent software used by professionals and millions of other users from all around the world.
Features of Evorim Free Firewall:
It is featured with paranoid mode, credulous mode and cooperative mode.
It has a simple and interactive interface which is optimized for the touch sensitive device.
It is a multilingual software which is helpful in the Maintainance and regulation of internet traffic.
It detects viruses, malware, spyware, ransomware, and other threats and pushed the notifications to the user.
It does not require any third-party software or program to run and regulate the functions.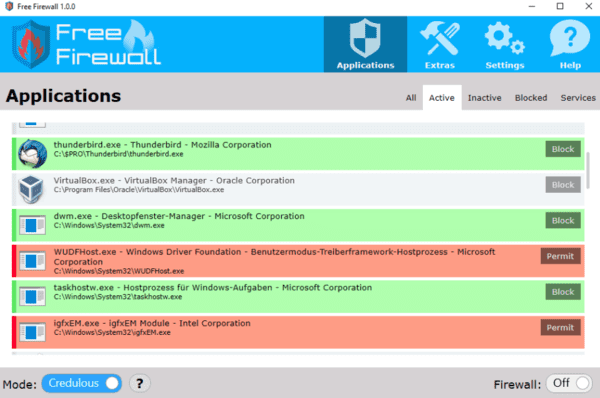 Here comes the last firewall software of the list which is built to give reliable and robust protection to internal and external connections. It not only blocks the entry of viruses, spyware, malware, and ransomware but also prohibits the infectious registry changes, flash banners, pop-up windows, and ads. Apart from all these, it is highly considered for other underlying security of apps and network systems as well.
Features of AVS Firewall:
It has a simple and intuitive interface that can be easily used by even newbies.
Parent control and AVS Registry Cleaner features it.
It enables the user to gain the smooth and fast state of the system.
It is lightweight and free to use.
It allows the user to control the traffic and limit internet access.
The software is compatible with Windows 8, 7, Vista and XP.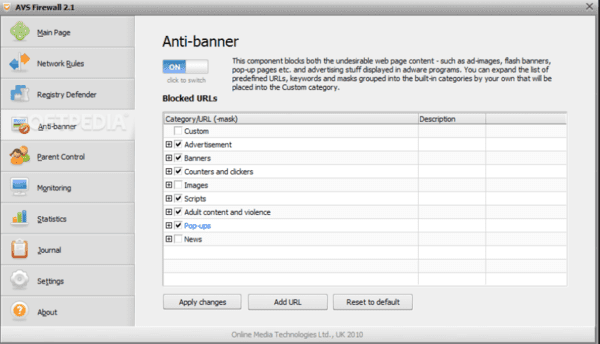 Final Words
The preinstalled Windows Defender in your Windows 10 or Windows 11 computer may not be strong enough to protect your data, but the options of free firewall tools above will be available. You can use any one of these listed software as per your preference. It will not create any harmful effect or issue for your PC. For any other details or queries, write to us through the comment section.