7 Ways to Fix Whea Uncorrectable Error Blue Screen in Windows 11
Solid operating system though it is, Windows often comes into various errors, some of which could even result in a blue screen all of a sudden. However, if you check the blue screen carefully, there are actually a lot of variations of Blue Screen of Death error, such as "There was a problem resetting your PC" and "WHEA_UNCORRECTABLE_ERROR". To fix the Whea Uncorrectable Error efficiently, it is important to find the right solutions for the very case. In this article, you'll know what the Whea Uncorrectable error is and how to fix it in Windows 11/10 with 7 methods.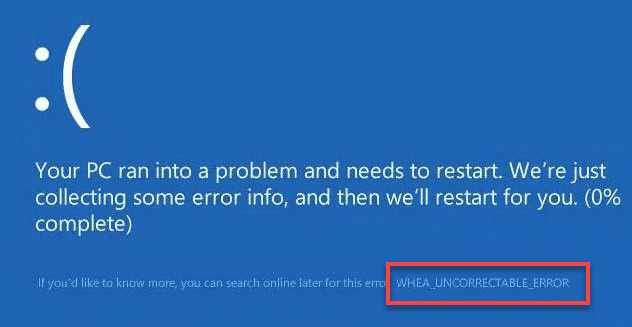 What Is the Whea Uncorrectable Error?
The Whea Uncorrectable Error usually appears on the bottom of a blue screen in Windows 10/11 computers as shown above. WHEA is the short term of Windows Hardware Error Architecture, indicating possible errors on the hardware of your Windows computer. It can be caused due to an overclocked CPU, hardware issues, driver conflicts, corrupted system files or you name it. Sometimes it may disappear after rebooting, but, more often than not, users may not be able to access the desktop successfully. In sum, the error is recognized as uncorrectable by the operating system, but there are some solutions we can try.
It is not horrible to find the Whea Uncorrectable Error in Windows 10, because there are several solutions to fix it. However, it is possible that some users' data could be lost if the error is not handled properly. In case you need to recover lost files from Windows 10 computer, don't hesitate to try with Jihosoft File Recovery Software as soon as possible.
Method 1. Disable Overclock in BIOS
A common cause of Windows 10 Whea Uncorrectable Error is an overclocking CPU which makes a computer less stable. Therefore, let's start with disabling overclock in BIOS.
Step 1. Click Windows 10 Start menu, then go to Settings > Update & security.
Step 2. In Recovery tab, click Restart now.

Step 3. In Advanced startup, go to Troubleshoot > Advanced options > UEFI Firmware Settings, then click Restart.
Step 4. Your computer will restart into BIOS, navigate to Advanced tab, disable Overclock option.
Step 5. Save the change and restart your computer normally.
The steps of enabling the advanced options vary from brand to brand of your computers, which can be found online. After rebooting, check if the problem still exists in your Windows PC.
Method 2. Uninstall Drivers in Safe Mode
In case Method 1 failed to fix the error, it might be a driver conflict issue which needs to be troubleshot in Safe Mode. Please learn how to enable Safe Mode by yourself. The steps below work for certain computers.
Step 1. Restart your Windows PC, press F8 when the logo appears.
Step 2. The computer should now enter Safe Mode.
Step 3. In Safe Mode, right-click on Start menu and choose Device Manager.
Step 4. In Device Manager, check if there is any yellow or red sign, right-click on it and choose Uninstall.

Step 5. Restart your computer to see if the error is fixed.
Method 3. Uninstall Problematic Updates in Windows 10
If the Whea Uncorrectable Error occurs after upgrading to a new Windows 10 build, then the build or some faulty part of it may be responsible for the issue. You can uninstall the problematic update to have a check.
Step 1. In Windows 10, go to Settings > Update & security.
Step 2. On the right pane, click View update history.

Step 3. Click Uninstall updates. You will see a list of previously installed updates.
Step 4. Double-click a specific update to uninstall it.
If it is confirmed that a certain update is the problem-maker, you may block it or wait for a newer update from Microsoft.
Method 4. Check for Hardware Issues
Though we have concluded that the Whea Uncorrectable Error is highly possible a result of hardware issues, it would be better if the above methods could fix the error which takes little effort and cost. Nevertheless, since you're here now, it is time to check hardware issues in your Windows 10 computer.
Step 1. Enter Safe Mode as instructed in Method 2.
Step 2. Press Windows + R shortcut, then type chkdsk in the box and hit Enter.

Step 3. Look through the results returned from the checking program.
You should be warned if the hard drive is not working normally. The checking program will try to repair it. You can also check hard drive for bad sectors with freeware by yourself.
Method 5. Apply Windows Memory Diagnostics
When the RAM of your computers is having problem, there is a great chance for you to experience unstable running, including the Whea Uncorrectable Error. Windows Memory Diagnostics is a hidden system tool in Windows 10 for detecting problems in the RAM.
Step 1. Click the Start menu, type Windows Memory Diagnostic and click it from the result.
Step 2. When a window pops up, click Restart now and check for problems. Make sure to save all your works first.

Step 3. Run the Windows Memory Diagnostic tool to see if there is any problem.
The utility will try to repair possible errors or guide you for further actions.
Method 6. Fix Corrupted System Files
Corrupted system files can also contribute to the WHEA_UNCORRECTABLE_ERROR issue. There is an easy method to check and repair the corrupted system files in Windows 10.
Step 1. Click on the Start menu and type Command Prompt, then right-click on Command Prompt from the list and choose Run as administrator.
Step 2. Type sfc /scannow in Command Prompt and hit enter. The command will scan for critical system files and replace the corrupted ones.
Wait until the process is completed by itself.
Method 7. Perform a System Restore
We leave this method as the last resort because it may do too much so that the users may lose more settings or optimization. Besides, a lot of people don't care to make any system restore points.
If you do have a proper system restore point, then you can go to Control Panel > Recovery > System Restore, select a previous state to restore your Windows 10.
Conclusion
Whether it is a hardware issue or a system glitch, it is always suggested to fix the Whea Uncorrectable Error as soon as possible. Otherwise, you may take the risk of losing important files. If you have any questions or opinions, feel free to share with us in the comment.