4 Methods to Fix Windows 11 Not Reading SD Card
My sd card just isn't showing up. I put it in my laptop and nothing happens I checked My computer nothing nothing in Drive E. It's just not working. What can I do to get my SD card detected or showing up in Windows File Explorer?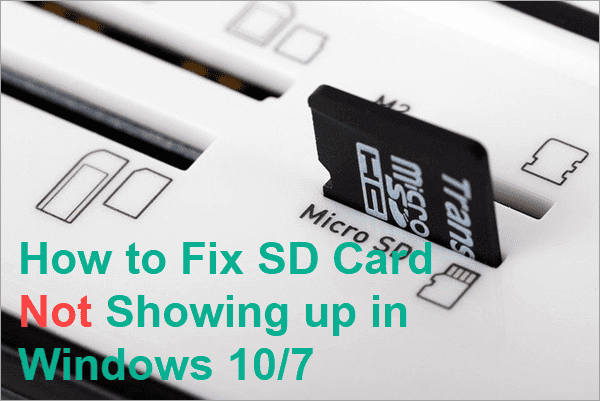 The issue of SD card not showing up has been troubling a lot of users since Windows 7 to Windows 11. Being denied for access to one's own SD card is kind of a nightmare for many people, because everyone has his/her precious photos, videos or other files and somehow failed to be backed up when the accidents happen. It is reported that SD card is where accidental errors occur most frequently as the tiny memory cards are widely used in various electronic devices, such as digital camera, mobile phone, monitoring equipment, etc. Furthermore, it is not possible to backup SD card before formatting when it is a really serious problem. If you're also in the trouble of "SD card not showing up in Windows PC", please keep reading to find several methods which have been proven working for thousands of people.
Quick Troubleshooting for SD Card Not Detected in Windows 11/10
Instead of heading to the dozens of possible yet uncertain solutions, we'd like to introduce how to find out the real cause of the problem, or which part of the procedure is in error.
Test the SD card on another PC. Just to check the compatibility issue. It would be better to test if on a computer running on a different version of operating system.
Change to another SD card reader. Maybe you insert a quality SD card into a fake card reader or adaptor.
Scan your computer with an antivirus software. If the problem appears after you downloaded unknown files, you may want to scan your PC for virus infection.
As long as the issue is not caused due to hardware problems, such as SD card damage or card reader failure, there is a great chance to fix the error and restore your data with the methods below.
Tips: If you mistakenly deleted or lost important files, make sure to try to get them back with the Best File Recovery Software. It will help you recover deleted files from SD card, USB flash drive, internal/external hard drive without backup. The program can also back up your SD card as image file.
Method 1. Update SD Card Driver to Fix SD Card Not Showing
An outdated driver is the most common cause of problems on external equipment, including keyboards, mouse and storage devices. If you just upgraded from previous versions of OS to Windows 10, that's the first thing you should do.
Step 1. Press Windows key + X at the same time, then click Device Manager.
Step 2. Click on Disk Drive (or USB controllers) in Device Manager, then right click on your USB drive and select Update Driver.
Step 3. Choose Search automatically for updated drivers, then follow the wizard to complete the update.
Now, restart your Windows 10 computer in order to apply the change. You can also visit the website of your SD card manufacturer and download the latest driver.
Method 2. Check for Disk Errors with CHKDSK Command
Sometimes system glitch could contribute to SD card not showing up problem, and we need to scan the system for possible errors and try to fix them, which can be done automatically by applying a simple command.
Step 1. Press Windows key + R at the same time, then type "cmd" in the box and hit Enter.
Step 2. Command Prompt will open. You may need to authorize User Account Control if asked.
Step 3. Type the following command and hit Enter. Replace "E" with the drive letter of your SD card. It may take a few minutes to finish.
Once the process is finished, please restart your computer before checking the existence of the problem.
Method 3. Change SD Card Drive Letter
If your SD card was just set up after you bought it or repartitioned it, the device may have a drive letter conflicted with another existing drive. What you should do now is to assign a new and not occupied drive letter to the SD card.
Step 1. Press Windows key + X again, then click Disk Management.
Step 2. Locate your SD card, then right-click on it and choose Change Drive Letter and Path…
Step 3. Follow the wizard on the pop-up window to assign a new drive letter and finish the setup.
The operating system can only recognize disk drivers with unique driver letter, so the steps above should work if that's the case with you.
Method 4. Set up SD Card Again by Applying DISKPART Command
In the worst case when you cannot find the partition of your SD card on Disk Management, you may need to clear the disk and set it up again. In this way, your SD card will be wiped completely and you will lose all the data.
Step 1. Click on Start menu, type "CMD", then right-click on Command Prompt and choose Run as administrator.
Step 2. In Command Prompt (Administrator), type the following lines and hit Enter one by one.

diskpart
list disk
select disk # (replace # with the number of the write-protected drive)
attributes disk clear readonly

Step 3. When you see "Disk attributes cleared successfully" message, close Command Prompt.
Now, check if you can find the SD card showing up in Windows File Explorer.
Bottom Line
"SD card not detected in Windows 11" means the data inside is inaccessible, which could cause a huge loss in time and money. The problem could also happen on Android phones. We hope the solutions in this article would help you restore both the storage device and your precious data. Feel free to let us know your opinions and questions in the comment.