How to Backup SD Card to Computer before Formatting
In many cases, people have to format their SD memory cards, after which the pictures, videos and documents will disappear from the storage device. Backing up data has been frequently mentioned among owners of smartphones, digital cameras, computers and other electronic devices, but it is still not an easy task for everyone. In this article, we are going to introduce the convenient methods to backup SD card before formatting.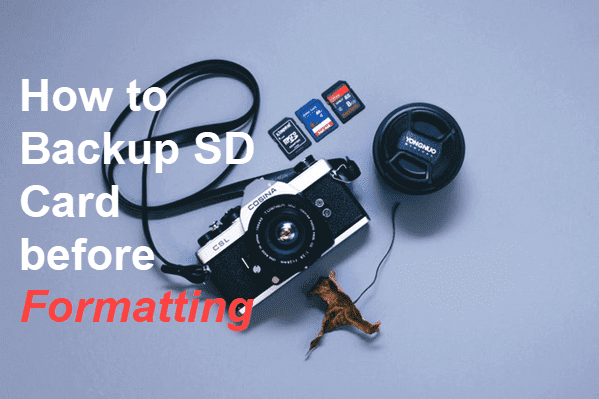 Method 1. How to Backup SD Card to Computer by Copy and Paste
If you don't want to use any third-party tools, copy and paste is the best way to backup SD card data to a laptop. The only barrier, however, is how to build a connection between an SD card and your computer. The thing is simpler in a Mac computer as it is a close circumstance, but Windows PC offers various solutions for different devices.
Case 1. If you connect an SD card to a Windows computer via SD card reader, you can access the storage through Windows File Explorer just like any folder or path on your computer local disks. Nevertheless, it is possible that you need to fix SD card not showing up in Windows due to various reasons.
Case 2. If you connect an Android phone with SD card inserted to a Windows computer, you need to switch from the default Charging Only to MTP mode to authorize data access, which can usually be done quickly on a pop-up window. After that, all the data stored in the SD card will be open to you.
Case 3. If you connect a digital camera with SD card inserted to a Windows computer, it is possible that Windows will only allow you to import pictures and videos from the memory card through a pop-up window.
In Case 1 and 2, you just need to find the files you need in File Explorer, then copy and paste them to the destination. Make sure to use Copy and Paste (Ctrl + C / Ctrl + V) instead of Cut and Paste (Ctrl + X / Ctrl + V), otherwise your data may be lost in case of accidental interruption.
In Case 3, however, all the pictures and videos will be automatically imported to a destination folder before you can move them to a local you specified. The original files on your SD card won't be affected.
Method 2. How to Backup SD Card before Formatting as Image
As described in Method 1, there are risks to copy and paste SD card data to computer as backup, especially when the size of the total data is quite large. During the long-time transfer, any misoperation or accidents could interrupt the process. A better solution is to make the backup of SD card as image file.
An image is a complete copy of a removeable storage device, such as SD card. In this way, the entire data structure of the memory card will be cloned, including visible photos, videos and files as well as invisible data piece, which means you can restore not only the existing data, but also the files you previously deleted from the SD card. For example, you deleted a few photos which you thought no longer useful before making the image backup, the deleted photos could be also included in the image backup.
To backup SD card as image, we need a handy tool – Jihosoft File Recovery, which is a reputable data recovery software for Windows and Mac users. Meanwhile, it can also create a backup image file for your SD card so that you can restore data from the backup later.
Steps to Create Image Backup with Jihosoft File Recovery
Step 1. Run Jihosoft File Recovery and choose Create Image.

Step 2. Select the partition of your SD card, then click Create Image button.

Step 3. Specify a location to save your image backup, then wait the backup to be finished.

Steps to Restore Image Backup with Jihosoft File Recovery
Step 1. Run Jihosoft File Recovery and choose Recover File.
Step 2. Click Load Image, then locate the image backup file on your computer.
Step 3. Click Scan Now to read from the image file, then Restore the data you want.
Note: On Step 3, you could find some files marked in red on the preview screen, which are the data you deleted from the SD card.
Jihosoft File Recovery is an excellent software which has helped thousands of users get back their files lost due to deletion, formatting, system reinstalling and other problems. With it, you can recover deleted files from SD card without backup.
Tips: Now you can feel free to format your SD card. In the worst case that your SD card refuses to be formatted, you can learn how to fix SD card not formatted with CHKDSK or DISKPART commands.
Bottom Line
In this tutorial, we have learnt how to backup SD card to computer before formatting so that you can clean up your memory card with the data protected in advance. You can choose the method suits you most according to the specific need. It is a good habit to make regular backups for your important data on SD card, external hard drive or computer local disk, then move the backup to another local drive or the cloud.