The 7 Best Email Apps & Email Clients for Mac in 2019
Whether you reside in your inbox or simply use it to speak with people who do, email goes to be your daily work life. And if you utilize a Mac, one amongst the most effective belongings you will do to enhance your expertise with email is use a Mac email client. Not like webpage interfaces like Gmail, email clients focus on providing sturdy native applications that square measure additional responsive and feature-rich.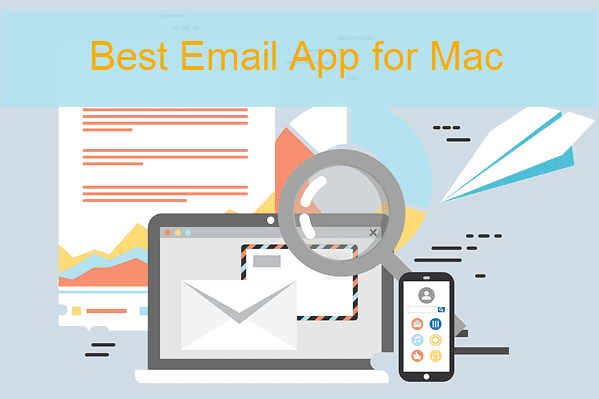 It is quite surprising that emails are still required for the workflows. The aspect of accessing emails via web browsers to using apps with simple, user-friendly designs has been a constant fight. There is a vast difference between an app on iOS and a macOS. It varies with a lot of features lacking between the two. Here are some of the best email apps for Mac.
Why You Still Need an Email Client for Mac in 2019?
Apparently, we can log in to Gmail, Outlook or Yahoo accounts on a browser to check the inbox every day, then why should we install additional apps on our devices for the same purpose? After all, there are thousands of email apps for mobile phones, but some of the best email clients for macOS are not even free. The advantages below of email clients for Mac may remind you where you're here.
Stable productivity. There is usually no waiting time to open an email in a client since it doesn't mainly rely on internet speed. The productivity is ensured with faster speed.
Access email offline. Webmail won't allow you to view the previous emails when you're offline.
Beautiful UI design. Some of the best email clients is characterized with great design and UI, which is very attractive for a specific user group.
Handle multiple email addresses. When you use both Gmail and Yahoo email on a daily basis, the switching between several webpages could be quite troublesome.
A matter of habit. You might get used to the Outlook client in Windows but now have switched to the macOS, then the list of best email clients for Mac is just for you.
Apple Mail – the Official Email App for macOS
Apple will always be in a disadvantageous position while developing apps for the masses since many novices are trying to use it, while also veteran users. They have to take into consideration both the users. Users who have used Apple Mail from the beginning still feel it has been the same all these years.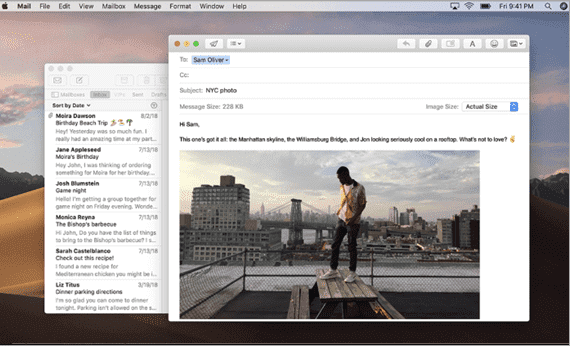 One of the issues with Apple Mail is that it has traditionally been the same from the beginning with little or no change in its features. Only a few new features, like Maildrop, where you can send large attachments via iCloud, mark up on attachments, and VIP support, have been added.
Traditional Apple users will love this app because there is nothing much that has changed. The only drawback is that it has lagged behind many of the latest apps due to its limited updates. If one would like to extend Apple Mail further, make sure you check out plugins like Mailbutler and Mail Act-On. These plugins require the internet for it to improve, so nothing will happen to your email if one is offline.
Bonus Tips: Make sure to save the photo or document attachments downloaded from your inbox properly. If you need to recover mistakenly deleted files from your Mac computer, don't hesitate to try with Jihosoft File Recovery for Mac, which can help you retrieve photos, videos, audios, documents as well as Outlook backup PST files.
Many professionals have rated Outlook as the best email app for iPhone. However, the app on iPhone is different than the one you would use on your Mac. The design, layout, and the user interface are different. Outlook on the Mac has been given a different treatment than the one on the iPhone. It feels like a completely new app. Microsoft has announced that they had been working to make it look more like the iOS version. It is still stagnant with little updates to make it look prettier. Apart from that, nothing else has changed, and it still looks like a weak competitor against other email apps. If Microsoft brings out the changes quickly, it could well be a strong contender. Nevertheless, if you are a business user, using Outlook exchange on Mac will be an ideal suggestion.
Spike – Conversational Email Client for Mac
Spike is one of the most distinctive email apps among many. This app is inspired by apps like iMessage and Facebook messenger. It brings a very similar look to the email. This app is structured in a way to make the emails shorter. It helps you to focus only on the content, which is essential by taking away headers, signatures, etc. It also lets you keep a separate priority inbox so that only the most important emails are left so you can get to work on the go.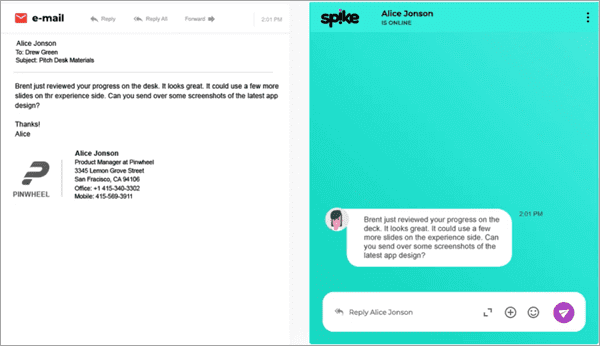 Another feature on this email client for Mac is that one can create groups for messaging while also checking the email. This lets you keep everyone together on the same page, and allows you to access files sent via email while even making you message within your group. This email app is free for personal usage with a paid premium for business users on Mac.
AirMail – Apple Design Award 2017 Winner
AirMail has been one of the most common third-party email apps for macOS for quite a while. It supports all the major email accounts. Integrated with an extensive list of apps, including Google Drive, Dropbox, OneDrive, etc., this email app for Mac has features that let you snooze emails to another date/time, create PDF from an email, mute/block senders, create a to-do list, etc. There are so many features that are hard to choose, and almost everything on this app can be customized.
This app also allows you to look up email addresses in your global G-Suite directory that you don't have in your contacts list, which is not seen on any other macOS email apps. But the only thing lacking is that the preference for this app is comparatively lower than the others though it has many top features.
Spark – the Best Email Client for Mac, iPhone & Android
Spark, which is a third-party newcomer, has been on a constant change from the time it has made its entry. This email app supports the sign in of popular accounts like Google, Yahoo, Outlook, iCloud, etc. It has a bunch of features that help you organize your email into different categories like New, Seen, Pinned, etc. It also allows you to snooze emails and schedule emails, setup reminders with its in-built calendar that support Gmail, iCloud, etc. More importantly, Spark is available for Mac, iPhone and Android, which means you can stick with the same email client on almost all of your devices.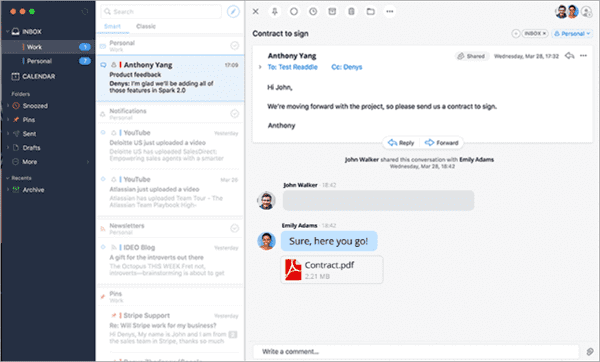 Spark also has a basic version for teams that is free, while a premium version (monthly fee basis) with extra file storage enhanced link sharing and team controls. This business feature allows your organization to work together, reply privately, and create permanent links to email messages.
At first sight, the outlook of this app is neat and systematic. It asserts that it is the best email app for Mac designed for power users, but what is lacking is that essential features like send later and snoozing emails are unavailable. Although there are integrations with other third-party apps, still other apps win over this one. One distinct feature of this app is Account Groups, which lets you combine multiple accounts into one unified inbox that enables you to keep your work separate.
This app is mostly known for its extensive keyboard support, advanced search, and marking down email compositions. It is not the prettiest app and also doesn't support as many features as the top options do, but this email app for Mac has a unique set of features that suits a specific user group. It is known for a very simple layout, which, if it interests you, will satisfy you too. There is a free trial version as well as a premium paid version.
Boxy – the Gmail for Mac
Last but not least. Actually, we leave the last one as the most acceptable email client for Mac in case none of both options suit your taste. Boxy is the email app for Mac that one would likely choose if you are happy with the Gmail interface. It is a native macOS app for Gmail, which supports G-Suite well. It is worth mentioning that the same dark theme will be synced with macOS in Boxy In case you cannot get used to neither of the above email clients for Mac after switching from Windows or Android, be sure to check out Boxy Suite.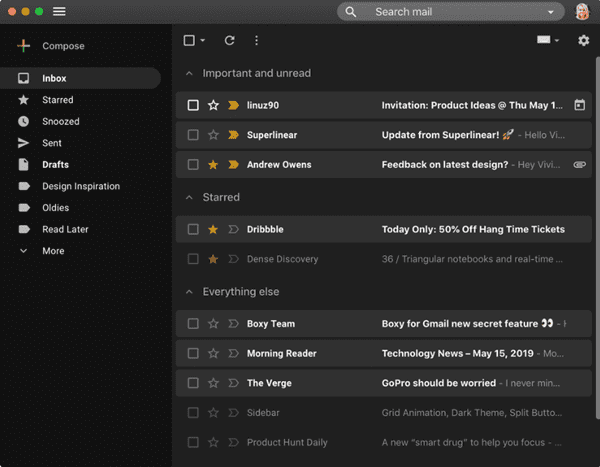 Bottom Line
The list of best email clients is suitable for both business and home users of Mac computer. You're suggested to try at least 3-4 options before you decide to use which one for a long term, because you may find it hard to make a choice facing with the various features. You will surely find a desired one in the end.