Top 31 Best Streaming Sites to Watch Live Cricket Streaming and Scores
If you know anything about India, then you must know the cricket sport which is so popular in India. In India, there are large numbers of cricket fans who are willing to pay for watching live cricket matches and scores at the scene. For the rest of the fans, watching TV live is certainly their best choice. But because of the busy work and chore, there are always people missing it. To solve your time conflict, we have specially collected some of the best free sites for you to stream live cricket events, letting you watch live cricket matches and scores whenever you want and wherever you are as long as you can use the network. Now please have a look at these best 31 sites for live cricket streaming!
Tip: In addition to Indian cricket, if you are also interested in other cultures in India and want to learn more about India, then you can watch online Indian movies and some best Indian web series which can greatly reflect the local living and custom.
If you need to watch HD videos offline,this Jihosoft 4K Video Downloader can help you save HD videos to MP4 HD Quality. No no quality loss.
This is really one of the best websites to watch live cricket matches and scores and football matches online. The main features of this website include real-time scorecards update, live streaming option in a variety of screen resolutions, lite graphic user-interface, etc. That's why users generally prefer to use Willow TV foremost among all these sites.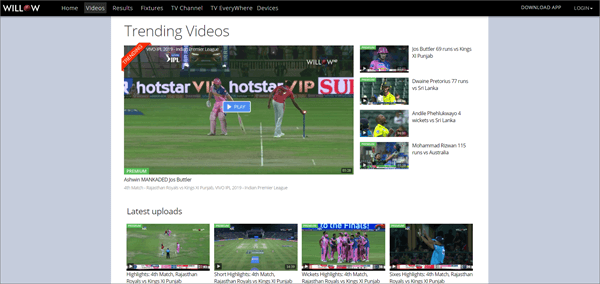 Basically, it is not a website. Instead, as its name suggests, it is an ideal browser which is specially developed for sports fans. As like Willow TV, users can enjoy streaming live football and cricket matches on this browser for free. It is a very lite browser which doesn't occupy much space after the installation. So, it's a must try for all users! By the way, if you are an Android phone user, then you can download these free sports streaming apps for Android to meet your needs.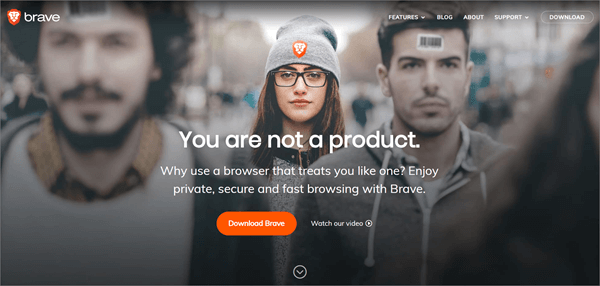 Hotstar is another one of the best websites where users can not only stream cricket live matches for free, but they can also watch family shows, movies, TV shows, web series and much more. For free live streaming, you need to register on Hotstar with your email ID. You have to connect your device to a Wi-Fi network because live streaming using personal data flow is only allowed for 5 minutes.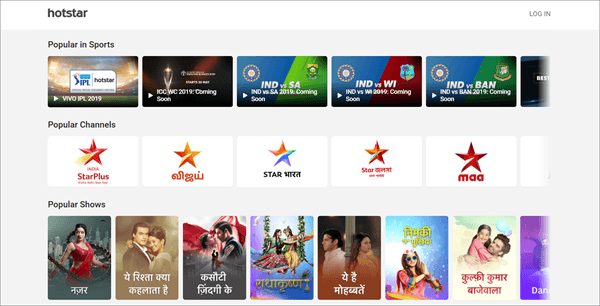 4) Khan TV
Khan TV is a very good choice just like other websites on this list. The main advantage of using this website is that you can easily stream all the live ongoing matches for free on your device. Moreover, there is no registration required for it.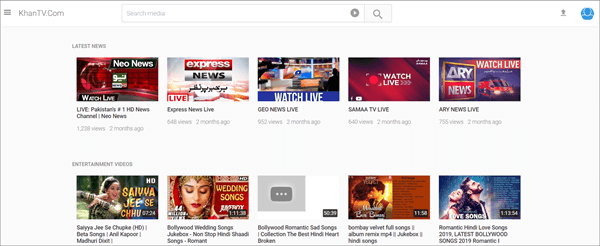 This is another best website for live cricket streaming, and it lets you stream all the sports like cricket, football, volleyball, tennis, Formula One, etc. which are held in Indian absolutely for free. This website is the favorite of more than 50K users and we hope that you will also like it. If you mainly want to watch soccer live TV shows, then you can visit some of the best football streaming sites.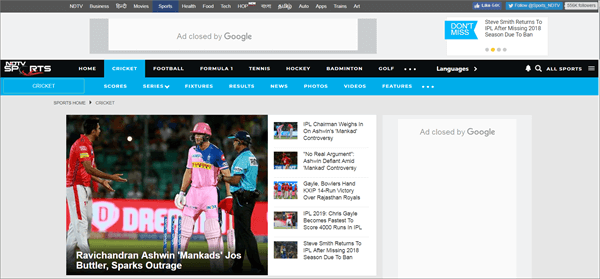 This awesome website to watch live cricket matches and scores was developed by the expert team of web developers from India whose aim is to provide a free streaming option to its users. Cric Line has a tie with some sports channels, which makes it a totally legal website to stream live cricket events.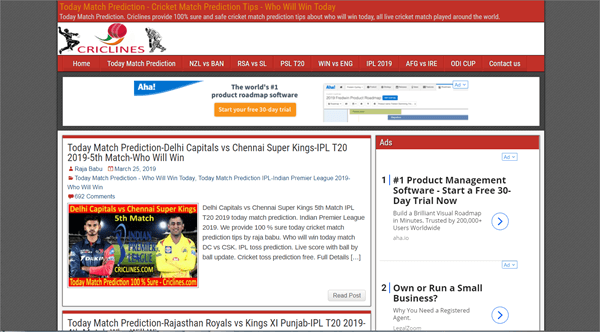 If you are a die-hard fan of cricket, then you won't find a better option than this website. This website is delivering the very things it should offer and as per our thinking, you will surely like the working of this website.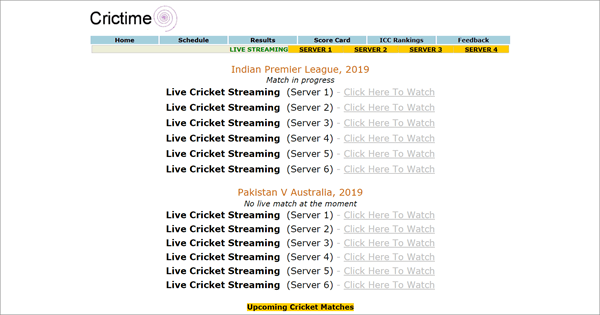 WatchESPN is the official website of Espn software India Pvt. Ltd. As one of the best free live cricket streaming sites, it enables users to watch live cricket matches and scores without paying. The real-time scorecard updates are really very fast on this website. Along with scorecard updates, you can read the text commentary ball by ball.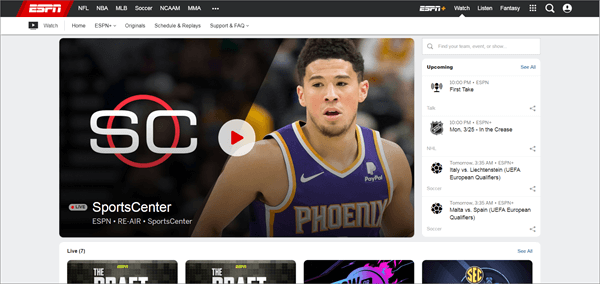 Tip: Do you want to improve your game skills? Have you ever been attracted by the master's adept skills? Well, we recommend you the best live game streaming software – Twitch. With it, you can easily watch others' gaming videos according to your preference, learning practical skills from these great masters.
When it comes to the live streaming of major sports, Sling TV will surely be recommended above all. This awesome website will let you stream all your favorite sports in the screen resolution quality of your choice.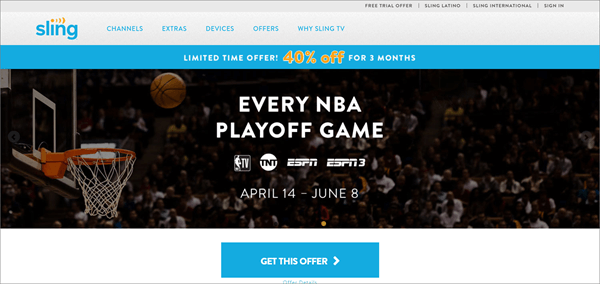 It is the official website of Sony India Pvt. Ltd. which covers all the live sports telecast in India and outside India as well. Sony SIX application is also available on the Google Play store which users can download to have an improved live streaming experience. So, you can first try the Sony SIX website to watch live cricket matches and scores and if you think it convenient for you then you can try its mobile version.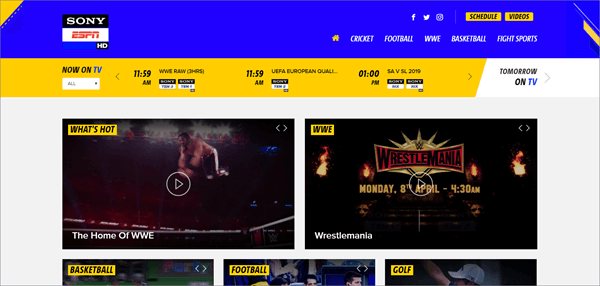 This is an awesome website for all enthusiastic cricket fans from all around the world. This website reports the live telecast coverage of both national and international matches held in different countries. All the local leagues are also covered by this website. Users have to create their free account to browse the live cricket streaming and commentary.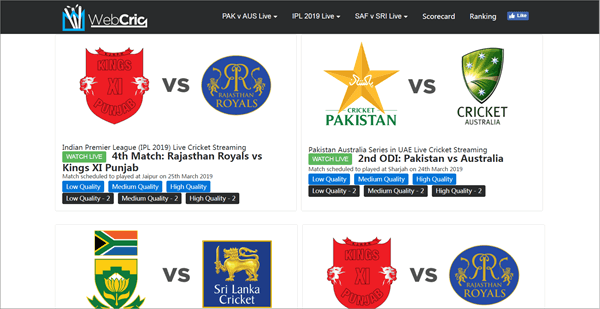 12) Cricket Live Streaming TV
As the name itself suggests that this website is specially developed to cover the live telecast of cricket matches. Though this website is not so popular among users, we have still found this website which is really amazing and of our users' interests.
This is another best cricket-based website which you can use to stream live cricket matches free. It also has the relevant app designed for mobile phone users, but you cannot stream online on this application because this company doesn't own the license. But the live text commentary is really an amazing part and users are too giving a positive response to that.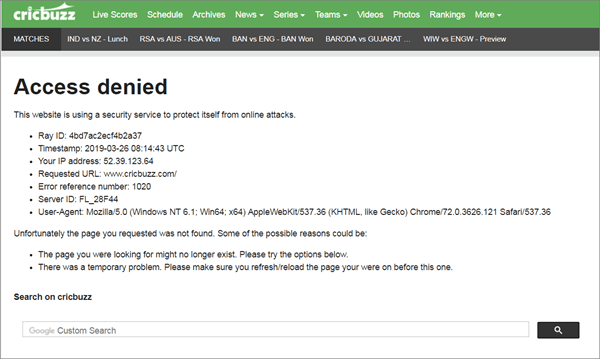 This website is mostly covering the football matches organized all around the world. Most of the big football leagues like NFL, UEFA championships can also be streamed live on this website.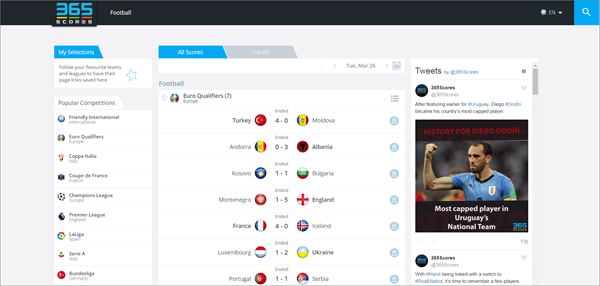 Like as other cricket sponsored websites, Live Cricket Matches will also help you stream all the live ongoing cricket matches. You can easily browse the scorecard of every particular match very easily through the use of this website.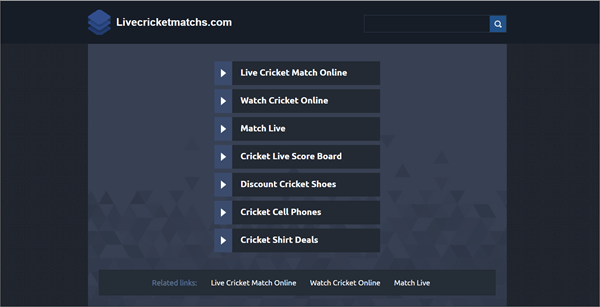 PSL 4 Live Streaming is the official website of the Pakistan Super League (PSL) where users can stream all the matches of PSL. This site has been banned in several countries, and that's why you should use this website with VPN, otherwise, we recommend you not to use it.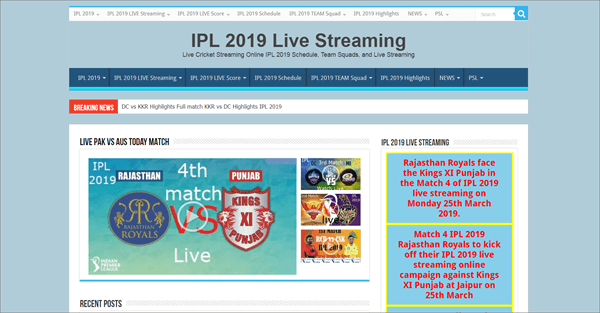 This is the official broadcast site of PSL broadcasting corporation, responsible for the live broadcast of the PSL competition. Unfortunately, just like the PSL 4 Live Streaming website, it has also been blocked in some countries.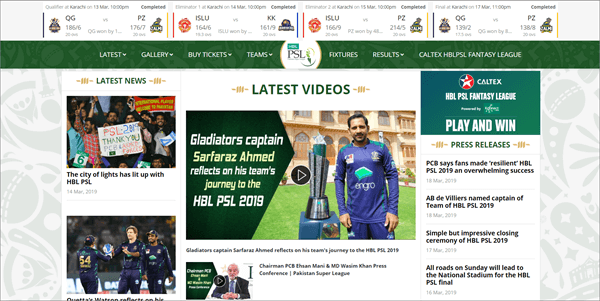 We hope that you have understood the features of this website by its name. ESPN Cricinfo is specially developed by ESPN India as one of the best sites for live cricket streaming so that users can easily stream live matches directly on their smartphones.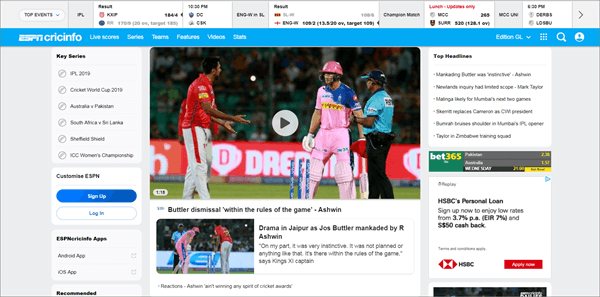 This is our last pick on this list, but we can assure you that Mobilecric won't disappoint you in any case. This brilliant mobile application will provide you with all the features which other websites and applications have provided for you.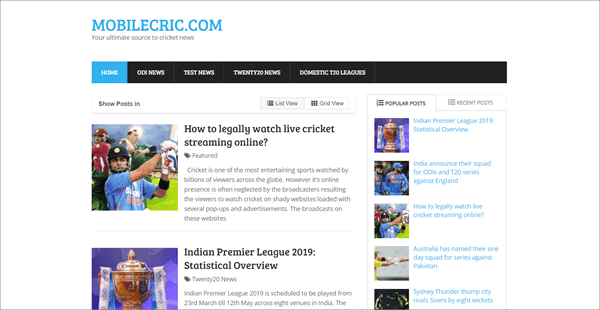 This website helps its users stream all their favorite sports like football and cricket absolutely for free. The developers of this website are also planning to launch the separate section of movies and TV shows for users. That's why this website is becoming popular day by day.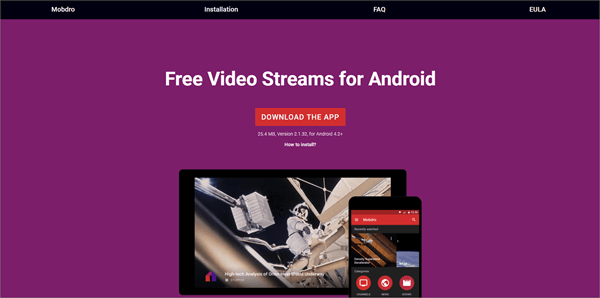 This free online cricket streaming website is undoubtedly the top pick of this list because of the impeccable features which it offers to its users. Users can stream cricket on this website unlimitedly without any restriction for free. Though this site is facing ban in different countries, but this website can still be accessed if you know that how to use VPN is a right way. There are so many different sports other than cricket which are available on this website like Tennis, Basketball, Football, UEFA, Champions League, Moto GP, etc.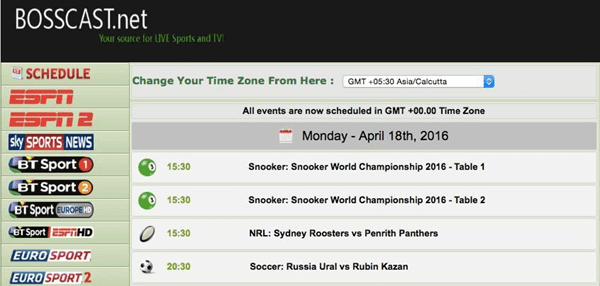 But the main limitation of this website is that this website is full of pop-up ads which may disturb you while streaming live on this website. However, if you look at the overall Graphic user-interface of this website, then you will surely get pleased because it is so very well developed by the developers of this website. Some predictions are predicting that the developers of this website are working to add some more live sports for the users to generate massive web traffic. That's why we are saying that Bosscast is undoubtedly our top best pick in this list.
With no surprise, Reddit is considered as an ideal choice as a free Cricket and Football streaming website. Users can easily set up the stream on this website to watch different sports unlimitedly for free. Reddit is a very big brand and that's why there is a separate channel for the stream of every new single sport. The user-interface of this website is pretty much appealing in our opinion and you will also surely get pleased to visit the official website of Reddit.
You can also go for the Reddit premium membership which will allow you to explore some of the most amazing features of the Reddit website. And as of no surprise, Millions of users are using Reddit website to stream the live coverage of their Favorite sport exclusively for free.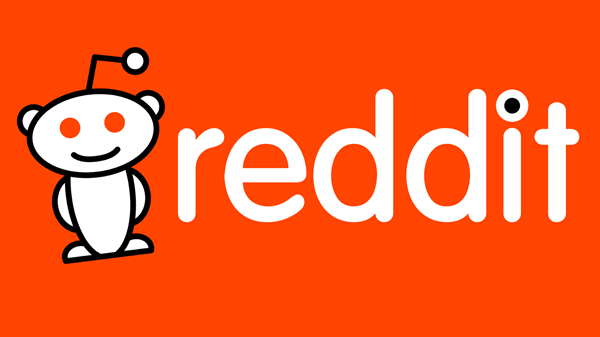 This website is basically an online platform which provides so many different TV channels to its users exclusively for free. To stream live Cricket coverage, you need to click on the TV channel icon which is broadcasting the live cricket coverage. When you open this website, then you will find more than 70 different Sports channels which will provide you the option of free streaming. You are just supposed to click on the icon of the Tv channel which you want to stream live on this website.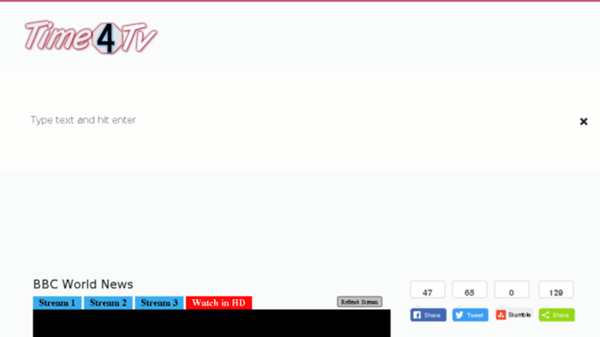 Inside the settings option of this website, you can set the default streaming quality which will let you stream hassle-free on this website. This website is quite famous in every part of the World and we hope that you will too like this website to accomplish your task of stream live Cricket matches.
This is another very awesome choice for the users who are looking out to get the best online Cricket Streaming website for their personal use. This website is basically powered by Sky Sports website which is a very popular website if this segment. All you need to is to purchase the premium pass of this website which will cost you around $10.00. After you purchase the premium pass, you will become able to stream all your favorite sports on this website exclusively for free. You can also purchase the Yearly subscription of this website which will surely save some money in your wallet.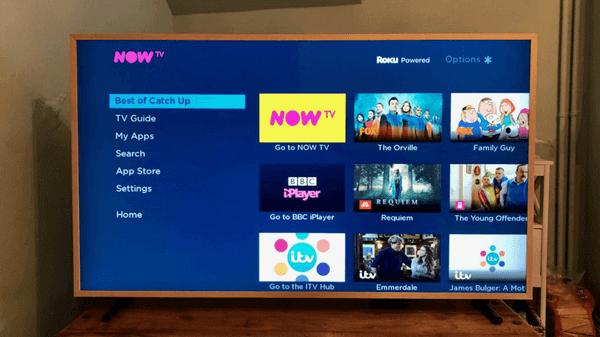 The best thing about this website which we have personally liked is its Graphic user-interface which is so very well developed by the developers of this website. If you are a genuine die-hard fan of Cricket sport, then you must opt out this website because it is quite a worthy option for you.
This website is yet another very incredible choice for the users who wants to stream live cricket matches on their devices for free. This website has been awarded as the top free Cricket streaming website by many of the big organizations and somehow, we agree with this. When you will land on the homepage of this website, then you will find the list of the ongoing live cricket matches around the world. All you have to do is to click on the icon and here you go. The live stream will be displayed on your screen according to the screen resolution which you have set up.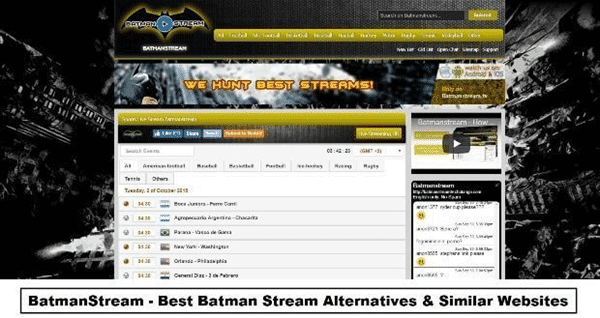 Some more sports like Basketball, Football, Rugby, Wrestling, and Soccer can be easily streamed on this website. Make sure that you have enabled the VPN of your device if in case you are unable to access this website on your device.
This website is a UK based website which is a decent option as a Streaming website for the users. Streaming cricket on this website is not unlimited for all users. You have to some subscription charges if you want to take the full advantage of this website. There are separate plans available for the users which they can opt under the menu icon present on this website. There are different sports channels which are added on this website for the users so that they can stream their favorite sports hassle free.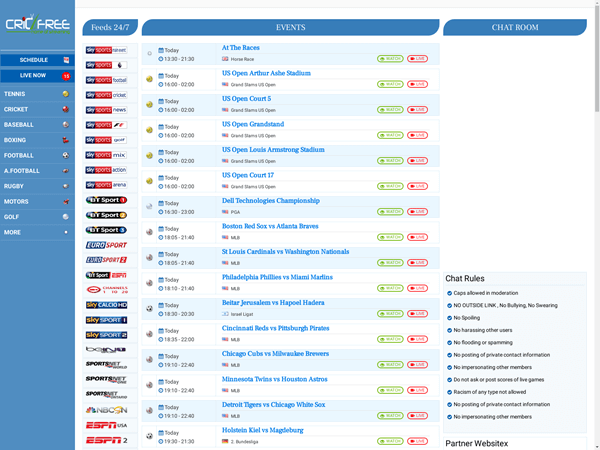 However, if you stream free on this website without purchasing the free subscription, then you will face a lot of pop up ads which is surely a very bad experience. The servers of this website are always very active and will respond to your request in just a few seconds. So, just don't wait and switch to this website today.
Another very great website for all the Cricket lovers presents out there for sure. Vipbox was once considered as the best free online Cricket website, but with the launch of other different websites of this same section, Vipbox has lost all its fans and now, it is has become less popular among the users. But as per our opinion, we think that this website is still a very great option to stream Cricket online. The graphics user-interface of this website is a decent one. Moreover, you will also get a lot of new and different exciting features which will surely enhance your streaming experience. There is no pop-up ad campaign that will disturb your streaming experience. Overall, Vipbox is really a very great choice for the users and we strongly recommend our users to try this website at least once to accomplish their task of streaming online cricket.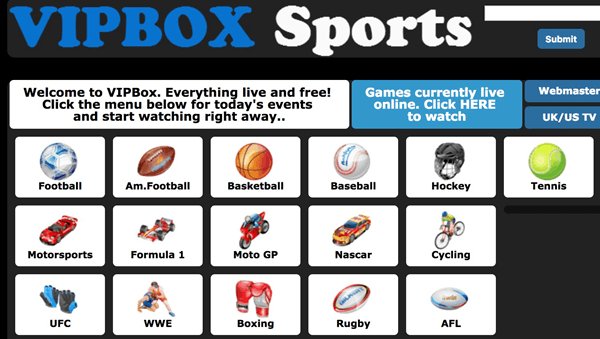 This free streaming website is another very suitable option for the users because this website is only dedicated to Cricket Sport. All the cricket fans present around the world are using this website to stream live coverage of Cricket right on their device exclusively for free. My Live Cricket website is an ideal choice for users who don't have unlimited internet data with them. Those users can easily set up the low screen resolution quality so that they can capitalize on the limited internet data which they have with them. The overall features and graphics user-interface of this website are pretty much cool which makes this website an awesome choice for the users.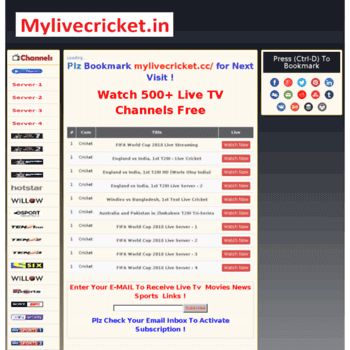 This free online Cricket streaming website is a very good choice especially for the people of the United States of America. On the homepage of this website, you will find various kinds of links that will take you to the live streaming page of the ongoing cricket match. This website is only specialized to cover the live coverage of Cricket sport and that's why StreamSports.us website is pretty much popular among the user from all around the world. If in case, you are unable to access this website on your device, then just enable the VPN of your device and connect to the server of some other region where this site is unblocked.
Another very popular choice among the users who are a die-hard fan of Cricket Sport. Users can stream live Cricket matches on this website hassle free without any restrictions. And if you want to disable the pop-up ads on this website, then you have to purchase the premium subscription of this website which will not cost you too much. Another very good way to disable the popup ads is by installing a proper Adware in your device which will automatically block the loading of all the popup ads. So, definitely, CricHD is a very good choice for all the lovely Cricket fans presents out there.
Last but not least, Sony Liv is another very awesome choice for the users who are looking out to get the best free online streaming website. This website is developed by an Indian company and this website has recently launched its official Sony Liv app on the Google Play Store. Users can install this app from there and can enjoy the live streaming of live cricket matches hassle free. All you need to do is to register on this website with your Email ID and password or by Facebook login to get started with this app or website. In the app settings, you can set the data limit, streaming quality, etc. The free plan on this website is also very good which makes Sony Liv website a brilliant choice for the users. So, just don't wait and install the Sony Liv app on your device today.
Top 7 Cricket News And Live Score Apps For Your Mobile
You may be a die-hard cricket fan. You may keep a check on all matches and make it a point not to miss any game on television or the Internet. However, situations may arise that you are unable to watch the match. In this case, you may have to depend on live scores and news updates. This may be telecasted on the television news or the Internet. In order to make things easy, applications have been developed to give you updates on the score when you cannot access the streaming of the live match online or offline.
Some of the cricket news and live score apps for mobile are given below.
CricBuzz is one of the top mobile applications in the scene of cricket updates. It targets to cover updates from all matches under the International Cricket Council (ICC). This includes T20 and the World Cup. Moreover, it makes sure to cover most of the regional series as well like Big Bash, Indian Premier League, and the Ashes series. Some of its best features are given below.
The latest cricket scores are shown for every ball.
The users can read through the commentary.
All the latest cricket scores are updated thoroughly.
The highlights for the cricket matches are available on the app.
Rewatches of any highlight is allowed.
The outcome of every match is represented statistically to highlight the ups and downs of a series or a particular game.
There is dedicated news and guides section which caters to sports enthusiasts.
This is another of the cricket update apps that are on the forefront. It is one of the most downloaded apps and rightfully so. If you cannot live without cricket and want to know every little detail of the cricket world, then ESPNCricInfo is your best friend. This particular mobile application was initially launched as a website for desktops, but it eventually gave way to mobile applications for its huge demand. It is available on both iOS and Android platforms. ESPNCricInfo covers the Indian Premier League entirely as well.
Some of the best features are mentioned below.
The app displays a scoreboard that is updated every second.
Users can opt for push notifications for updates or reminders on cricket matches.
Users can take the usage of the app to another level by personalizing the app interface.
One can choose his/her favourite team and get customized notifications for that particular team.
Delve into a world of advanced cricket update apps with CricSmith. This app has an uber sleek interface with features that are most definitely to blow your mind. Rest assured, they look into all national and international series.
Push notifications for updates and news are available.
The scoreboard is updated duly and regulated with every match.
Lesser advertisements
As the name suggests, Yahoo! Cricket App was developed by Yahoo and is maintained by it as well. It is one of the most efficient apps for live cricket updates and scores. It is free to use for Android phones and can be downloaded free of cost from Google Playstore.
The commentary is done for every ball.
There are profiles and statistics for every player and team.
Listings are made by the app to show the rankings of the players.
Here is an app that covers every cricket series; major or minor. Don't be surprised to find all the international events such as ICC events and regional events as well. The regional events include T20 blast, and Royal One-Day Cup London.
The Cricket 24 app also covers sports other than cricket.
The statistics of the performance is accurate and scientific.
The app allows push notifications as well.
Here is an app that is developed, undertaken and maintained by the BCCI itself. In case you want to keep track of the Indian team exclusively, here is what you need. The Board for Control of Cricket India updates the recent news on the Indian cricket team.
The results and reports are published here.
This app allows its users to utilise it purchase tickets for the matches in India and abroad.
You can stream matches live on the app.
Users can watch the highlights of the matches as well.
What could be better than an app that has been developed and maintained by the Indian Cricket Council or the ICC? Starting from match previews, match highlights and schedules, you can keep track of the official interviews hosted by the ICC itself.
You can find the profiles of the players with details provided by the ICC itself.
Articles and write-ups are provided and uploaded by the ICC.
Only the cricket series held by the ICC can be previewed on the app.
Conclusion:
Here the list of the best 31 websites for free live cricket streaming ends. We have analyzed over 100 different websites of this section for you, so we can certainly provide you with some valuable suggestions to use them. If you want any other website to be present on this list, then you can leave your message in the comment section below. After we see it, we will surely help you analyze it and then update the list for you!