21 Best Free Live Cricket Streaming Sites You Can't Miss in 2020
Cricket is a bat-and-ball game between two teams of 11 players. It originated in England and prevails in the United Kingdom, Australia, New Zealand, India, South Asia, Southern Africa, and the West Indies. Watching live cricket is one of the interests of many users in their spare time. If you are also a cricket enthusiast and like to stream live matches and scores, then you can't miss these 21 best free cricket live streaming sites that we have carefully selected for you.
Useful tool: Jihosoft 4K Video Downloader can help you quickly download videos from YouTube, Facebook, Twitter, Instagram, TikTok, Xvideos, Pornhub, YouPorn, XNXX, Xhamster, etc. 
As the world's largest video sharing platform, YouTube covers all the areas you care about, including cricket, of course. LIVE CRICKET MATCH TODAY is a YouTube channel that was specially created to provide live streaming of cricket matches in various regions. Although it is not an independent website, it covers all real-time cricket matches and scores. The channel has a playlist that organizes all the highlights of the game, you can either watch them online or download them with a free YouTube video downloader to share to other social platforms.
CricBuzz is a popular Indian cricket news site. It provides live coverage of news, articles, and cricket matches, interesting ball-by-ball commentary, upcoming game schedules, as well as stats, records, and rankings of the team. Its versatility makes it one of the best sites for live cricket streaming on our list. CricBuzz also has a relevant app designed for mobile phone users, you can download and install the app from Google Play Store directly.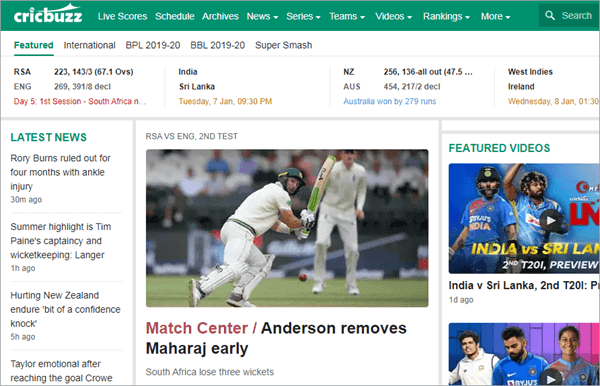 ESPNcricinfo, also known as Cricinfo or CricInfo, is a sports news website dedicated to cricket. The site provides live coverage of news, articles and cricket matches. It covers almost all major cricket events, from international cricket to IPL, BPL, BBL, CPL, Cricket World Cup, County Championships, and more. On this site, you can watch live cricket matches and scores without paying. With the update of the scorecard, you can read the text commentary ball by ball, which is really amazing.
This is a simple but comprehensive live cricket streaming website. After you enter its main page, you can directly see the cricket match currently in progress. You can watch cricket live directly by clicking the corresponding link. It provides multiple servers to ensure that you will not encounter any problems when watching. If you are a die-hard fan of cricket, then you won't find a better option than this website. This website is delivering the very things it should offer, and as per our thinking, you will definitely like the work of this website.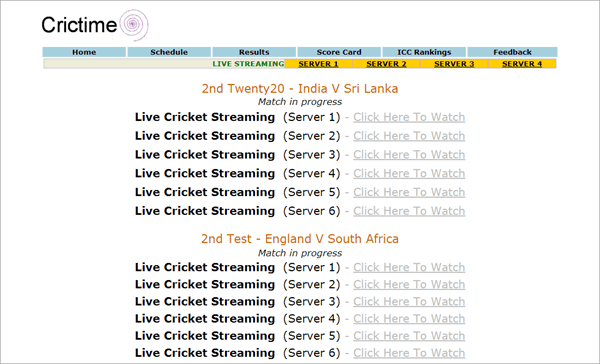 Hostar is a well-known video site in India. With it, you can not only stream cricket live matches for free, but also watch family shows, movies, TV shows, web series and much more. For free live streaming, you need to register on Hotstar with your email ID. You have to connect your device to a Wi-Fi network because live streaming using personal data flow is only allowed for 5 minutes.
Tip: In addition to Indian cricket, if you are also interested in other cultures in India and want to learn more about India, then you can watch online Indian movies and some best Indian web series which can greatly reflect the local living and custom.
CricketWorld covers everything about cricket. Its webpage is divided into multiple sections. In the Live section, you can watch live cricket streaming reports of international cricket matches, series and tournaments. In the Live Scores section, you can check the latest match results; In the Series section, you will find sections dedicated to current, recently concluded, future and archive stories. In addition to these, you can also enter other sections to see more related content, like news, cricket betting, cricket match predictions, cricket photos, and more.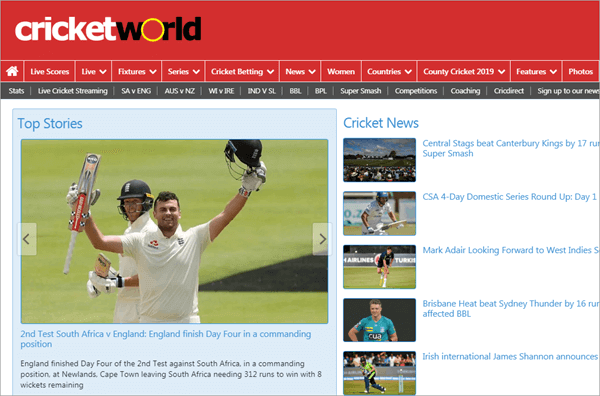 CricLine is not a website for live cricket streaming online. However, it provides reliable and safe cricket match prediction tips every day to help you better understand who will win today and all live cricket matches around the world. If you bet with a friend on a cricket match, then their articles will be of great help to you.
Tip: Do you want to improve your game skills? Have you ever been attracted by the master's adept skills? Well, we recommend you the best live game streaming software – Twitch. With it, you can easily watch others' gaming videos according to your preference, learning practical skills from these great masters.
As its name implies, this is another website designed for live cricket streaming. If you want to watch HD cricket live, then this site is definitely what you need. When you enter the home page of the website, you will find that there is a visual table showing all the ongoing cricket events, as well as the relevant leagues, countries, start times, and so on. Besides cricket, you can also watch other kinds of sports, such as NFL, Moto Race F1, Golf, Darts, Snooker, etc., on this site.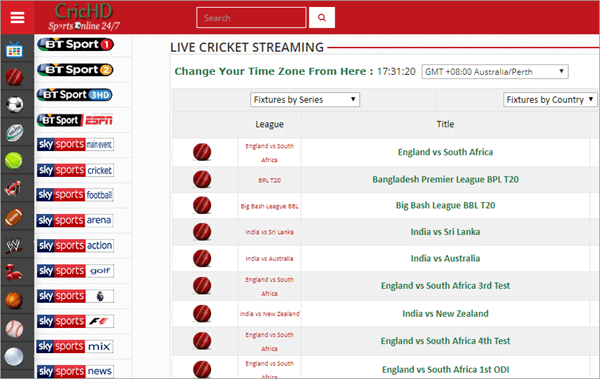 BatManStream is an online sports streaming site for watching football, baseball, basketball, cricket, ice hockey, rugby, tennis, volleyball, racing and other types of live broadcasts. It provides sports fans with a variety of high-definition live sports streaming channels and live score updates for free. To use it, you can simply click on the type of sport you like to see if there are any real-time matches in that country or region.
Seeing this name, you might think that this is a website dedicated to cricket live streaming only, but this is not the case. Just like other sports streaming platforms, you can watch all sports events on CricFree without the need to register or fill in personal details. It also provides a chat section where you can interact with other sports enthusiasts around the world. CricFree's interface is simple and intuitive, with a navigation tab at the top, you can quickly locate and find what you want. Compared to others, it is the most reliable live cricket streaming site online. So, just don't wait and switch to this website today.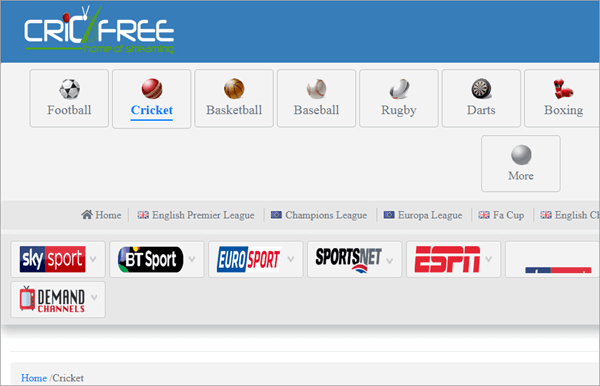 Vipbox was once considered the best live sports streaming site, but for some reason its popularity has decreased. However, it is still worth mentioning. With VIPbox, you can watch all your favorite sports channels for free, whether it is cricket, football, rugby, baseball, basketball, boxing, tennis, hockey, racing or WWE, every sport you know and love is available on VIPBox. Overall, Vipbox is indeed a very good choice for users, and we strongly recommend that you try this website at least once and it will not disappoint you.
This is an awesome website for all enthusiastic cricket fans from all around the world. This website reports the live telecast coverage of both national and international matches held in different countries. All the local leagues are also covered by this website. Users have to create their free account to browse the live cricket streaming and commentary.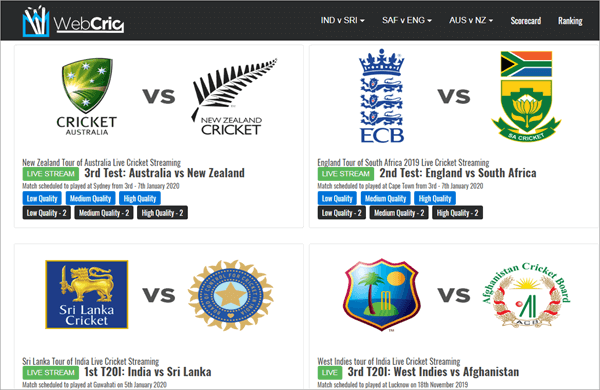 This is indeed one of the best sites for watching cricket matches, scores and football matches online. The main features of this website include real-time scorecards update, live streaming option in a variety of screen resolutions, lite graphic user-interface, etc. That's why users generally prefer to use Willow TV foremost among all these sites.
This free online cricket streaming website is undoubtedly the top pick of this list because it provides users with impeccable features. Users can stream cricket on this website without any restriction. In addition to cricket, there are many other sports on this site, such as tennis, basketball, football, UEFA, Champions League, Moto GP, etc.
The main limitation of this website is that it is full of pop-up ads, which may disturb you when you are streaming live on the site. However, if you look at the overall graphical user interface of this website, you will definitely be satisfied because it was well developed by the developers of this website. Some predictions indicate that the site's developers are working to add more live sports events to users to generate a lot of network traffic. That's why we said that Bosscast is undoubtedly the best choice in this list.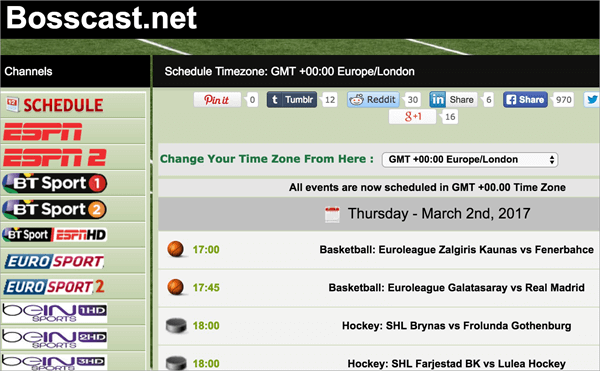 With no surprise, Reddit is considered as an ideal choice for live cricket streaming online. Users can easily set up the stream on this website to watch different sports free and unlimited. Reddit is a very big brand and that's why there is a separate channel for the stream of every new single sport. The user-interface of this website is pretty much appealing in our opinion and you will also surely get pleased to visit the official website of Reddit.
You can also go for the Reddit premium membership, which will allow you to explore some of the most amazing features of the Reddit website. Not surprisingly, millions of users are using Reddit's website to stream the live coverage of their favorite sports exclusively for free.
Time4TV.com is an online website hosting the world's leading sports live channels, such as Sky Sports, Box National, NBA TV, ESPN America, NFL Networks, Fox Sports, etc. You can access Time4TV's official website from any web browser to watch live streaming of ongoing sports. Its main web interface contains schedules, sports channels, UK channels, US channels and news channels. From the schedule section of Time4TV.com, you can learn about the equipment and schedule of upcoming sporting events. With useful resources available on a centralized platform, it will double your level of entertainment. However, in order to enjoy free streaming, you must endure the advertisements that are displayed during live matches.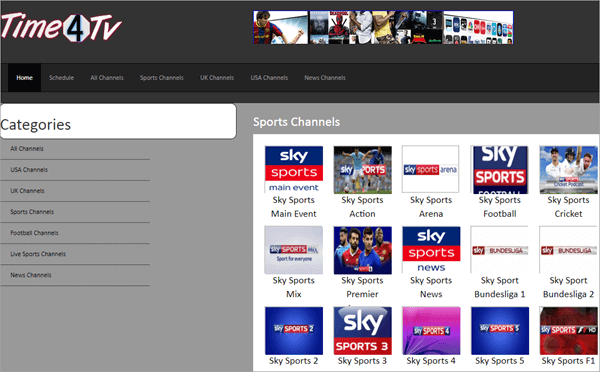 This free streaming website is another great option for users, as the site is dedicated only to cricket. All the cricket fans present around the world are using this website to stream live coverage of cricket right on their device exclusively for free. My Live Cricket website is an ideal choice for users who don't have unlimited internet data with them. Those users can easily set up the low screen resolution quality so that they can capitalize on the limited internet data which they have with them. The overall features and graphics user-interface of this website are pretty much cool, which makes this website an awesome choice for the users.
It is the official website of Sony India Pvt. Ltd. covers all live sports TV broadcasts within and outside India. The Sony SIX app is also available in the Google Play Store, and users can download the app to improve the live streaming experience. Therefore, you can try watching live cricket matches and scores on the Sony SIX website first, and if you find it convenient, you can try its mobile version.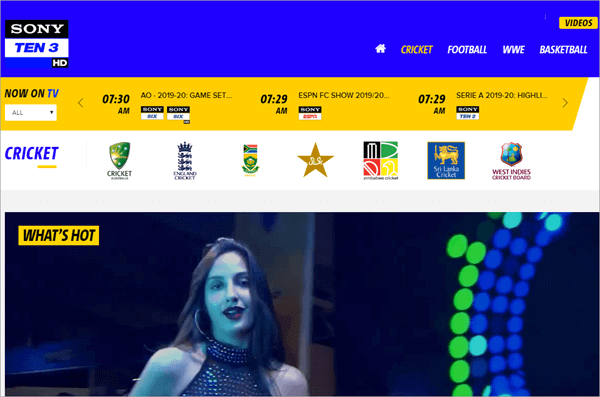 Now Player is not a dedicated cricket live streaming site, but it offers a very diverse range of services. It has multiple channels including Sports, Live, Movies, TV Series, Entertainment, Lean, Kids, Knowledge and more. If you want to watch cricket live, you can go to its STAR Cricket channel, which provides matches for different time periods. But you need to register and log in to access its videos.
This website offers live sports streams all over the world. On the homepage of the site, you will find various kinds of links that will take you to the live streaming page of the ongoing match. All you need to do is click on the one that you are interested in and start watching. If in case, you are unable to access this website on your device, then just enable the VPN of your device and connect to the server of some other region where this site is unblocked.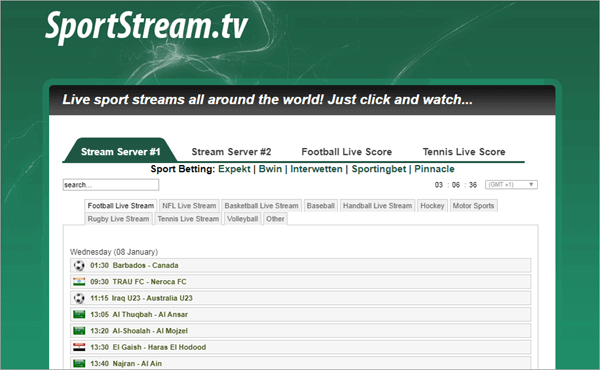 When it comes to the live streaming of major sports, Sling TV will surely be recommended above all. This awesome website will let you stream all your favorite sports in the screen resolution quality of your choice. However, the site is only available inside the United States.
Top 7 Cricket News and Live Score Apps for Your Mobile
You may be a big cricket fan. You may keep a check on all matches and make it a point not to miss any game on television or the Internet. However, situations may arise that you are unable to watch the match. In this case, you may have to depend on live scores and news updates. This may be telecasted on the television news or the Internet. In order to make things easy, applications have been developed to give you updates on the score when you cannot access the streaming of the live match online or offline. Some of the cricket news and live score apps for mobile are given below.
CricBuzz is one of the top mobile applications in the scene of cricket updates. It targets to cover updates from all matches under the International Cricket Council (ICC). This includes T20 and the World Cup. Moreover, it makes sure to cover most of the regional series as well like Big Bash, Indian Premier League, and the Ashes series. Some of its best features are given below.
The latest cricket scores are shown for every ball.
Users can read through the commentary.
All latest cricket scores will be completely updated.
The highlights for the cricket matches are available on the app.
Allows re-viewing any highlights.
The outcome of every match is represented statistically to highlight the ups and downs of a series or a particular game.
News and guide sections dedicated to sports enthusiasts.
This is another of the cricket update apps that are on the forefront. It is one of the most downloaded apps and rightfully so. If you cannot live without cricket and want to know every little detail of the cricket world, then ESPNCricInfo is your best friend. This particular mobile application was initially launched as a website for desktops, but it eventually gave way to mobile applications for its huge demand. It is available on both iOS and Android platforms. ESPNCricInfo covers the Indian Premier League entirely as well. Some of the best features are mentioned below:
The app displays a scoreboard that is updated every second.
Users can opt for push notifications for updates or reminders on cricket matches.
Users can take the usage of the app to another level by personalizing the app interface.
One can choose his/her favourite team and get customized notifications for that particular team.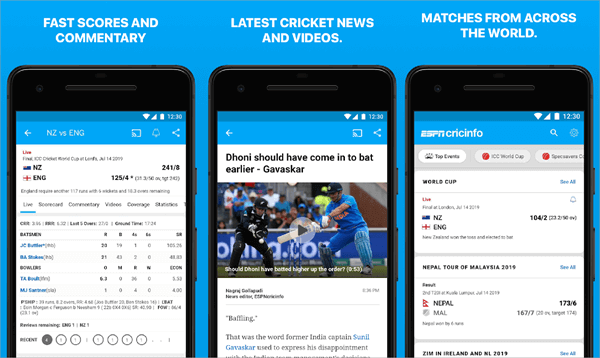 Delve into a world of advanced cricket update apps with CricSmith. This app has a super smooth interface with features that are most definitely to blow your mind. Rest assured, they look into all national and international series.
Push notifications for updates and news are available.
The scoreboard is updated duly and regulated with every match.
Lesser advertisements
As the name suggests, Yahoo! Cricket App was developed by Yahoo and is maintained by it as well. It is one of the most efficient apps for live cricket updates and scores. It is free to use for Android phones and can be downloaded free of cost from Google Play Store.
The commentary is done for every ball.
There are profiles and statistics for every player and team.
Listings are made by the app to show the rankings of the players.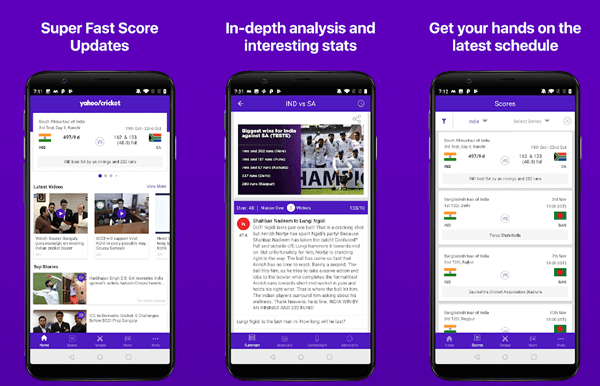 Here is an app that covers every cricket series; major or minor. Don't be surprised to find all the international events such as ICC events and regional events as well. The regional events include T20 blast, and Royal One-Day Cup London.
The Cricket 24 app also covers sports other than cricket.
The statistics of the performance is accurate and scientific.
The app allows push notifications as well.
Here is an app that is developed, undertaken and maintained by the BCCI itself. In case you want to keep track of the Indian team exclusively, here is what you need. The Board for Control of Cricket India updates the recent news on the Indian cricket team.
The results and reports are published here.
This app allows its users to utilize it purchase tickets for the matches in India and abroad.
You can stream matches live on the app.
Users can watch the highlights of the matches as well.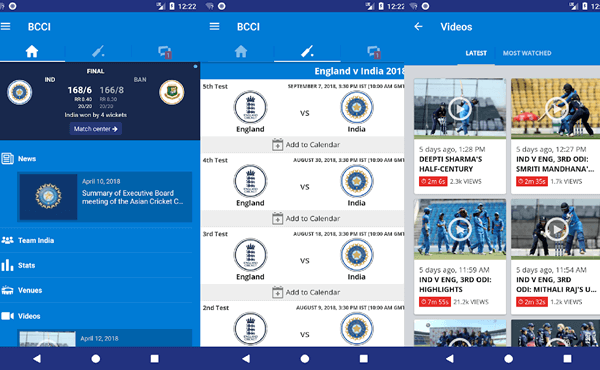 What could be better than an app that has been developed and maintained by the Indian Cricket Council or the ICC? Starting from match previews, match highlights and schedules, you can keep track of the official interviews hosted by the ICC itself.
You can find the profiles of the players with details provided by the ICC itself.
Articles and write-ups are provided and uploaded by the ICC.
Only the cricket series held by the ICC can be previewed on the app.
Conclusion:
Here the list of the 21 best websites for free live cricket streaming ends. We have analyzed over 100 different websites of this section for you, so we can certainly provide you with some valuable suggestions to use them. If you want any other website to be present on this list, then you can leave your message in the comment section below. After we see it, we will surely help you analyze it and then update the list for you!