Top 10 Best Football Live Streaming Sites for You to Watch Soccer Live on TV 2019
Soccer is a sport that many people from any country might be a fan of it. From international friendly to La Liga or Serie A, people love every form of it genuinely. Not everyone can make it to the stadium but everyone likes to watch soccer live on their TVs, smartphones, laptops and other various devices.
Tips: As a sports lover, you mustn't miss the 10 best free sports streaming apps for Android to help you better enjoy the latest streaming of live matches and updates of your favorite team performance. And if you happen to be a game geek, you must have heard of Twitch or have used it, so you should know the best 7 Twitch streaming software.
To hunt for the best football streaming sites might be a painful task for you, but to reduce your burden we have brought the top 10 football live streaming sites for you to open on your PC, laptop, smartphone, tablet, and even your smart TV.
By the way, if you particularly like the video of one match, then you can download it to your devices for your later repeated watching. But you may encounter some incompatible problems, so here we recommend you Jihosoft Video Converter which can help you convert videos to all popular SD and HD videos such as 3GP, AVI, FLV, MOV, MP4, M4V, MPEG, MKV, RMVB, TS, VOB, H.264, HD WMV, DivX, XviD, etc.
First Row Sports bears a clean interface, and this website loads very quickly, which make it simple for users to watch soccer live on TV. As this football live streaming site does not show much, users can watch soccer without any distractions.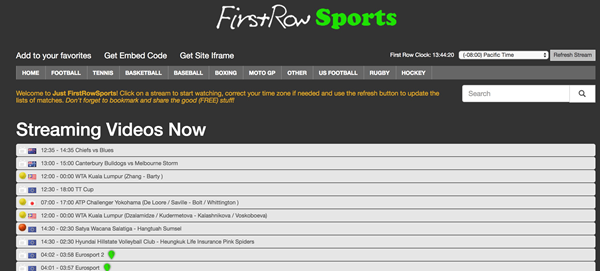 You might notice occasional ads here and there, but overall this website is very easy to use and it's truly great for all soccer fans out there. Not only football but also links to stream basketball, rugby, and other sports.
Key Features:
Not much ads are shown on the website and those that are shown can be closed with just a single click.
The website loads much quicker and the stream quality is also decent.
First Row Sports is easy to use and the navigation on this site is smooth as well.
There are several streaming links of various types of sports.
Live Soccer TV with its wide range of soccer leagues can help you choose from all the soccer live matches that are getting broadcast on the TV. The website even streams the matches and it informs you of soccer standings, upcoming fixtures, and match news.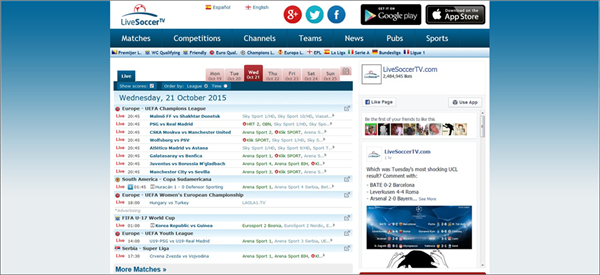 In simple words, this is an ultimate place with loads of useful information and live soccer TV shows as well for any soccer fan out there. The website is available in different languages including Spanish and English, etc.
Key Features:
Apart from watching soccer live TV show, a lot of useful soccer information is also shown on this site that is quite handy for visitors.
Live TV schedules are shown in a neat way.
It has both Android and iOS mobile apps for users' convenience.
This is another best football streaming site. Feed2All comes with an abundance of live video feeds across various soccer matches from all over the globe. The national flag next to each link of the show determines if the stream is of a national league or an international one.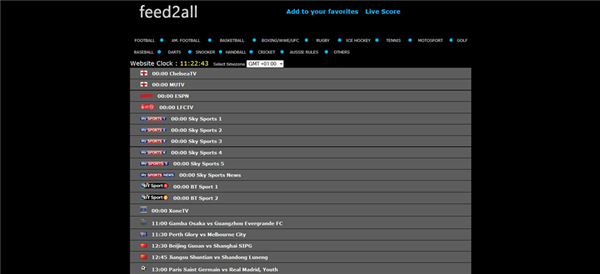 Feed2All even displays time and helps to adjust the time of soccer live TV show according to the viewer's timezone. Here, soccer seems to be the default sport, but you also get the option to watch other sports including cricket, snooker, and even darts.
Key Features:
This is a very active website which is rarely seen at any time.
The quality of the streaming seems to be very fine and pleasing.
Stream2Watch is an interesting football live streaming site where you can see scrolling chats that help you and other users watch the same stream transfer messages. There are some live football lists sorted by start time so you can schedule your viewing more easily.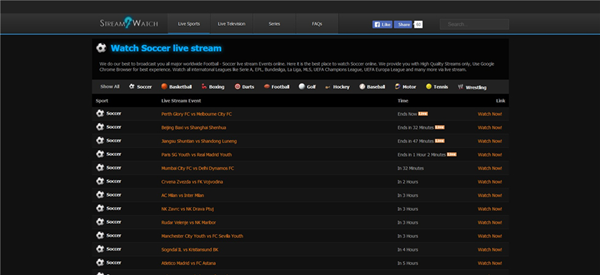 When any stream goes live, a flash indicator will just appear next to the stream name with the counter showing you the time remaining. For your better viewing experience, we recommend you to use the Chrome browser.
Key Features:
Chatting with others while watching the same stream is a great way of having fun with others.
You can also stream motor sports and wrestling events seamlessly with just a touch.
The best football streaming site also offers golf streams which are indeed hard to find on other platforms.
FromHOT originally started off its journey as "Sports Lemon" which pretty explains the surrounded lemon graphics throughout this website. The site offers streaming of all major sports including soccer, basketball, tennis, and even hockey.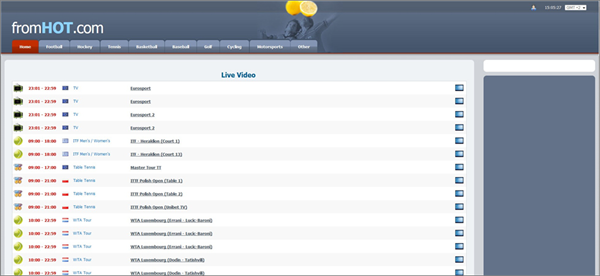 The website also features cycling streams, and you can even sort other interesting sports streams easily into switchable tabs on top of the website screen. You can watch streams even by installing the plugin to your browser.
Key Features:
To get all kinds of sports matches including soccer all on one page seems pretty beneficial for users.
You can use the plugin according to your needs and the streams work pretty fine even without it.
As the name suggests, this football live streaming site is completely dedicated to Cristiano Ronaldo. It features all his celebration poses and there are also streaming options which are slick and functional for you to use.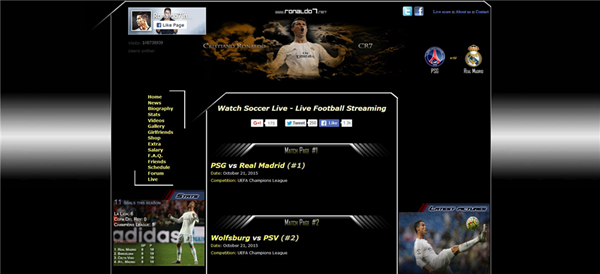 The site only lets you stream major international soccer matches, but it also has great charm and style. The website's left-hand sidebar displays some interesting information about Cristiano Ronaldo.
Key Features:
This is a very nice looking website that helps you stream all of the major soccer matches live.
It is a heaven for all football lovers, not to mention Ronaldo fans.
Seeing the name, you may feel this is a cricket streaming platform. Well, it originally started its journey as a cricket streaming site but eventually, it got expanded, providing the streaming of soccer and even other sports. The front of the football live streaming site bears all the events that are sorted according to their starting time. The left sidebar is dedicated to listing all kinds of major sports TV channels.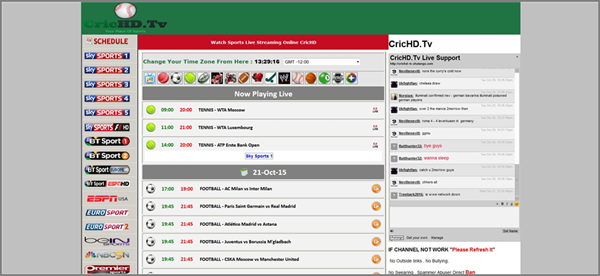 You can watch all the live streams completely free. You just need to access the Internet and stream even without installing any plugin or program. Also, there's a live chatting option at the front page which seems to be moderated by administrators.
Key Features:
Good stream quality in English.
The website is very reliable and user-friendly.
You can watch soccer live TV channels effortlessly.
This best football streaming site has a comprehensive collection of live streams and all the stats regarding soccer. LiveTV has a forum attached to it allowing anyone to ask questions about the live streams. The video archives give the scope to watch highlights as well as goals of any live streaming match.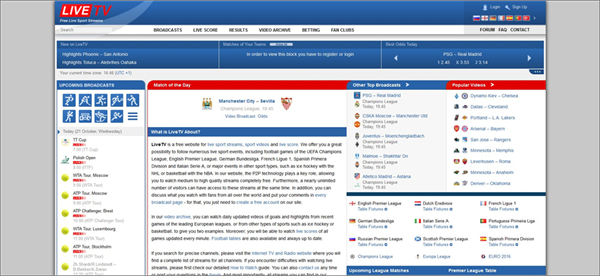 Key Features:
Watch various soccer highlights of different time zones and regions.
LiveTV is a great website and it is designed with the utmost detail.
This is an organized football live streaming site that brings a lot of joy to all soccer fans out there. There are site-wide filters which are for showcasing only a few selected matches according to your interests. All the live streams offered is sorted according to the starting time.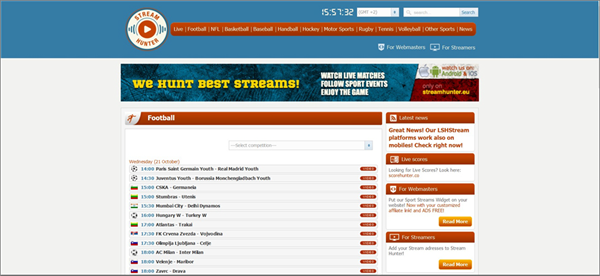 Anyone can stream their favorite soccer live TV shows on Real Stream United. Webmasters can even add the site widgets to their own page as well. When you click on any match, a huge list of available streams as well as their resolutions will come up to the screen of this website.
Key Features:
You can enjoy watching and sharing your streams with others.
Real Stream United has been very well-made compared to other sites.
This best football streaming site has a huge collection of free soccer live TV shows as well as streams of other sports including handball, baseball, volleyball, etc. Time zones remain fixed and there's a social widget at the side panel that shows a lot of people are attracted to this page. Another great bonus of this site is that the ads shown are barely noticeable.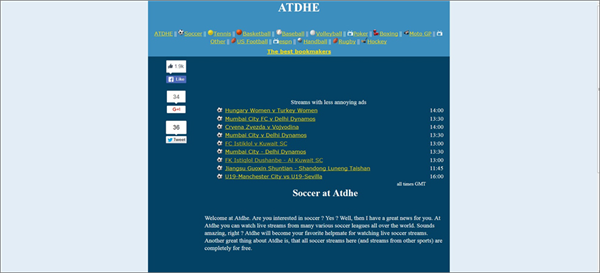 Key Features:
Atdhe is a clean, simple and efficient site.
So, those stated above are the top 10 best football streaming sites that will be very helpful to you if you are one of those soccer fans. Most of them offer free streamings of live matches including international and regional ones.
Each site has its own advantages that make it unique, so you can seamlessly stream live from your favorite football streaming platforms. Another noteworthy thing is that you should have a good internet connection to enjoy your football live without any problems.
Related Articles