5 Best Free MP4 to MP3 Converters to Convert Video to Audio Easily
MP4 and MP3 are some of the most popular formats that you can find online. MP3 is used for audio, and MP4 is used for videos. Sometimes, you don't want to use the video and just need the audio part. That's especially true if you want to create an audio compilation if you're going to grab the music from a video and so on. That's why it makes a lot of sense to convert MP4 to MP3, and it's an effortless and creative way to achieve the results you want.
Why should you convert MP4 to MP3? First, this is a very convenient thing, and it allows you to access all the results you want without that much of a hassle. It's very easy to do, you can adapt it to your requirements, and you can easily do YouTube to MP3 and all that kind of stuff fast. You will like converting this type of content to MP4 because it totally works, and you will not have to worry about any hassle or challenges that can arise no matter the situation. Here we created a list with some of the best tools you can use for conversion, and you will be quite amazed at the results and the entire experience.
Jihosoft 4K Video Downloader is one of the best MP4 to MP3 converters that you can find out there. What makes it stand out is the stunning attention to detail and incredible set of visuals that you rarely get to experience in a situation like this. On top of that, you have complete support when it comes to retaining the quality, something that you end up losing with stuff like this. Thankfully, it's not the case, as Jihosoft 4K Video Downloader does retain every bit of audio quality as it removes the video. This way, you get a smooth, very high-quality result.
You can use this tool with all kinds of video options. You can download the videos from YouTube to MP3, and you can do all kinds of other cool stuff as you go along. The idea is to come up with something unique, powerful, but also pretty interesting, and that totally pushes the boundaries, and it makes the experience work all the time without any hassle.
What a lot of people like about the Jihosoft 4K Video Downloader is the interface. You have a tab for downloads and one for conversions. So you can download the video you want and then you can convert it with the free MP4 to MP3 converter tool added here. It's a great and stellar tool to use with unique features and just a whole lot of potential. You do want to test it out and see how everything comes together, as it's a beautiful, stunning tool to check out and enjoy. Simply put, if you want high-quality audio, this is by far one of the better solutions and options that you can find on the market no matter the situation.
Instructions on how to convert mp4 to mp3:
Step 1. Download and install Jihosoft 4K Video Downloader on your computer. It works well on both Windows and Mac computers and doesn't have any ads or viruses inside.
Step 2. Run the software, then copy one or multiple music video URLs from any website, and paste it/them in the program for analyzing.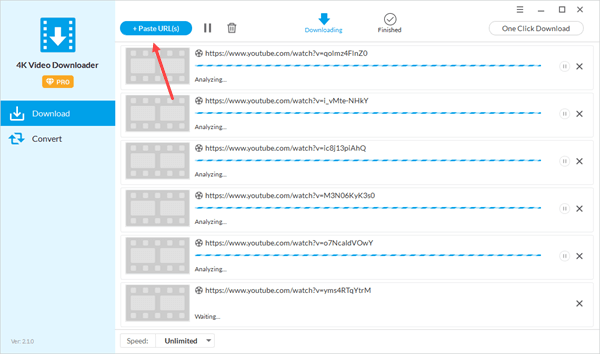 Step 3. After the pasted link has been parsed, a pop-up window will appear where you have an option to convert to MP3. Check this option, and tap Download.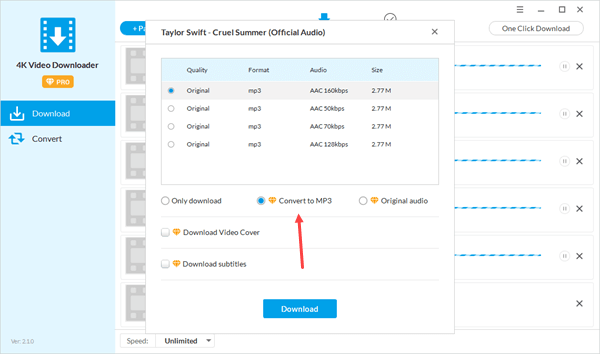 Step 4. The video to audio conversion process will start. Once completed, you are able to find it in the Finished section. After then, you can play the audio in MP3 format.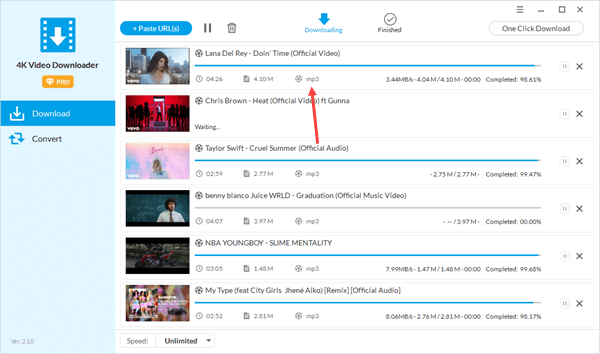 More features of the Jihosoft 4K Video Downloader:
Download videos from Facebook, Twitter, Instagram, etc
Download the entire YouTube channel and playlist
Download auto-generated subtitles and video covers
…
Some people don't want a downloadable tool for this kind of conversions. That's why Online Video Converter can be an excellent tool to use, especially when it comes to stuff like that. This is a seamless online MP4 to MP4 converter that you can easily use to convert your videos to audio in no time. It's an extremely professional, super reliable, and adaptable tool that you can always rely on. That alone will push the boundaries while also bringing in something unique and powerful all the same.
When it comes to the interface, you will find Online Video Converter to work properly and bring in tremendous attention to detail. You can drag and drop the item with ease, and you will notice that the upload is rather fast. It helps a lot because you get to convert MP4 to MP3 so fast you won't even notice. That's really handy and reliable while also bringing in the amazing support and assistance you would expect from this kind of stuff. It takes a bit to get used to at first, but once you start working on it and see all the results it will pay off big time, and you will start enjoying the experience more and more than ever before.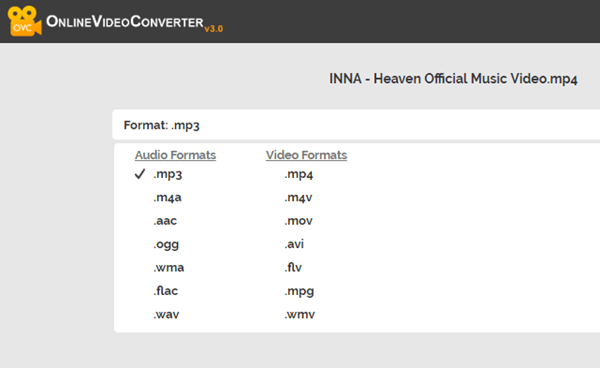 When you're looking for a very good tool to convert video to MP3, you always want something downloadable, but that's not always the best option. Ideally, you want to go with stuff that's simpler and more convenient if you can, as that's what really pushes the boundaries and makes things work for the most part. With Online Audio Converter, you have different things because you can acquire the MP4 file, and then you select the audio format you want as an output. What we like a lot is that there are a lot of different audio formats you can opt for, and each one comes with its fair share of pros and cons. That's what really matters the most here, so consider that, and the payoff alone will be among some of the best no matter the situation.
Extracting audio from the video files is very simple, and the app does that super well. Another important thing to consider is that you have batch conversion available too, so you can convert multiple files at once to avoid wasting time and effort. Plus, this is extremely safe. There's no content-stealing or anything. Every step is private, you get all the support and assistance you want, and your videos and audio will not be duplicated in any way.
If you do want some advanced settings like applying reverse playback, changing the frequency, the channel number, fading in or just removing the voice, that can totally pay off, and it will help you a lot more than you imagine. They even have tag support, so you can easily change all kinds of things like year, album, genre, and many others.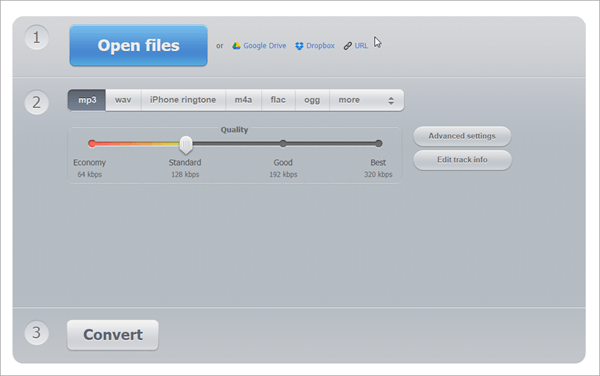 Zamzar Online File Conversion does a very good job with the free MP4 to MP3 approach, and everything is super adaptable and customizable with its help too. But the best part is that once you fully customize and optimize this, you will find yourself enjoying the experience and constantly pushing the boundaries to make it work in a clever and powerful manner.
The way Zamzar Online File Conversion works is that you add your MP4 file, select the target format which is MP3 in our case and then you choose to convert. They will notify you where to download the file via an email, so the entire process is rather straightforward and it always encourages you to test out new ideas and explore unique options that you will enjoy. That really helps a lot, and it comes in handy without that much of a problem all the time. It's definitely worth checking out, and it enables you to push the boundaries as you use drag and drop even for working on multiple files. It's a very creative prospect and one that will work nice provided that you adjust and adapt to it all the time.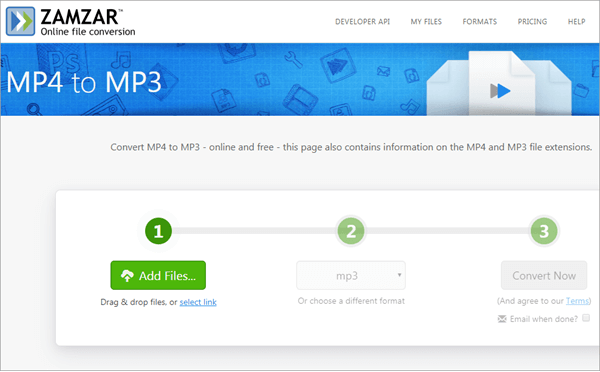 Convertio is another tool that can be considered the best MP4 to MP3 converter. It's designed to bring you the support and quality that you always wanted while also pushing the boundaries and making things work all the time in a clever and powerful manner no matter the situation. The way this works is simple, you choose the MP4 file on your computer, and then you press the convert button. The process is great since you have immediate access to the converted file. And then you can use that file however and whenever you want without any restriction. That totally works, and it will give you the support and results you want without having to worry about any hassle.
The overall Convertio interface is quite impressive, and it delivers all the quality and value you need all the time. That alone shows the true value and experience you can obtain this way, and in the end, that will be worth it no matter the situation. People love this free MP4 to MP3 converter because it's unique and rather different all the time. This is an astounding tool to use and one that pushes things to the next level in a creative and unique manner. Of course, there can be challenges, but if you do it right nothing will stand in your way, and you can achieve outstanding results no matter what happens.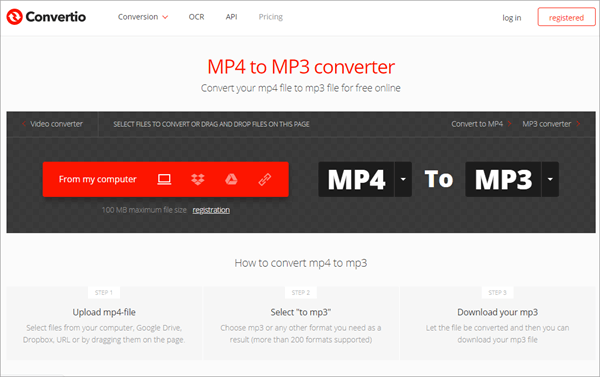 Conclusion
Each one of these tools can be used to convert MP4 to MP3 in no time. They work great, and they give you all the value you want in a clever and powerful manner. If you are very passionate about high-quality results and great user experience then yes, all of them can deliver that and you have to give them a try right now!