11 Best SoundCloud Downloaders to Download Music from SoundCloud
SoundCloud is one of the most impressive music databases in the world. Music creators share their songs here and usually. You will be able to listen to it as many times as you want. In order to protect the copyright for these songs, SoundCloud won't allow you to download music unless the creator agrees to that. However, there are some methods you can use to save from SoundCloud and create your own music library this way. It all comes down to finding the right tools to download SoundCloud songs. And here you have some of the best.
4K Video Downloader is the complete solution when you try to find how to download music from SoundCloud. The program offers support for thousands of different online video websites, and the best part about it is that it delivers outstanding download services without a problem. You just have to add the link inside 4K Video Downloader, and that's it. The app will allow you to download the desired tune.
A great thing about this free video downloader is that it automatically downloads the best possible version of this, which is great. It gives more lee-way when it comes to downloading lots of songs. And you can even download playlists from SoundCloud if you want. That makes it a lot more versatile than you could ever imagine. You can also do batch downloads if you want, aside from playlist downloads. The entire process is designed to be very comprehensive, simple, and a pleasure to use all the time. Here are the specific steps to use it:
Step 1. Download 4K Video Downloader from the Jihosoft website and install it on your computer by following the prompts. This software is very secure, does not carry any viruses and plugins, and has no ads inside.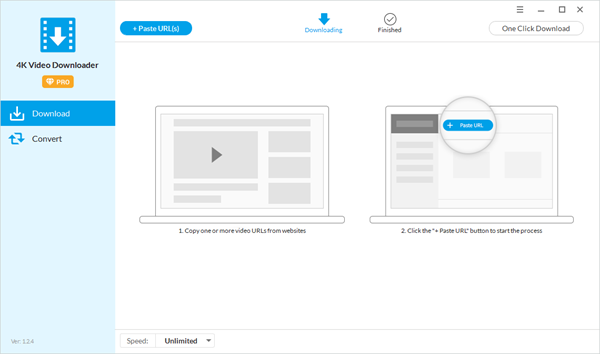 Step 2. After installation, launch the program, and select your plan. The free version allows you to download five SoundCloud songs a day, while the professional version is unlimited, so you can download more, even the entire playlist. Next, go to the SoundCloud website to find the music you want to download and copy its link. Then paste it into 4K Video Downloader.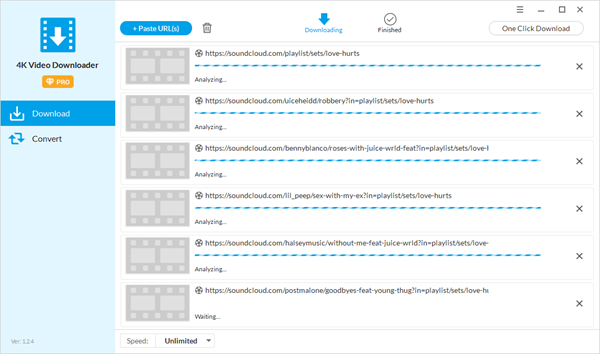 Step 3. The program will automatically parse the link. After the parsing is successful, there will be a popup box where you can set the quality of the music. Once you're done, just click the Download button and the SoundCloud music will start downloading.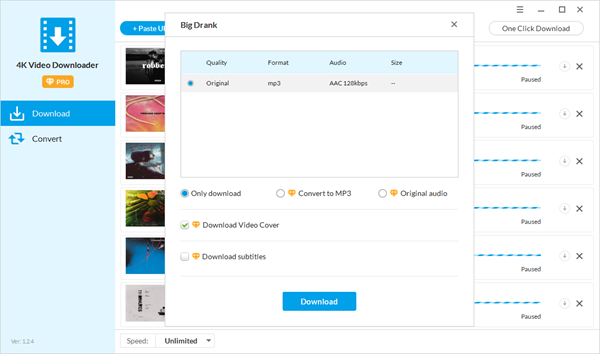 Step 4. You can also paste links to other music you want to download while downloading. The SoundCloud music downloader can analyze multiple links at the same time without being stuck. After the music download is complete, it will be automatically saved to the "Finished" section, which you can play directly.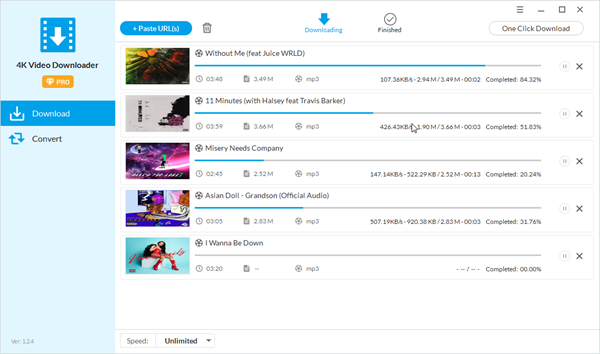 More highlights of the 4K video downloader:
Aside from downloading music from SoundCloud, this 4K video download software also works effectively with downloading videos from YouTube, Facebook, Instagram, Twitter, Tumblr, Vimeo, Dailymotion, Metacafe, and other video sites. Moreover, it supports several video resolutions and formats. You can even convert YouTube videos to MP3, MP4, MKV, AVI, etc. It can be said that with the 4K video downloader, all the processes become simple.
ScloudDownloader's approach is minimalist but natural, and it really pushes the boundaries when it comes to getting the results you expect. You can download any music from SoundCloud, and the features are impressive all the time. The attention to detail is staggering, and ScloudDownloader does an excellent job of making this process fast and seamless. You should definitely give it a shot, as you just have to add the link and press Download. If you want to download a Playlist, just press the Playlist button, and you are good to go. That alone shows just how good and reliable this tool can be. It's convenient, professional, and also very rewarding at the same time.
If you want an extension for your browser that will download SoundCloud songs, then the Soundcloud Music Downloader is definitely a great option. You have a download button that appears on the page, and you can download a single track or all tracks. This is actually one of the nicest ways to enjoy the Soundcloud experience and have fun with it. The results are pretty impressive, and the attention to detail brought here is staggering. You do want to check it out, so give it a try, and you will not regret it. It's great that you can download all the tracks you want, and you won't have to worry about changing the SoundCloud interface that much. You do need to test this as it's the simplest music download tool out there.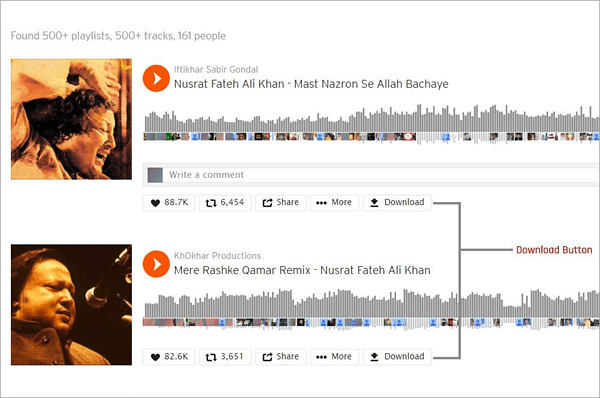 If you try to figure out how to download SoundCloud songs, this is a very interesting solution to explore. You just have to share the track or playlist URL, and you are good to go. It's nice to see that they accept playlists as well, so you won't need a separate tool to achieve that. It makes a lot of sense to do that, and the attention to detail is staggering all the time. Once you download these files, you can use them on your computer, phone or anywhere else.
Their website also has a list of music that's trending too. So if you want to learn how to download music from SoundCloud but also see what's new and trending, this is a perfect site for you. There are a plethora of interesting options to consider here, and you will appreciate all the staggering detail and tremendous value all the time. Just consider giving this a try, and you will be more than happy with the experience.
SoundCloud to MP3 is unique because it's a downloader but also a conversion tool. It supports songs for up to 2 hours, and everything is free of charge. You can use the app to save from SoundCloud as many times as you want, and you will be quite impressed with the great attention to detail and staggering results they are bringing to the table. It's nice to see how everything holds together, so you should consider giving it a shot, just check it out. We like the fact that it's really fast and while you can not do a fully batched download, it's still a creative solution and one a lot of people should use all the time.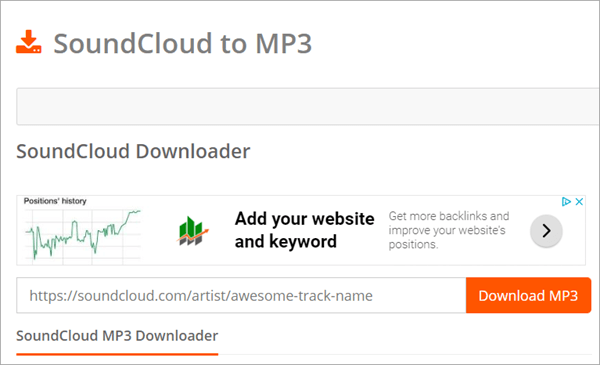 Soundcloud Downloader works really well, and it has a very simple interface. You just have to select what music you want to download at first. Then you add the link and press Download. The entire process is quick here. You can download playlists, but you can't get more than 1 song at a time if it's not in a playlist. That might be a problem for some people, but for the most part, this delivers a very rewarding and unique experience, which is what you really need at the end of the day. So you do want to use it, especially if you want an online based Soundcloud Downloader.
Forhub actually does a very good job for you if you want to download SoundCloud songs very fast. There's a lot of attention to detail to be had here, and the experience alone is awe-inspiring. The way it works is like most online downloaders for SoundCloud, you just add the link and press Download. This works fine, it's quite easy to use and adaptable. They did an excellent job of making the download process fast and secure, which is very hard to do most of the time. But the attention to detail is great here, and you can download both in 128 or 320 kbps, depending on the song. Either way, it's a very good and simple SoundCloud music downloader that everyone can try out and enjoy.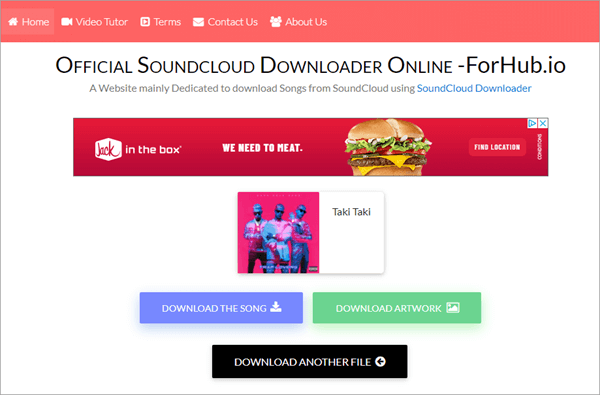 There are tons of amazing things to like here. Not only does this look amazing, but the value and clarity push the next level. We like the fact that they also added a tutorial, so if you're not sure how to use the app, they help you better understand that fast and easy. They also have a separate SoundCloud playlist downloader that can be accessed directly from the website. It helps a lot, and it manages to make the entire process simpler and more convenient no matter the situation.
DINowSoft did an outstanding job at offering simple solutions to help download whatever you want whenever you need it the most. This app is very helpful and super reliable, it's fully customizable and enjoyable to use at the same time, too, which is what you really need. The download speed is very good, and the app retains the original audio quality, which is always a very great thing to have in a situation like this.
Although the app says YouTube, this works with Soundcloud really well. What makes this interesting is the fact that you can actually download the app and have it installed. So if you want to download SoundCloud music often, this is one of the best ways to achieve that, and it's quite an exciting experience. You can create your own download list here, and you can get music from all platforms without worries. It's convenient, unique, and very helpful.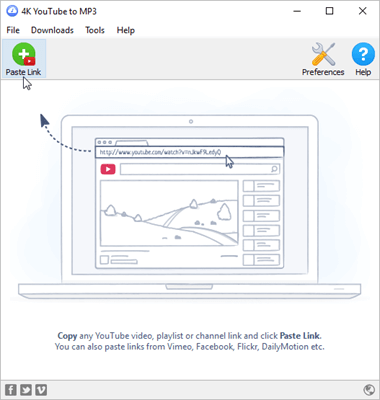 One of the top advantages with this SoundCloud Music Downloader is that it works really well and you can always customize and optimize it as you go along. It's a great and unique experience to be had here, and the ROI is always exciting. You can paste the URL and then select the format and quality you want. That makes it a bit better when compared to some of the other tools that you can find out there. And you will like just how reliable and easy to use this product is. You do want to test it out for yourself and see how it works!
Conclusion
As you can see, downloading music from SoundCloud is not as hard as you might imagine. There are many tools to help acquire the SoundCloud song you want without worries. We recommend you to use these great SoundCloud music downloaders if possible as they are some of the best and most popular ones out there. You will appreciate the great experience, so give them a try, and you will not be disappointed with the results at all. Plus, all of them help you download the desired file very fast, so don't hesitate and test them to see which one suits your needs the most!