11 Best Free Online YouTube Intro Makers with Amazing Templates
Creating YouTube videos for a living appeals to many creative people who want to share their talent with the world. YouTube allows users to upload any video they like, and hence will enable them to get the credit they deserve.
Making a video is hard work because one has to pay attention to every small detail. The intro to a video is one of its most important elements because it sets the mood for the rest of the video. Your audience will form their first impression based on the intro.
Top 11 Best Intro Makers for YouTube in 2020
If you are not sure how to make an intro for YouTube channel, then go through our recommendations for the best free YouTube Intro Makers of 2019.
You should think about customizing your YouTube video intros if you really want to impress your audience. This YouTube intro maker will solve all your worries. Panzoid is not just software; it is a community. You will be able to access advanced tools that will allow you to create fantastic custom content which will help your intros stand out. Panzoid started out back in January of 2012, and it is still one of the best options for online content creators.
With the introduction of Backgrounder 1.0, Panzoid began to take steps in the right direction. Its primary objective is to give the necessary tools to creators so they can make custom digital art. There are three different plans to choose from, and all of them come with their own perks.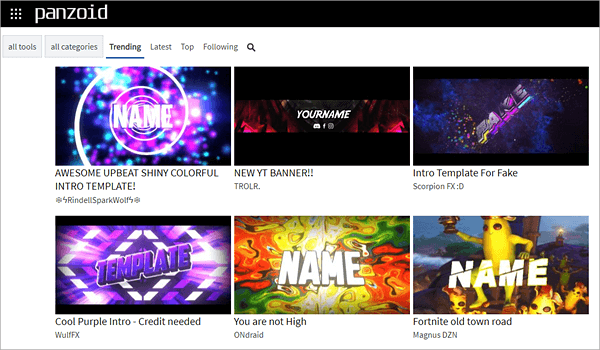 If you are looking for an intro maker for YouTube videos, then this is the answer to your search. Placeit has wonderful tools that will allow you to create interesting and attractive intro videos in no time. The best part is that you will be able to create the intros directly on your browser, which will save you precious time. The YouTube intro maker is user-friendly, and you will be able to navigate through it easily. As long as your content is unique, it will be loved by your audience.
Also Read: 12 Best Free YouTube Video Downloader for PC in 2019
Placeit makes it a point to combine design and technology in harmony so that they can create the best and the most high-quality branding and marketing tools. They will allow you to create visual assets for your brand even if you are not an artsy person.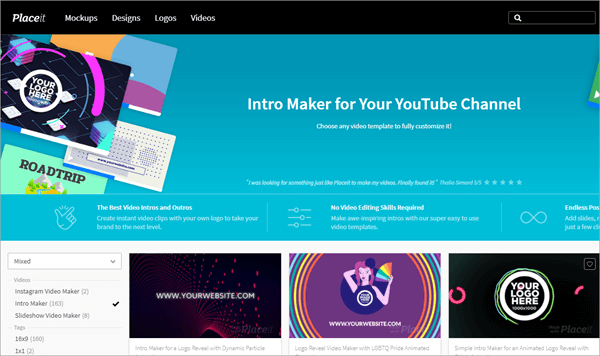 Your hunt for the best free YouTube intro maker ends here because Adobe Spark provides you with everything you need to create an intro. Adobe Spark wants to help you add an air of sophistication to your project so that your viewers are impressed more easily. The steps are laid out one at a time, which makes it a cakewalk to experiment with different options.
You also have the option of backing up and saving your work so that you do not lose your previous progress. Spark's video intro maker is extremely flexible and will allow customizations at every step. You can also rely on the free intro templates which will make your work simpler. Stay in charge of your brand identity and let it show through your intro. The professional themes are a great addition.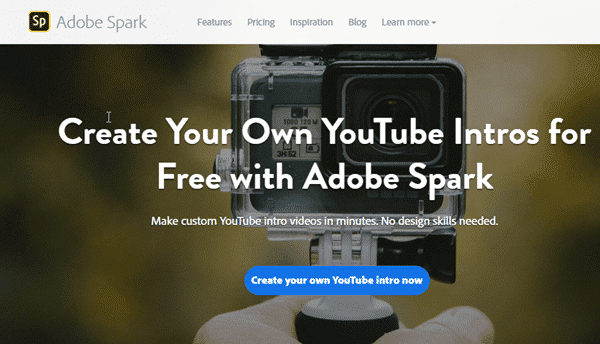 One of the best YouTube intro maker free online, Renderforest will allow you to craft the most innovative intros. You can use it for commercial reasons or even just for entertainment purposes. The Intro Maker will let you make a great intro for almost any kind of video. You can use a variety of animations and experiment with the placement of your logo, images, and texts.
By the time Renderforest is done with it, you will have an eye-catching intro. The library of animations provided by Renderforest is huge, and you should not just stick to your favourite. Try out the simple templates alongside the complex ones, and then decide which suits your videos better. The logo templates will allow you to establish the identity of the brand at the beginning of the video itself.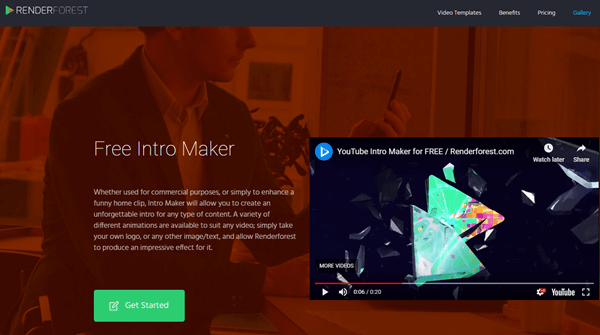 For all those who are looking for an intro maker online, Biteable comes to resolve all worries. It helps you create intros that will attract more viewers to give your business that extra boost. There are different templates available, and you can choose the one that suits your needs. Whether you want to make a corporate intro or an advertising intro, Biteable will give you the tools you need.
One of the advantages of Biteable is that it was designed to be user-friendly, which means that anyone and everyone will be able to create professional-looking intros in just a few minutes. You will not have to spend even a penny because Biteable allows you almost full access to their video making tools for free. Biteable encourages you to be professional at every step.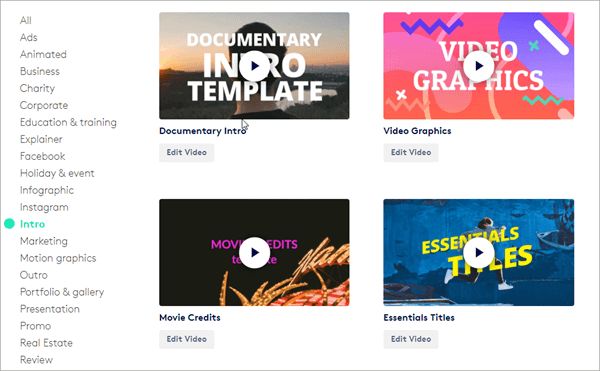 One of the best intro makers for YouTube, Tube Arsenal is a reliable companion on your way to success. It provides you with a vast range of customizable templates that you can use to create the intros for your videos before you upload them. Tube Arsenal is all about giving you top quality templates, and the best part is that you will not have to do a thing. The platform offers you free download with just one click. Moreover, you will not even need any plugins.
Also Read: 10 Best Video Editors for YouTube in 2019 – Edit YouTube Videos Easily
The curated collection of templates can be downloaded unlimited times. If you are unsure about how to use Tube Arsenal, you can avail of the free training option. The prices of the tools are extremely reasonable, and you will not have to spend a fortune to get a great intro.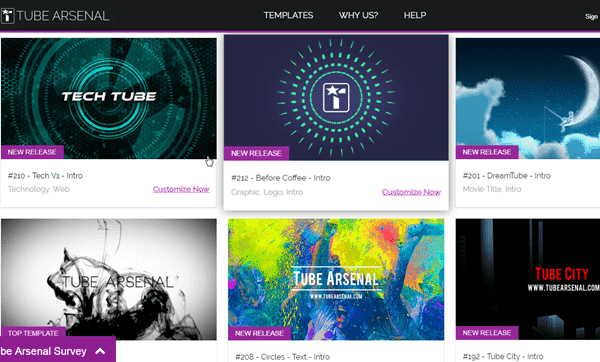 YouTube videos need excellent intros which can capture the mind of the audience, and that is where this amazing online intro video maker comes in. You will able to produce logo animations in no time for your YouTube videos. You can make a branded video with minimum hassle. Videobolt curates the work of excellent animation designers, giving you plenty of options for intros. You can choose an option that you like and then add it to your content. The variety of customization options will allow you to infuse your own identity to the intro. Videobolt will be able to able to help you whether you want to make business videos, cinematic presentations or retro videos. The online editor will give you complete freedom to choose even the minutest details.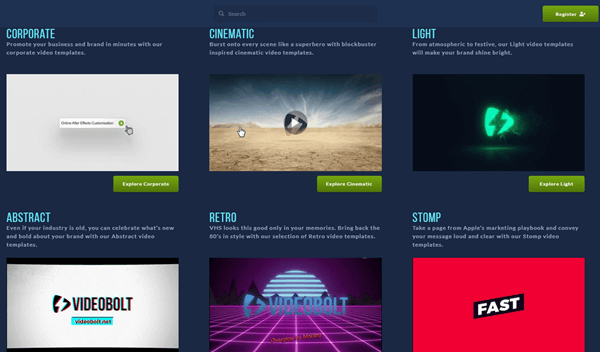 One of the most popular online Youtube intro makers, MotionDen will give you access to aesthetic animated intros and templates that you can use to spruce up your video. The vast range of professionally designed templates will give you plenty of options no matter what kind of a video you are producing. The customizable options leave you room to create something that will suit your style. With MotionDen's intro maker, you will be able to make video intros for both commercial and personal use. Moreover, the software runs on the cloud, which means that you will be able to create intros no matter where you are.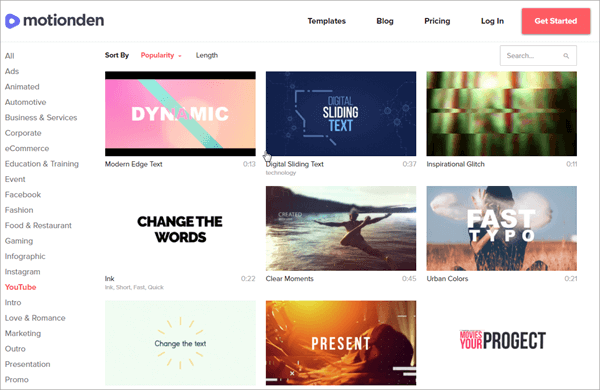 This YouTube intro maker is straightforward to use. You will be able to create the most amazing intros even if you have no previous experience with such software. Its affordability is another bonus, and you will be able to save some money while your work gets done within two minutes. Flixpress assures that the intros you create will look professional.
The software offers different customization options, and you can let your creative genius have the last word. Enter customized texts and images which suit your video. All the available templates are able to translate into the final footage in High Definition. You can also upload your own audio.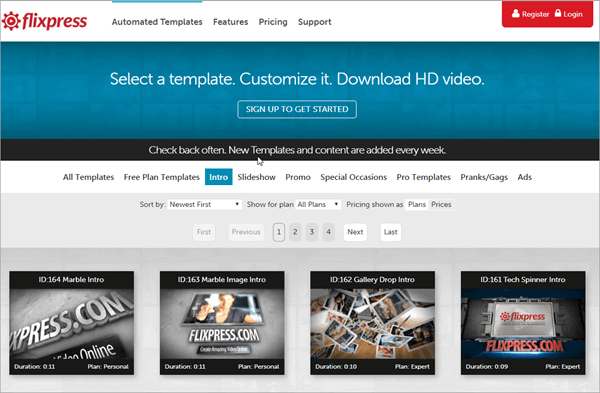 This free YouTube intro maker lets you make your very own custom HD videos which are perfect as the intro to your YouTube videos. You do not need any experience to work with this software. It is user-friendly, and you will be able to create the intros within a matter of minutes. Access the different video intros and video tools to choose the templates that you like.
There are many templates to choose from, and you can find something for every video. The final intros will be available in high-definition.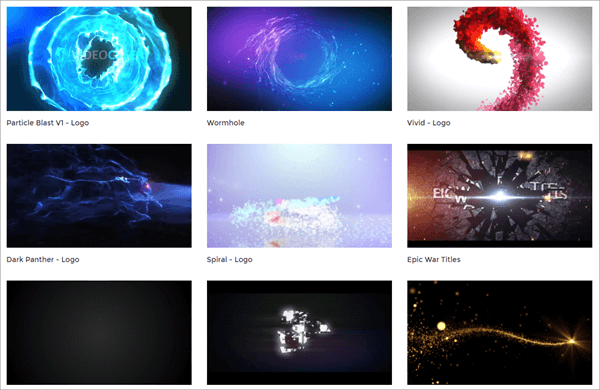 This online YouTube intro maker simplifies the process of making YouTube videos. Begin by choosing a video from their massive library, and then customize that video by inputting your text and images. Once the video is complete, you will be able to download it within a few minutes.
IntroCave likes to provide users with customizable video intros easily, so they do not have to devote too much time and money to make a simple short video. You can download the high definition version of the final intro without any IntroCave watermarks.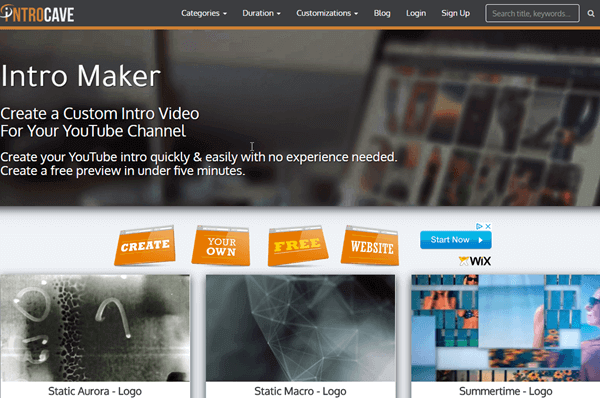 Now that you know how to access the tools you will need, why not make breathtaking intros for your videos which will leave your audience hungering for more.