12 Best Free YouTube Video Downloader Apps for Android in 2020
In 2019, although the revolution of the internet and smart devices, the higher number goes to the people not working from home more than those who work from home.
Going to your office every day could be a little boring if you have not the right content, and as we all know, there might be no place on the world that contains such a huge and funny content like YouTube.
The biggest online streaming service in the world which belongs to Google is considered to be one of the best weapons you could have to spend your time during the ride to and from your work or any other place, but there is only one bad thing.
How to Download YouTube Videos on Android?
Lately, YouTube has allowed its users to download many videos so they can view them offline. However, you will not be able to run these videos from any other place than the YouTube application itself, and you will not be able to download all the available stuff on YouTube.
Also Read: 12 Best YouTube Videos Downloaders for PC.
Moreover, if you want to make a ringtone out of a music video, it could be so hard because you will not find the downloaded video in your gallery or any other place that you can access and modify the files saved in.
Top 12 Free YouTube Video Downloaders for Android
For that all, and in today's article, I'm going to show you the 12 best YouTube Downloaders for Android so you can download whatever you want, in the quality you want, and apply any modifications on it.
Tubemate is one of the most popular YouTube video downloader apps for Android. The application is easy to use and allows you to save any YouTube video into your local storage in your phone so you can view it later without having to be connected to the internet.
Also, the free YouTube downloader offers you a very handy and easy experience that consists of a bar in the footer of YouTube application with a download icon that turns into a list once you tap on it.
The pop-up list contains many options of quality and format like 1920×1080, 1280×720 qualities and MP4, MP3, WEBM formats, and more.
TubeMate also allows you to store your downloaded videos in your SD Card, so you don't' fill the internal storage with videos.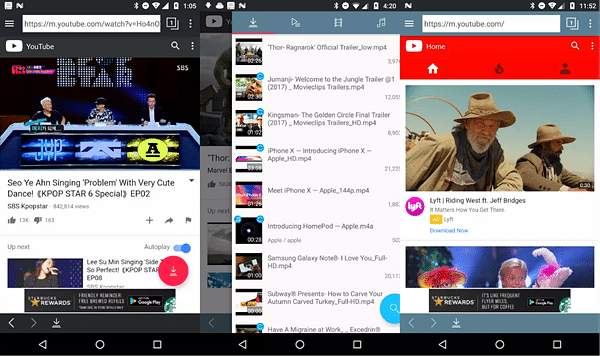 If you are looking for a way to download videos and audios from outside YouTube on Android, there is no choice that could be better than SnapTube.
This application allows you to download videos from over 20 websites, including Facebook, Vine, Twitter, Instagram, Vevo, Vimeo, and more.
Not just that, you can download whatever you want in multiple resolutions, directly convert your videos into MP3 files and download them in the quality you want, and you can also search videos with keywords for more accessible exploration.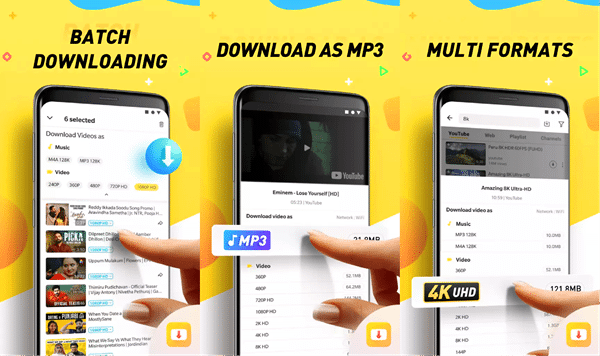 This one is one of the most popular and influential YouTube Video Downloaders over the internet, but the best thing about it is that it's not exclusively used for YouTube.
KeepVid will allow you to download any video from many websites, including YouTube, Facebook, Dailymotion, Instagram, Vimeo, SoundCloud, and more.
Once you install KeepVid on your phone, you will find a blue download button in the lower-right corner of your screen that will allow you to download any video in multiple resolutions starting from 1920×1080, and you will see the size of each resolution before downloading it.
For audio enthusiasts, KeepVid will offer you to download MP3 and M4A audio files directly without having to download a video and convert it by yourself, and that's all with the highest quality and for free.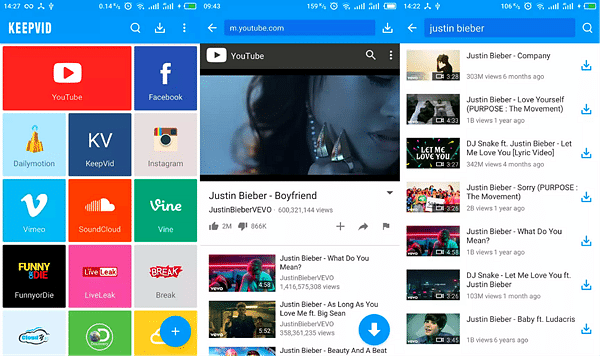 In terms of the number of supported sites, you hardly can find anything better than Videoder, as it can download videos from over 50 sites including YouTube, Instagram, Facebook, VK, Vimeo, SoundCloud and whatever you could think of.
The other big feature is that you can download videos up to 4K when you use Videoder with the ability to batch download videos by selecting a playlist or add multiple videos to the downloading list so you leave your phone at night to get all the content at the early morning.
The Android YouTube video downloader app also gives you the ability to modify and organize your music library, set cover art, add tags to bring life to your music collection.
The last thing I will talk about and not the true last feature of the application is the Smart Link Detection Tool which is a tool that detects any copied link of a video to offer you a pop-up button directly so you can click to download video from YouTube instantly without having to open the link itself.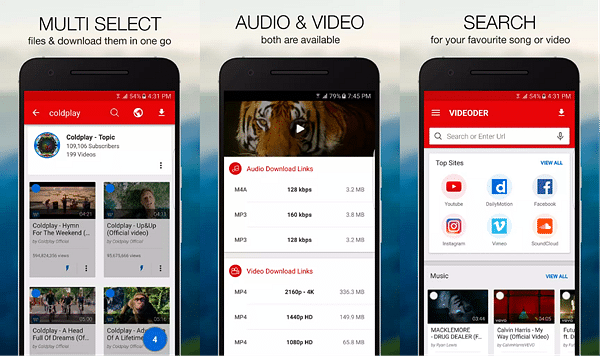 VidMate is another great YouTube video downloader app for Android with a simple and elegant interface that makes the experience even better than any competitor. You can use VidMate to download videos from YouTube, Facebook, Instagram, WhatsApp, etc.
The best thing about VidMate is that it supports all the resolutions from the lowest resolution and up to 4K resolution with the ability to download MP3 files separately.
The application supports up to 100 websites, and you can select and customize everything related to your downloaded file.
VidMate also contains a built-in picture downloader that allows you to download pictures from various resources in high quality.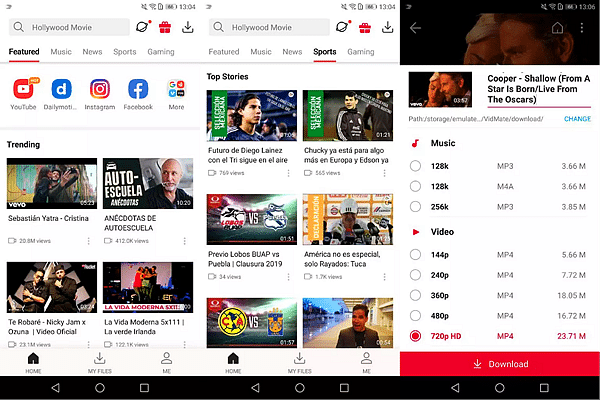 If you are looking for a free, simple, secure, and fast experience with more than 100 websites supported YouTube video downloader app, InsTube could be your best choice.
This one allows you to download all the videos you want via its clean and elegant interface, and you can customize the file before downloading in terms of quality, format, and resolution.
Also, you can use the built-in video locker that protects your videos with a password, and then play your favorite videos after unlocking them using the built-in video and music player.
Above all, InsTube supports more than 100 websites, including YouTube, SoundCloud, Twitter, WhatsApp, Facebook, and more.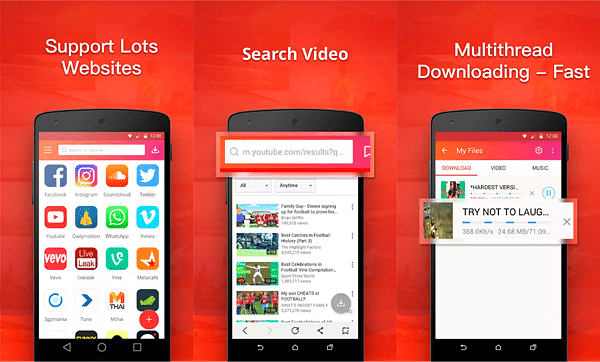 Dentex is a simple YouTube video downloader for Android with an easy-to-use but not so elegant interface. You can use Dentex to download videos in different qualities and formats including 720p, 480p, and more, with the ability to download the audio-only files from any video.
You can easily download any video you want by searching YouTube's database, select the video you want to download, and then customize your download by selecting the format, quality, resolution, and more.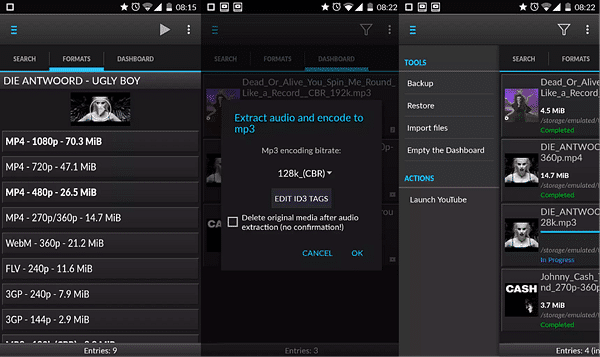 NewPipe is not an application that's specified for downloading videos from YouTube, although it has this option, along with many customization options you will get once you start downloading a video through it.
You will get an experience similar to the YouTube app. when you decide to use NewPipe. Naturally, it's faster, smaller, and more battery-saving, which moderation can significantly reduce data consumption.
Once you get the YouTube video downloader app, you will be able to download videos in different sizes, resolutions, and qualities, play your videos in the background, and you will be able to have a pop-up player to watch a YouTube video while scrolling down on Facebook.
Also, you will not miss your favorite channels and videos, as all your subscriptions will be found in a specific subscription tap, and you will get a new bookmark tap to create your own playlist or import an already created playlist.
You will also have access to your history of watching, meaning that you will never miss an old video, and if you do care about privacy, you will get an option to disable it.
The best thing about NewPipe is that it's an open source free application with no ads inside, and no in-app purchases.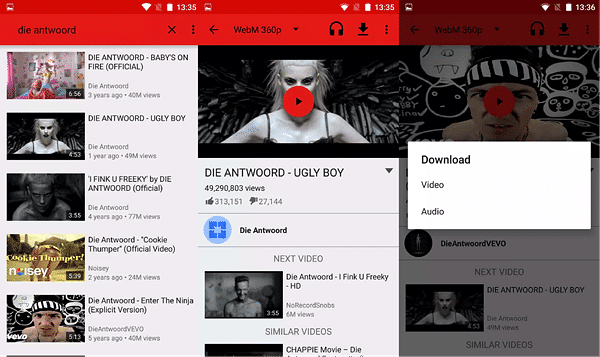 GetTube is an excellent tool that will help you download YouTube videos and store them into your device. The free video downloader has a great interface with a simple and organized list to help you find your downloaded videos, and you can easily download any video by clicking on the Download button that shows up while watching videos on YouTube.
Also, you will get the option of downloading the video itself or the audio version of it when you use GetTube, so you don't have to waste your time converting the downloaded videos into audio to create your magnificent piece of music to use it as a ringtone.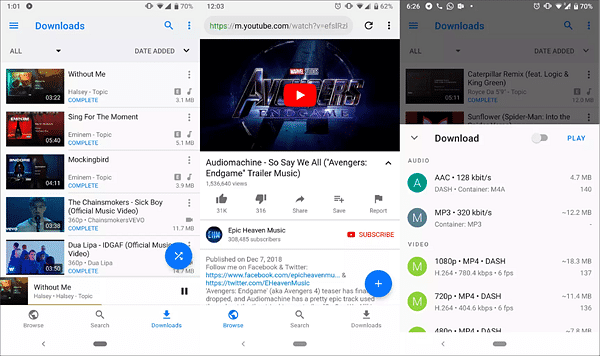 TubeX offers you a great YouTube experience by allowing you to play your favorite videos, download them as a video or directly as audio files.
Once you start downloading YouTube videos on Android using TubeX, you will get many options that allow you to customize your downloads by choosing the resolution and the quality.
The only weak point of TubeX is that it contains some annoying Ads, but it simply does its job as required.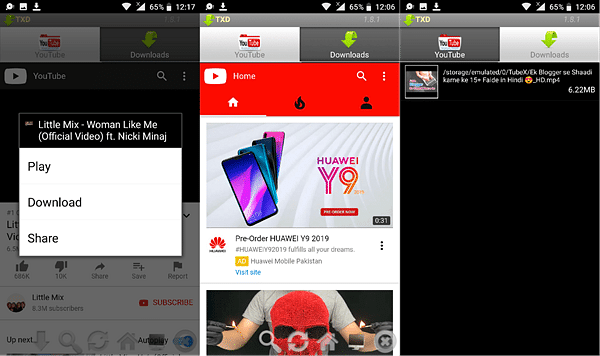 If you are someone who loves to watch videos from all over the internet and not only YouTube, VidPaw will help you do that.
VidPaw is one of the best YouTube Video downloaders for Android, and the best thing of it is that it allows you to download videos from more than 1000 websites over the internet, including YouTube, Facebook, Instagram, Twitter, Vimeo, Vevo, TED, and more, and you will also be able to directly download your favorite songs from Soundcloud.
If you are not someone who loves to download extra applications, this one will be the best to fit you. Once you paste your link on the website and click on Download, you will be able to select the format you want like MP3, WEBM and M4A.
All you need to do is to input the URL of the video or the audio file you want to download, and VidPaw will detect it directly to offer you the different sizes and formats that can be downloaded.
When it comes to resolution, this is probably one of the few tools that allows you to download up to 8K videos from YouTube and other websites. For those with lower speeds, you will have the option to download in other qualities starting from 144p.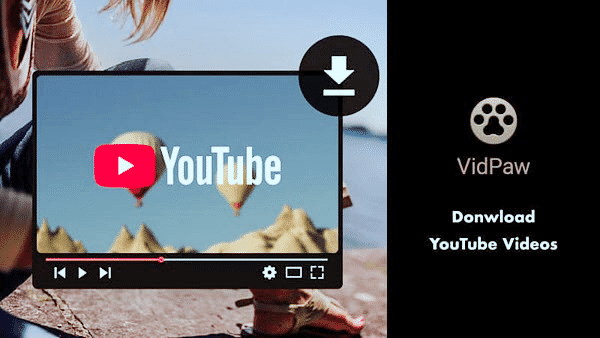 OGYouTube is a simple and unique application that allows you to download videos from YouTube directly.
When you download OGYouTube, you will have a YouTube-like application with all options you might think about, including subscription options, search, like and dislike and more.
Above all of that, you will have a simple red button below the videos called Download, and once you tap on it you will be able to download your video in different qualities and even with the translation you want whether in English or other languages.
Along with the download feature, you will be able to play videos in the background, but DO NOT LOG IN WITH YOUR ACCOUNT ON OGYouTube as you will not be able to download videos if you do so.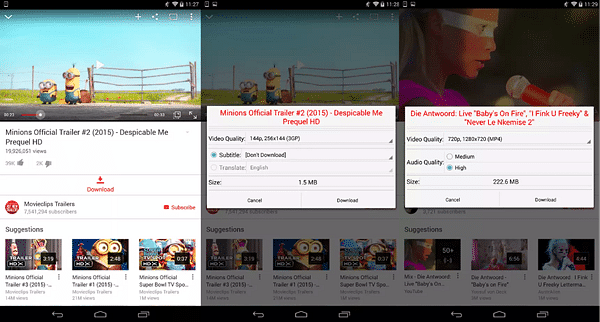 Also Read: Top 6 YouTube Music Download Apps for Android
Conclusion
In the above previous lines, I have shown you the 12 best YouTube Video Downloader apps for Android. The best part is that they are all not for YouTube only, meaning that you will be able to download videos whatever the place you do view videos through.
Also Read: Top 3 Free Video Grabbers to Download YouTube Videos Online
Based on the interface, features, way of work, you can select the best YouTube Downloader for your Android phone, and don't forget to share your experience with us in the comments section below, and with your friends and family.