Top 10 Best Beauty Gurus and Makeup Artists on YouTube in 2020
YouTube can be addictive, and the beauty community will especially keep you hooked. If you are looking for some new beauty YouTubers to follow, then check out this article! Here we will list the top ten most popular YouTube beauty gurus in 2020. If you want to know more, please read on.
One of the biggest beauty YouTubers around, Rachel Claire Levin will win your heart from Day 1. She has created one of the most significant beauty communities on the platform, and her channel is growing rapidly. In fact, her channel is one of the fastest growing YouTube channels in the world at the moment.
Her content is directed towards a slightly younger audience, but there is no doubt that anybody and everybody will enjoy her creativity. She does not restrict her content and lets her imagination flow. You will find yourself browsing through numerous videos related to DIYs, life hacks, comedy, skits, and much much more when you visit her channel. If reports are to be believed, RCLBeauty101 was the highest-paid beauty YouTuber in the year 2018. With over 14m subscribers and more than 3 billion video views, the channel is flourishing like no other.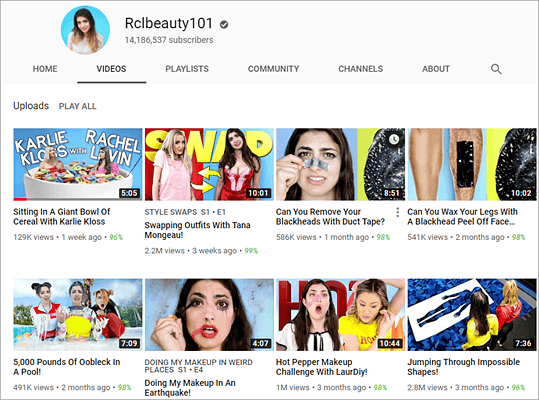 One of the most famous beauty gurus on YouTube, Nikkie is a part of the OG YouTube beauty community. Over the years, she has garnered more than 11.5m subscribers, Nikkie can boast of almost a billion total views on YouTube. A Dutch beauty vlogger, Nikkie stays away from unnecessary drama and likes to focus on makeup. She is known to create bold and dramatic looks that require an immense amount of skill. She is also known to play beauty challenges, which allow her to explore different makeup products. Nikkie likes to be straightforward with her audience and has no qualms about showing her bare face to the camera. According to Nikkie, makeup is more of a fun transformative agent than anything else. In her impactful video series, The Power of Makeup, she portrays the difference that makeup can create. Nikkie has collaborated with Kim Kardashian and Drew Barrymore for videos. She is also associated with popular makeup brands, Ofra and Maybelline.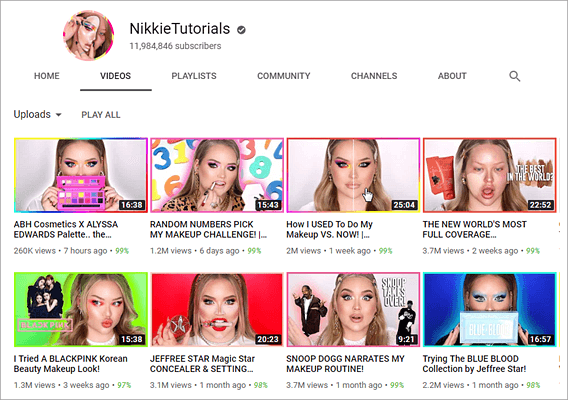 A famous beauty influencer on YouTube, Zoe Sugg (aka Zoella) has managed to hold on to her viewers over the years. Over the past two years, Zoella has not been consistent with videos on her main YouTube channel. However, being a sweetheart, she has charmed her viewers and continues to wow them. One of the top YouTube beauty gurus, Zoella, has been in the industry for quite a long time. With a massive 11m+ subscriber count on YouTube, Zoella has more than a billion views on all her videos. Her sweet personality makes her stand out. If you visit her channel, you will come across beauty tips, and her account of how spends her life with her boyfriend Alfie Deyes, who also happens to be a YouTuber. Zoe is not lazy by any means. She has worked and published her own books. In fact, she also came up with her own beauty line in 2014 and has also collaborated with numerous brands. Quite recently, she was involved in a new collaboration with ColourPop Cosmetics.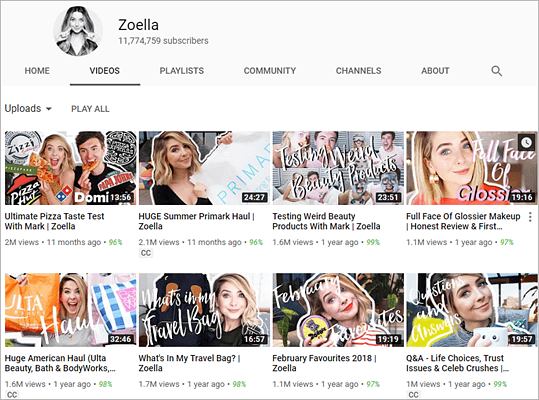 One of the most popular makeup artists in the YouTube community, Michelle Phan, is known for her talent and charisma skills. Michelle Phan came into the scene in 2007 when she first started posting tutorial videos. Since then, she has gained millions of followers on her channel. In fact, she is just short of reaching 9 million subscribers but no doubt she will attain that milestone very soon. Her colorful and vibrant themes for her videos make them a visual delight. Back in 2016, Phan took a 1-year sabbatical from YouTube but has since then joined YouTube actively again. Phan has her own makeup line, EM Cosmetics, which has impressed numerous beauty gurus on YouTube. Phan has played a crucial role in setting the stage for other beauty vloggers to make an impact.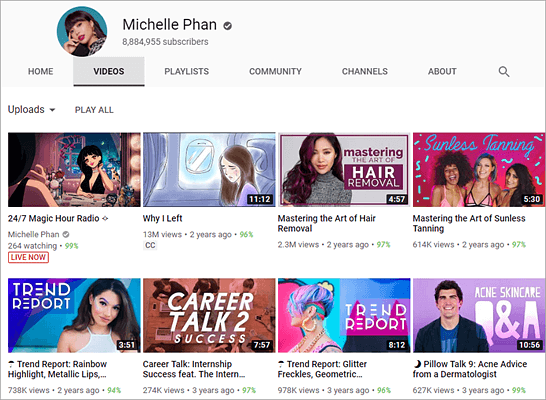 Bianca Claßen launched her YouTube channel, BibisBeautyPalace, back in 2012. She is a German fashion and beauty YouTuber. Currently, she has 5.6 million subscribers on YouTube. Her videos center around hairstyles, travel, lifestyle, makeup, fashion, and challenges. She won an award in the Beauty, Fashion, and Lifestyle category during the Play Awards of 2014. However, Claßen has not had much luck with her singing career. She has her own cosmetics called "Bilou" which she launched back in 2015.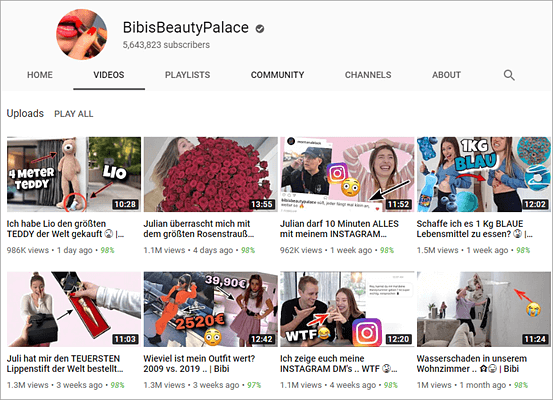 One of the most popular YouTubers in the beauty community, Tati Westbrook, hit 10 million subscribers just a few days back. She is one of the pillars of the community and has been around for a very long time. A look at her archives will trace her transformation over the years in terms of the videos she makes. However, her main focus is always on makeup, and she hardly strays. If you are looking for a great makeup tutorial on YouTube, then Tati's channel is the place where it is at. Tati makes it a point to always be one hundred percent honest with her audience about the products that she tries, which makes her one of the best YouTube makeup artists. Her compassionate and loving nature makes the channel even more appealing to viewers.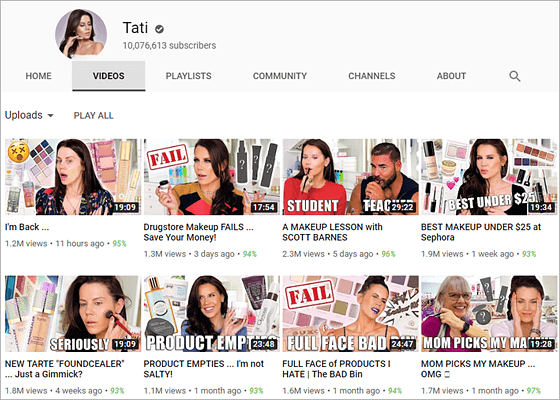 An essential member of the YouTube makeup artists community, Sara will impress you with her candidness. She is open about the person she is and tries her best to bring quality content to the audience who loves her. Sara claims herself to be a "regular girl" who loves everything girly. You will find different types of videos on her channel. Being a makeup guru does not stop her from creating other interesting content. There are videos of DIY, comedy, nail art, and makeup on her channel. Sara joined YouTube just in 2012 but has managed to get over 9.7m subscribers in this short period of time. Her videos have 1.7billion video views in total. Sara lives in Norway but is known to go traveling often. She is one of the best YouTube vloggers and loves to share her adventures with her fans.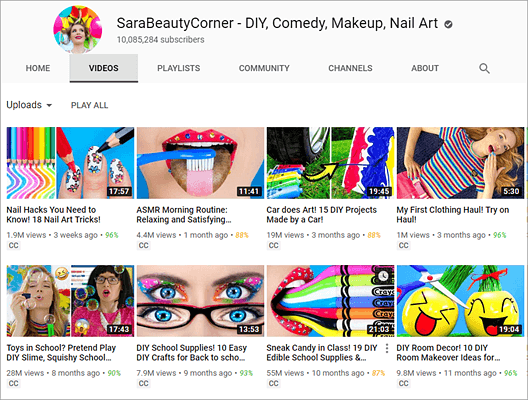 Jaclyn Hill has been a part of the YouTube beauty community since 2010 and is a major influence. Just short 6 million followers on her channel, Jaclyn has a devoted fan base. A professional YouTube makeup artist, Jaclyn posts makeup tutorials in painstaking details so that her viewers can follow. Just like she does advanced smokey eye tutorials, she also does basic videos on how to shape and sculpt brows.
She also posts makeup reviews on different collections and challenges/tags. Jaclyn's channel has come celebrity makeup tutorials for which she collaborated with the Kardashians and Jenners. Fans have been complaining for quite a while now, that Jaclyn does not post videos often anymore but they still support her.
Jaclyn has collaborated with beauty brands like BECCA cosmetics and Morphe Cosmetics. She launched her own brand, Jaclyn Cosmetics, just a few days back.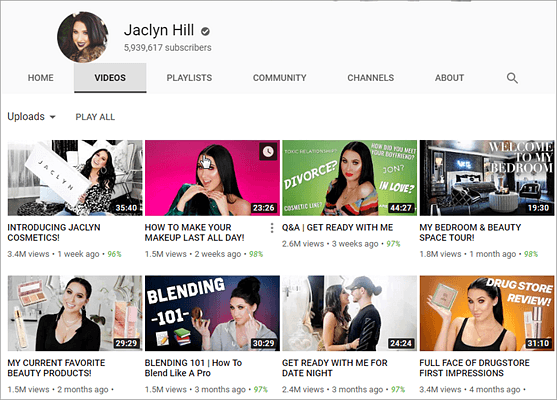 Cute as a button, Kathleen is one of the best YouTube beauty gurus to follow. Not only are her makeup videos on YouTube simple but wonderfully detailed, but she also supplements the content with her wit and humor. You will find herself laughing at her jokes and feeling like she is simply your next-door friend. Kathleen admits that she loves all things that are related to beauty. She posts reviews, unboxings, and monthly favorites apart from the easy-to-follow makeup tutorials. She has gathered over 4m subscribers on her channel. Her personality sets her apart from other beauty gurus on YouTube. Kathleen also loves perfumes and loves to review them sometimes. She has collaborated with brands like Colourpop, Ofra Cosmetics, Makeup Geek and Morphe.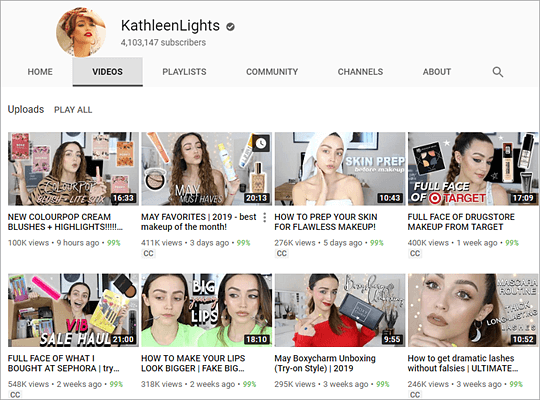 One of the best YouTube makeup artists, Carli's channel, has tutorials for everybody. With over 6m subscribers on YouTube, there is no doubt that YouTube viewers love Carli and her easygoing nature. She has garnered over a billion video views, and become a part of the elite section of YouTube's beauty community. Whether you want to resemble Marilyn Monroe or you want to do your makeup like Daenerys Targaryen, Carli's channel will provide you with the necessary motivation and instructions. On the other hand, if you just want some inspiration for simple easy-to-do makeup styles that you can use for any occasion, Carli's channel will be there for too. Carli claims herself to b a vegan.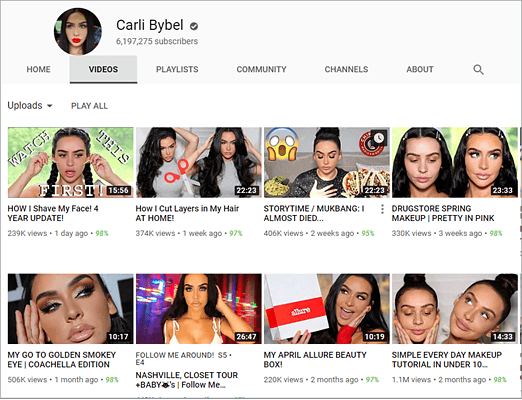 The Bottom Line
The above mentioned are the top 10 most popular YouTube beauty gurus in 2019. Just subscribe to their channel and you can follow their real-time updates and learn about beauty and makeup techniques easily.
In addition, If you want to download your favorite makeup videos from YouTube for offline viewing, there are 12 best free YouTube video downloaders for you; If you'd like to download other types of videos, such as news, music, funny, reviews, etc., please read: 7 Best Free Methods to Download YouTube Videos in 2019.