How to Convert YouTube Video/Music to M4A Files (Tutorial)
If you are into music, then you are most likely aware of all the different sources of music that you can have easy access to, including Spotify, SoundCloud, and YouTube – to name some of the more popular ones, among others.
You will also appreciate the fact that a lot of the music you like listening to is only available on YouTube. To be able to have offline access to the platform's music, you need to download the music videos into audio-only files like MP3 and M4A. So, what is the easiest way to convert YouTube to M4A?
Part I. Comparison of Different Audio File Formats
Before we discuss how you can convert your favorite YouTube videos into M4A audio files using different converters, here's a quick look at how M4A is different from MP3 and some of the other audio file formats you may be familiar with.
Essentially, audio file formats can be classified into three fundamental categories:
Uncompressed
Lossless
Lossy compression of audio formats
When you are looking to convert YouTube to M4A, what should you look for? How is the M4A format different from other audio formats? To answer that, let's take a look at the different audio formats in detail first.
1. Uncompressed Audio Format
Uncompressed audio files are not subjected to any compression. They are made of sound waves that have been converted to a digital format without any additional processing.
While they tend to be the most accurate representations of the originals, they occupy a lot of disk space, making them rather undesirable. CM, AIFF, and WAV are all examples of uncompressed audio formats.
2. Lossless Compression Audio Format
By virtue of the fact that they are compressed, lossless compression audio files take up less space than the uncompressed versions discussed above.
However, they do allow you to recreate the uncompressed version from the compressed file without losing any information/data.
Examples include the likes of FLAC and WavPack, all offering a 2:1 compression ratio.
3. Lossy Compression Audio Format
Lossy compression audio formats are capable of compressing an audio file size even more than its lossless counterparts. But do tend to lose some data in the bargain, which results in reduced audio quality.
However, there are a variety of work-around techniques to minimize the drop in audio quality.
Some of the best examples of lossy audio formats include the popular MP3 format, iTunes Music Store's AAC format, and, of course, the main subject of our interest here – the M4A audio format.
Part II. Primary Reasons to Convert YouTube to M4A
Generally viewed as the next-gen version of MP3, the M4A is an audio format that uses the MPEG-4 Audio Layer technology for lossy compression, capable of reducing the file size even more than the MP3 format, and delivering a better audio quality without compromising on bit rate.
The MP4A has two different versions, AAC (Advanced Audio Codec) and ALAC (Apple Lossless Audio Codec).
Developed by Apple, the AAC technology uses a lossy compression format but doesn't lose quite as much audio data as MP3, and produces a much higher audio quality, as well.
In the case of ALAC files, none of the data from the original audio file is lost – a completely lossless compression.
Compatibility is an issue with the M4A format, though.
So, here's some useful information to help you decide whether you should take the MP4A path, or stick to the tried and trusted the MP3 way of listening to your favorite YouTube music.
On Windows, you can open M4A files using different apps. Try out the Quicktime player, the classic but ever-popular Winamp, or even the default MS Windows Media Player. If you are an Apple fan, you can play the content on Apple iTunes as well.
Mac, on the other hand, uses apps like Apple iTunes, QuickTime Player, and Roxio Toast 10 Titanium to open M4A files.
So, if you do not have a compatibility concern, here are some key reasons why you should consider switching over to M4A for your offline YouTube audio needs.
Smaller files with original quality
M4A audio files can be easily streamed, and/or distributed, absolutely free of cost
M4A will ultimately take over from MP3 as the preferred audio format across the board
Part III. Three Best YouTube to M4A Converters
While there are quite a few YouTube to m4a converters out there, we are going to take a look at three of the most popular ones and discuss how to use them.
1. Jihosoft 4K Video Downloader
As far as its name is concerned, you might think that it is just a video download software. In fact, its function is more than that. In addition to downloading videos from YouTube, Facebook, Twitter, Instagram, etc., it also has a video conversion function that allows users to convert videos to MP3, M4A, MOV, MKV, AVI, and other formats.
What makes it even more distinctive is that it can download entire YouTube channels and playlists. In other words, you can convert multiple YouTube videos into M4A format at once, which is very time-saving. Now, let's take a look at how to convert YouTube to m4a file:
Step 1. Download Jihosoft 4K Video Downloader from the official website, install it on your computer (both Windows and MAC versions are available), then run it.
Step 2. Next, copy the URL of the YouTube video you want to download, then click the button in the main interface to paste the link into the program.
Step 3. After the link is parsed, there will be a pop-up window from which you can choose to download the video (with audio) directly, convert the video to MP3, or download the original audio (m4a). In this case, please choose the third option, then tap Download.

Step 4. The program will start converting the YouTube video to the m4a file. Once the process is complete, the original audio will be saved in the .m4a files to the Finished tab and default folder for immediate playback or future access.

2. Y2mate
Y2mate is a famous online video downloader. With this tool, you can easily download and convert YouTube videos to M4A, MP3, MP4, M4V, 3GP, WMV, FLV, MOV, WEBM, and other formats. The best part of using this video converter is that you do not have to install any software on your computer. However, the site is unstable and often inaccessible. Even if it is accessible, the site is full of advertisements, and you are at risk of being infected by a mobile phone or computer. Besides, you can only download or convert one video at a time.
For your convenience, here are the detailed steps to convert YouTube to m4a online:
Step 1. Right click on the YouTube video you are ready to convert and copy its link address.
Step 2. Go to the Y2mate website, paste the video URL into the required box, tap Start, then wait until the link address is parsed.
Step 3. After parsing, the details of the video will be displayed. Select the m4a format in the Audio section and click the download button on the right to start converting the YouTube video to m4a audio.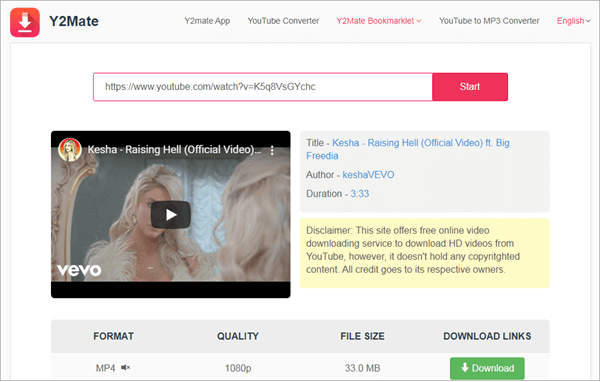 3. Online Video Converter
OVC is a free online video conversion website that enables you to convert any video link or file into a different format without having to install any applications on your computer. It is fully compatible with almost all modern browsers and is considered one of the best online video conversion platforms. It boasts top quality, high-speed conversions to a variety of audio and video formats, with support for several video portals as well, including Vimeo, Dailymotion, and YouTube, among others.
To convert a video link, follow these steps:
Step 1. Enter the Video URL in the box.
Step 2. Select the video or audio format of your choice from the dropdown.
Step 3. Click "Start" to initiate the conversion process.
Step 4. Once done, you will get a download link for your converted file.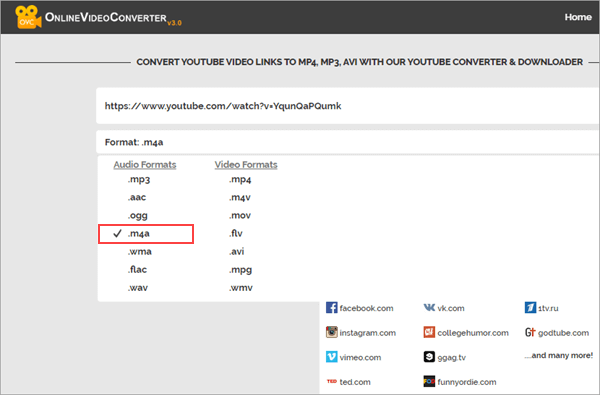 To convert a video file, follow these steps:
Step 1. Browse your device or cloud storage and select the audio/video file you want to convert.
Step 2. Select the video or audio format of your choice from the dropdown.
Step 3. If you wish to customize your conversion parameters, such as video resolution, for example, click on "More Settings."
Step 4. Click on "Start" to trigger the conversion process.
Step 5. Once done, you can download the converted file for use.
The Bottom Line
After reaching this line, you have learned three methods to convert YouTube videos to m4a files. Which one do you prefer? If you don't have an idea yet, then we recommend you to use the first one, Jihosoft 4K Video Downloader. This tool is very comprehensive and can meet almost any need. With such a tool in hand, your life will become easier!